Doing It Sober Increased 52.38% Sales with CedCommerce SEO and Google Ads Services
Running short of time? Get PDF of the blog in your mail.

Play Now
An Overview
Brand awareness and market reach have never been easy. It will never be! Most of the brands fail miserably due to the complications involved in reaching an online target audience. In today's cut-throat competition on the internet, every business wants more customers and brand visibility to keep it living in the long run. SEO and Google ads play a major role in it.
Doing It Sober – A business owned by Daniella Park, too, wanted the same for her business. She is a woman whose passion is to inspire and awaken people towards their life. She has seen both success and failure in a complex way in her life. Once a sufferer of drug abuse, Daniella became a person whose passion is to make people live life with Sobriety.
The Challenge
The only hurdle that came across her was not getting the required traffic to her website. No traffic on the website means no sales.
She used Google ads to increase her reach and brand awareness, but the ads were getting disapproved due to policy violations. Then, she spotted CedCommerce, and the journey of success started together.
The Result
With CedCommerce SEO and Google ads services, Doing It Sober's sales increased 52.38%. ROAS maintained around 4.5x to 6x, 96.62% increase in paid traffic, 17.05% increase in organic traffic, 31.85% increase in conversion value, 10.88% increase in order volume.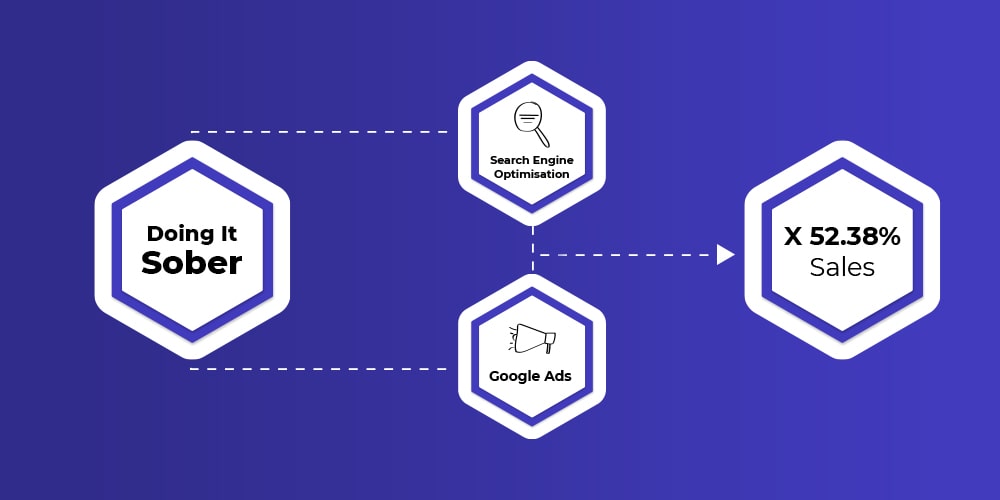 A summary of Daniella's (The owner) journey called life
"I hope to relay a message of my personal experience through the most incredible journey of my life, RECOVERY," Daniella says.
How her life inspired her to awaken people to live life with Sobriety
She was born an only child, known for her blond hair in her childhood. The girl whose passion and escape was her paint horse, "Tiowa." Slowly, the happy track took a turn and came to the crunch of life. She started to feel uncomfortable in her skin and turned towards drugs and alcohol to find solace.
Once a stunt artist and a publicist at USA's prestigious firm and then losing it all from addiction. It all went downhill from there and continued for 15 years. One sad day, while in the shower, she fell due to pain that was engrossed in her body. But, she gathered the courage and mustered the strength to call 911.
Ironically, 9-11-2006 became Sobriety's date to her life!
The inception of Doing it Sober – How it all started
After the incident on 9-11-2006, she almost faced an encounter with life's reality called death. After lying in hospital for two weeks, she realized the meaning of life and never returned to drugs or alcohol.
Since then, she has made a goal and dedicated her life to helping others going through the same phase as hers. Thereby originated Doing it Sober.
Doing It Sober's Target Audience
DoingItSober is a brand that connects you to the best in the world of clothing, coins, and jewelry. Meet a collection of great speciality coins, medallions, and milestone chips, and celebrate your recovery against anonymous abusive habits and other such benchmarks in life. DoingItSober helps you celebrate your recovery in a special way with unique products.
The website sells several products, including recovery products for people suffering from alcohol and drug abuse.
The main products category that is available on Doing It Sober are:
Medallions
Clothing
Jewelry
Recovery gifts
DIS (Doing It Sober) wear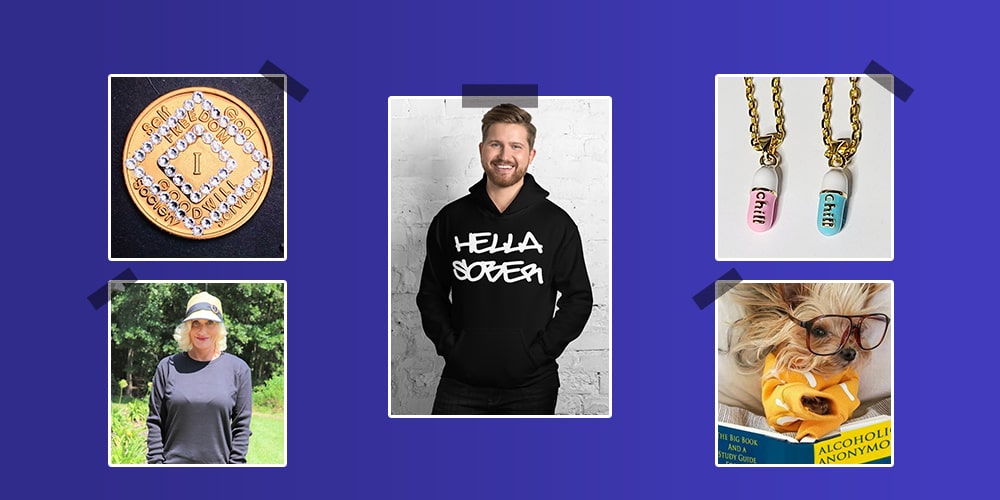 The significant challenges that came across
With a clear goal of helping people to live with Sobriety, Daniella started with Doing It Sober. She was adamant, having a clear vision towards her dream of helping addicted people. But she was facing hurdles that were creating a blockage in the road to the success of her brand.
She was managing google ads campaigns herself, but there were no significant sales she received. She was having a lot of issues with sales and errors present in the campaign.
The primary two challenges that Daniella faced were:
Challenge 1: Ads Disapproval
The ads were getting disapproved due to policy violations that resulted in higher costing and lower results.
Challenge 2: Not Getting Traffic and Sales
Reaching people online was another challenge faced by Daniella in her business. She was not able to get qualified traffic on her website. The overall sales also went down, resulting in lower ROAS. She was not getting the required conversion from her investment.
The Required Solution
Daniella needed a strategy to increase her website's visibility and increase traffic rate with increased conversions. The solution was required to resolve the issue of ads disapproval. Because the repercussions of ads disapproval mean that the ads are not shown at all on Google pages. The challenges were resolved using SEO and Google ads services by CedCommerce. Read ahead to know how –
The Upshot – When Doing It Sober met CedCommerce
Daniella spotted CedCommerce through the BigCommerce marketplace. Thereby, she started using CedCommerce' SEO Services on 31 March 2021.
After using the SEO services of CedCommerce, she experienced positive effects on her website. After that, she was ready to try the Google ads service by CedCommerce. CedCommerce proposed the work with which she could get better sales. Thus, she onboarded on Google ads on 27-05-2021. Thereby, the success journey started with CedCommerce SEO and Google ads services.
Final Result – The Outcomes After Using Our SEO and Google Ads Services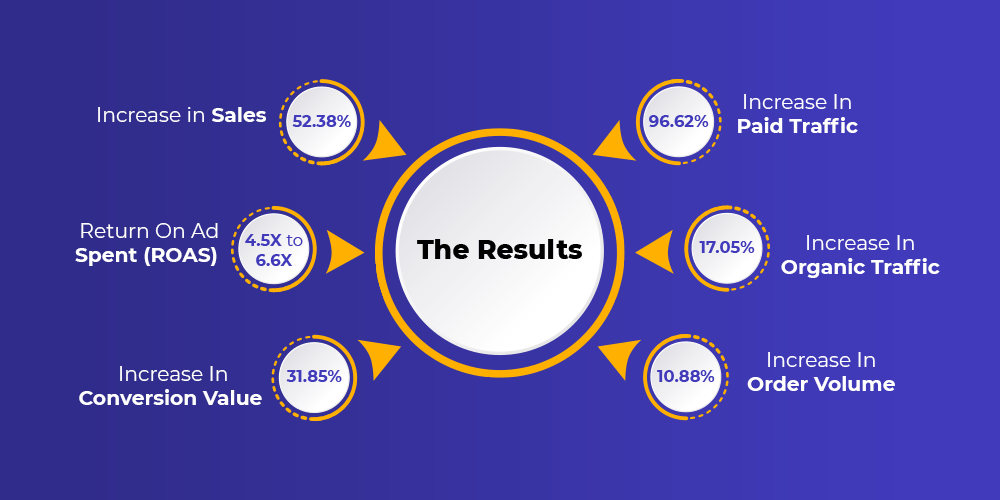 CedCommerce came forward with a straightforward approach to improve Doing It Sober's visibility. Within a short period, positive results started to show off on the website with SEO and Google ads service.
Let's have a look at the final results that Doing It Sober achieved with our SEO and Google ads services:
52.38% Sales increased, the ROAS maintained around 4.5x to 6x, and the brand awareness went good
Increase in genuine traffic
Increase in Brand value & Conversions: 31.85% increase in conversion value
96.62% increase in paid traffic
17.05% increase in organic traffic
10.88% increase in order volume
About CedCommerce
CedCommerce's results-driven approach and skillful mindset help its clients live their dream goals. With over a decade of experience, CedCommerce swears by its motto to satisfy its clients by offering them the best industrial digital marketing solutions.
Established in 2010, CedCommerce is providing eCommerce solutions, both native and SAAS-based. It has over 40+ marketplaces, including Amazon, Walmart, OnBuy, eBay, Etsy, Shopee, et al. and helps merchants sell and promote their products across online marketplaces.
CedCommerce also provides digital marketing solutions to the small and big businesses listed on these marketplaces to expand their reach over different online channels. Global giants like Google Shopping Actions, Facebook Marketplace, Fruugo, Walmart, and CDiscount, entrust CedCommerce with its partnership.
Henceforth, we are continuously growing and developing to bring more innovation and ease for users in the Global e-commerce processes.
To Conclude, Doing It Sober reached heights of success with us. The business made significant improvements and received satisfactory results from our SEO and Google ads services.
If your ecommerce business is also going through a tough phase and not getting expected returns, CedCommerce can be your reliable partner to help you out in your journey of success.
Click on this link to connect with us. We would be more than happy to help you out.