Grab This Chance: Republic Day Discount Offers On Magento Extensions, Build Your Own E-commerce Marketplace Now
Running short of time? Get PDF of the blog in your mail.

Portland, Oregon (17th January, 2018) – For 26th January, CedCommerce, Headquartered in India, is announced Republic Day discount offers on Advance Marketplace, Affiliate Extension, Customer Reward Management, Wallet System for Magento 2 and Indian Multi-vendor Marketplace for Online Sellers interested in launching their own e-commerce marketplace.
The packages enable aspiring entrepreneurs to establish their digital identity across all the devices – Desktop, laptop, mobile, and tablet and has all the aspects covered.
The solution has all the aspects of operating a marketplace covered. The package is SEO-friendly, provide users end-to-end control, has an interactive dashboard. Also, entrepreneurs can create unlimited products listing and permit as many sellers as required on their envisioned e-commerce marketplaces.
For Advance Marketplace Extension:
This Product gives Online Sellers the freedom of using your store the way you want it with as many features as needed with the use of addons. It also enables the marketplace owner to keep the entire process under his control and provides abundant functionalities to the suppliers to sell & handle their products. Some of the Addon names included in this product package are:
Vendor Mass Import Export Addon [M2]
Vendor Select And Sell Addon [M2]
Vendor Product Review And Rating Addon [M2]
Vendor Promotion Rules Addon [M2] and Many More.
Aspirants can use code REPUBLICDAY45 and get 45% off. The price of the package after discount stands at $1600.
For Indian Multivendor Marketplace:
After seeing the problems of Indian Online Marketplaces, We have come up with this Product which is only built according to the need of Indian Businesses. This Product Includes 17 addons in the package. It comes fully equipped with all the essential elements required to metamorphose your solo online store into a multi-seller Marketplace.
This Product is SEO friendly, makes your store design responsive, provides you the end-to-end control and for more Go On Indian Multivendor Marketplace page. Some of Addon names included in this package:
Vendor Mass Import Export Addon [M2]
Multistep Vendor Registration Addon [M2]
Vendor RMA Addon [M2]
Vendor Messaging Addon [M2] and Many More.
To avail the benefits of this package, aspirants can use code REPUBLICDAY50 and get More Than 50% off which comes out be $1150.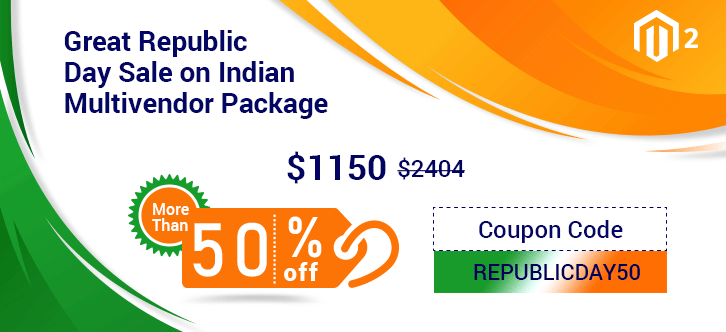 Discounted Extensions:
Affiliate Extension [M2]
Customer Reward Management [M2]
Wallet System [M2]
Pincode [M2]
Indian GST [M2]
And to avail the benefits of this package, aspirants can use code FLAT30 and get discount Upto 30% off.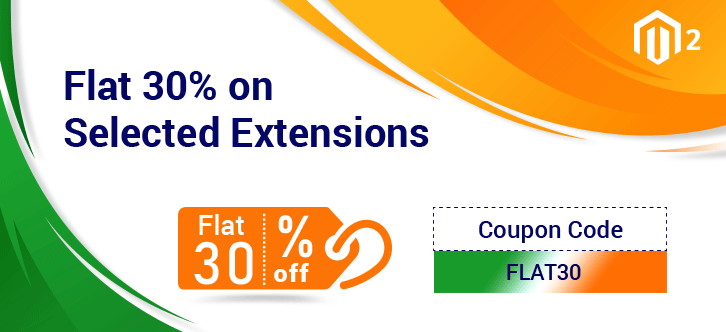 How to get the benefit:
Accessing benefits is a simple process. Sellers need to first visit – the offers page on CedCommerce. Therefore, they can add the individual packages by visiting their respective product pages thereafter apply Coupon Codes to get the cumulative benefits.
Compatibility and Availability:
The packages are compatible with Magento 2.0 and upwards. Also, the offers are listed and can be accessed from CedCommerce offers page.
About CedCommerce:
Established in 2010, CedCommerce aims to democratize the e-commerce, its solutions are used by 10,000+ clients across 90+ Countries scattered in all the continents. Its online marketplace builder solution has been immensely popular within the Magento community and Starters and Small & Medium businesses are using it alike to expand their website into a feature-rich marketplace.