Cross Border Trade with OnBuy
Running short of time? Get PDF of the blog in your mail.

Play Now
There were times when the world around us seemed so big, but now everything feels a few seconds away with the evolving technology and innovations.
Earlier, people used to do a heavy export and import for little things taking so much painstakingly long processes, but now, everything seems very easy and convenient, and on that note, here is the latest OnBuy's cross border trade expansion.
Cross Border trade is buying and selling something from a different country. OnBuy's Cross border trade expansion was announced recently. OnBuy is a leading UK based marketplace with a reach of millions. It was established in 2016 and has grown exponentially since then.
In the league of eCommerce growth, OnBuy joined hands with CedCommerce an official channel integration partner of OnBuy, enabling businesses to leverage free integrations for their stores based on Magento, WooCommerce, Shopify, Opencart, and Prestashop.
OnBuy's Growth Report
OnBuy connects with millions of sellers, allowing retailers to maximize the profit with no competition between the marketplace and the sellers.OnBuy allows sellers to sell in extensive categories instantly giving more exposure to sellers.
With these fueling factors, the company has announced 2400% growth in just four years, with 600% reported revenue growth year on year for the second year.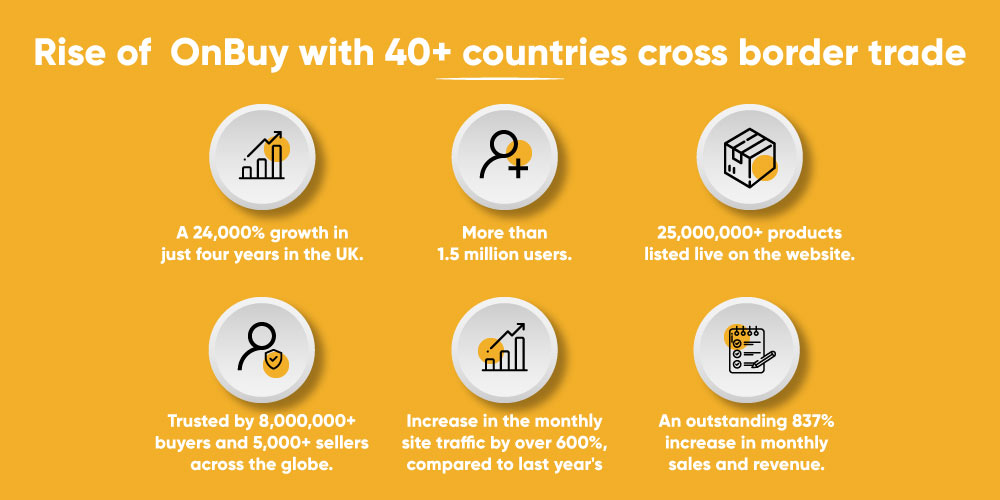 Aim of Expansion
The global cross-border expansion aims to drive 50X growth in the coming four years, making OnBuy a global eCommerce giant. OnBuy is starting this with 525 million products, strong international partnerships, and an efficient team and infrastructure. The best part is that it enables the local currency that will make this more hassle-free.
The Expansion Strategy
OnBuy is targeting those territories that other marketplaces failed to reach. Their model of low, competitive seller fees and no competition with its sellers proved successful.
OnBuy's adaptive eCommerce model and a constant hold of sellers fuels it's globalization to another level. They are planning to give the sellers an exposure of millions and enable a hassle-free shopping experience for customers across the globe.
"OnBuy's aggressive growth strategy is unlike anything the eCommerce world has ever seen. We have around 25 million live products in the UK, with 525 million products ready to roll out internationally. This scale-up scope is immense, and we aim to double our product numbers in the first 12 months. Our ability to scale in the UK, which is known to be one of the toughest eCommerce markets on the planet, has given us the infrastructure and business model that combined, go a long way to supporting us to scale internationally." OnBuy is the marketplace of the present and the future. Our move into global territories starting in November and continuing over the next 18 months is seen as delivering our global marketplace solution—a move that will establish OnBuy as a first-of-its-kind global player. We've worked very hard to create the world's first global marketplace. Having rapidly overtaken our closest competitors, proving conclusively that the appetite exists worldwide for a transparent and ethical marketplace, we will welcome the planet to a better, fairer, and more ethical e-commerce ecosystem, and support retailers all over the world in selling through the world's first truly global marketplace. We're not just about big brands and big business: our business model's core value is to support businesses of all sizes – and we support small UK businesses to help make them visible to a broader audience. This value resonates globally: as the world becomes dominated by large players, we plan to make the world's retailers more accessible and visible. Ultimately, we plan to offer consumers more choice, convenience, and confidence in buying from any retailer, giving the customer peace of mind through OnBuy guarantees and protections." – Cas Paton, founder, and CEO, OnBuy
How this Cross Border expansion with OnBuy will help sellers
OnBuy is expanding in 40+ countries giving the sellers exposure to millions. Along with aggressive marketing, their globalization strategy will help sellers build up their growth rate and enjoy thriving success with OnBuy.
Sellers will get a wide range of audiences. The question is how this trend can be of benefit to eCommerce sellers.
The temptation in these hard times of Brexit is to shy away from cross-border trading, but it makes the opportunities much more attractive in some ways.
And obviously, the weak level of sterling is a benefit here too. It will depend on what you sell and how you source your goods, but CBT is an ample opportunity right now.
How CedCommerce assisting in the process
CedCommerce is a global solution provider that assists small and large businesses to automate the selling process. If you are an existing OnBuy seller or planning to sell on OnBuy here's a solution for frameworks like Magento, WooCommerce, OpenCart, Prestashop, and Shopify.
From inventory updates to real time synchronisation and robust order management, the solution covers all that you need for a hassle free selling experience.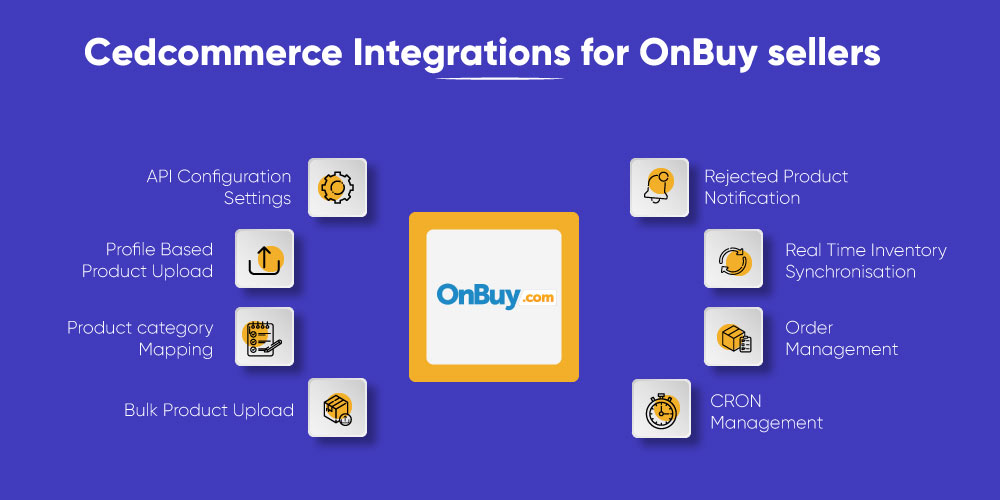 The Summary
Cross Border Trade is a great opportunity for any business no matter what's the scale. It lets you reach millions and gives a broad exposure.
With OnBuy you have some additional benefits like — OnBuy never competes with its sellers and the team is always available for your constant support, and a broader range of product category listings. OnBuy has shown tremendous success, believe me try it.