Collaborative Shopping: Re-envisioning Augmented Reality with Social Media
Running short of time? Get PDF of the blog in your mail.

Play Now
Ecommerce has been able to rake in the kind of popularity that it's experiencing today all because of the fact that it without fail delivers an engaging shopping experience in the comfort of our homes our workplaces, you name it!
The comfort of the shopper has been the USP, ecommerce thrives upon. Be it the flexibility of choosing the mode of payment to the enormously huge catalogue of products being presented to pick from the facilities are endless and it's only expanding.
Technological interventions like artificial intelligence and augmented reality, chatbots and machine learning have helped integrate shopping seamlessly into our day to day lives like never before. Meeting the experience of retail shopping is what every advancement in the field of ecommerce is targeting.
In the past ten years, the world has seen technology transitions at an unbelievably fast pace with barely imaginable innovations becoming popular e-commerce trends, one of which is Augmented Reality.  The list to what could be achieved using AR is never ending and it could be reimagined a hundred times over when combined with already existing breakthrough trends in ecommerce.
Collaborative Shopping is one such concept and a brainchild of CedCommerce (Magenative) that we intend to bring forth. It is a matchless example of what could be achieved by putting together two commendable technological innovations.
Collaborative Shopping is an innovative application of Augmented Reality used in combination with social media. As shoppers, we're all guilty of indulging big time when taking impulsive decisions while shopping on our own. That's where the advice of family and friends is much needed. It is definitely one most loved experience we're missing out on while shopping online.
The concept of Collaborative Shopping tends to bridge that very gap.
The concept as the name suggests allows the shopper to collaborate over a social sharing media with people and share the augmented images of the products they wish to purchase. Decisions are made in a flash and you are no longer worrying about your decision to purchase the said item.
The ability of Magento to transform your store cannot be overlooked and when combined with the latest innovations the possibilities turn out to be endless. As a seller, in order to always have your e-commerce game on point its mandatory to go that extra mile and provide a 'wow' factor to your customers.
AR may have looked like a distant dream only a while ago but it has already arrived and the fact that it is seamlessly blurring the line between the real and virtual world is catching a lot of attention.
According to statista in 2019 the market size of Augmented and Virtual Reality is expected to reach a whopping 20.4 billion US dollars.
The use of AR is enabling customers to get as close as possible to the experience of shopping in a store while they are very much in their own comfort zones. AR is allowing a perfect blend of virtual objects with the real world facilitating selection of perfect fits for customers' environment.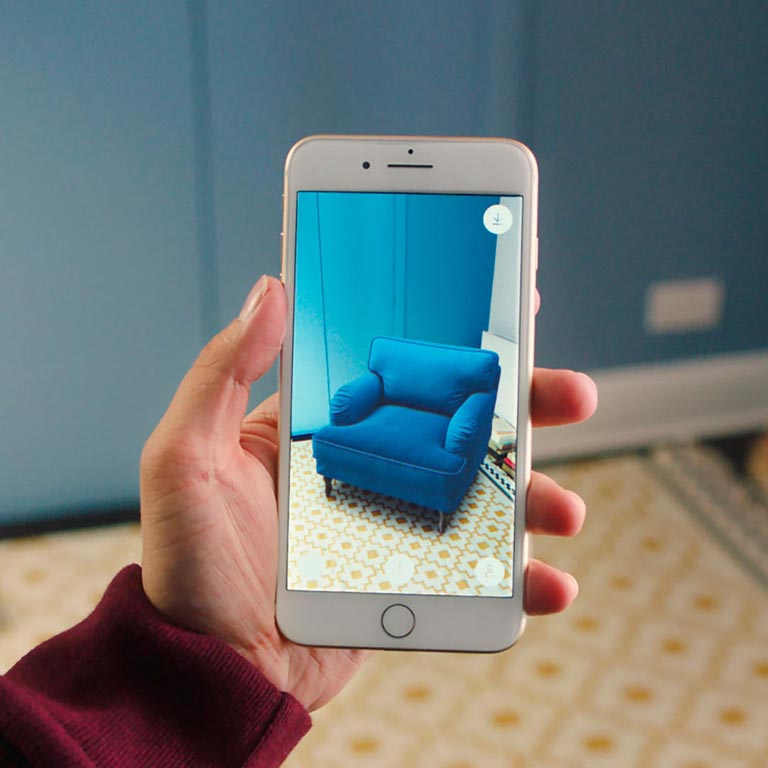 Its immense potential to impact the purchase decisions of shoppers is leaning towards making it a mandatory feature for the e-commerce industry. IKEA is already deploying AR by allowing its customers to check out how the furniture would look in the setting of their rooms.
Credits to AR in mobile apps improved object visualizations will eliminate the need felt by online shoppers to visit brick and mortar stores.
Mobile applications in AR were successful in driving revenue of 884.1 million in the year 2017 which is predicted to soar to 6218.23 million by 2020.
It is all set to be the next big thing bringing about massive changes in shopping patterns. Mobile apps were as it is providing the convenience to shop on the move, now combined with AR be it the try and buy feature offered by Amazon or the comparable features of Ikea's app customers are now making better choices.
Considering the revolutionary capabilities in AR it is only obvious to stress upon deliberations on its potential when used in mobile apps. It's important to understand the various dimensions that AR could venture in. Enabling visualization of products in the real world would not only effectively reduce the troubles faced by customers after making the purchase but also help them try out multiple products with minimum efforts.
AR in mobile apps brings to the table new patterns in ways people interact with their environment, ways in which brands choose to market themselves and changes in the ways of customer-seller interactions. These are certain profound transitions which need to be addressed and explored further.
The future of AR lies in the innovative applications of already existing technology in addition to both hardware and underlying software enhancements of platforms utilized to build AR applications.
Collaborative Shopping concept by CedCommerce (Magenative) is aimed at revolutionizing conventional mobile shopping by utilising the social sharing methodology with the inclusion of AR and screen sharing through smartphones.
This concept opens doors to the idea of viewing products as it would appear in the real world, even before purchasing in addition to sharing the same virtual screen with their family, colleagues and other acquaintances they consider to be their perfect shopping partner over voice chat.
A perfect way to shop that overcomes the trouble of going through the entire process of clicking and sharing multiple images, screenshots simply because you want an opinion over what you're planning to buy. Why make the fun experience that is shopping a boring and tedious job.

The solution uses AR kit and AR core technologies for displaying the products in a 3D model which can be moved, resized and viewed from multiple angles. At CedCommerce the solution has been built making use of Twilio API for the voice chat and communication during the product sharing session.
Through rigorous development phases and elaborate quality checks, we can say the solution deems fit to be deployed with ecommerce for delivering a matchless shopping experience.
Collaborative Shopping successfully eliminates the need to have the shopping companion present physically for an interactive shopping incident to take place. Cutting short the barriers of distance image sharing can happen easily in real time.
What makes this solution different from other AR shopping tools is its ability to share the screen and communicate at the same time providing an enveloping shopping experience to individuals involved at both ends.
Be it fashion products, home decor or basic utilities (read practically anything that you wish to shop for) Collaborative Shopping helps shoppers seek advice and reduce the buyer's journey by accelerating the purchase process.
To find out more about Collaborative Shopping reach out to us at:
Visit our website:
CedCommerce: https://cedcommerce.com/
MageNative: https://magenative.cedcommerce.com/
Follow Us On:
Facebook: https://www.facebook.com/CedCommerce/
Twitter: https://twitter.com/cedcommerce
Linkedin:https://www.linkedin.com/company/cedcommerce
Contact Us:
Support: support@cedcommerce.com
Sales: sales@cedcommerce.com
On Cell: (+91) -7234976892 (FOR INDIA)
Toll-Free Number: 888-882-0953 (FOR USA)