CedCommerce level-ups to Silver Tier Solution Provider on eBay
Running short of time? Get PDF of the blog in your mail.

Play Now
CedCommerce has just moved up to eBay'selite club! Yes, you read that right! With the Silver Solution Provider Partner badge, we are now recognized as one of eBay's top third-party solution providers.
Upholding the vision to provide outstanding support to eBay sellers, the Silver Solution Provider badge is only honored to partners with a high degree of experience designing solutions utilizing eBay's APIs.
As a Silver Solution Provider, CedCommerce will continue to provide cutting-edge solutions that assist eBay sellers in growing their businesses and finding new customers. CedCommerce eBay integration solution helps connect merchants' e-commerce platforms to eBay's vast global marketplaces, ensuring seamless inventory, orders, and product listing integration. Moreover, the system provides real-time synchronization, automatic product syndication, and seamless order administration, empowering sellers to operate their eBay storefronts from their current e-commerce platforms.

What the Silver Partner Badge Means for Sellers
As CedCommerce steps up as a Silver Tier partner, it's also a huge win for the sellers. Sellers can benefit from various features, including inventory management, order management, pricing optimization, etc. They can easily manage their listings across multiple platforms, streamlining their operations and improving efficiency.
We, at CedCommerce, acknowledge the needs and difficulties each vendor faces. Our account managers collaborate directly with sellers to fully comprehend their business objectives and offer tailored solutions that aid in their accomplishment on eBay. Our support staff is accessible around-the-clock to respond to inquiries, resolve problems, and assist merchants in getting the most out of our platform.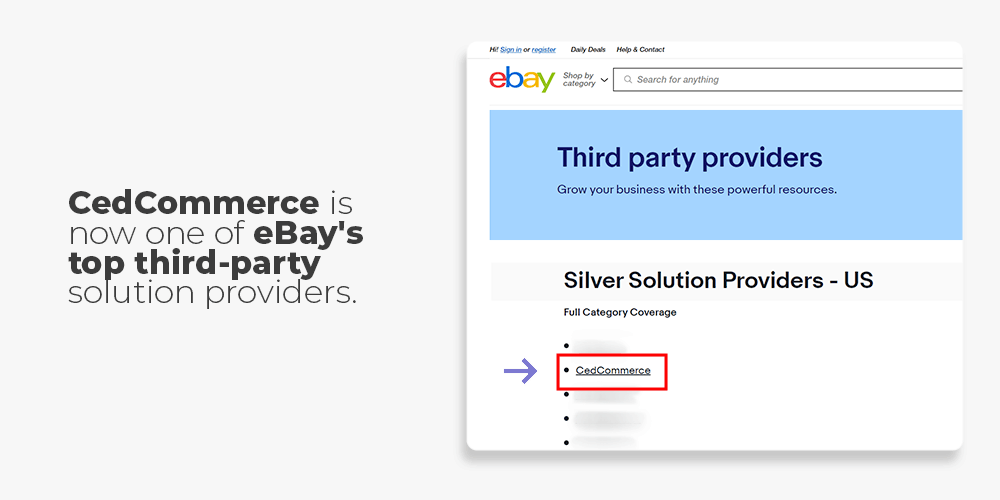 [Image Source: eBay]
With a comprehensive integration solution and a commitment to support, CedCommerce is poised to continue driving success for eBay sellers in the foreseeable future.
Along with the Silver Partner Badge, CedCommerce has earned 750+ five-star reviews for our eBay integration, with merchants complimenting our platform's simplicity, dependability, and superior customer service. These testimonials stand tall to demonstrate our dedication to assisting our clients in finding success on eBay.
Strengthening eCommerce Solutions to Empower eBay Merchants
Ever since the partnership in 2019, CedCommerce's solutions have helped thousands of merchants to grow their businesses on eBay's platform. The recognition is a testament to CedCommerce's commitment to assisting eBay sellers to succeed in the global marketplace.
CedCommerce's eBay integration solution is available for merchants on various e-commerce platforms, including Shopify, Magento, WooCommerce, Opencart, and Prestashop.
With the Silver Solution Provider status, CedCommerce is well-positioned to continue helping eBay sellers to succeed in the global marketplace.

A Milestone For Us, A Promise For You
CedCommerce's accomplishment of the eBay Silver Solution Provider certification indicates the company's dedication to assisting eBay merchants in succeeding in the global marketplace. CedCommerce will provide eBay sellers with its powerful application designed to help them optimize their processes, boost productivity, and maximize their potential.
With the privilege of achieving this milestone, CedCommerce will continue driving development for eBay merchants globally, thanks to its comprehensive integration solution and committed support staff.