CedCommerce for The Artsy Spot| Revamp your business with a time-tested Digital Marketing Strategy
Running short of time? Get PDF of the blog in your mail.

Play Now
When you are a business that functions with a motto to 'Create with the heart, Build with the mind', your customers also value you for the quality your products bring to the table, but is it always true? Well, sometimes you have to talk in the language your audience understands. And with the advent of the digital age, brands and eCommerce stores are coming up with their digital marketing strategy to crack the code for massive sales and solid reach. Like many others, it was hard for The Artsy Spot to crack this puzzle, and despite its value-driven and quality products, the store was struggling to rank well on Google. Such are the times when a digital marketing expert does the magic as CedCommerce did for this store. How? Let's explore.
The Artsy Spot is a 'unique art store' with a purpose
The Artsy Spot is an eCommerce store that started as a brick-and-mortar store named 'Artsy Walls and more' in the fall of 2015. The store started as a hobby and quickly became a business that creates Home Improvement products, Home Decor items, and Gifting ideas. Today, the store has expanded with a wide range of exciting products from vinyl decals, wall prints, artsy apparel, posters, coffee mugs, clipboards, personalized gifts, and holiday season gifts, especially the customized monogram Christmas ornament is an all-time favorite. Customers love Artsy's products and acknowledge the intricacies with which they have been created.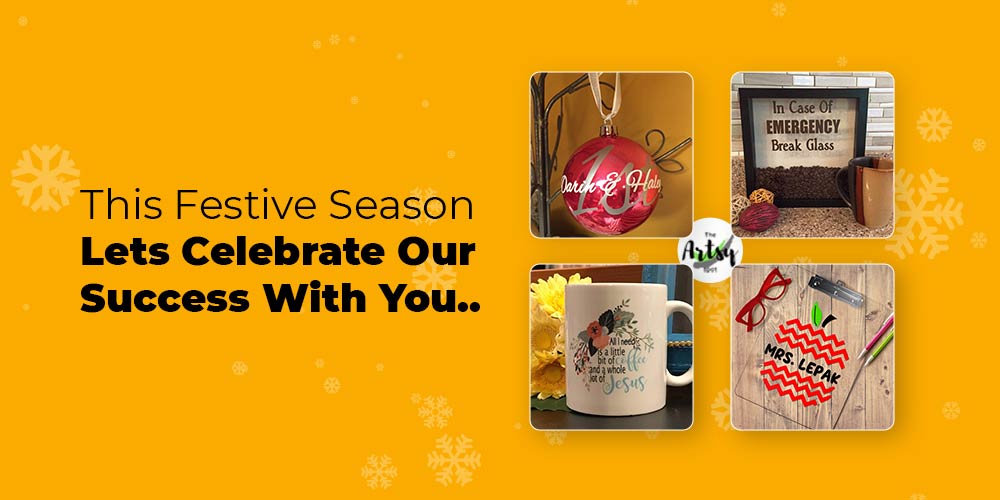 This store is indeed a perfect spot for all your home improvement, decor, and gifting-related concerns. Here you will find creativity in all the products with unmatched quality at affordable prices.
A humble beginning
The Artsy Spot amalgamates creativity, novelty, experience, and vision, all falling in one place under a bigger plan. Rachel Austin, the owner of this unique and beautiful Home Improvement and Gifting store, is a visionary in her sense. Starting from a humble background as a school teacher Rachel always had a knack for creativity. She was always interested and observant of the creative elements that can fill the lives of kids, teachers, homemakers, etc., and motivate them to be their best selves.
She is also keen on adding value to these products by sharing a percentage of her revenue earned with a noble cause via this store. Moreover, she is associated with Living Water International and volunteers in the projects running under this project from time to time.
Making a mark in Digital space is indeed a Challenge
With so much quality and pure intent, the store was still struggling to reach the target audience, and hence the engagement was not as expected. Rachel tried different ways by expanding the product range and her hands-on digital tactics. She also got a digital store for her products but could not create magic here as she does for her products.
The challenges faced by the Store were persistent,
Unable to rank on Google
Low performing website
Engagement was poor
Conversions were not satisfactory
When creativity joins hands with expertise, Magic Happens!
In 2020, the pandemic hit the businesses massively and instigated the brand owners to invest in a novel digital marketing strategy and revamp their presence. In May 2020, via Shopify, Rachel finally decided to collaborate with CedCommerce, a Digital Marketing Expert, and transform the visibility of her ecommerce store.
CedCommerce, with an expertise of more than a decade, has helped various businesses and brands to build a ground-breaking digital portfolio, gain exponential engagement, escalate their revenues, and rectify the issues faced by its clientele.
With its digital mastery and hands-on experiences in various services like Search Engine Optimization, Social Media Marketing, Content Marketing, and different tools and extensions, CedCommerce was excited to help eliminate the issues of this store.
Building a custom Digital Marketing Strategy
When CedCommerce experts briefed the Artsy Spot about our services, the owner couldn't wait to see the results and immediately signed in for our Digital Marketing SEO Services for significant transformation. We then crafted a dedicated digital marketing strategy to serve the issues faced by the store.
Services offered by CedCommerce
SEO or Search Engine Optimization is the process used to upgrade a website's technical configuration, content relevance, and link generation so its web pages can quickly become findable, gain popularity and improve visibility towards user search queries. These activities eventually help them rank better on search engines like Google.
The SEO services usually segregate into On-Page SEO and Off-Page SEO activities. Whereas the On-Page SEO Services that we offered included,
Optimized title elements
Resources formatted as page links
Rectified orphaned pages in the sitemap
Upgraded low Text-HTML ratio
Updated missing meta descriptions
Optimized pages with broken links
Removed 4xx Errors and irrelevant pages in the sitemap
Removed duplicate title tags, H1 tags, meta description, and so on
The Off-Page SEO Services included,
Blog directory submission
Blog writing and posting
Social profile creation and promotion
Guest posting on relevant sites
Bookmarking on relevant sites
Resolving speed or page loading issues
Unexpected Results reclaimed our Digital Marketing Prowess
With a consistent, strategic, and diligent approach for 18 months and more, CedCommerce once again succeeded in creating a solid digital portfolio for a genuine brand like the Artsy Spot. The results were awe-struck, and our client is super happy to see the results as part of our time-tested expertise,
Website performance has improved from Grade F to Grade A as per the GTmetrix report. The website has been strategically built and offers a structure for optimal performance.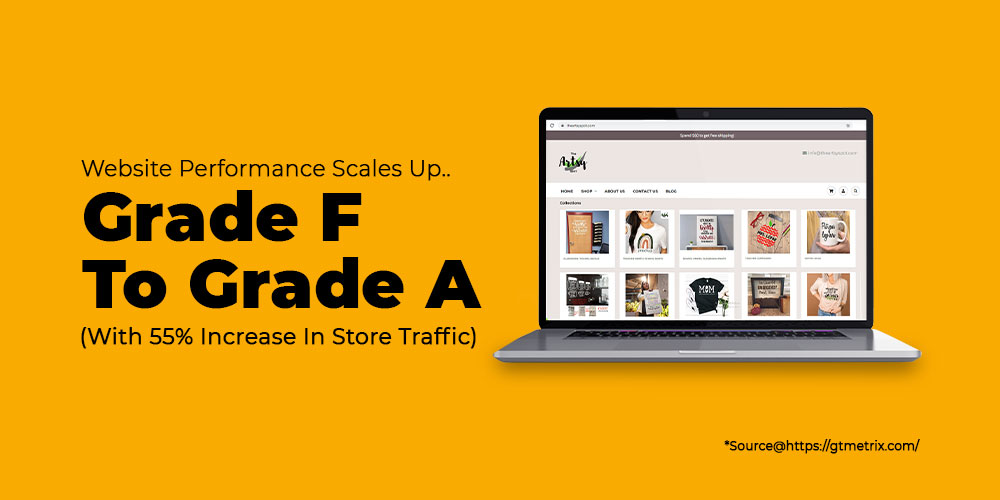 Page loading for the largest content element has reduced and offers a good user experience with a healthy LCP score(a key metric for web vitals) and visual stability
Whopping 55% increase in Online Store Traffic
Almost 45% of the increase was observed in the order volume
Organic Searches has shown massive improvement
The major transition has been recorded in the last six months(with 1.51k clicks, 373k impressions, 0.4% increase in avg. CTR, and 26.1 % increase in avg. position)
Also, the website has shown phenomenal improvement under the following heads,
Overall user count has raised (by 847%; net user in last 15 months is 6165, where significant traffic is from the USA);
New Users that have come since CedCommerce's services were introduced has shown drastic growth (by 921.73%; new users acquired in last 15 months is 5783);
Also, the sessions have shown a scalable growth of 644.46% (total sessions in the previous 18 months is 7720)
The conversion rate on the Artsy Spot ecommerce store has shown a consistent growth of 36.39%,
Total transactions have escalated to 915.38% and
The revenue has demonstrated remarkable growth of 749.23% with a $10696.12 of revenue generation in the last 15 months
Rachel is super happy with the successful integration of the SEO Services by CedCommerce at her store. She has even signed in for a long-term collaboration with our expert digital services. Moreover, she is keen on trying different modules to upgrade her store and add digital wings to her loving brand.
Sign in for a tailor-made Digital Marketing Strategy
If you have an idea, our Digital marketers are always ears. Let us hear what you have to say and shape your thoughts with our customized digital marketing solutions to suit your needs and budget.
About CedCommerce
CedCommerce's results-driven approach and skillful mindset help its clients live their dream goals. With more than a decade of experience, CedCommerce swears by its motto to satisfy its clients by offering them the best industrial Digital Marketing solutions. Established in 2010, CedCommerce is providing eCommerce solutions, both native and SAAS-based. It has over 40+ marketplaces including Amazon, Walmart, OnBuy, eBay, Etsy, Shopee, et al. and helps merchants to sell and promote their products across online marketplaces.
CedCommerce also provides digital marketing services to the small as well as big businesses listed on these marketplaces to expand their reach over different online channels. Global giants like Google Shopping Actions, Facebook Marketplace, Fruugo, Walmart, CDiscount, entrust CedCommerce with its partnership.
We are continuously growing and developing to bring more innovation and ease for users in the Global e-commerce processes.
Your dream success is just a click away!