Canadian Thanksgiving: Tap into Canadian consumers' expectations on Amazon-Shopify store
Running short of time? Get PDF of the blog in your mail.

Play Now
Thanksgiving is one of the special festivals celebrated in Canada a month ahead of the US. A fabulous time to celebrate the new harvest, family life, and blessings of GOD. Canadian Thanksgiving is also a big-time festival known for Deals! Deals of thanksgiving in 2021 majorly revolved around electronics and media followed by fashion and apparel. Thus, the growing and evolving expectations of Canadian consumers on marketplaces like Amazon are surely a great opportunity for sellers to plan online selling for higher profits.
Read this blog to understand the leading Canadian shopping trends, deals, and statistics of Thanksgiving 2021, how as sellers can you choose products and strategies to rank higher and be visible to your target audience on Amazon Marketplace, and much more!
Online shopping in Canada: Statistics and Trends 2022
This survey by Statista presents the attitude of Canadian consumers towards online shopping. What it shows are the expectations prospective consumers have while purchasing goods and gifts during thanksgiving and the following festivals.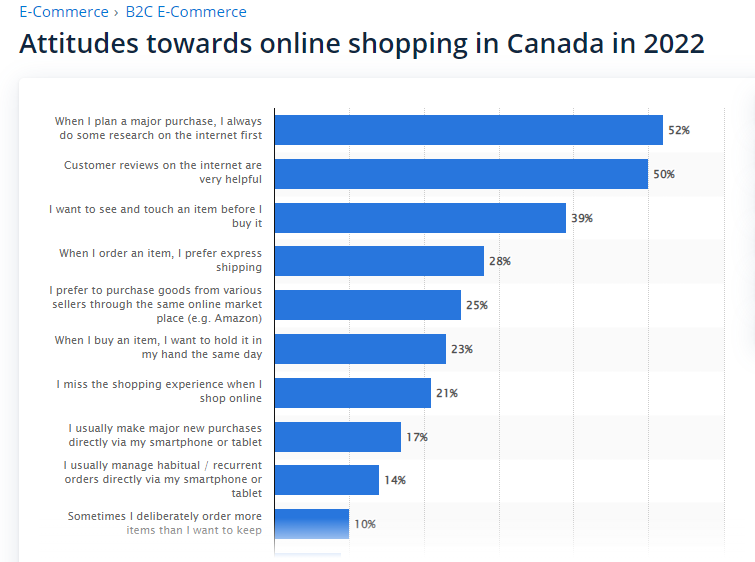 Customer Reviews Matter
The analysis report attached above shows how 50% of people fond of online shopping in Canada rely on customer reviews for the product they want to purchase. Ensuring good customer service for positive feedback is really a way to go as far as Canadian customers are concerned this Thanksgiving. Make sure your products have good reviews, good ratings, and satisfied customer pictures.
Real-life Product Showcase
So, as sellers, you should know that 39% of Canadian customers want to see and touch the product before making a purchase, after all, who would want to invest in a product without checking it thoroughly? Here is what you need to do. Get as many detailed pictures of the product as possible. Show how it looks at home, on models, from different angles, if possible, you can a video of the product. These detailed pictures will surely help prospective buyers get a real feel of the product.
Express Shipping/ Same-day Shipping
Thanksgiving is all about gifting one another. People in Canada start shopping and ordering gifts for their loved ones beforehand. Being a seller on Amazon, you can offer express shipping or Prime shipping services to the customers. Fast shipping services with same-day delivery or one-day delivery give your store a higher chance of sales.
Consider M-Commerce
17% of Canadian customers agreed to the fact that their new purchases are generally made through smartphones or tablets. Make your store mobile friendly. Easy navigation, exciting festive feel, Deals and discounts, and easy payment methods can certainly make your Canadian audience ready to buy from your store.
Highest Selling Product Categories for Canadian Thanksgiving 2022
The highest selling categories in 2021 majorly covered clothing, accessories, toys, gift cards, movies/music/video games/books, and electronics. Each of these categories witnessed a different percentage of purchases as mentioned below. These stats speak about the weightage as sellers you must give on this Thanksgiving 2022:
Clothing and accessories → 51%
Toys → 38%
Gift Cards → 28%
Movies/music/video games/books → 27%
Electronics → 24%
Your deals for thanksgiving must include these products. If you are already a seller on Amazon and want to sell in Canada as well, the process is quite simple. Once, a seller in multiple countries on Amazon, you have access to sell your products to a huge number of customers this coming Thanksgiving, Black Friday, Cyber Monday, etc.
Marketing Tips to boost sales this Thanksgiving Holiday
Thanksgiving is also a time to welcome new harvest, people give treats and feasting each other. Here are some marketing tips you can apply to your sales strategy amidst Canadian Thanksgiving shopping trends to get the profits you are looking for:
Make seasonal landing pages
You can promote a specific landing page that talks about the deals, offers, and gifts for Thanksgiving. People would love to see all the offers and deals in detail and get festive vibes from your store.
Talk as much about Deals
Give people a reason to stay and choose you. Deals, discounts, and coupons are the best ways. Customers look for the best thing at low possible prices. Express shipping, free shipping, delivery options, etc. are good ways to hook prospective customers. Do you also know about Flash sales? If not, read here what is it and how to run Flash sales.
Run referral Discounts and Freebies
Giving free vouchers or additional items on a purchase of a certain amount can boost sales. Even referral discount helps you get new customers and its word-of-mouth marketing. Marketing strategies like these bring new customers and retain and repeat customers.
Running Google Ads
Running responsive search and display ads with the right keywords can really work best during holidays like Thanksgiving. All you have to be careful about is choosing the most searched keywords and selling them the products they are looking for to avoid bounce rates.
Send Marketing emails
Reach your loyal customers with new deals, discounts, and offers. Talk about what all new is coming their way. Talk about your products and introduce them in an interesting way. Get feedback and promote them through appropriate social media channels. As mentioned above, these feedbacks help influence their purchase decisions.
Conclusion
Not just Thanksgiving, but many upcoming festivals like Black Friday, Cyber Monday, Christmas, etc., thinking expanding to multiple countries on Amazon will be a genius for you as a seller. Hassles of managing multiple accounts? That you leave on CedCommerce. CedCommerce's new launch of the multi-account feature in its well-known integration called Amazon by CedCommerce is a well-suited integration to support multiple amazon accounts and manage all feeds with automated features – a centralized platform.
To know more about Amazon by CedCommerce, visit us here! Also, do not forget to leave your comment below about how this blog piece helped in your Thanksgiving store prep.