How to Build a Website like Airbnb-One stop solution for you !
Running short of time? Get PDF of the blog in your mail.

Play Now
If you are reading this you are probably impressed by the idea of Collaborative Economies and are wondering how to build a  peer to peer marketplace. If you aspire to build a website like Airbnb of your own you are at the right place.
Over the next few minutes we will help you understand why is building a website like Airbnb, HomeStays etc. a value proposition and how can you do that.
Building a booking and reservation system is not a tough nut to crack if you have clarity of the features that you should include.
Read on to find out.
Why build a vacation rental website like Airbnb?
Before getting into the details of developing a vacation rental website like Airbnb, HomeAway, VRBO, FlipKey etc. it is important to ask the following questions:  
How does Airbnb work
What should be the features of a website like Airbnb that would make it a popular choice
What goes into building such a marketplace
Would it be a value proposition both in terms of solving a problem and growth?
How does Airbnb work?
Airbnb is an extremely popular hospitality service marketplace founded in 2008 by Brian Chesky, Joe Gebbia, and Nathan Blecharczyk. It allows people to rent or lease accommodations, apartment leases, Homestays, hotel and rental resort rooms for a short term. The interesting part is that Airbnb does not own these accommodations that it rents out. Instead, it targets building a community that shares its resources with one another. Which is also the concept behind other vacation rental website as well.
Airbnb plays the role of an interface between the dealing parties and gains service fees (commission) from both the ends with every booking. For every booking related transaction that takes place, the company charges guests a 6%-12% guest services fee and charges host a 3%-5% host service fee. Vacation rentals work on the concept of a collaborative economy (a peer to peer marketplace). Airbnb has over 3,000,000 lodging entries in 65,000 metropolitan areas and 191 countries. The expense of lodging is left to the discretion of the owner of the property that gets rented out.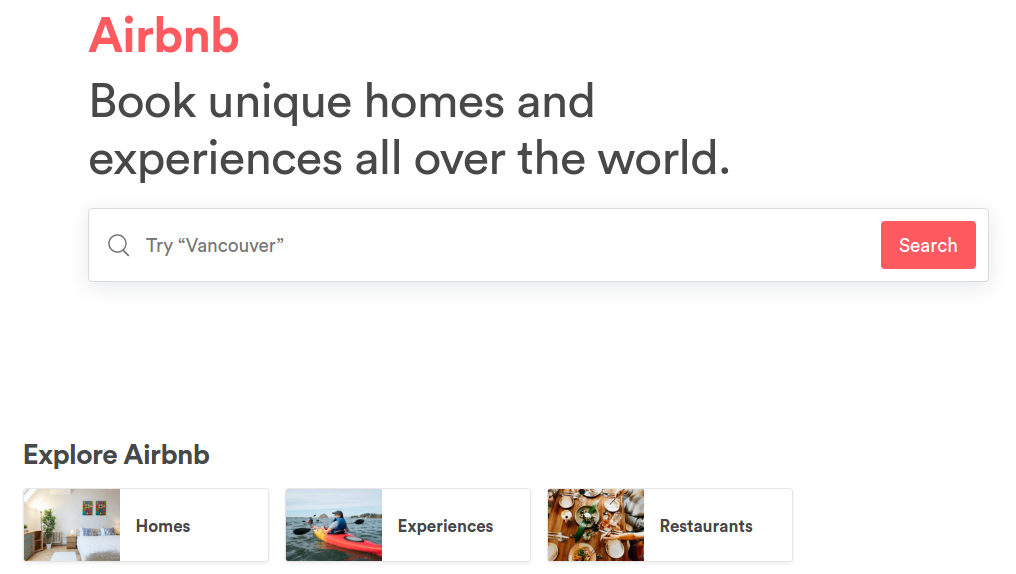 How to Build a Website like Airbnb-One stop solution for you !
Travel Industry has been evolving continuously and so has the travel e commerce market. Today, the customer is at extreme levels of ease while making travel plans. Online booking of travel is becoming increasingly popular now. This sector holds immense potential and still needs to be worked upon. The tours and activities market still holds scope for welcoming players coming up with innovative interventions.
In the year 2016, global online travel sales totaled to 564.87 billion U.S. dollars. This figure is projected to grow to 755.94 billion U.S. dollars in 2019.
The travellers are prepared to experiment with unique features and are ready to spend on enhanced experiences. Therefore, the success of websites like Airbnb offering a multitude of experiences while travelling to their customers becomes all the more inevitable. This can be understood by the fact that the Global Alexa ranking of Airbnb is 366. This is how popular a similar website offering exceptionally well services could get.
A vacation rental website like Airbnb or HomeStays should provide the following features to ensure covering all the aspects of efficient service delivery to its customers.
                                                                                How to Build a Website like Airbnb-One stop solution for you!
Collaborative Economy:

 The idea of making optimum use of the resources available at hand and making some extra cash with it while it is not being used by its owner is the sole concept behind a collaborative economy or a peer to peer marketplace.
The 'I Need You Have' concept of peer to peer marketplaces
When people realized how they could rent out the extra spaces they had on short-term basis: be it the extra rooms in their houses or their empty car seats then revolutionary ideas like Airbnb, HomeStays, and BlaBlaCar began to be accepted largely.
 Improved Visual Searches using Maps:

Facilitating searches through maps provides users ease of looking for their desired service in their preferred location without many hassles.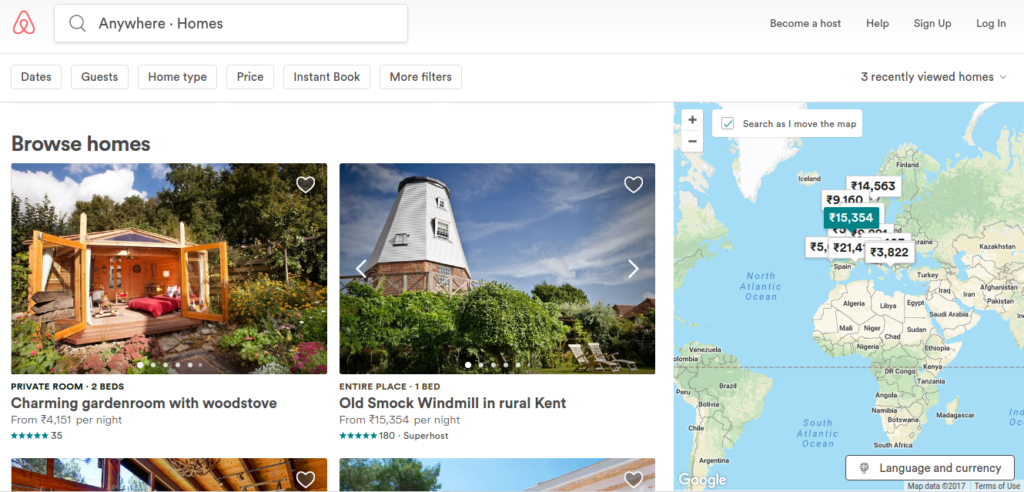 How to Build a Website like Airbnb-One stop solution for you!
Secure Payments and Holding Funds till Service Delivery: Payments should be facilitated on the website, allowing the users to complete transactions online. To gain user credibility and developing trust between people who seek to make use of your service is important. Therefore, in order to create a website like Airbnb, it's important to make available the option of completing all the monetary transactions online on the website itself.
Community Building through Ratings and Reviews:

Such rental websites like Airbnb or HomeStays are largely built by leveraging customer trust and word of mouth which is undoubtedly the most trusted way of establishing credibility amongst the community. Allowing users to rate and review the services seems like the most plausible idea to convince more people to use the offered service.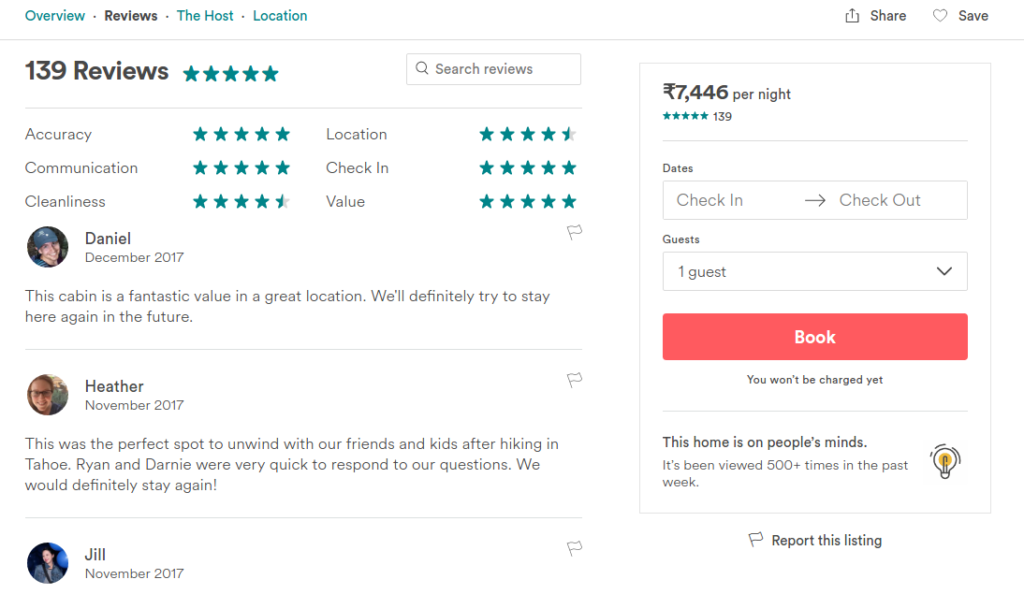 How to Build a Website like Airbnb-One stop solution for you!
Information update on space availability:

To avoid any double bookings the availability information of any enlisted space is of utmost importance.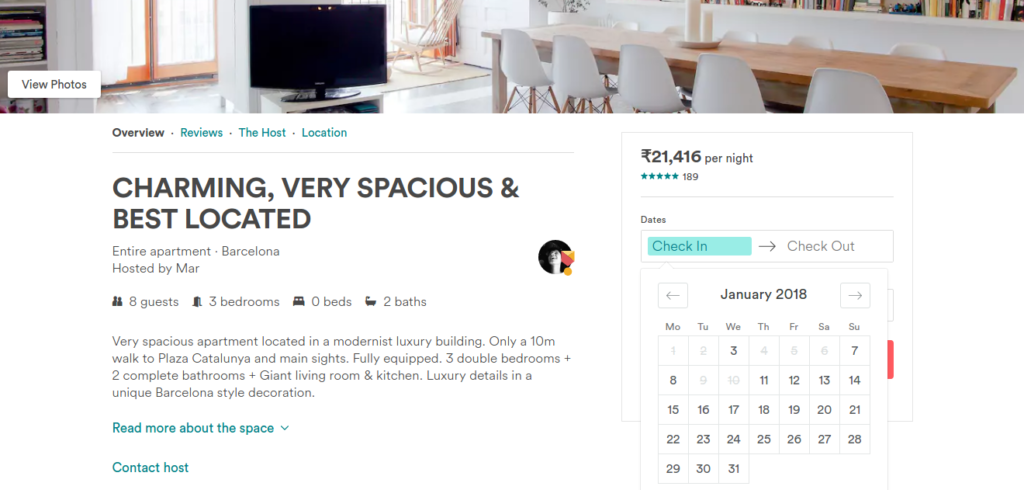 How to Build a Website like Airbnb-One stop solution for you!
Filtered Searches and Results: S

pace and experience listings can be filtered based on the attributes desired by the customer.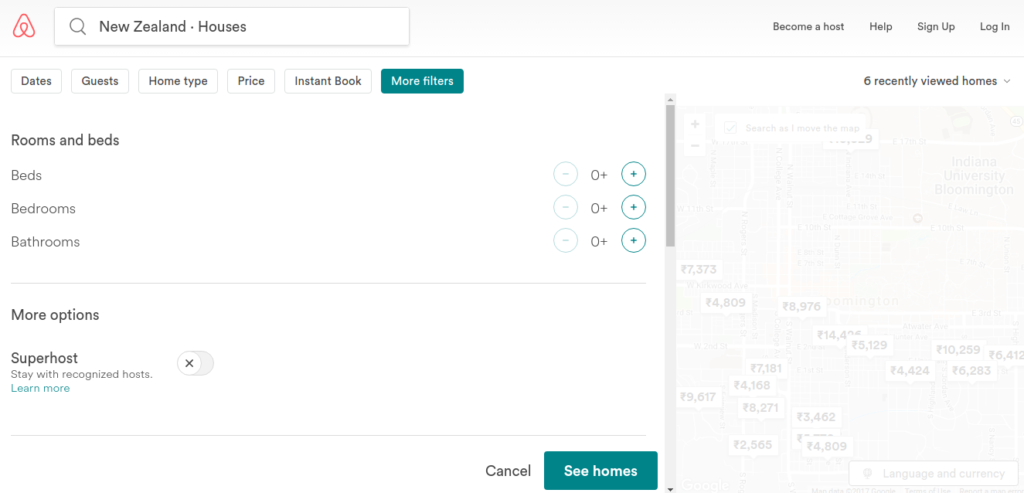 How to Build a Website like Airbnb-One stop solution for you !
CedCommerce supports the building of a similar platform owing to its Marketplace extensions.
For assistance visit: CedCommerce
How to build a website like Airbnb?
In a website like Airbnb it is important to incorporate the above listed features such as online payments, functionality for review and ratings, filtered searches etc.
The three major action items for building a marketplace are:
Domain registration

Hosting

Design and Development
Building a vacation rental website from the very scratch is a tedious and time-consuming task. Time should be deployed into developing a customer user base rather than dealing with the technical aspects of building the platform. 
CedCommerce offers the required technical solutions tailor-made for building one such platform. Be it an eCommerce solution you are looking for or hosting services, you need not go further. CedCommerce's Magento 2 Marketplace extensions and addons are readymade affordable solutions for developing a vacation rental website like Airbnb. The booking and reservation extensions come with a bevy of features to aid the development of a rich multi vendor marketplace with the best functionality. Within no time will you have your own Magento 2 online booking and reservation system.
For Building your own Magento multi vendor marketplace and to see what our clients have to say about us please visit: CedCommerce.com
Other Related Reads:
Now you can build a website like Flipkart and sell even more !