BigCommerce merchants can now sell on Google via Marketplace Connector App
Running short of time? Get PDF of the blog in your mail.

Play Now
To ease multi-channel selling, CedCommerce enables BigCommerce merchants to connect with Google through the Marketplace Connector App. In other words, merchants can now avail the exclusive features of BigCommerce Google Shopping integration through the Connector app.
Given the whopping 80% share of American shoppers; shopping online every 48 hours period in the US from Google. CedCommerce is making all efforts to help Bigcommerce merchants; expand their brand visibility on the world's largest search platform.
Proud Partners of Google & BigCommerce…
As a Premier Partner of Google and Preferred Partner of BigCommerce; we're delighted to team up with both the eCommerce giants. Our common goal is to facilitate easy Google Shopping onboarding; along with assistance in selling on other platforms. Furthermore, the app establishes a perfect synchronization between their Bigcommerce store, Google Merchant Center, and Google Ads account in no time.
Quoting in response to the listing of the integration in the Marketplace Connector App; Mr. Abhishek Jaiswal, CEO and co-founder of CedCommerce says, "The year 2020 and first half of 2021 has been a tremendous phase for Google with lots of updates and new introductions. Nonetheless, enabling sellers to sell on multiple platforms will scale everything in favor of multichannel selling. CedCommerce is extremely pleased; to work with the two key eCommerce platforms. Moreover, to come up with an all-in-one solution that can help merchants grow progressively."
So, this endeavor will help BigCommerce merchants streamline their onboarding process on multiple marketplaces; which now also includes Google Shopping & Ads integration. Besides, the newly added features are sure to enhance your sales experience on Google programs namely Google Ads, Buy on Google, Free Listings, and Google Local Inventory Ads.
The integration app offers $150free Ads credits to New merchants. It assures thorough assistance to onboard and sell on Google effortlessly.
To serve you with more benefits, BigCommerce merchants new to Google can enjoy a seven days free trial. Moreover, they can manage upto 10K SKUs, all for free.
What can BigCommerce Google Shopping & Ads integration do for you?
A full-service integration solution is an absolute necessity for BigCommerce merchants; who want to integrate their stores with Google surfaces. Our sophisticated app allows you to readily manage your Google Shopping feed and BigCommerce Product feed. On the other hand, helping you manage everything between Google Merchant Center, Google Ads account, and BigCommerce store, all from one single dashboard.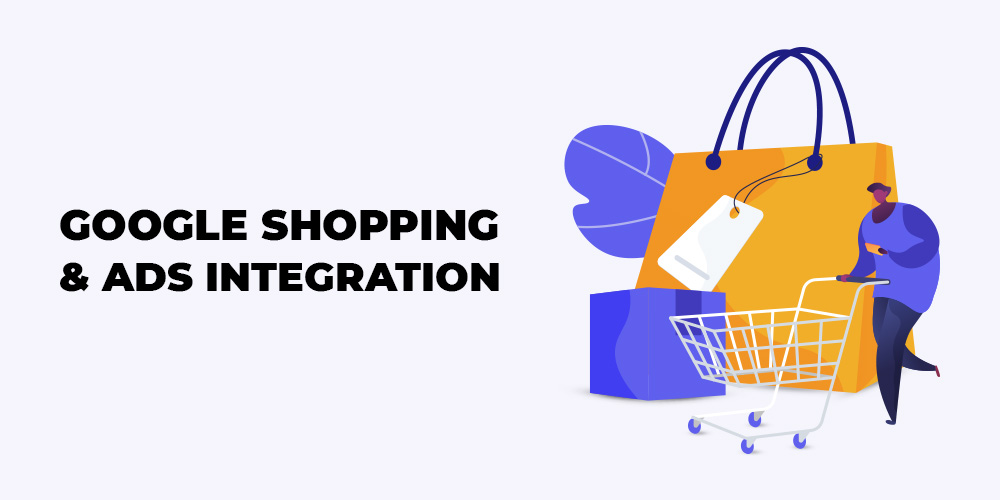 One app – Many benefits!
Enabling a seamless selling experience through Google Shopping & Ads; the app is built with robust features. The real-time inventory syncing avoids overselling. The simplified product listing allows you to upload product feed on Google destinations in no time. Besides, smart Google Ads campaign management helps you drive more leads and sales.
Let's discuss some of the most significant features of our app one by one-
Easy Onboarding
The BigCommerce Google Shopping integration ensures easy onboarding to; Google Merchant Center and Google Ads account.
Ads & Google Account creation
The integration app enables new merchants to create their Google Merchant Center and Google Ads accounts from the app itself.
Website claim & verification
The semi-automatic feature for Website claim & verification enables you to verify and claim your store's URL easily; directly from the app in just one single click.
Simplified product listing
Have complete control over products – using bulk editing and filter options simultaneously. As a result, you can send or remove products from Google Merchants Center and other channels as needed.
Google Merchant Center
Manage the basic functionality of Google Merchant Center. To put it another way, diagnose all the items related, account-related and feed-related issues from one dashboard. Additionally, review all the statuses of your product from the app.
Google Ads Management
Drive more leads and traffic by showcasing the right set of products to the right customers. Devise a Smart Shopping campaign from the app only. In fact, you can choose relevant keywords for your ads depending on the CPC rates and volume using Keyword Planner. Furthermore, analyze your performance by reviewing detailed reports of Budget, Click performance, and AdGroups.
Conversion tracking
Tha app allows you to create a new conversion tracking tag. Moreover, it allows you to keep a check on the conversion tags you use for your Google Ads.
Manage LIA
The integration app allows you to auto-sync your Google Local Inventory Ads listings. In the same way, the everyday syncing option allows you to synchronize LIA listing daily. To put in another way, the feature simplifies LIA products and inventory upload and management in few clicks.
Centralized order management
The BigCommerce Google Shopping integration helps you manage your orders more efficiently. For instance, it eliminates the hassle of tracking order fulfillment and shipping individually on the BigCommerce store and Google platforms. In other words, the app automates order syncing and fetches instant notifications.
Benefits of the Marketplace Connector App
The Marketplace Connector app is a full-service integration tool that simplifies selling on multiple marketplaces and eliminates manual hassle.
The multi-faceted integration app assures a seamless connection and synchronization of Bigcommerce store with leading marketplaces namely; Google Shopping, Walmart, Etsy, Wish, Walmart Canada, Catch Australia, Fruggo, Bonanza, Best Buy, and Newegg USA.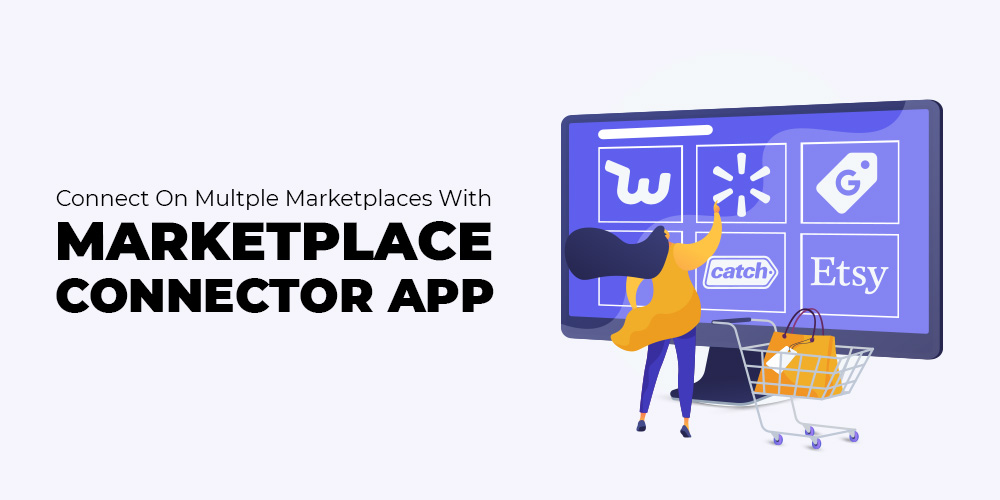 Major benefits-
Firstly, Streamline and automate multi-channel selling – easy onboarding on multiple marketplaces in no time.
Secondly, Receive and track combined product data from multiple marketplaces within the single platform
Thirdly, Track and manage orders from different marketplaces with the single app
Finally, Get instant notification from different marketplaces and BigCommerce in near real-time
What else Marketplace Connector App offers….
Most importantly, you can connect with top marketplaces through the Marketplace Connector app and get expert tips to amplify your sale. They are well-aware and up-to-date with each marketplace's feed requirements and best practices.
To conclude, they are always there to help you manage and onboard platform integrations, feed optimization, and error resolutions.
Why CedCommerce's Google Shopping & Ads integration?
As the festive season is already here; we at CedCommerce, ensure every possible way to help merchants with client-oriented solutions. Right from assisting you in the correct direction in finding what exactly you are looking for; to providing world-class support and availability round the clock. Our BigCommerce Google Shopping & Ads integration and Marketplace Connector App ensure you best-in-class services.
What else do you get…
Dedicated account manager
As soon as you install the app, a dedicated account manager is always there to assist you throughout the onboarding process. Consequently, they will answer all your queries 24/7.
Expert training
In the meantime, get complete assistance for app onboarding. Moreover, experts will guide you through the Google Merchant Center account setup. Besides, also get expert guidance for all Google programs namely Buy on Google, Google Ads, Free Listings, and Google Local Inventory Ads if needed.
Wrapping Up
We at CedCommerce, always focus on making your multichannel selling experience as smooth and frictionless as possible. Additionally, with our newly added BigCommerce Google Shopping &Ads integration in our Marketplace Connector App; you are sure to take your business to new heights.
Book a demo for other integration solutions of our connector app;