The only Google Shopping Shopify app you'll need for 2020
Running short of time? Get PDF of the blog in your mail.

Play Now
Google shopping shopify app by CedCommerce has been updated!
It's known as the 'CedCommerce Google Feed' app. You should now try to paint a picture in your mind!
Avengers assemble!
You're like Captain America, and you're calling out for your avengers to make your planet(Business) a better place but, only Thor(your website) and Iron Man(your passion for your business) show up.
Bummer! You need all the avengers to defend your planet(business)!
Don't worry; we got the rest of the avengers right here.
You need much more than just your website and your passion for your business to reach success.
And it's never a bad idea to take a little help to go above and beyond.
"What are my options?"
Well, right here we got you the best app for Shopify store for managing 'CedCommerce Google Feed'.
But, you should be fully aware of 'CedCommerce Google Feed' app for Google first.
Did you know about the new opportunity that lets you keep all your profits to yourself? With the exclusion of commission fees from Buy on Google, you can enjoy all the profits made through your sales. Grab the opportunity with us today!
Google Shopping
Google Shopping basically is a comparison-shopping website, but, after the new updates, it also serves as the marketplace, where you can sell/shop as well as compare products.
After the recent major updates, Google Express has merged with Google Shopping.
NOTE: The "Google Express" term is no longer in use and the term used now for the marketplace is Google Shopping.
Did you know?
Google processes almost 40,000 searches per second. More than a third of people who want to purchase something begin their search with Google.
'Buy on Google' program in France will be ending on December 7, 2021. For more updates or support, get in touch with the experts at CedCommerce here
CedCommerce Google Feed app and Shopping Ads are an excellent opportunity to reach these buyers, as potential customers click on these ads or add these products to their baskets.
Are you wondering what Google Shopping Ads is?
Google Shopping Ads
Google Shopping Ads is the PLAs (product listing ads) on top of the search result page shown in the image below.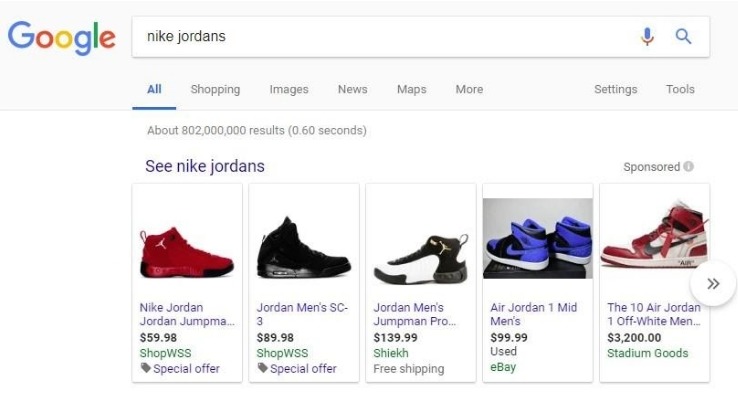 For creating Shopping Ads, you need to activate the Shopping Ads program in your Merchant Center, and then link your GoogleAds account with Merchant Center.
Rest you can do from your Google Ads account.
Want to know more about Google Shopping? You must check this out!
Now shall we look at Google Ads?
What is Google Ads?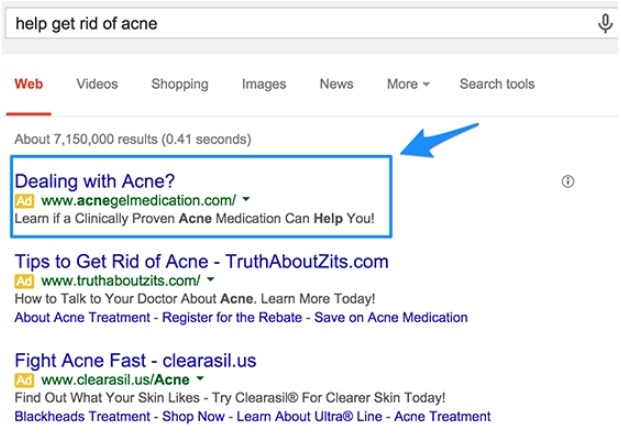 It is an online advertisement platform developed by Google. You pay to showcase your advertisement on the search results page. 
This way, you get in front of the customers who are searching for products similar to you.
It is based on PPC (pay per click) model, that is, you pay when someone clicks on these ads.
CedCommerce is a trusted integration partner of Buy on Google
Buy on Google US is open for Merchants: Start selling cross-border to customers in the US, without any fuss, right away.
"Why use Google Ads?"
When was the last time you remember using bing to buy shoes or firefox to search for restaurants near you? Exactly, almost a decade ago!
Google is the most popularly used search engine, receiving at around 3.5 billion search queries. Not to mention, Google Ads has been around for a decade now.
According to Google, advertisers make $8 for every $1 they spend on these ads.
You shouldn't miss this opportunity to showcase your products on several Google platforms, including Youtube!
Types of Google Ads
Text ads
Shopping ads
App installation ads
Banner ads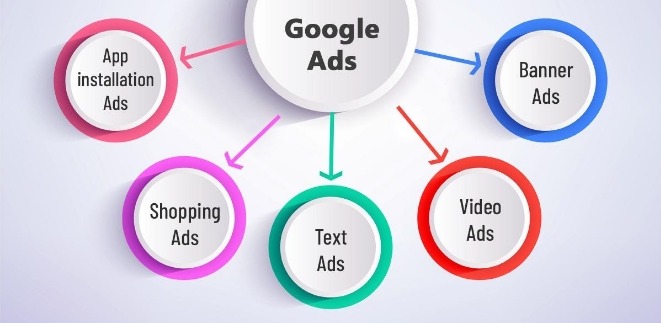 We hope that now you have a basic idea of the 'CedCommerce Google Feed' app and Google Ads.
Now let us introduce the best app for Shopify store- our all-new
'CedCommerce Google Feed' app
"Why would I believe that this app is the best?"
If you don't believe us, hear right from our happy customers.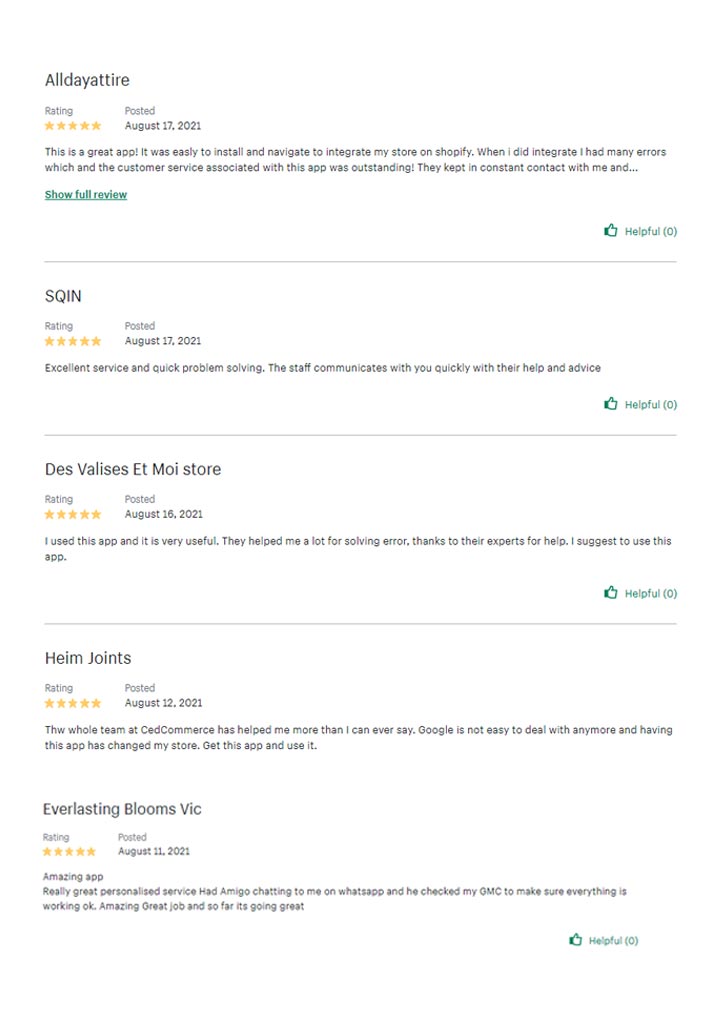 (Shopify app reviews)
Are you gazing where your beloved Google Express Integration App on the Shopify store went? Well, it didn't go anywhere; it is just evolved in the 'CedCommerce Google Feed' app.
So now, instead of searching "Google express" in the Shopify store, try searching for "CedCommerce Google Feed"
(source: Shopify)
This Google shopping shopify app is one of the best out there!
While we are at it, let's look at what features our app offers to you.
If you want to list a few products, then it's easy. But, when you have a huge inventory to list, it will be exhausting, borderline impossible!
Don't worry, we prepare your Google Shopping feed with product details and upload it to Merchant Center, leaving nothing for you to do.
Real-time inventory and price syncing
You get real-time inventory and price syncing, which will prevent overselling or any other misinformation about the products.
With real-time order syncing, you can sync your Google Shopping orders with Shopify and update the tracking details back to Google Shopping.
Manage Google Ads campaigns
The newly updated app includes full-support for Google Ads. You can now manage your search, shopping, and display campaigns.
Create conversion codes and set up them on your website to track the performance of your campaigns.
Generate performance report
Generate reports of the performance of your Ads, keywords, account, etc.
We know you find it hard to plan keywords. No need to worry about it now, you get keywords as per your requirements, and an estimation of it's CPC and budget.
Experts at CedCommerce are available every step of the way if you face any issues, be it Google Ads related or Google Shopping!
Enhanced E-commerce Setup
Track the revenue generated through Google Ads based on the enhanced eCommerce data.
Also, you can keep a record of your abandoned carts to plan to lower their numbers strategically.
We offer free 24X7 free customer support and many more such features. This amenity will lead to a hassel-free use of this Google shopping shopify app!
We are an official Buy on Google partner and GoogleAds partner.
Purchase plans
We offer four plans, choose the one which suits the best to your needs.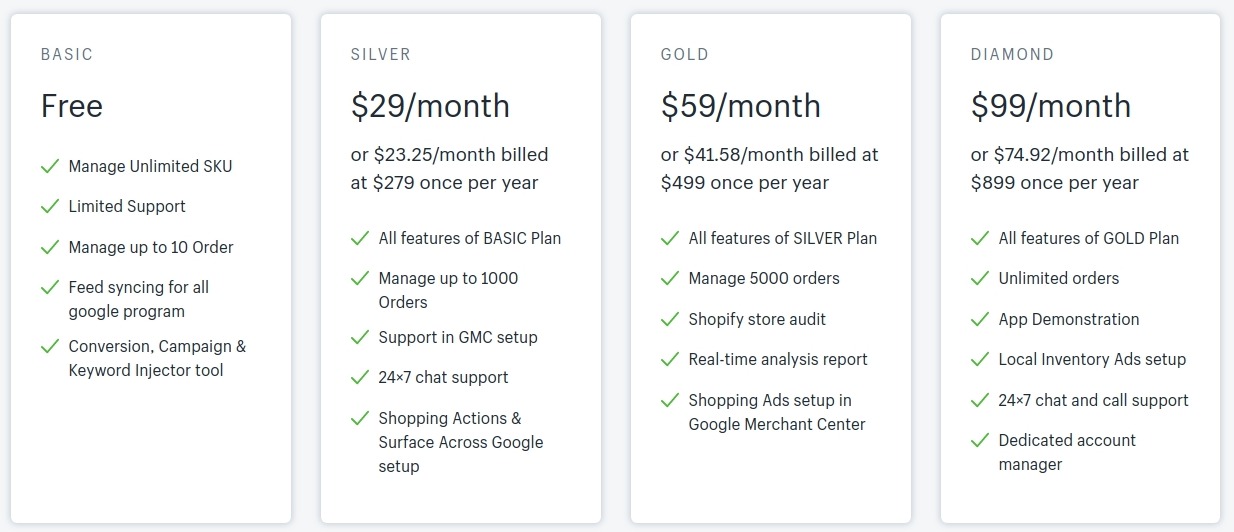 (Price plans)
Not to mention, we give your store 24X7 free customer support.
Conclusion
So now, when you say "Avengers assemble!" all the avengers do, and the audience goes wild.
CedCommerce is a proud partner of Buy on Google and Google Ads.
We hope we made it evident that our app is worth a try, plus it's free for the first 7 days! So what do you got to lose? Try it once, we are sure you'll love it!
So do you think you will give this app a try? or no?
Comment below if you have any queries related to the 'CedCommerce Google Feed' app or in general, our experts will get back to you as soon as possible.
Thank you for reading this blog, if you liked it then share it with your friends on Twitter, Instagram, and LinkedIn.
Happy selling~
Did you hear about the fantastic news from Google? Google has now allowed sellers to showcase their products on Google Shopping through Google Merchant Center. Thus, a major part of the Google Shopping page is going to be occupied by these free listings. All they need to do is create an optimized Shopping Feed via the Merchant Center and make sure Surfaces Across Google is Active. Enjoy this unpaid experience and create your Google Shopping Feed now:
Listen to our Spotify Podcast for emerging trends shaping the eCommerce in 2020!