Another Pat on the back: this time from Nguyen Minh Thuy!
Running short of time? Get PDF of the blog in your mail.

It is just about yesterday when we were checking our reviews and we stumbled upon this review by Nguyen Thuy. Reading the review made us feel an urgency to share it with our readers as we believe in one-on-one communication of thoughts, feelings, and emotions.

This review, though, just of four lines, hides an entire story of Nguyen's journey from chaos to conquest.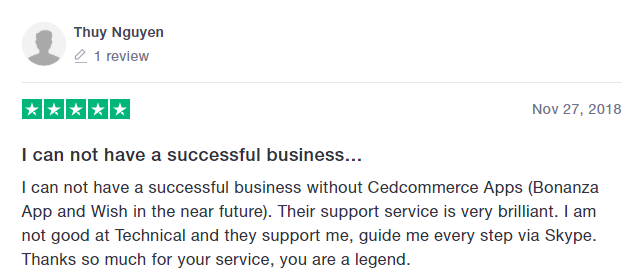 If you relate to it at any point in time while reading this, do leave feedback below!


Overview:
Nguyen Thuy, who runs an online store called fashionabletee.com is based out of Vietnam. It all started for her in 2016 when she began her online business of selling custom clothing. She dreamt of becoming the best Print-on-Demand seller, who aims at improving customer experience with each sale and is paving her way to success constantly.

She has a small team of about 10 members, who manage orders on her store and forward it to its supplier, based out of U.S.
Conflict:
Realizing the importance of multi-channel selling, Nguyen began searching for the marketplaces compatible with her selling procedure and landed upon Bonanza. As soon as she began selling Shopify products on Bonanza, she realized that she had to do something about her sales as even after switching to multi-channel selling, she could not achieve the desired conversion rate.



Desired Solution:
Without wasting much of her time, Nguyen started looking for a solution that could automate the process of managing her Shopify products on Bonanza. Moreover, she wanted to achieve the deserved scalability.
She was hunting for a solution that could open up a wider scope for her to capture more sales channels, thereby letting her fetch maximum results from multi-channel selling.

In the process of exploration of that 'Perfect Solution', Nguyen toppled upon Shopify app reviews of Our Bonanza Marketplace Integration app.

We remember the initial days of conversation with her and that's when we understood, our app was actually that 'Perfect Solution' for her.

We are happy that she took our suggestion quite seriously.
The Results:
As per Nguyen, The Bonanza Marketplace Integration App has helped her to achieve-

1) Inventory Management
2) Order Management
3) Synchronization
4) High visibility of products
5) Better conversion rate
The Bonanza Marketplace Integration App has helped Nguyen to boost her sales as she could manage her orders, inventory, and prices seamlessly.
According to Nguyen, she chose us to guide her throughout her journey because of –

Automation, affordability, technical expertise, and customer service.

Thank you, Nguyen, for letting us help you, we hope to do so forever!