An introduction to Integration with QuickBooks
Running short of time? Get PDF of the blog in your mail.

Play Now
Your online business grows well when it efficiently manages sales. It keeps track of transactions while maintaining its records. When it successfully bears expenses, it improves customer experiences. And better experiences are all that customers expect from your online store. Thus, you meet their high standard of experiences with QuickBooks e-commerce integration.   
What is QuickBooks?
QuickBooks is a flagship product by intuit that has changed the way accounting activities are performed by businesses nowadays. It is a business accounting software program that can be used for efficient sales and expense management in addition to keeping track of transactions happening on a daily basis.
Businesses largely use QuickBooks to manage their invoices, sales, bill payments, revenue tracking and all other record keeping of accounting data.
QuickBooks tends to automate the various processes involved in data accounting which otherwise would be done manually increasing the chances of human error. Automation of tasks like sales tax calculation, product tracking, and updating transactions are some of the key operations performed by the software program.
How is Quickbooks e-commerce integration going to improve customer experiences?
Starting an e-commerce business is easy. Staying in the game and playing it well is the major challenge. In the present scenario, there are uncountable e-commerce marketplaces that are up and running. What makes a few stand out as compared to the rest is the little extra they commit and deliver consistently.
Online shopping business is thriving because of the immersive experiences they are delivering to their customers. Having said that the importance of customer experience cannot be stressed enough. That's where the entire focus should be and not on data management processes.
Efficient process management is the key to a successful e-commerce business, the size, and scale of operation regardless. There is no scope for mistakes when you're selling online.
No compromise with customer experience will be trivial hence it cannot be overlooked.
Here is where you'll need to integrate your e-commerce business with QuickBooks. It is a business accounting software used by firms to manage their expenditures, sales while keeping track of daily transactions.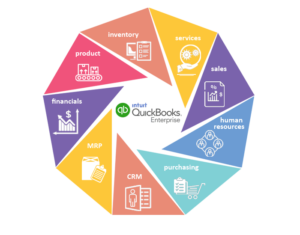 Source: thesagenext.com
How to choose the right accounting software for better customer experiences?
Once you've decided to forego manual data accounting it's time to pick the correct accounting software for your business. Closely tracking and monitoring the revenue that's flowing in is crucial for a business, making the selection of accounting software all the more important.
While choosing accounting software the key factors that need to be kept in mind are:
The particular requirements of your business, for example, would you prefer revenue tracking, report generation etc.
The features being offered in accounting software.
The price point of different plans. Several solutions would be available packaged in different plans offering a different set of features. Depending on the kind of investment you're looking to put in and the features you're looking for you'd have to make the choice.
Usability in the sense that how many users are going to make use of the software, if it needs to be a cloud or a desktop version if you'd need a mobile app and so on.
It is safe to say that QuickBooks is the most popular and widely used accounting software program considering 80% of small businesses have successfully opted for it.
QuickBooks is without a doubt the most opted for accounting software. With its several editions that keep coming in to meet specific user demands, it sure is capable of checking all the boxes. Small businesses have been successfully meeting their accounting targets with QuickBooks by minimizing and even eliminating manual accounting work to a large extent.
Advantages of Integration with QuickBooks
Task automation and streamlining are going to have two-fold benefits. Not only is it going to benefit your customers but also bring about a great deal of efficiency in your daily business operations, not to forget the reduced possibility of error and time-saving capability.
QuickBooks integration with your e-commerce marketplace eliminates the need for manual data entry and database management. Integration becomes all the more useful because it takes care that your sales critical data related to customers, orders, inventory, etc. are synchronized between both your e-commerce store and Quickbooks.
Listing the direct benefits of QuickBooks Integration with your e-commerce store.
Consolidated Data with Centralized Management:

The large amounts of data coming in day in and day out on e-commerce websites needs to be centered and handled properly. Such data, when analyzed in detail, can help in forming an in-depth understanding of shopping patterns and other relevant trends. The integration of your e-commerce store with QuickBooks reduces the manual work involved in data entry and management thereby saving both time and money. Centralized management makes managing different processes a lot easier to a very large extent.
Enhanced Customer Experiences:  

QuickBooks integration with e-commerce provides for efficient purchase and order history management from the customers' end, thereby allowing for enhanced customer experience. Not only this refunds, order placements, invoice management and much more can also be conveniently managed through this integration.   
Access to Updated Reports:

QuickBooks enables access to multiple insightful business reports which are updated in real time. Profit and Loss reports, Balance Sheet reports and Statement of Cash Flow reports that can be utilized for making informed decisions about the business. These reports are pre-built which are updated as data is entered and can be generated in a few clicks. Thereby making business transaction tracking and analysis easier than ever.
Regardless of whether your e-commerce venture is just starting out or a thriving one, it's going to be worth it to invest in integration with QuickBooks for at no stage would a better return be anything less than attractive.
Why Pick CedCommerce?
Selecting our services for QuickBooks integration would be a decision you wouldn't regret. Let's see how does our solution help you?
Automated syncing of orders and invoices

Tax Synchronisation

Easy Synchronisation of Payment and Shipping Information

Efficient Customer Data Synchronisation

Automated Product Data Synchronisation

Real-time synchronization of inventory
At CedCommerce we commit to provide not just the solution but also diligent efforts and unflinching dedication towards the betterment of your venture throughout the association.
You might like: 6 reasons why you need to connect QuickBooks online and Magento