7 Smart and Easy tips that can help you in becoming 'Preferred Shopee Seller'!
Running short of time? Get PDF of the blog in your mail.

Play Now
The Southeast Asian marketplace is firing on all its cylinders and this is the right time to invest robustly into the market. With eCommerce gripping its top notch place in Southeast Asia, Shopee is also burgeoning on its success.
Selling on Shopee is easy and one can very easily create a store on Shopee marketplace without any hassle and difficulty.
Don't be left behind! It is the right time to take your business online!
Shopee awards their seller with a "Preferred Shopee Seller" badge which is given after analyzing certain criteria, which are based upon the factors like- performance of the seller, customer feedbacks, reviews, chat time, etc.
Giving more power to WooCommerce Sellers, CedCommerce enables retailers to outreach their products' in the SEA market.
WooCommerce Shopee Integration is now live on Official WooCommerce Marketplace
And because Shoppe does not yet have any provision for the fake and ingenuine sellers, the Preferred Sellers on the Shopee marketplace get great benefits by instilling a feeling of trust and reliability among the buyers.
Bringing you the perfect solution. This 9.9 season sales connect your stores with top marketplaces, i.e., Shopee, lazada, Qoo10, and more, exclusively at 15% off.
Here are few game-changing tips to get onboard Shopee and to sell like a pro!
Who are Preferred Shopee Sellers:
Active sellers with high shop ratings

A large number of successful Shopee transactions

Good customer service
Check out our bundled TRIO offer for you and fly high on sales on all the prominent eCommerce platforms like Shopee, Lazada, and 11Street!
Let's get straight into it!
Use quality images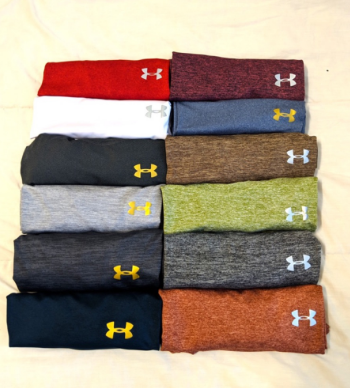 You'd definitely not want to present your product in a way that it doesn't please to your customer's eye. Make sure, that you do upload at least 3 pictures along with your products on Shopee marketplace and also make sure, that the images look good and aesthetic.
Need not to panic, this ain't any rocket science.
All you need is a good camera phone, a white sheet, room lights, and a table. And this would do the work for you easily and you will be having some amazing clicks for your Shopee products.! To learn more about how to create stunning product pictures, you can also read this article
Having good images brings in quality, and with quality comes good sales, and good sales direct you one step closer to becoming Shopee Preferred Seller.
Write epic product descriptions
Product descriptions support your sales by being the product's backbone. No matter how beneficial or unique is your product on Shopee marketplace, if you do not have an effective product description, it won't be appealing to the customer's eyes.
Why?

Well, Would you purchase a mobile phone by looking at just the picture?

Thanks for the NO!
There are a hundred questions that bubble around in a buyers mind while shopping over the internet. Your product description should be effective enough to satisfy customers by providing them every answer that they seek.
One effective way of making an effective product description is keeping it detailed, to the point and correct.
The more the customer is satisfied with your product description, more likely he is to buy your product!
Again, taking you one step nearer to becoming Shopee Preferred Seller.
You can also check out the required details for the product description on Shopee marketplace's website.
Be mobile friendly!

image source: We Are Social
Well, when it comes to Shopee, Mobile friendly stores and the shopping experience is a must. If you really wish to gain the badge of Shopee Preferred Seller, optimization for mobile cannot be ignored.
Southeast Asia is forming its shape as an eCommerce region primarily based upon the smartphones.
"According to the Google and Temasek report, around 90% of the Southeast Asian population is accessing the internet with their smartphones."
Shopee marketplace gets here the benefit of being mobile optimized.
With Shopee cornerstone app, anyone can make their products live to sell online in 30 seconds!
To sell on Shopee, all that is required is, a smartphone, a working internet connection and you can download the Shopee marketplace app to start selling in no time!
Customers in the SEA also prefer shopping through their smartphones, so making their shopping experience comfortable by providing the ease of payment and checkout can be a good game changer!
Doing this will allure more customers and will increase the footsteps in your store.
Use 'Boost now' for promotions
On Shopee marketplace, you can easily reach to more customers by boosting the product, you want to sell more. Boosting a product, lets you create ads for your product which shopee will run on its various webpages, in order to help your product reach more eyes.
One good thing to add on here, you can easily boost 5 products at a time and can do it every other 4 hours.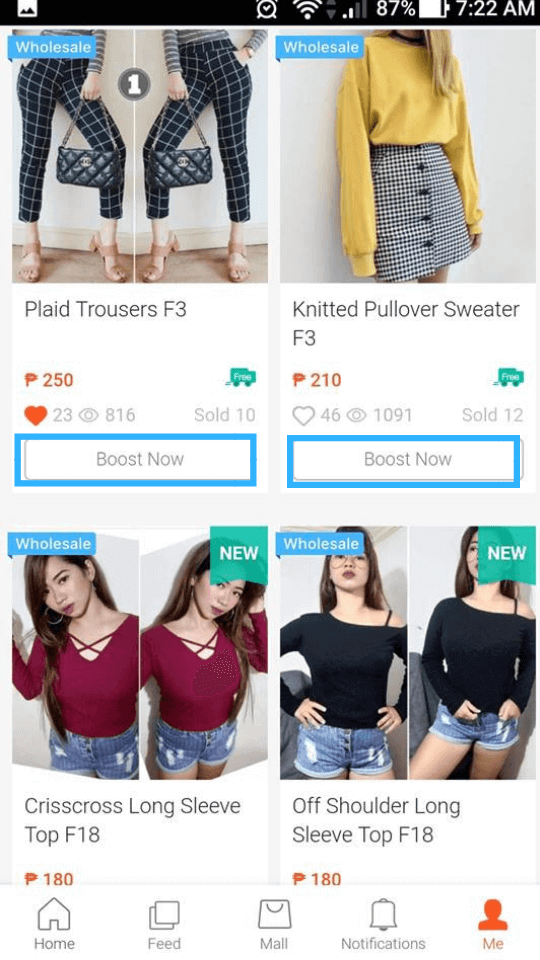 By, boosting, your product will reach to more audience and the chances of it getting sold increases every time, a new customer looks at it.
Boosting your post can also help you in increasing your listing!
and this will further help you in meeting the criteria to become Shopee Preferred Seller.
Go ahead, if you haven't done it yet, Now is the time!
More is always better! whether you want to begin or even if you are already selling in Southeast Asia, you can go multichannel and sell your products on different affluent marketplaces of Southeast Asia in a more centralized way.
Adhere to Shopee rules and regulations

Like every other marketplace, Shopee marketplace also has its own set of policies and guidelines which one has to follow in order to sell friction-free on it. Prior to selling, the seller must go thoroughly through the guidelines and terms of use that shopee provides.
Here is the brief list of Do's and Don't to follow to sell worry-lessly on Shopee-
Do's-
Sell not advertise, do not add links to your websites or blogs on your product page.

Be respectful to your customers and their feedbacks.

Try maintaining excellent selling record
Dont's-
Do not create multiple listing for the same product.

Do not mislead customers with fake pricing, shipping or product description.

Do not use plagiarized or infringed content

Do not pertain abusive behavior or scamming
You should have zero complaints from both, the customers' end as well as Shopee's end in order to be eligible for Shopee preferred Seller
Selling on Shopee marketplace is proves very beneficial to the sellers. With its zero commission rate over the sales, the seller gets to enjoy all the profit of his/her hard work. Over ahead, to provide ease of shopping Shopee allows it's seller to give an option of free shipping to its customers.
You can check more about the Shopee selling guidelines on their website or on your Shopee marketplace app.
Use multichannel selling and utilize ratings

According to, Hootsuite's, We are Social research, the social media penetration in the Southeast Asian countries accounts for around- 79% in Singapore, 78% in Malaysia, 74% in Thailand and 71% in the Philippines.
With such high numbers and deep social media penetration, it can be easily analyzed that how important it becomes for a Shopee seller to bring their products over the social media for reaching out to more customers.
To be seen is to be sold into the eCommerce scenario and this can be easily and effectively done by going social.
Adding more to this, try retaining good ratings over the social media channels from the customers and use it as your self-promotion on Shopee marketplace! Good ratings always allure the customers' eyes and they also get reliant about the seller's services which results in good customer loyalty too.
You can also add proof documents of customer satisfaction feedbacks and successful deliveries etc. on Shopee to gain customer trust. 
Make good use of Shopee Seller Assistant
What is Shopee Seller Assistant?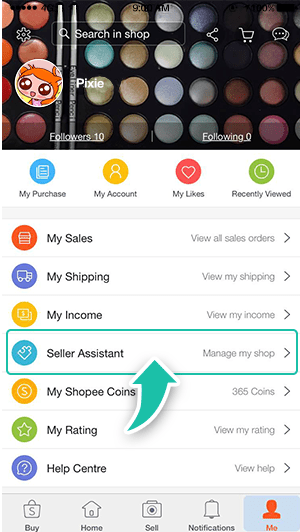 Well, Shopee Seller Assistant is Shopee's inbuilt feature that lets you manage your store easily and aptly. Here you can get all the information related to your store like-
Store Products: All the products that you have listed on your Shopee store can be found here easily.
Customers: All the customers who made a transaction from your store recently, will be listed here.
Shop Profile: here you can edit your shop name, description, banner, etc.
Shop categories: One can easily create categories for his store from here.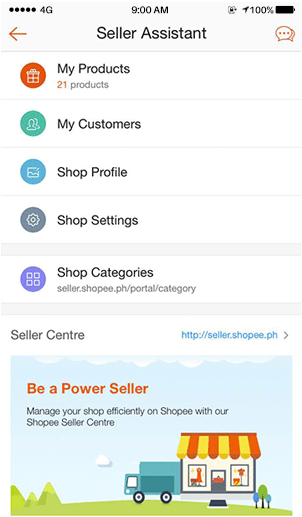 How can I make 'good use' of Shopee Seller Assistant?
Keep an eye on the Shopee Seller Assistant's insights.

Be aware of when to update your inventory by looking at the Store Products

Know your loyal customer and offer them with rewards

Maintain clean categories for your products to avoid confusion among customers.
Seller Assistant can prove really beneficial and useful if is used in the right way! get your hands on it now!
BONUS: Basic criteria for getting eligible for Shopee Preferred Seller
| | |
| --- | --- |
| Monthly Net Orders | 50 |
| Monthly Unique Buyers | 20 |
| Chat Response Rate (%) | 70% |
| Shop Rating | 4.5 |
| Penalty Points | 0 |
To Summarize
Selling on Shopee can end up offering you with enormous opportunities and better chances of growing your business. Southeast Asia's rapid pace of development and increasing grip of the population over eCommerce together is shaping the future of eCommerce in the SEA region. 
Now, when you are aware of how to grow over Shopee rapidly, you can now easily become a Shopee Preferred Seller in no time!
Becoming Shopee Preferred Seller can cater you with many benefits that you can avail.
Thinking of stretching your store on Shopee?
Well, a great idea indeed!
You can easily create your own store on Shopee and also integrate your existing store with us without worrying about the time-consuming processes.