4 Tactical Steps to Optimize Google Shopping Ads: 2022 Edition
Running short of time? Get PDF of the blog in your mail.

Play Now
Is your shopping campaign not generating the right amount of sales? Or whether your product feed is not optimized correctly to advertise products in front of the right audience? In this article, we will walk you through the essential steps to appropriately optimize Google Shopping Ads for successful campaigns and increased conversions.
Let's dive right into it!
Why is it necessary to Optimize Google Shopping Ads?
For showcasing sponsored content that is related to search queries, Google Shopping campaigns are set up in the Google Ads dashboard.
For instance, when a user searches for a keyphrase or a keyword like "shoes", you get to see shopping ads from famous brands and retailers that appear at the top of the Search Engine Result Page (SERP):
These ads are likely to attract more clicks and purchases, especially the ones at the top. Hence, Google Shopping ads can be considered detrimental to the success of many eCommerce stores and businesses.
In spite of the fact that Google does most of the difficult parts for you, it's not recommended to leave your ads to follow Google's default settings. To stand out from your competition, you must begin to optimize Google Shopping ads.
It might be time-consuming and a troublesome process, but the results will be worth the effort. Let us take a look at some easy yet powerful hacks to take your ad campaigns to the next desired level.
4 Industry-tested Steps to Optimize Google Shopping Ads
The best part about Shopping Ads is the fact that Google does most of the tedious tasks on your behalf. You simply create a shopping feed and ads are created automatically to be matched with relevant search queries.
But with this automation, Google Shopping turns into sort of a black box. You run out of ideas in terms of other things that you can do to improve ad performance.
Going by Google's recommendations of increasing the CPC and/or raising the budget – may not be the best steps for setting up Google Shopping ads.
So let's jot down some more effective things for you to try!
1. Using Negative Keywords
Shopping ads do not allow you to choose the keywords that you want to rank for. They make use of your data feed to determine which search query could trigger your ads to show up.
This is exactly when negative keywords come into the picture!
Negative keywords allow you to delete those search phrases that do not match your potential customer's buying intent. This implies that using negative keywords can guide sellers like you with the terms that you do not want your shopping ads to show for.
For instance, let's assume that you're an optometrist, selling eyeglasses and sunglasses. One of the keywords that you may aim for can be 'glasses'. It would be ideal for you to include negative keywords like 'drinking glasses' or 'wine glasses' from the list of broad search terms.
On the other hand, Google charges you for every single click. So, without negative keywords, you end up wasting your money without gaining much or even no profit.
2. Choose the right Bidding Strategy
Generally, there are two bidding options available:
Automated bid strategies: This indicates that you let Google handle the bidding part. The search engine eventually decides how much you need to pay for one click in this scenario.
Manual CPC: In this option, you do all the work. Starting from evaluating reports, determining bids on the product level, and even adjusting bids on a daily basis – are all handled on a manual basis.
So, when to increase the max CPCs for your campaigns?
The ideal time to increase your bid amount is when you are already getting many conversions and profits. The idea is simple – you expand your ad-spend in the quest of gaining more traffic and sales to your online store.
It is a known fact that you want more orders at the lowest cost possible. However, Google doesn't think about your profit margin. All they want is you to spend more and more on its platform.
3. Optimize your product feed
An optimized product feed is extremely crucial to the optimization process of Google Shopping ads. It is suggested to pay heed to the most significant fields like product titles, descriptions, and images. Let's see how we can optimize them!
a. Product title
Google reads through your product titles to analyze what you are selling and determine whether your item is relevant to a specific search query.
Hence, how you coin your product titles has a prominent impact on the effectiveness of your Shopping Ads campaign. One of the best steps of optimization is to carefully analyze your customers' buying behavior to get an idea of relevant keywords, associated with your products.
The search engine algorithm focuses on the information that is provided in the titles' forefront position. So, you'd better highlight the most prominent features or unique selling points (USPs) of your items in the first 70 characters.
b. Product description
While a good title urges users to learn more about your product, a well-written product description offers more information about your item and allows shoppers a good reason to buy it.
Ideally, you should not miss out on the size, pattern, shape, texture, or design of the product along with its technical specifications while writing the description. This is your best opportunity to let shoppers identify whether your product is a good fit for their purpose.
Even though Google Shopping has an allowance of adding up to 5000 characters for this field, ideally you should limit your description to a bracket of 500-700 characters.
c. Product image
Online shoppers make an instant judgment about your products based on the visual or image of the items being sold. The closer to reality and more appealing your product images look, the more likely you'll get user clicks.
As a matter of fact, making good use of the product image section is another key step in Google Shopping Ads optimization.
4. Target Specific Locations
Many online retailers miss out on targeting particular locations. They simply put up a country name as their target market. But, this is not the ideal scenario for ad optimization.
For example, let's assume that you are selling items like thermal wear or winter jackets and unknowingly, you are targeting an entire nation. In doing so, you are simply wasting a huge chunk of your ad spend if one-half of the country experiences hot and humid weather for the majority of the year.
Instead, focus more on the locations where you are most likely to attain conversions and accordingly, implement a geographic bid modification strategy. Make good use of the 'Dimensions' tab and increase your Return on Investment (ROI).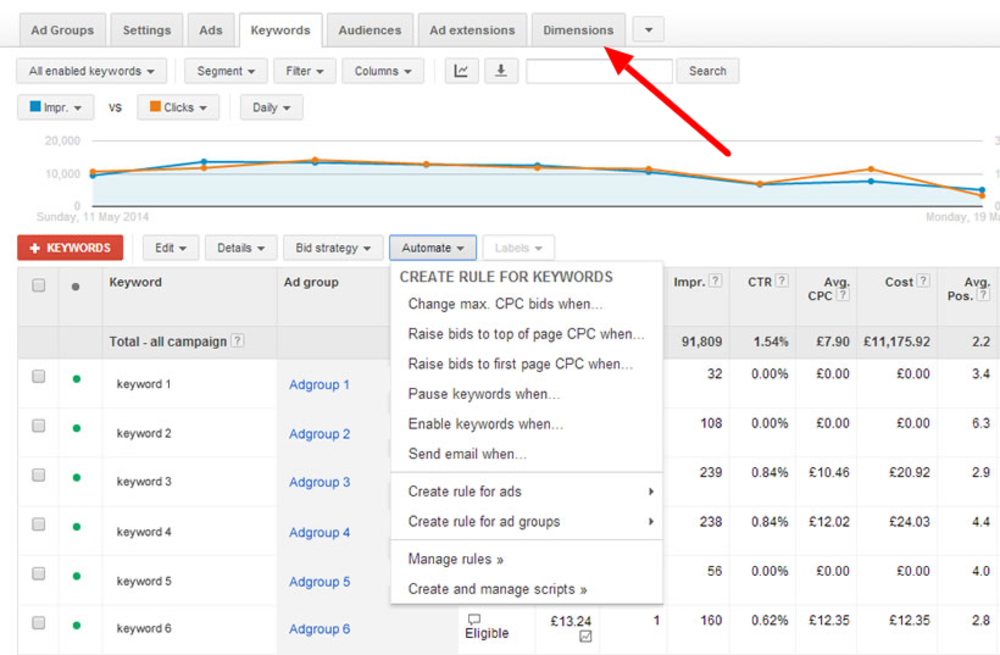 Summing Up
If you start working on the optimization tactics that we have discussed in this article, it is sure to bring your products and listings amongst the top ads on Google Shopping. You should be in a better position to find answers to queries like 'what are Google Shopping ads' and the ways to optimize them correctly.
However, that doesn't guarantee that your job is done and dusted. To stay competitive, constant tweaks are a must, especially when it comes to bidding and monitoring other businesses in the industry.
Google is in a constant process of bringing updates to the Google Shopping platform. So educating yourself about the new features or possibilities and accordingly optimizing Google Shopping ads can help you get an edge over every other brand that neglects this part.