10 Inspiring Video Marketing Trends Around The Globe
Running short of time? Get PDF of the blog in your mail.

Play Now
The world of videos is now a dominating leader in the marketing domain. With its soaring popularity, it's high time to look at the video marketing trends. This comes into the light now as it is one of the popular means for consumers to know about a product or service.
Videos have boosted buying decisions today by a whooping 52% increase compared to the past year. Relevant conversions are now standing at 72%. The more you dive in, the more you discover about the abilities video marketing holds.
Your business isn't online yet?
Videos have transformed the digital landscape with their better SEO performances, engagement and lead generation. Thus, easing out a lot of marketing challenges.
In the following blog, we will come across a few of the video marketing trends that are making buzz around the world. Here's the subsequent flow of the same.
Online training and educational videos
Educational videos are entertaining and very informative. They are the perfect answer for the audience. These videos are watched twice as regular pet videos and add value to the viewers. They are perfect for the buyer's awareness stage as viewers seek a solution for their problems at this stage.
These videos help in creating a bond while educating. For the videos, the focus should be to
Help the viewers.
Leave active brand pushing but promote it subtly with logos and the like.
Produce quality video content keeping in mind all the requisites.
Choose the video type that conveys your brand message well.
These are now video trends because they are among the audience favorites at the beginning of inbound marketing. And also, 60% of searches on YouTube start with "How-to," so all the more reasons to try this format. Providing viewers with B2C and B2B videos is helping brands now.
In addition to this, training videos are also gearing up in the league. Where they teach how to do something. And as per Wyzowl's survey, around 89% of people think videos are effective for training.
These videos are responsible for bringing in good traffic and count as a useful asset.
Usually, the best training video comes out when it possesses
A presenter for the topic.
Animation helps if a presenter isn't an option.
Keep a check on your video speed as per the audience.
Text overlays on videos for the majority that watch videos on mute now.
A short video is for the win, so please work on that.
Keep the entertainment and interactivity as an integral part.
This would act as a much-a-do for your training and educational video.
Interactive Augmented Reality
This aspect of videos is now as trendy as ever. The virtual landscape is being shaped up, and videos are becoming more interactive. This trend is a perfect add-on for marketing around the globe now.
To define it, "Interactive augmented reality is a tactic where a virtual AR-powered feature gets shown on the real surface when the camera is pointed." A simple example of this would be Lenskart's 3D frame trials.
Today, this counts as a trend as 75% of consumers are interested in technology evolved brands for an enriching experience.
These are now easier to create, thus leading to almost 1/4th of the video marketers using these.
Virtual events
The pandemic surge has not just transformed our lives but also evolved marketing. Reason being, forced shut down at homes that led to videos being the only point of connection/ entertainment. With work from home lifestyles catching up, virtual events seem to blur the boundaries of today.
Their popularity is soaring high because it is very cost-efficient now. Virtual hosting is the way to connect with the lost human touch. Now 57% of markets are pulling off virtual events as a part of their video marketing strategy. Here's a gist of the most popular virtual events.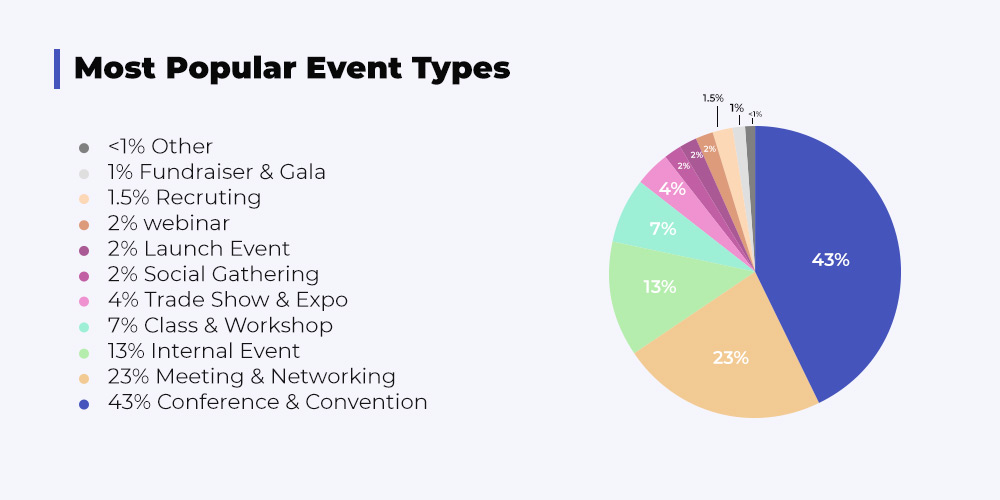 But to have this trend as a successful venture, consider these practices.
Record these sessions/ webinars as an after-event gift to the viewers who couldn't attend. If they are under 20 minutes, your engagement will shoot up to 40%, as per Vidyard's reports.
Conduct an event that delivers value to the attending audience. There should be a takeaway for the viewers.
Make these events social media friendly as they have a larger audience base and better reach.
Short-form videos
Short videos are one of the video trends that are making heads turn. There's a recurring statistic that attention spans have reduced to 8 seconds now. It is true, though, but it really depends on the value your content provides. The audience browses through the lot if they get relevant stuff.
To capture their attention during the initial stage, you can use a video maker online to create an eye-catching short video. As videos up to 90 seconds(15-30 seconds is preferred) get played by more than 50% of people till completion.
Businesses are using this format at the awareness stage to grab their leads. So lookout for this aspect and connect with an agency that can guide you with the complete plan.
Live-stream videos
People are watching live videos, and they are engaging with it. With the social media spurt, live videos seem even more accessible.
The reasons?
They are more engaging than a long blog post.
Also, they get more views and traffic. 82% of people prefer watching them now.
Since it is visual, the mental retention is more. And people spend three times more time on them than an already recorded video.
To talk about the popularity, live stream video consumption shot up to 300% in the past year by August.
These videos are working well with the younger generation over social media by 25%.
9% of adults ageing 30-44 have a YouTube subscription where YouTube Live TV is popular.
This infers that the live stream video trend is here to stay. Businesses will also be spending more than 100 billion dollars by 2023.
Social media videos
89% of marketers are planning to use YouTube this year for marketing purposes. At the same time, 7-5% and 58% of them are planning on Facebook and Instagram, respectively.
Gone are the days when it was a mere connecting point. Now it is an opportunity to boost brand visibility. Statistics look promising but ensure that you utilize the video types on social media well. Which include:
Live event videos that capture attention.
Customer testimonials are better when accompanied by videos, and socials serve as an add on to that.
Promotional videos about your brand's product or service work well here.
Demonstration and explainer videos are now no different here. They are equally garnering attention.
The usage of this trend becomes even more necessary as 3.8 billion people out of 4.5 billion active internet users are on social media.
Check out all that you can do now!
If one talks about the efficacy, then 73% of businesses have found it effective. But here's something to focus on, i.e., the platform's popularity for marketing. While Instagram is experiencing a surge, Facebook sees a decline.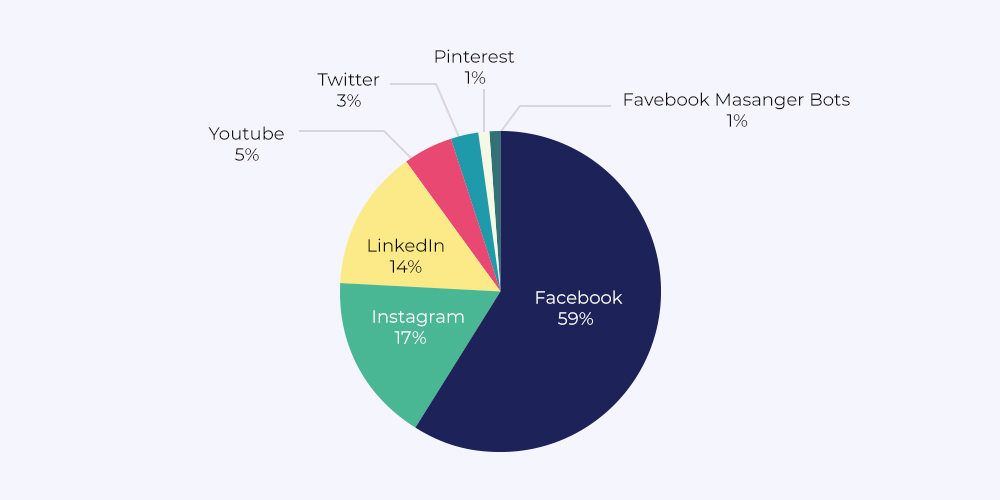 Facebook still holds a larger share, but it's dwindling with the passing years.
Saying this because 88% of people use it to keep in touch and brand follow-ups on an individual level is only 17%
So, mind the platform while harping on the trend.
Personalized videos
These videos are created with technological advancements and are not one to one. A misconception that needs some clearance. It is customized for the viewer by working on their name, emails, company profile, job titles and the like.
The strongest advantages of using these videos are:
They give better click-through rates by 202%
Establish relationships
Better email responsiveness
As 58% of buyers feel personalized videos give them a better experience.
Learn how to nail it!
Talking about the places for placing personalized videos. You may consider;
First and foremost, emails
Customer service videos
Websites
And activity-based management
So, make your personalized videos appealing and make sure to use them at the right time and right place.
Animated videos
Animated videos are the most versatile video type and a definite trend for today. The best part is, you can experiment with this, as reality is not a limit. And an animated video lets you customize. So that's an advantage over the traditional videos.
This leads us to the values this video trend can offer.
Provides easy product explanations.
They help in educating the viewers better, and 91% of viewers appreciate brands for bringing novelty.
And are amazing with the storytelling aspect.
Here's an example for the same;
Since viewers retain 95% of the visual information, these videos promote higher viewership and shares. So keep an eye on this video marketing trend.
Shoppable videos
Shoppable videos are the online video marketing trend that is taking a promising turn. These videos let the buyers click on the products without making them leave the videos. They use embedded links for a better customer experience. And are entertaining to the viewers.
Because of this, the buying funnel has become simplified while also improving consumer engagement. People who watch a video before purchase are 1.81 times more likely to decide in the brand's favor.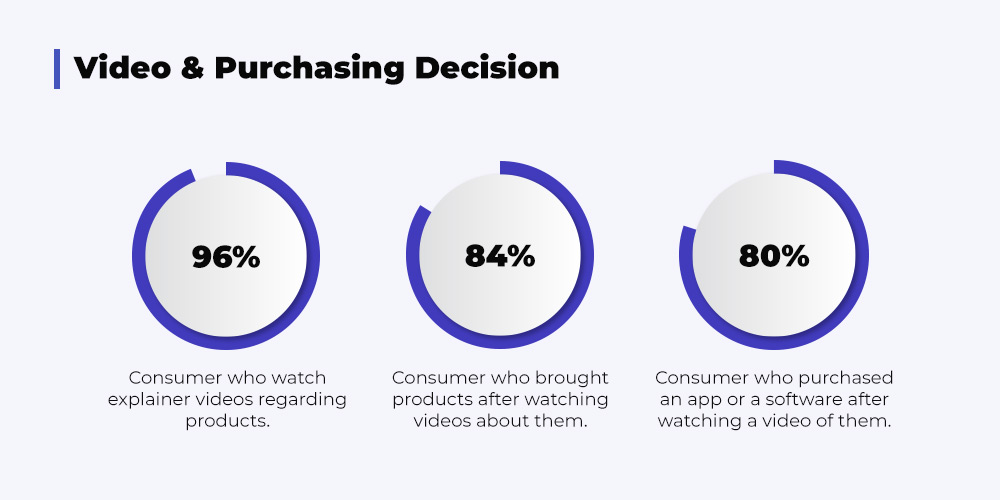 Src: Financeonline
Another key advantage is, these videos provide real-time data about the customer interaction with their content.
In addition to this, there are platforms to look out for this trend and include;
Amazon live
Instagram
And TikTok as well
Explore this trend now to have greater audience conversions.
User-generated video content
This format is now catching up in the industry. 84% of millennial buyers agree to user-generated content being a strong influence on their decisions now. This idea works because people trust people. Word of mouth, as a practice, is never going to fade away. Additionally with videos, the trust factor intensifies even more.
They feel unbiased and motivated. The best of it comes with social media platforms. Videos have a strong shareability potential. They are being used a lot but aren't going to wither. As they help with free promotion and publicity for your brand. These videos are super engaging and, at times, fun to watch. They are all around and still increasing. To make the most on socials, try out
Mentions and campaign hashtags.
Create seasonal content.
Push the UGC for brand's loyalty.
Keep it participatory and reshare the users content.
Here's an example for the same;
Unboxing of products through influencers as a part of video marketing strategy.
4 billion people now have mobile access, making this video marketing trend a must-have. People now use mobiles for multiple purposes ranging from browsing to management. Where 75% of videos are now played on mobile devices. In addition to this, 50% of people now prefer watching videos for a product or service before availing. And UGC is three times more engaging than a professional video.
All due to its authority and storytelling ability.
Conclusion
With this, we have reached the end of our video marketing trends list. Meanwhile, these were some video marketing practices that are now making the heads turn.
The field is ever expanding and growing now. 94% of marketers agree with video marketing usage today. There's still a lot more that will come and emerge as a trend. Keeping an eye on the best practices will improve your chances in this competitive era.
If you have any queries or want to connect for more, then drop us a comment below or connect here. Besides this we are always up for help!
Happy video marketing!