The Unstoppable Feerdi: Inspiring E-commerce Success Story of a Marketplace
Running short of time? Get PDF of the blog in your mail.

Play Now
For an internet entrepreneur, inspiration is one great element that keeps them motivated and focused on their newly built business. Indeed, an e-commerce success story has never harmed anybody! But, apart from being a source of inspiration, a brand's e-commerce success story also reveals its secrets to success, only if you understand it closely.
Today, we are going to share one such legendary success story of an e-commerce marketplace with you all. It will help you understand what makes an online marketplace stand out among others. And insights that led them towards success. So that you can also use their business model to shape yours. And pave your way towards the ever-growing e-commerce industry.
Do you want to take your business online? Click here!

How Feerdi Marketplace Started Its Journey?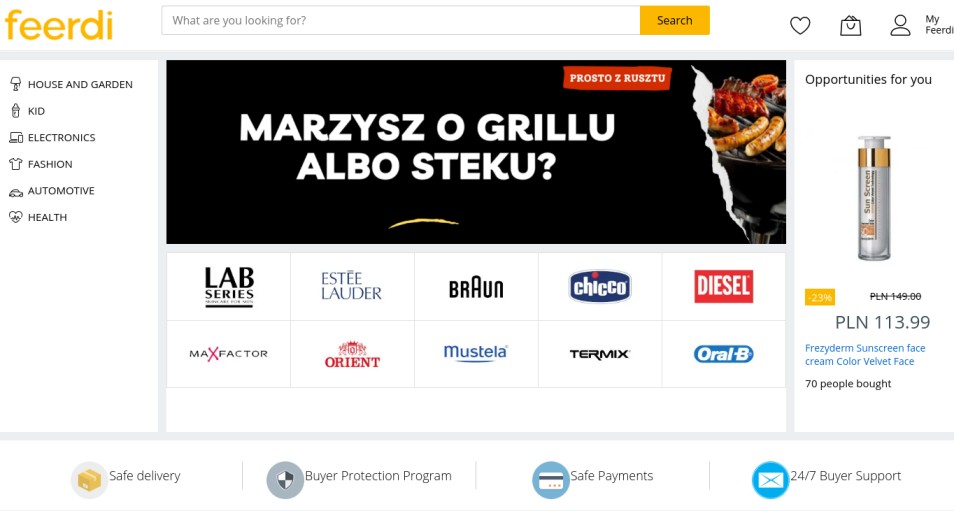 Feerdi, a dynamic trading platform, has taken a leap towards revolutionizing the e-commerce industry with the help its of marketplace model that provided safety, feasibility to shop, payment security, excellent customer experience, multiple payment methods, and increased responsiveness, which made it popular among the customers. Feerdi marketplace followed a growth path that boosted its revenue. And helped it achieve success in the long run, making it an inspiring e-commerce success story.
Also read: Boost sales with multiple eCommerce payment methods
It actually started its e-commerce journey back in 2015. Everything has changed for Feerdi ever since then. Day by day, the Feerdi marketplace started growing rapidly and overcame the challenges that came in its way. With the enormous amount of popularity that Feerdi gained within a short span of time among the Poland audience, there was no way that Feerdi could stop expanding. From being a store that only traded cosmetics and clothing, Feerdi now covers every domain and sells almost everything!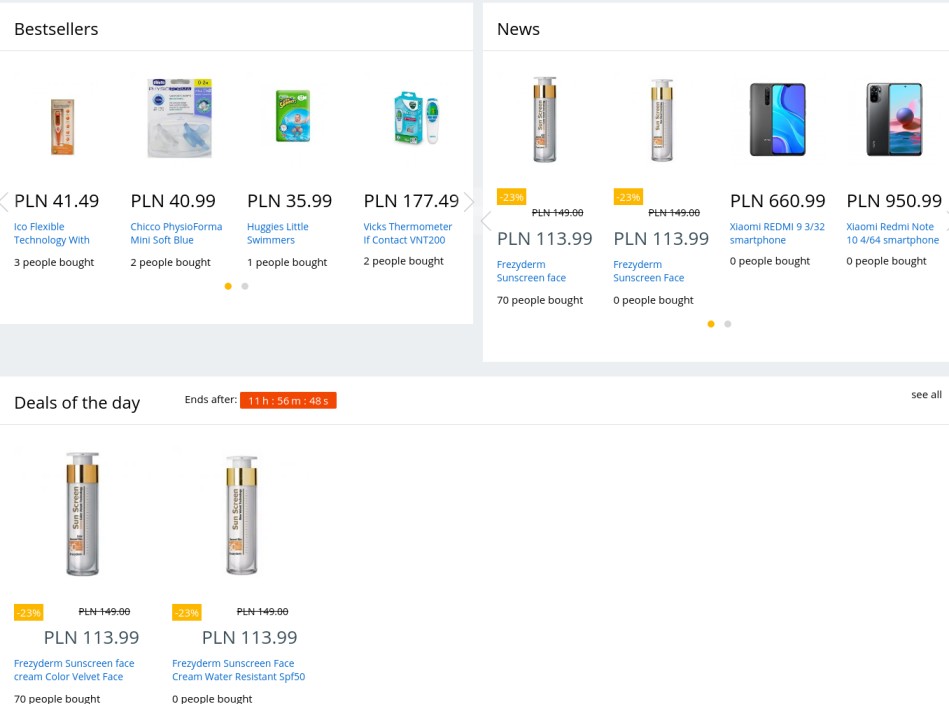 Though this journey hasn't been easy and was full of ups and downs, we made it. Thanks to our constant determination and the vision to become a one-stop destination for all the shopping needs. Team CedCommerce helped us expand our business beyond dimensions and actually made us understood that Sky is the limit!

Says Mr. Marcin Wierycki, founder of Feerdi
Also Read: How to create an online marketplace?
What exactly is Feerdi Marketplace?
Feerdi is a Poland-based online marketplace that digitally sells a wide range of products and services from various suppliers across the country. The online store instantly became people's favorite.
Guess why? Mainly due to the ease of shopping and selling online, which is offered on the platform. Feerdi marketplace has also given a platform to many budding entrepreneurs and businesses. They wanted to go online with their businesses but didn't have the resources to do so.
It gave them the platform to sell their products. On the other hand, the customers got a wide range of products to choose from based on their preferences. Feerdi has successfully attained the attention of an entire niche market for not just cosmetics or clothing but many other domains.
So, what made Feerdi marketplace a huge e-commerce success story? To find it out, let's dive into their growth path!
Also Read: How zonline created its online marketplace?
What Made Feerdi Marketplace An E-commerce Success Story?
After witnessing so much fondness and appreciation from the customers, Mr. Marcin Wierycki decided to take it to the next level. As Feerdi emerged as one of the most prominent e-commerce marketplaces in Poland and outperformed its competitors, Mr. Marcin Wierycki wanted to broaden its scope of categories.
To do the same, Feerdi marketplace needed the support of a brilliant e-commerce solution with top-notch and advanced features that could support multiple modes of payment, endless & 24*7 support for vendors on the platform, streamlined commission management, and much more. As they started their hunt for one such outstanding e-commerce solution provider and analyzed the industry experts, they came across CedCommerce. And that's when we joined hands with Feerdi to help them advance their e-commerce platform. And accomplish their objectives and emerge as an inspiring e-commerce success story.
Also Read: Evolution of online marketplace platforms
How CedCommerce became the Epic Helping Hand?
When Mr.Marcin Wierycki took us through his journey of creating this splendid platform, he told us that how he wanted to give sellers & customers a stable platform to grow and have the ease of buying different products from a single marketplace. To increase the outreach of Feerdi, Mr. Marcin Wierycki wanted to integrate some progressive and automated features into his marketplace model. So that it becomes easy to manage multiple sellers and offer them the guidance they need. He told our team that he wanted to introduce support for multiple sellers, messages to sellers from the product page, advanced commission configuration, and online payment support in the seller panel on Feerdi.
CedCommerce has been helping various entrepreneurs, local brands, and small businesses to make their way through the e-commerce industry without any hassle or intervention. We instantly understood what Mr. Marcin Wierycki was looking for, and offered him the exact match of the e-commerce solution that he was looking for. CedCommerce feels proud to be a part of this amazing success story of an e-commerce marketplace!
Also Read: Hyperlocal success story of power tools near me
What Mr. Marcin Wierycki, Founder of Feerdi, says about CedCommerce:
Undoubtedly, marketplace solutions offered by CedCommerce have definitely helped us solve many problems that we were facing initially. Thanks to your modules and open-source, we did not need to employ many programmers. And we implemented the full functionality of our marketplace. What I liked the most about the marketplace solutions and extensions offered by CedCommerce was the post-sales support offered by their team of experts. Not even once they made me felt unanswered. The entire process, from setup to conversations, was so fluent and helpful. However, it would have not been possible for Feerdi to emerge as a success story of an e-commerce marketplace without the extensive support offered by CedCommerce.
Let's have a look at what Mr. Marcin Wierycki has to say when we asked him what made CedCommerce stand out among others:
First of all, high functionality & stable extension code, for sure. But I will definitely emphasize it again – customer support was a key element in cooperation with CedCommerce. CedCommerce developers have shown their great knowledge. And I know that together we will be able to run any solution on our website with your team.
Also Read: How openflick is an example of a successful event marketplace
How have our e-commerce solutions helped Feerdi became an inspiring e-commerce success story?
The dynamic CEO of Feerdi Marketplace realized how they can effectively utilize CedCommerce's advanced and next-gen functionalities in favor of building a potential unicorn e-commerce store. Therefore, the company made use of all possible ways of enhancing its user experience via our e-commerce marketplace solutions and extensions.
Also Read: The story of embouz one-stop destination for buying or selling goods
Powerful Online Marketplace With MultiVendor Marketplace Super Saver Kit
Do you know how one of the most prominent and renowned online stores like Amazon became successful? Only because they targeted selling exactly what the customers demanded and expected and even added efficiency and ease of alternatives into their marketplace.
Therefore, Feerdi emphasized the same. Since the success of an online marketplace is determined by the sales and revenue, which directly depends on the rate of customer satisfaction. Marcin Wierycki, made the wise choice of creating a highly responsive marketplace and simplifying ordering and payment options for their customers. And it made Feerdi marketplace, an inspiring e-commerce success story.
CedCommerce Multivendor Marketplace Super Saver Kit helped Feerdi Marketplace became a vibrant and extraordinary online marketplace. Multivendor Marketplace Super Saver Kit comes with Marketplace Platinum Package along with three constructive marketplace extensions: Vendor Mass Import-export, Vendor Select and Sell, & the Vendor Attribute. From price comparison of products, products upload in bulk, to review & ratings and an interactive dashboard, this potent kit enabled Feerdi to sell better.
Also Read: Swissmade an ideal marketplace success story
Better Communication With Vendor Messaging Addon
With the help of integration of our widely used Vendor Messaging Addon module, the vendors selling on the Feerdi can easily communicate with the admin and customers from their panels about the queries or issues raised by the users.
This feature has certainly strengthened the communication panel of the Feerdi web application as now customers can conveniently and directly query about the products from the vendor using. And likewise, vendors can query about the transactions or other issues to the admin. Here is the list of features that made Feerdi's interaction strong:
Vendor-Admin Chat or vice versa.
Vendor-Customer Chat or vice versa.
Thread messaging system and WYSIWIG editor in chat.
Admin can send messages to multiple customers/vendors by mass action.
Admin can message transferred between vendor-customer.
Customers can interact with any vendor of their choice and ask anything about products or services associated with the products.
Also Read: Reformation of thaimee-d into a great marketplace
About CedCommerce:
No matter if you're an amateur footing into the e-commerce community or someone with a brand presence looking forward to making It grand, we are here to help you from the very beginning. CedCommerce is one of the leading e-commerce solution providers and has been helping out thousands of businesses and entrepreneurs across the globe in creating their online presence or their online marketplace. We believe in empowering our customers by providing them advanced, automated, tech-enabled, effective, and easy-to-use marketplace solutions, extensions, and much more. In case you have any queries or you are looking forward to creating your own marketplace, connect with us today.

Also Read: Meet inkamall the trendsetter, not your regular online store