How to get More Views on Walmart Listings?
Running short of time? Get PDF of the blog in your mail.

Play Now
Walmart attracts over 100 million unique visitors a month. The number of sellers is also increasing day by day as Walmart is inviting and onboarding more and more sellers by launching various incentive-backed onboarding programs. Thus making the competition tough for the existing sellers. So if you are selling on Walmart but are unable to attract potential buyers from Walmart even after indulging yourself in all the activities you could, here's the solution for you. All you need to do is abide by the best practices below and increase views of your product listings on the Walmart marketplace, and hence get increased conversions on Walmart.
Tips to get more Views on your Walmart Listings
The following tips will help you improve your Walmart listings and increase views on the Walmart marketplace: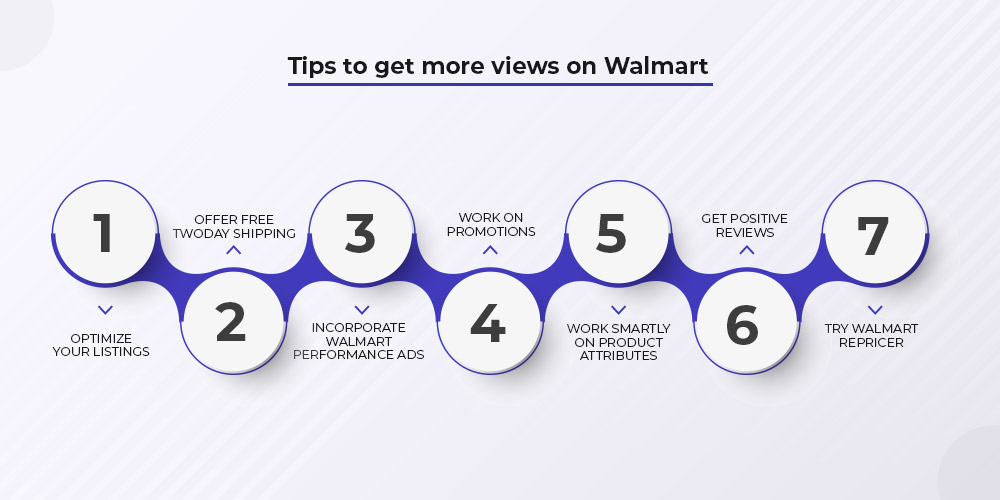 Optimize your Listings
Listing optimization is one of the important aspects that you need to focus on. The way you list your products on Walmart has a direct effect on their visibility. So before doing listings on Walmart, carefully understand the best SEO practices to have greater visibility.
A few key SEO aspects to work on before performing products listings on Walmart are:
Keep your product name within the 50-75 character limit.
Include the brand, key attribute, model number, size, color, etc. in the product name.
Avoid stuffing keywords.
Write a compelling product description telling about the product features and benefits incorporating the words customers use while searching for the products that you are going to list on Walmart.
Click to know all about the Walmart listing rules here.
Offer Free TwoDay Shipping
Walmart Free 2-Day Shipping is Walmart's fast shipping program that promises free delivery of products within two working days. A great advantage of this program is that you don't need to pay any membership fee to achieve the two-day delivery tag on your selected products. You can deliver products in two days in the following two ways:
Seller fulfilled
Third-party fulfilled
The Seller fulfilled program lets you fulfill your order in two business days on your own. But Walmart has specified a few requirements for you to fulfill to make yourself eligible for the Self-managed program.
The Third-party fulfilled program helps you with the TwoDay shipping program as it eases for you to overcome abiding by the requirements of the Seller fulfilled option. You just need to choose Deliverr to fulfill your products from Walmart.
To know more, read this TwoDay shipping blog.
Incorporate Walmart Performance Ads
Incorporating Walmart-sponsored ads help you attain higher sales. These pay-per-click ads help you target the keywords your target customers to search for products on Walmart. Bidding for the right set of keywords helps your products appear in search results with a sponsored product tag. So these ads help to boost your products' visibility and in increasing views on your Walmart listings.
Also read:
"How do I advertise with Walmart"[sponsored ad]: Get more sales
Work on Promotions
Promotions help you trigger purchases from your customers. You can offer the following types of promotional pricing on Walmart:
Running Clearance type promotions help you to clear out the inventory you no longer need. The products on which you apply clearance promotions are flagged with the Clearance tag.
Additionally, you can run Reduced type promotions. The products to which you apply reduced-type deals should help customers save at least 10% and these are flagged with the Reduced tag.
To learn more about running promotions on Walmart, walk through this promotional pricing blog.
Work smartly on Product Attributes
Product attributes play a significant role in your enriching your product's visibility. Always try to incorporate as many product attributes as you can to describe your products in a better way. If your product is apparel, attributes may be the size, color, fabric, etc. and if your product is a mobile phone, attributes include screen size, resolution, color, operating system, etc.
These attributes also work to showcase your products when customers apply search filters. So the more attributes you add, the higher visibility you can attain, and hence, more views on Walmart.
Get Positive Reviews
Reviews work as word of mouth in the world of online shopping. Most of us look for product reviews before locking a purchase. Being a Walmart seller, you need to work hard to get positive reviews from your customers. These reviews help customers in making an informed decision about the products they are going to buy from you. The better reviews you have, the stronger credibility and trust you can gain from customers. If you don't know how to get reviews from customers and want to uncover the ways that can help get reviews on your Walmart listings, this blog on how to get reviews is there to help you out.
Try Walmart Repricer
Since price is a key factor that buyers consider when purchasing anything, keeping competitive product prices at Walmart is crucial. The competitive product prices are essential just not to attract customers to your Walmart listings, but it's the pricing policy of Walmart to have product prices that abide by the pricing policies of Walmart.
A solution to keeping a competitive product price is the repricing tool that comes embedded in the Walmart Integration. The advanced repricer helps you adjust product prices as per the set conditions so as keep product prices competitive. You just need to set the price range and the repricer will keep changing the price of products within the set range. This repricing is one of the many features that come loaded with the Walmart Integration.
The other features include:
Product profiling and uploading
Order management
Product synchronization
Running promotions
Add swatch images
Fetch orders
Shipment management
To get more info on Walmart Integration and how simplifies selling on the Walmart marketplace, read the article How to Sell on walmart.com marketplace with Walmart Integration?
To Sum Up
Getting your products to reach the shoppers searching for the products you sell is what you need to take up seriously, or else all the listing efforts lead to zero results. Optimizing product listings and offering free two-day delivery are the keys to attracting shoppers and enhancing views on Walmart listings, in addition to a few other important aspects listed above. These tips will work as a sure-shot way to attain a prime position for your products on the Walmart marketplace. If you need any further help to succeed on the Walmart marketplace, connect with industry experts from CedCommerce and perform listings that can garner more views on your Walmart listings.