Get your Facebook and Instagram Shops Halloween ready with these Spookily Effective Ideas
Running short of time? Get PDF of the blog in your mail.

Play Now
It's time to light Jack-O-Lanterns and carve 🎃 as the most frightening season of the year is about to arrive. While the buzz has been making rounds about the shoppers' Halloween spending, merchants selling on Facebook and Instagram should wait no longer to adorn their shops for Halloween.
So, without much ado, let's unravel the mystery to spice up your Halloween sales on Facebook and Instagram shops.
Table of Content
Embrace the Power of Facebook and Instagram this Halloween
With almost 3 Billion active users, Meta platforms are ruling the social ecosystem. As a result, most shoppers discover products on either Facebook or Instagram. Therefore, for businesses like yours, it is essential to be present where your shoppers are.
Explore the capabilities of Facebook and Instagram and utilize them to elevate your social commerce game this Halloween –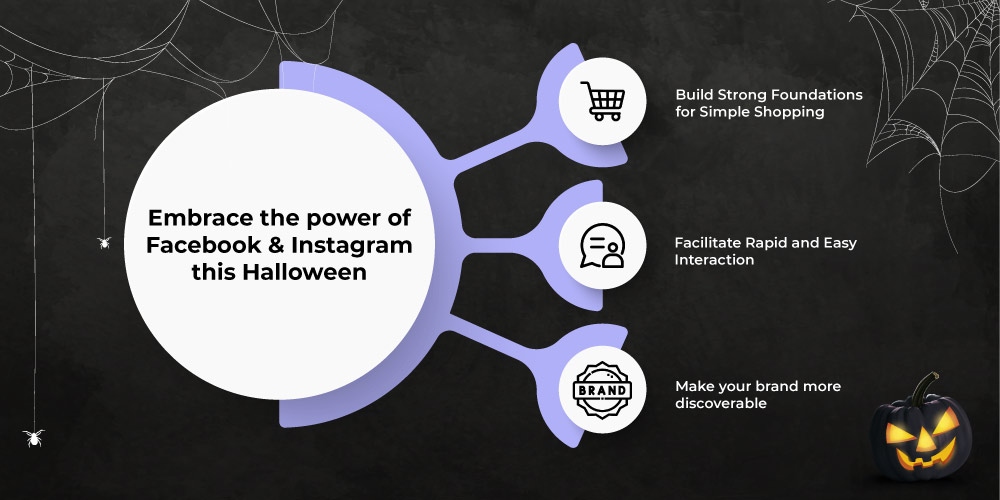 Build solid foundations for simple Halloween shopping:
Facebook has always been committed to offering people a place to enjoy shopping. And to do this, it is gradually transforming its social platforms into commerce.
The features like in-app checkout help in creating frictionless selling.
Let us say a shopper hopped on to your Facebook or Instagram Shop, discovered some fantastic Halloween decor items, and wants to purchase them. Now, with the in-app checkout feature enabled in your storefront, the shopper can immediately purchase within the app.
Moreover, with the assistance of Facebook Business Partners, you can offer unmatched shopping experiences to your shoppers.
Facilitate Rapid and Easy Interaction:
Gone are the days when brands had to find methods to communicate with shoppers. With messenger on your side, customers may quickly stumble on your store and, if they like your stuff, send you a message to discuss the product's variety and purchase possibilities.
Messaging instills confidence, so it may help you convert discussions into consumer loyalty. Businesses like yours can effectively communicate with customers by using solutions to automate responses and promptly reply to customers' messages, even while you're unavailable.
You may configure a welcome message to automatically introduce shoppers to your business, an away message for when you're unavailable, and quick replies to save time by reusing responses to commonly requested questions.
Make your brand more discoverable:
According to a survey conducted by META, 1 in 3-holiday shoppers shop for products they discovered on either Facebook or Instagram. Thanks to the Meta's Discovery Commerce. It helps you in providing tailored shopping experiences to the customers.
With tools like Instagram Shopping, you can take advantage of Product tags that let you highlight products from the catalog directly in your images and videos. This makes it simple for customers to purchase directly from posts, and you can curate products into Halloween themes like new arrivals, gifts, trends, and much more.
Additionally, you may engage with prospective customers by running engaging Halloween ads on Facebook. Facebook dynamic ads are made to automatically present items to consumers who have shown interest in them on your website, in your app, or elsewhere online.
If you are an owner of a Shopify store, you must now connect it to the Facebook and Instagram Shopping app, bring products to its commerce platforms, and create targeted campaigns.
Attract more Halloween shoppers by narrating your brand story through Videos on Facebook and Instagram
You can redefine your brand story by using exciting behind-the-scenes anecdotes and candid imagery. The best medium for connecting with your consumers is through Facebook and Instagram videos ( Short and Long form) and stories. Videos often provide the most memorable, compelling, and inspiring experiences because of how moment, sound, and sight are combined.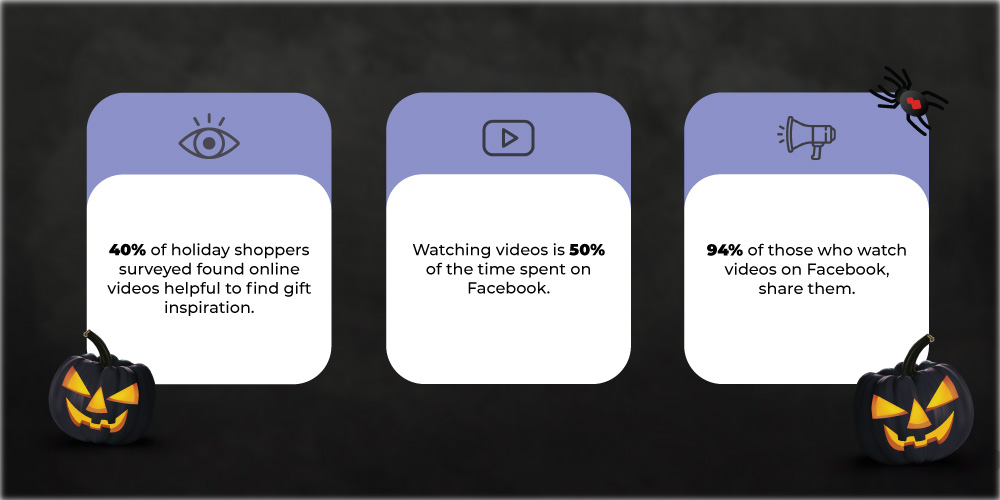 It is anticipated that video views will surge more than 50% this holiday season. Halloween provides you with a chance to strengthen the bond with your shoppers. Meta platforms like Facebook and Instagram serve you the tools like Reels, Stories, and long videos to give shoppers an immersive scary experience.
Let's start with –
Attention-grabbing Halloween Reels on Instagram
Reels are the future of Instagram's video storytelling; in fact, they account for 20% of all time spent on the platform.
Engaging short-form video content, like Instagram reels, can promote product discovery, adapt to Halloween trends, embedding your brand in culture.
Incorporate Instagram Halloween Reels as part of your creative approach to –
Engage audiences passionately by presenting expressive brand stories that combine entertainment and human connection.
Reaching shoppers who are looking for Halloween merchandise to gift their loved ones.
Furthermore, people aren't just consuming Instagram Reels — they are actively engaging and having conversations around them. Considering this fact, Meta has recently introduced Reels Ads on Facebook and Instagram. Now you can also create Instagram Reel ads to promote your Halloween-special products. Also, they are in the phase of testing image carousel ads for Reels.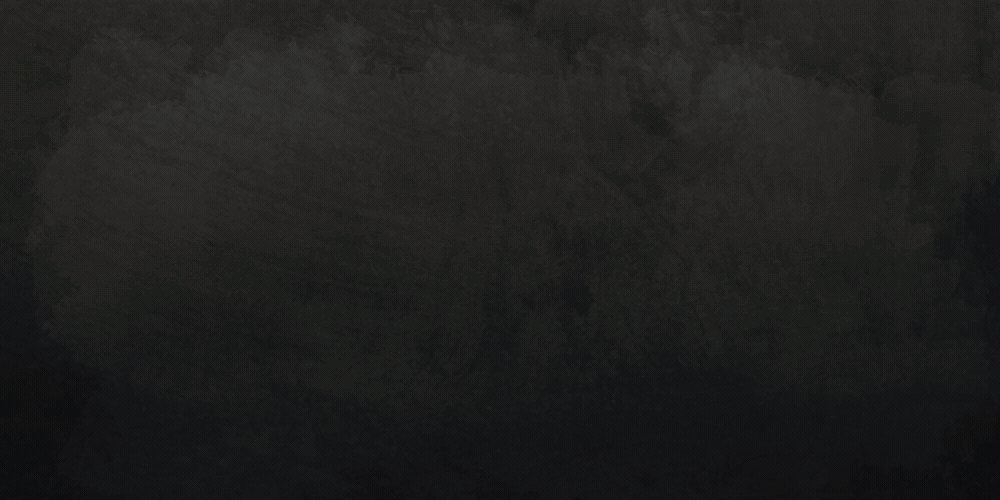 Halloween Stories to entice Shoppers
Pull your audience in and entertain them with content that appeals to them. Entertaining stories tend to elicit emotions like happiness, interest, and curiosity in your shoppers. Consider sparking intrigue by taking an edutainment approach, notify them about your Halloween arrivals, and help them learn about how they can make their Halloween more spooky.
Stories are the best ways to share in-the-updates (e.g., 'Item Back in Stock – Shop Now') and behind-the-scenes looks (e.g., 'Product Coming Soon') to inspire connection with your products. You can also improve your products' discoverability by using the Product tags in stories.
Reach the right people with immersive Halloween video ads
Video ads are one of the best ways to uplevel your brand's storytelling on Facebook and Instagram. The video ads help develop connections with the shoppers and inculcate their interest in your brand.
Launching full-screen, immersive Halloween video ads with the Ads Feature of Facebook & Instagram Shopping App lets you reach the right set of shoppers.
You can use video ads to – 
Showcase your products or brand innovatively: Use a video to demonstrate features of Halloween arrivals or to illustrate your brand's narrative.
Capture attention swiftly: Create videos no longer than 15 seconds to attract your viewers and retain their interest.
Convey a single message: Communicate a message that compels individuals to take action, such as purchasing a particular product or visiting your website.
Tips & Tricks for amplifying your Halloween sales on Facebook and Instagram Shops
Embellish your Facebook & Instagram Shops with a frightening Halloween vibe
Adding some Halloween flare to your Facebook and Instagram Shop is a terrific approach to developing your brand narrative this spooky season. You can achieve this by customizing your collections to fit the spooky Halloween spirit. In addition, make your Facebook Store stand out with engaging visuals and layouts. This will build your brand's identity and get customers in a festive mood.
Get your Shoppers in Macabre Mood with Top-Selling Halloween products
Halloween is observed by dressing up in eerie apparel, trick-o-treats, and decorating your home in a frightful fashion. By offering Halloween products early, you can get your shoppers in the macabre mood beforehand. It's one of the most effective Halloween marketing strategies for raising demand.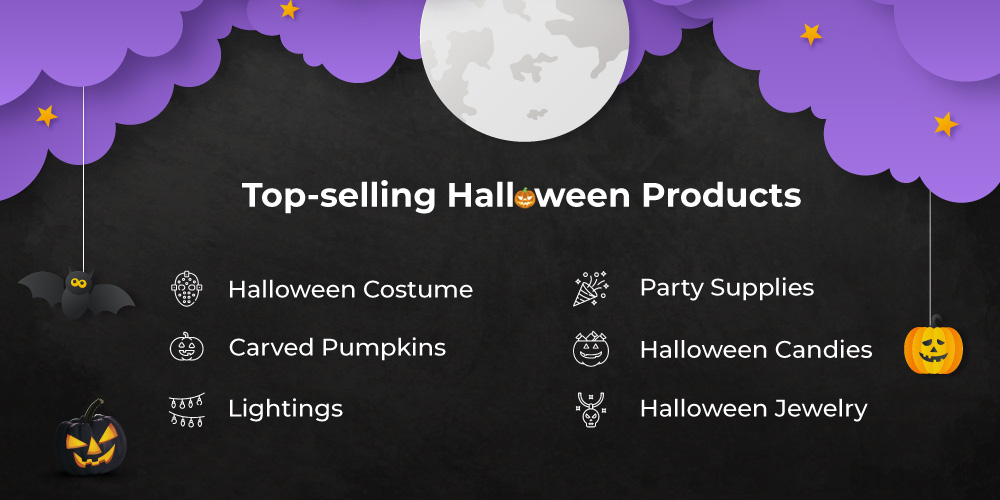 To help you prepare for the spooky season, we've put together a list of products to get you in the Halloween spirit.
Halloweens – An ideal opportunity to Cross-sell and Upsell
When it comes to upselling and cross-selling, Halloween is perhaps the best day of the year to do so. Shoppers seldom purchase a single item or apparel from your shop. They mostly look for a whole matched set.
You may assist them by putting together special promo packages and giving them a discount. 
Adding a gift for purchases beyond a specific price threshold is another approach. Even though it may seem negligible, minor things may elevate your Halloween marketing to extraordinary levels.
Run Halloween Ads on Facebook to increase your brand reach
The scary season is the ideal opportunity to showcase your business and products to prospective customers. Running your Halloween ad campaigns on Facebook and Instagram is one of the best ways to expand brand recognition.
With the Ads Feature of the Facebook & Instagram Shopping app, you can create and launch numerous Halloween ads, such as Spooky Video ads, creative carousel ads, scary image ads, and many more.
Re-Engage your Shoppers through Retargeting
Sometimes shoppers visit your store for the first time and become sidetracked before making a purchase. To draw them back to your shop, you have to re-engage them. One of the best ways to re-engage your shoppers is by running retargeting ad campaigns.
When your buyers see your Halloween products & sales offers advertised on every website, they will be more interested in your brand. It encourages people to revisit your store and shop.
Roll up your sleeves for the Spine-Chilling Halloween!
Halloween is not just about trick or treating and spreading fear in the air. It's one of the ideal holidays to let your imagination go wild and fly off the edge with the above-mentioned spooky good ideas.
It's the perfect time when buyers go crazy with shopping. We hope that incorporating these tips will get you that extra boost in engagement and sales you're expecting!
Furthermore, if you are looking for any assistance, our eCommerce wizards are just a phone call away. You can schedule a meeting at your convenience.
Happy Hall🎃ween!