Benefits of an Online Grocery Store Having Top-Notch Features
Running short of time? Get PDF of the blog in your mail.

Play Now
Covid-19 and the following lockdown caused entrepreneurs to shut their brick and mortar stores. Instead, they observed the benefits of online grocery store business. They even saw the advantages of the grocery delivery app business. Big players in this online grocery industry get a heavy spur of orders, resulting in a vast amount of sales. Instacart experienced a 500% jump in order volume.
Guide on: how to create an online grocery store
These benefits inspire entrepreneurs to give a spike to their online grocery businesses. They decide to create an online grocery store or an app. Are you also among those? Do you think why you want to have an online grocery store business? Then read further to find out why. Know important features to surely include them in your online grocery store or grocery store delivery app.
Now avail a discount of 20% on our grocery marketplace solution for Magento in our ongoing Holiday Season Sale. Offer only valid for a limited time, so hurry and get started! 
Why create an online grocery store/grocery delivery app business?
Popularity among consumers gives the reason enough to create an online grocery store. They increasingly use online grocery delivery apps because of the convenience they provide. Therefore, online grocery store businesses become reliable day by day. Predictions say that the online grocery delivery industry will grow at a CAGR of 24.8% from 2020 to 2027. Even eMarketer predicts that online grocery sales will grow to $129.72 billion by 2023, 10% of total grocery sales.
Even mobile apps play a great role in online grocery store revenues. Many of the mobile app downloads exceeded 200%. Instacart, Walmart Grocery, and Shipt experienced app download surges of 218%, 160%, and 124%.
Thus, online grocery store benefits are fizzling in the contemporary tech era. Millennials across the globe greatly turn towards online grocery businesses and why? Because online grocery delivery app benefits them in saving their time, and budget, and giving recognition.
Our solutions answer all your challenges in starting a grocery marketplace.

What are the benefits of online grocery store business?
It's important to study the existing online grocers.  Why? Because they struggled to make their way through the success of their online grocery business. Today, their online grocery businesses are well known. They deliver better shopping experiences. They offer a complete set of benefits of online grocery store business and grocery delivery apps.
We looked at the rise of sales in the giant ones during this time of the pandemic. From this scenario, the idea of starting an online grocery business is much recommended. It holds the benefit of generating much revenue.
Instacart–Forbes stated that Instacart makes money from different sources like delivery and subscription fees. Also, Instacart became a one-stop shop for consumers during the lockdown. They preferred it due to instant doorstep delivery.
BigBasket- Even BigBasket, an Indian online grocery store, achieved higher order rates. The rates almost doubled to reach 18% after using the hyperlocal model and same-day delivery approach.
 These online grocers made money during the pandemic by selling products in large quantities. They applied delivery and service charges on every order. Besides, they win buyer trust due to same-day delivery. This approach enables buyers to choose from their favorite brands. Being able to select known brands satisfies them. They assure themselves of receiving fresh goods.
Other benefits of the online grocery delivery app business you will enjoy-
Backend management- Backend management features to manage vendors and products.
Earning from vendors– Grocery stores levy commissions on vendors for orders, membership subscriptions, and so on.
Multiple payment modes– Support various payment gateways and multiple currencies to bring users worldwide.
The real-time updates- Admin dashboard provides real-time updates and insights into your grocery website.
These segments altogether provide you with the benefits of an online grocery store gaining profits.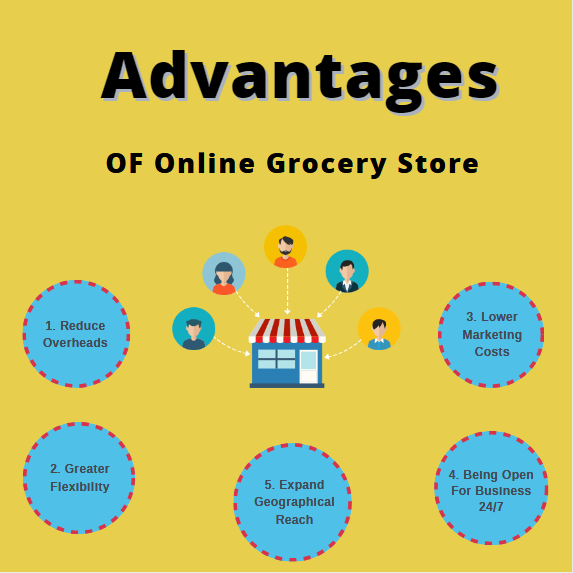 What benefits of online grocery store business will your vendors gain?
Vendors trust online grocery stores and their apps because- 
Grocery delivery app expands the businesses of vendors– Online grocery stores and their apps attract new buyers all the time. Thus, vendors frequently get new buyers every day. New and regular buyers constantly expand their databases. In other words, online grocery stores generate new leads for vendors.  
Vendors easily manage their business on the online grocery marketplace– The control of hyperlocal grocery marketplaces rests not only with the admins. It also rests with vendors too. Vendors get separate panels to control their inventories. They upload products and related descriptions from their panels.  
Vendors market their business- Moreover, online grocery stores allow vendors to reach a much wider audience through their marketing and merchandising. Such facilitations result in their businesses' growth. They get a boost in sales and gain profits.
Vendors rush to the online selling for these grocery store delivery app benefits.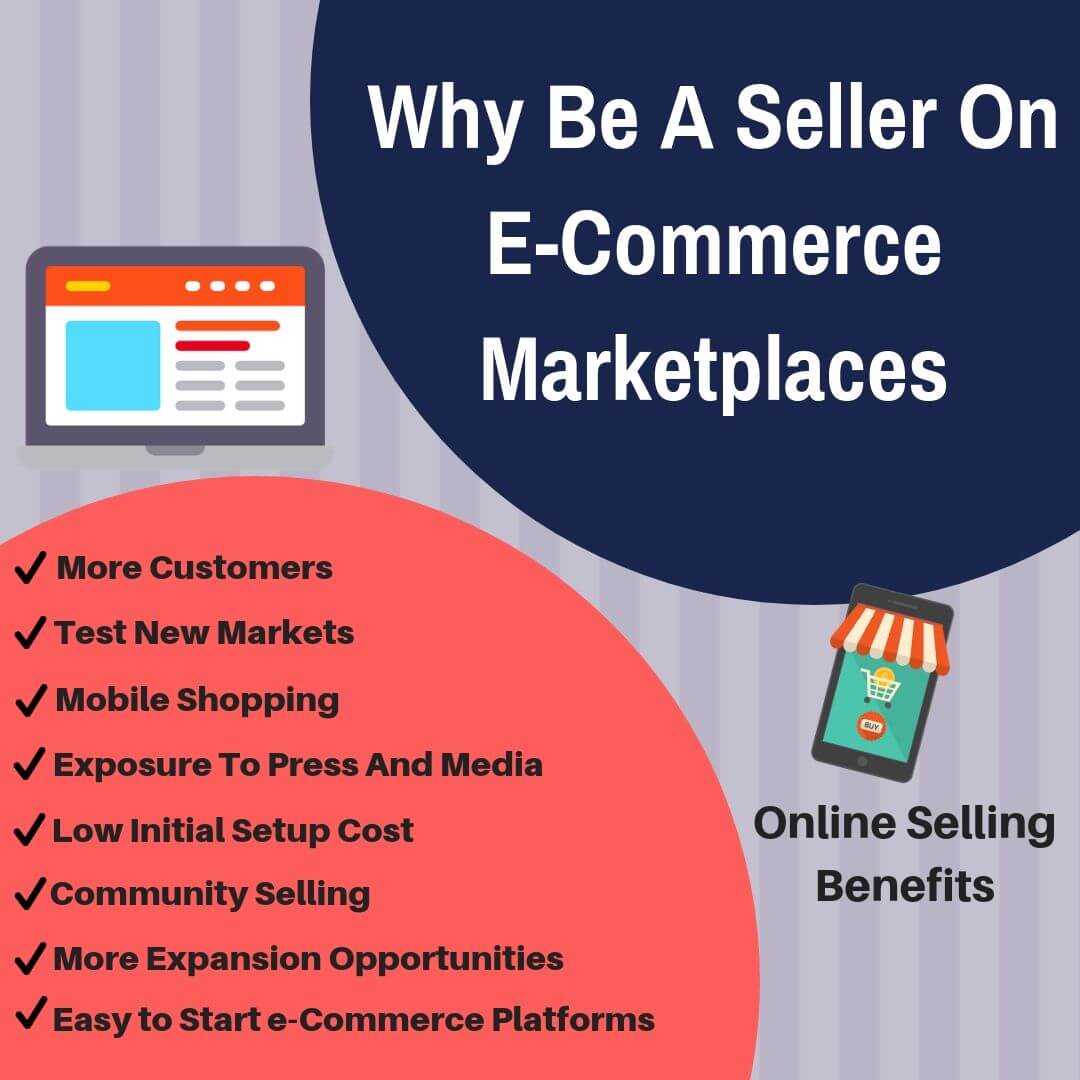 How convenient is your grocery store for your buyers?
Online grocery websites and apps function on hyperlocal business models. This business model offers a unique online experience to buyers. Even they prefer to download and shop more from the app than the website.
Keep yourself in their shoes. Think of the reasons that prompt you to purchase from online grocery websites or their apps. The reasons must be-
Choosing time slots any time in the day.
Delivery of fresh food within 24 hours. 
These are some of the benefits of online grocery apps which you rely on.
Moreover, grocery stores such as Instacart and Peapod deliver you products from stores situated in your locality. In addition, they provide facilities such as:
Multiple languages- Multiple languages select the language of the buyers' choice. 
Nearby vendors- Pincode checker to locate nearby vendors.
Return Process- Easy return and refund processing.
Compare prices- Compare prices with other vendors.  
These benefits of the online grocery stores incite vendors to switch to online selling.
What Do You Need For A Successful Online Grocery Store?
For your online grocery store to nourish, you need-
1. Business models for your online grocery marketplace
Online grocery stores work upon different business models. Every one of them has its own advantages. You will gain benefits from all of them. These models are-
Inventory-based business model
Many online grocery businesses run on an inventory-based business model. In this model, grocers maintain their own inventories. They get goods from suppliers such as food corporations, farmers, and mills and store them in warehouses.
In a way, goods are stored in bulk, thereby, making them available forever. Grocers even get wholesale discounts for bulk buying.
The major challenge for online grocers such as Big Basket practicing this model, the face, is preserving perishable goods. They are delicate and grocers have to sell them before they rot. BigBasket tackled this challenge by adapting to the method of the "just-in-time model."
Under this method, they acquire a lower stock of perishable goods and maintain them for approximately ten days. Due to this strategy, BigBasket managed to reduce the wastage of perishable goods.
Get solutions for your online grocery store.

Grocery marketplace business model
Online grocery stores that have hyperlocal functionality deliver orders within a limited geographical area. They provide a platform to local grocers in every area. In return, these grocers become vendors on grocery marketplaces. Hence, such online grocery stores run on a grocery marketplace business model.
This business model is unlike the inventory model. The hyperlocal grocery marketplace does not own any inventory. Instead, it connects local vendors with buyers.
As a result, they empower local grocers by providing an online platform. They grow their business on it and boost sales. The platform also satisfies buyers as they buy favorite products from the right grocer.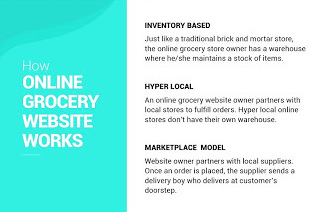 2. How will your online grocery store offer delivery services?
Customers ordering from your online grocery delivery website or app expect delivery on the same day of order since they have to satisfy their basic necessities within a short period. They prefer ordering online due to the benefits of the grocery delivery app.
But, meeting their needs is no more a complex job. One of the hacks that greatly satisfies customers is dropping fresh and latest manufactured products for which they will not be hesitating to pay the additional delivery fee in their next order. But, there are many other advantages of online grocery store delivery services other than dropping fresh products.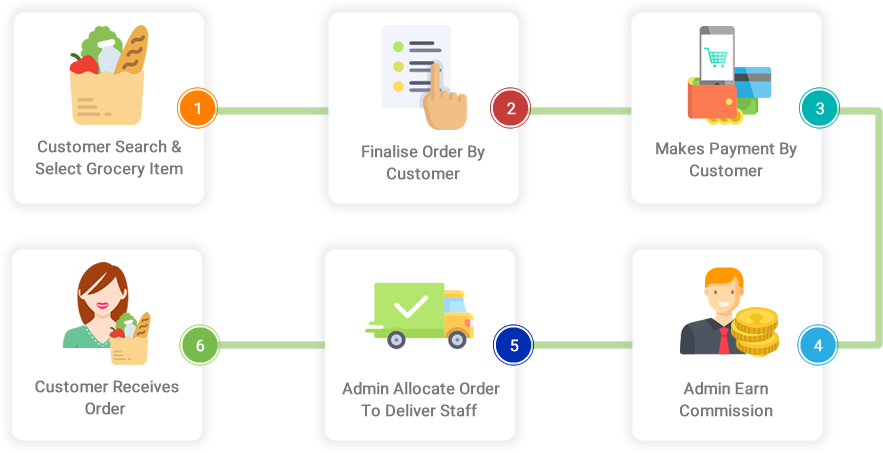 You need to ensure delivery on time. For this task, integrate features in your online grocery marketplace such as:
Location information
Detecting the location of buyers is important for your grocery eCommerce business. Your store displays products from the local grocers available for the buyer's area. It filters products on the basis of zip code or distance.
Easy checkout process
Your online grocery store has an easy checkout process for buyers. The process involves the buyers adding addresses, choosing payment methods, and delivery time. The final checkout page gives the summary of their billing details to confirm the order of buyers. The easy checkout process is one of the advantages of an online grocery store for which entrepreneurs will start. 
Return and refund
Every kind of return and refund process impacts buyer satisfaction. Either being too rigid or too flexible can harm your marketplace. In fact, a survey from UPS reveals that about 73% of shoppers would like to shop again if they see an easy return process on a marketplace.
Such hyperlocal grocery marketplaces follow the principle concept of customer-first. Moreover, this concept facilitates buyers to choose convenient time slots for themselves. Technology such as AI/ML supports quick delivery services of groceries within the chosen time slots. It helps sellers track orders appropriately and gives real-time order updates. It also ensures quality customer service by enabling customers to check their order status.
Create your online grocery store.

3.  Incorporate multiple payment methods
Online payment methods are one of the major advantages of online grocery stores. Buyers strongly prefer to shop online due to these methods. They are increasingly shifting to online modes of payments because of the pandemic as well as the introduction of electronic payment applications.
These electronic transaction solutions increased customer expectations and dependency on speed, price comparisons, and instant transactions. At the beginning of 2020, customer spending through online payment systems rose up to 30% more than the total expenditure from 2019.
But, managing online payments in your online grocery is no less than a Herculean task. Several complexities are involved, such as monitoring fraudulent buyers, punishing sellers who never ship orders even after payment from customers, and preventing a data breach.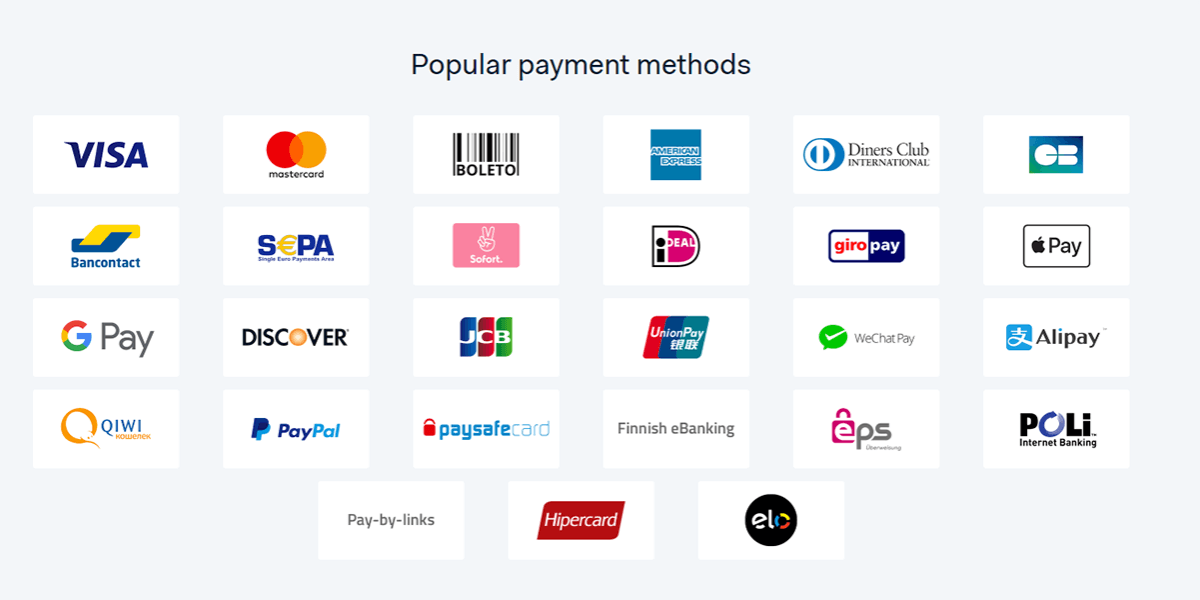 Besides, you have to look after your online store's payment systems' legal aspects, like complying with the clauses of 'Know Your Business' contracts, fulfilling value-added taxes (VAT), and following the data security norms. Also, managing dozens of payment options is challenging.
But, if you inherit the right payment service systems, you will overcome these challenges. These systems reduce hacking threats with strict security policies. A high level of security adds to the benefits of the grocery delivery app and the advantages of an online grocery store.
It is crucial to understand those payment systems applicable not only in grocery stores but also in all the other online stores before including them in yours.
Virtual terminals
Virtualization (the move from physical devices to cloud-based platforms) through virtual terminals hastened payment transactions. Moreover, this web-based terminal software accepts payments from credit and debit cards without entering its details again and again. It saves card details in the system for quicker transactions.
Payment Gateways
As the orders and bills are finalized, payment gateways are a medium between payment processors and customers' care providers.
Apple Pay, Google Pay, and Samsung Pay
These mobile payment apps are compatible with their operating systems, such as IOS and Android. They initiate links to devices owned by customers through a device-contactless payment provider.
Integrate software solutions that support these payment modes. Install solutions to gain most of the advantages of an online grocery store. The solutions give buyers the freedom to choose any one of the payment methods. Furthermore, this selection of payment methods adds to the benefits of online grocery stores for buyers.
Even it enhances the benefits of a grocery delivery app. The app gives a seamless shopping experience to buyers. These benefits of multiple payment methods boost sales of your online grocery store.  
4. Market your online grocery marketplace
After getting an apt online grocery store app, start its marketing and advertising. Choose suitable advertisement platforms to get abundant traffic inflow. What could be better than social media and search engines?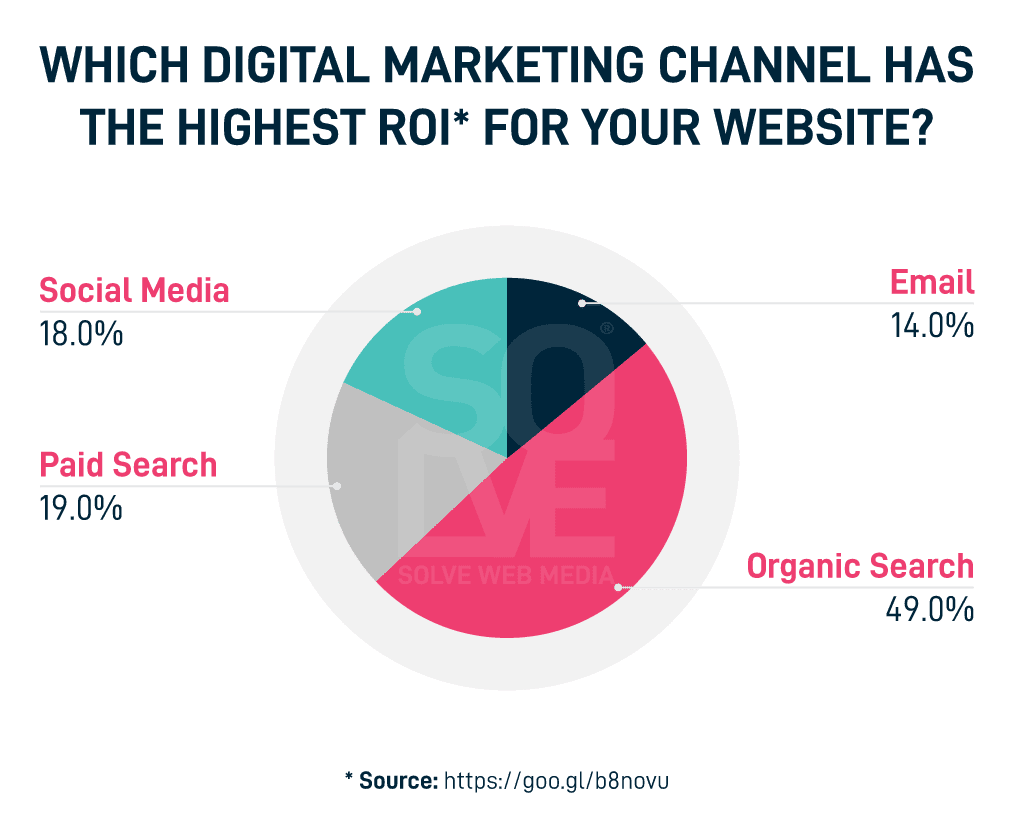 Social Media Platforms-
Shortlist the most popular social media platforms and advertise your products there. But most importantly, create a page of your online grocery store and link it. You must make it your priority task to post on that page every day.
Make sure to post all the offers on the page you created. More people visit a social media page in comparison to any shopping website. Hence more people will be able to see your offer.
Take the help of paid promotion to reach more people. Use Instagram for business and Facebook Business to handle your page efficiently.
SEO
Besides social media, your online store is important to be found on search engines. They are the main access to your store. Your presence on search engines is one of the advantages of an online grocery store. Therefore, optimize it for search engines to filter your content. The most-accessed content gets a higher ranking and appears in top search results.
Also, optimize your grocery store delivery app to appear in 'near me' or 'near to' results. This is called Local SEO, in which your business delivers services to specific localities.
 Create an app for your online grocery delivery business.

5. Update your grocery marketplace frequently
Having a plan for updates is always favorable for business. While you see all things falling into place for your online grocery store business, bit by bit, plan for expansion. When it's time to upgrade and amplify, you will have a clear idea of what and how to manage.
One of the advantages of an online grocery store is making your store better. Free and regular updates improve your online grocery store business.  
You get updates related to attracting new local grocers. It could also enhance your store's appearance. It can also be related to providing services in more cities.
No matter what you have in mind just make sure you have a plan to execute it. Once you know what you want out of your online grocery store model, it will be easy for you to set up your business. Keep an eye on the most demanded products. Provide delivery on time.  Availing coupons and offers, memberships, etc. to give your store an upper hand over the brick and mortar grocery stores.
Conclusion
Businesses with such advantages as online grocery stores and the benefits of grocery delivery apps will take off in the right direction.
If you plan to start an online grocery store, you must associate with experts. They provide online grocery store solutions for your online grocery store model. The solutions create your online grocery store business within a few weeks. These solutions provide grocery store delivery app benefits at a low cost. 
They manage your online grocery store easily.  Many entrepreneurs are ready to spend earnestly on automatic management by solutions. 
At Cedcommerce, we help you set your ideal online grocery store. For a remarkable amount of time, CedCommerce has been offering the necessary technical solutions. These solutions specifically build one such platform. These extensions come with a multitude of features. The features aid in the development of a rich multi-vendor e-commerce marketplace.
CedCommerce's Magento 2 Marketplace extensions and add-ons are ready-made.  They are reasonably priced solutions for building a website like Amazon. A hyperlocal eCommerce business website armed with these features will undoubtedly possess the best in class features.
Wyoming Deliveries is a marketplace for food and liquor delivery. This marketplace, enriched with our marketplace solutions stands out as the best example of grocery marketplace success. You can also take advantage of our Food delivery app development services to create your own food delivery marketplace. 
Guide on: How to create an online marketplace
For more info, visit Cedcommerce