Benefits of Magento Marketplace Integration and How it Simplify Sellers' Journey?
Running short of time? Get PDF of the blog in your mail.

Play Now
Selling products online and earning high profits is easy if you know the little tricks of eCommerce; especially, where to invest your money. We understand that Magento sellers face many eCommerce challenges in managing their products, inventories, and orders while selling on different marketplaces. This is also one of the reasons why they don't opt for multichannel selling, restricting their products to just their website. But this way they stop many opportunities of earning higher profit margins, also this can be a prime cause of online business failures. So, at Cedcommerce, we came up with a solution for our sellers called Magento multichannel selling solution. This Magento Marketplace Integration is an affordable solution. It can further eliminate many major eCommerce challenges and allow sellers to simultaneously sell on multiple marketplaces.
Wondering what a Marketplace eCommerce Integration is?
Marketplace eCommerce Integration is a communication between a marketplace and a seller using an API interface. It works on the various features available in the marketplace; like creating the product, deletion of product, updating a product, retrieval of order, shipping order, order cancellation, acknowledging an order, and managing refund of orders. These features help in the integration of the marketplace API.
Let's understand how this multichannel selling solution benefits Magento sellers, wanting to list products on multiple marketplaces.
Also Read: What Do Magento Customer Reviews Really Suggest About CedCommerce?
This Seller Chose Magento Marketplace Integration for his Online Store And Succeeded
Many Magento sellers have opted for our multichannel selling solutions and presently earning high profits. Mr. Thomas is one of our valuable clients who contacted our Magento Integration team regarding his need to expand his LED business and make more sales. Our team suggested him to opt for multichannel selling with his Magento store named Isolicht.com and list his products on platforms like Amazon and eBay.
Our team provided him with all the support from providing the Amazon Magento Integration and eBay Magento Integration at affordable rates to onboarding his store on these two platforms. After two weeks, Mr. Thomas saw a surge in his sales. He further noticed that despite selling on three platforms simultaneously, monitoring & managing products, orders, inventories, and other information was smooth. Later in the coming months, there was a 300% increase in new orders placed for his products. Read the full Magento case study, here.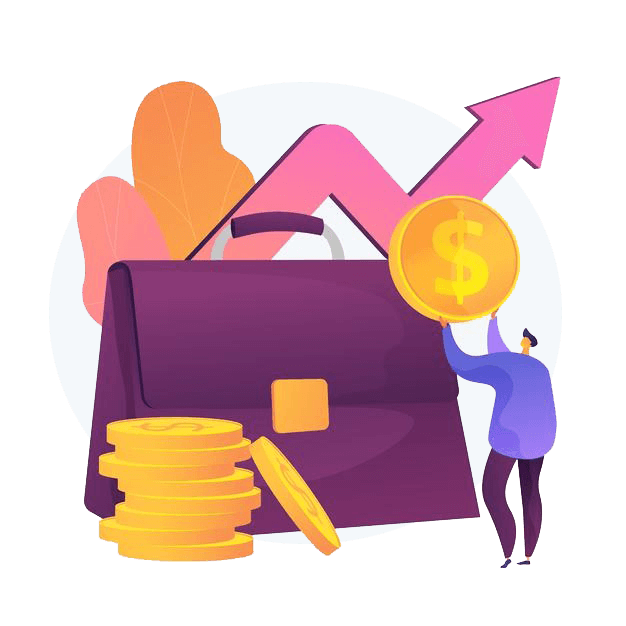 Why Stick to one marketplace when you can sell on Many!!
Schedule a meeting with experts to learn the real benefits of multi-channel selling and expand your business
Benefits of Magento Marketplace Integration: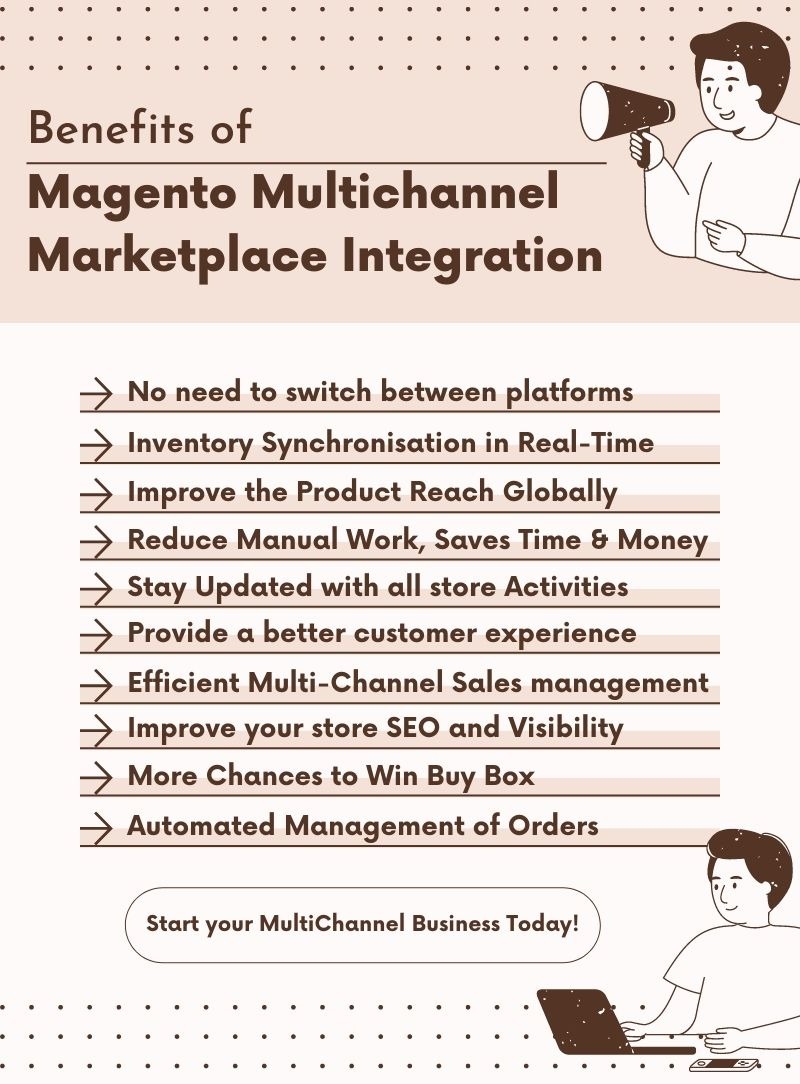 Let's go through these benefits of Magento multichannel marketplace Integration in detail.
No need to switch between platforms:
The first and foremost benefit of using a Magento eCommerce Integration is that you need not switch between various platforms. Just a single Magento platform is enough for you to sell smoothly. Both small and large-scale merchants prefer Magento as it is one of the best eCommerce platforms. So your business size does not matter. Also, you can access multiple selling accounts of different marketplaces or the same marketplace with the help of Magento eCommerce Integration.
Also Read: An Ultimate Guide on Magento Multi-Channel Selling Solution
Inventory Synchronisation in Real-Time:
Magento Multichannel marketplace Integrations are specifically designed to update the sellers about the inventory. The stocks are updated on all ends, i.e. in the Magento store and on all the connected marketplaces you are selling. This saves time for merchants and updates about the real-time inventory status. It also is time savvy as they need not update the inventory manually. To make you understand this in simple terms let me give you an example-
Suppose you have 100 products and you sold 25 from one of your integrated marketplaces, then all the remaining stock. i.e., 75 will be updated in all the connected marketplaces automatically through Magento multichannel marketplace Integration.
Also Read: How to Build a powerful multi-channel eCommerce business on Magento
Improve the Product Reach Globally:
Integrating with a marketplace benefits in attracting a larger audience to your product listings. Therefore with a marketplace eCommerce Integration, you can sell globally, also you need not have multiple warehouses to keep your stock- a single warehouse will work to manage your stocks. Selling globally with an eCommerce Integration gives sellers exposure to foreign investment opportunities, boosts store reputation, and helps to diversify the store to different markets. Selling on a popular marketplace of a specific region gives you much more exposure to the business. Owing to a lack of confidence, many shoppers avoid purchasing items from small websites. Hence a marketplace is an excellent place to get noticed by potential buyers and persuade them to purchase your products. Even a small amount of exposure globally will result in significant sales and revenue.
Also Read: 5 Best Marketplaces Every Seller Must Consider for MultiChannel Selling
Reduces Manual Work, Saves Time and Money:
Another benefit of Magento Multichannel Integration in the list is that it reduces manual work by making the selling process automated. Hence separately promoting the brand name through different marketing processes may be ineffective at times. In that case, there may be a significant loss of sales as well as a waste of time. The most simple methods for popularising your brand do not guarantee success. Marketplaces come into play in this situation. They not only have a larger forum for creating a digital storefront, but they also entice the heaviest users.
So the marketplace eCommerce Integration helps sellers to manage all the multichannel sales through a single dashboard. Not only this saves time for the sellers but also sellers can create listings in bulk for all the connected marketplaces instead of doing it manually one by one. All this is just not time savvy but it also saves money by not investing extra to make themself a brand.
Stay Updated with all store Activities:
Using a Magento eCommerce Integration, sellers will never be left behind about their store updates. Be it new order creation, order rejection, low stock, etc., all the updates seller receives continuously and can be easily tracked. Staying updated about their store status not only makes a seller aware but also helps him to stay competitive.
Provide a Better Customer Experience:
Another benefit of Magento multichannel marketplace Integration is building trust among the target audience and customer satisfaction are the main factors that every seller wants. Magento marketplace Integration helps you to improve customer service and make the site user-friendly. The better your store is, the sales. Providing an easier checkout process, various payment methods, etc., helps the customers to trust you more, and in this, Magento acts as a savior. By using Magento Integration, all these processes are simplified for the customers.
Also Read: Multi-channel Selling: Experience eCommerce At It's Full Potential
Efficient Multi-Channel Sales Management:
Selling on just one marketplace is not enough for the sellers now to grow their business. When online shopping is a trend the customers prefer to check various marketplaces before buying, so sellers are more inclined toward the option of multichannel selling. To make a presence globally and sell on multiple channels, Magento Integrations are one of the best choices. It helps in the sales management in a very simplified way to manage the store through a single centralized dashboard.
Improve your SEO and Visibility:
It's important that your goods appear on the first page of search results to draw customers' attention to them. There is no point in selling a product if it is not visible to the customers. Marketplaces can also aid in the promotion of your brand and SEO strategies. By exposing your product to more users, listing it on an online marketplace with the Magento Integration will help you boost your SEO ratings.
Since a seller has to perform multiple marketing activities for his store that requires efforts and funds which is not possible to do manually as an individual seller. So here marketplace Integration helps to perform all the marketing activities easily. Also if selling through a leading marketplace then because of its high Domain Authority(DA) your products will be given priority in the search results. With the Magento marketplace Integration, the search result feed is updated with the latest name of the product, price, reviews, etc. which helps in boosting sales through SEO.
Also Read: A Comprehensive Guide on Importance of Magento Store Optimisation
More Chances of Winning Buy Box:
Being a buy box seller or using repricer tool on giant marketplaces like Amazon, Walmart, etc gives you a lot more recognition, and selling through a marketplace eCommerce Integration increases your chances of winning it. The buy box helps the sellers to remain competitive in terms of pricing, quality of product, getting positive customer reviews, exposure of the products to a larger audience, efficient shopping experience to sellers. The marketplace extension benefits the sellers to become buy box eligible and take their sales high. Using Magento marketplace eCommerce extension sellers can grab the buy box/repricer strategy to rank their product higher than their competitors.
Automated Management of Orders:
The Marketplace eCommerce Integration provides an experience of the most innovative and simplified eCommerce order automation benefit. This allows the automated order importing mechanism to the sellers with an easy order management process. The orders are automatically acknowledged as the new order is received on the marketplace seller panel and it automatically imports to the Magento panel.
So these were the benefits of Magento Multichannel Marketplace Integration.
But are you a large-scale seller using ERP and wondering if you can integrate it with Magento or not?
ERP Integrations are for large-scale business sellers when they cannot handle the sales load alone. Magento multichannel marketplace Integrations are fully Magento-based, so there is no point in worrying about your ERP system. The linking of the orders, products, etc., is automatic with the help of Magento ERP Integration. Whatever update is made on the marketplace, that upgrades in Magento as well as the ERP.
Note: Despite whichever service provider's ERP sellers are using, they can still easily link their store with Magento marketplace Integration.
In a Nutshell
If you want to earn higher profits, build a strong reputation, increase brand awareness, etc., focus on multichannel selling. And to further make the process of product, inventory, and order management easier, Magento Marketplace Integration will help you. Now if you are thinking whom to trust with your Magento store, CedCommerce is here! CedCommerce is a client-first company, that has been offering efficient and budget-friendly products for all eCommerce challenges. Moreover, it is Magento Bronze Solution Provider that provides the best Magento Marketplace Integrations for Community, Enterprise, and Cloud sellers to connect their stores with marketplaces like Amazon, eBay, Walmart, Etsy, etc.