Does Magento Customer Reviews Really Suggest CedCommerce the Best Multichannel Service Provider?
Running short of time? Get PDF of the blog in your mail.

Play Now
Once an idea, CedCommerce has now turned into a world-class brand and every merchant around the world is recognizing the power of its Magento multichannel solutions and services. Therefore, the sellers are showing their love and appreciation by sharing positive reviews on eCommerce websites like Trustpilot. With 10,000 (and counting) positive Magento customer reviews from all over the 6 continents have helped CedCommerce reach new heights in this industry.
This blog is purely dedicated to our beloved sellers who have showered their love from all around the world. Here, we will also discuss what makes CedCommerce's multi-channel selling solutions stand out from its competitors. So, stay with us till the end!
Also Read: How CedCommerce's Magento Multichannel Selling Solutions Helped Thomas
Magento Customer Reviews for Our Unbeatable Services
What Features Make Us Different?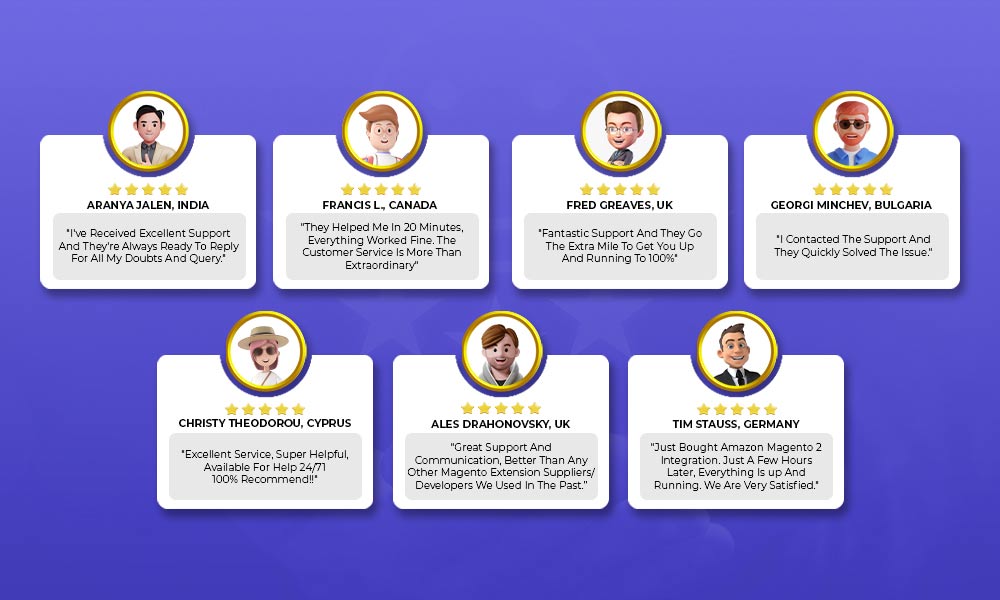 From the above Magento customer reviews, it's quite clear that:
We not only claim, but we provide fast & responsive customer support
Chat-based support on Skype & WhatsApp, email-based support, and call-based support
Our developer and expert team are available 24×7 so you can ping them whenever you feel stuck
We also offer one dedicated account manager per seller to simplify the onboarding process
Some of Our best Magento-based services include:
Website Speed Optimization
Personalized Store Development
Store Upgrade to the latest version
Consultation from eCommerce experts
Website Maintenance
A Complete Website SEO Audit
PPC campaign with Google Adwords, Facebook ads
Content optimization & Marketing Campaign
Magento Reviews for Our Solutions' Compatibility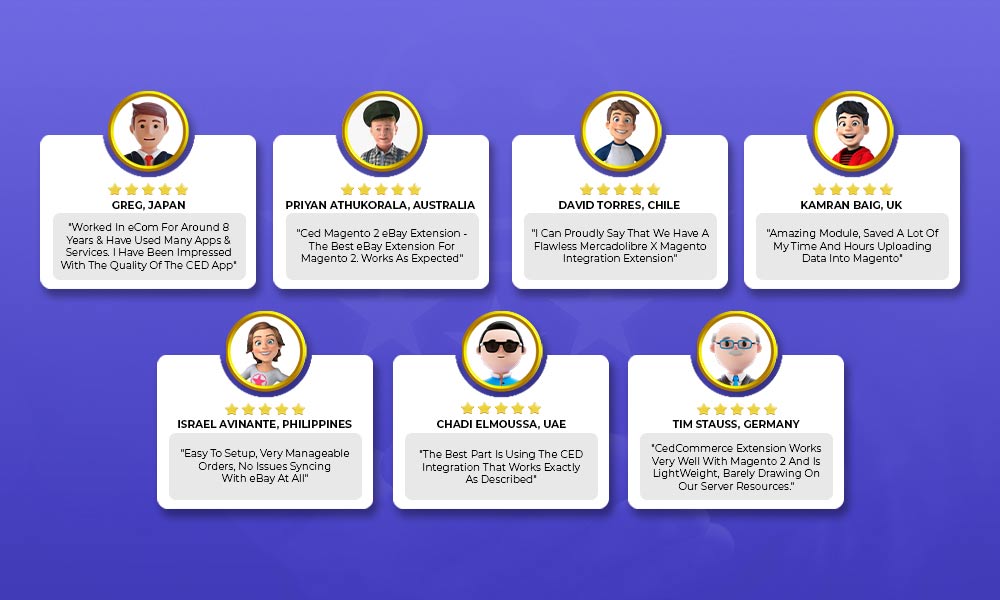 What Features Make Us Different?
Here is how our solution stands out from others:
We offer native solutions so you have full control over your store
Our solution gets installed directly on your Magento store, meaning we don't keep any of your store's information
The light weight of the extension doesn't put much pressure on your server or affect your store's performance
Because our products are simple, you don't have to spend a lot of time understanding it
Magento Reviews for Our Modest Pricing structure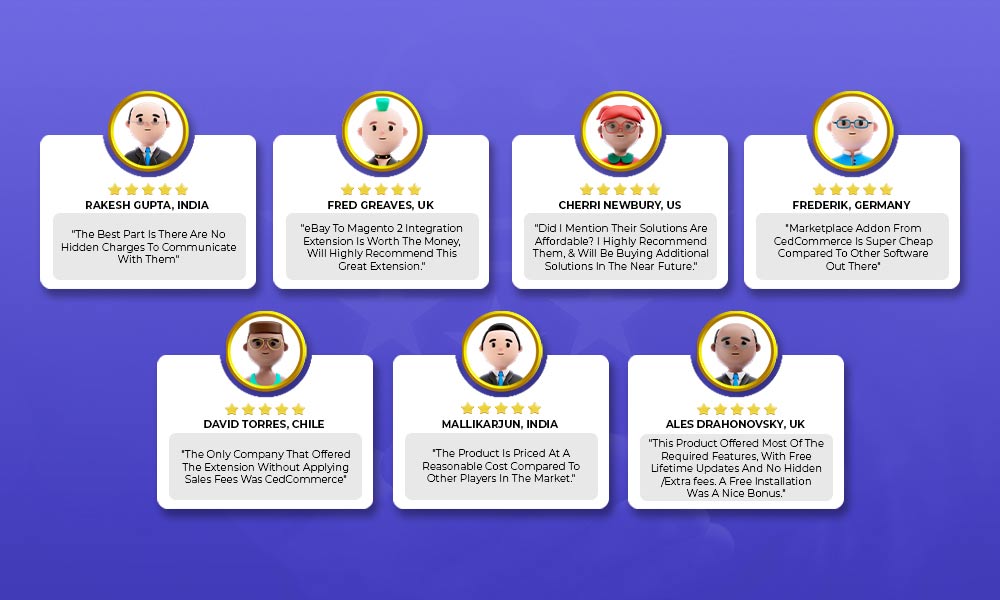 What Features Make Us Different?
Here is why sellers love our pricing structure:
We offer the best product at the best price
The Annual subscription charges on our product start at $99, which is just a fraction of what others are charging
We also don't charge any commission, implementation fees, setup costs, or any other hidden fees.
Also Read: Best Magento Marketplaces for Multichannel Selling
Magento Customer Reviews for Our Personalized Customization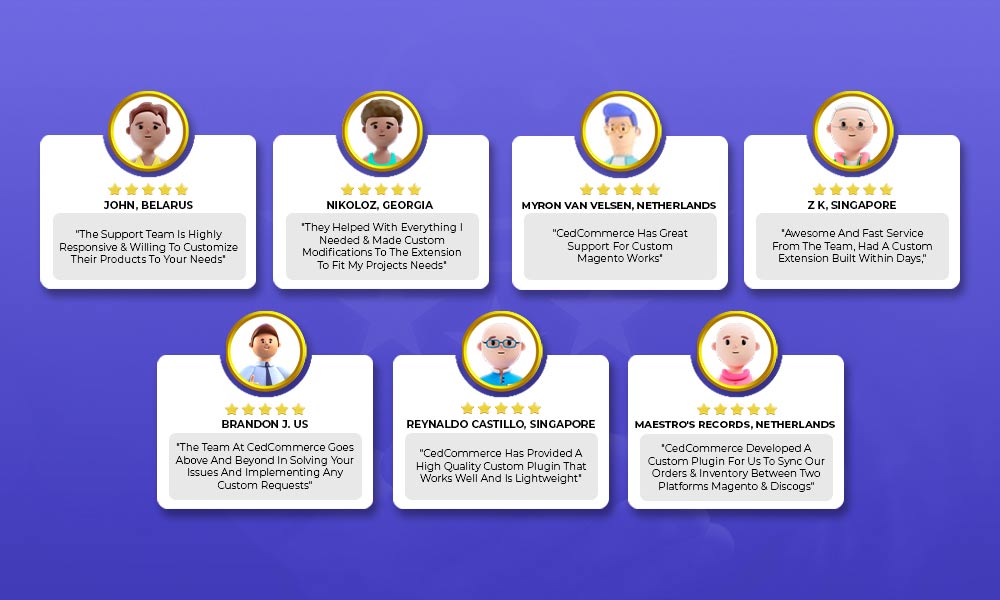 What Features Make Us Different?
Here is what we mean when we say full personalized customization
With our customization service, you can add/remove/alter any detail as you seem fit
To get customization, contact the account manager assigned with your product and request the required changes
Everything will be done with just a few clicks.
Furthermore, you pay only for the features you want in your extension and nothing additional
Reviews for Our Developer's Expertise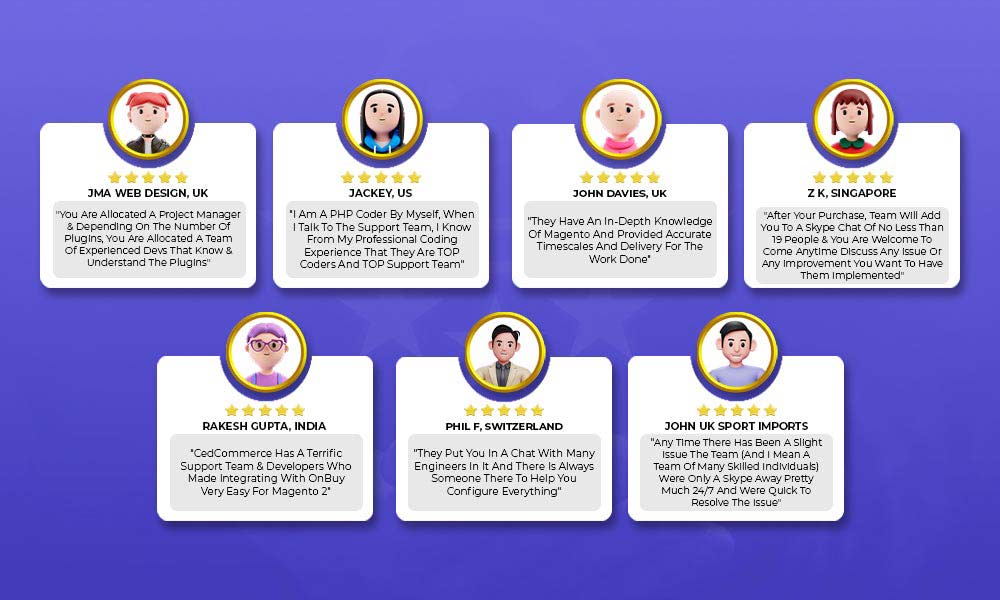 What Features Make Us Different?
Here is why our expert team of developers is receiving positive Magento customer reviews:
When you purchase our Integration, you get a dedicated account manager who looks after all your needs
Our account managers work dedicatedly to provide you with answers to all your queries
We assign one dedicated account manager per seller so you get a quick response from us
The above-mentioned comments are top-picked customer reviews that we have received from our beloved sellers on different platforms. It not only shows that we offer exactly what we claim but it also emphasizes the fact that our customers are satisfied with our services. Here is one more review of our client, Mr. Ryan Xu, who purchased Catch Integration extension from us for his Magento 2 store.
Now to know better what have in our Magento store for you and how it will benefit your online business, let's dive into the next sections.
Also Read: Top tips to start a multichannel business on Magento
A Look at Magento Multichannel Service by CedCommerce
CedCommerce is a customer-first brand that was built for sellers who are facing challenges with online selling. We put our clients' needs and wants on priority and develop extensions and services around them so they can fulfill sellers' requirements.
Over a decade of experience is used in helping sellers successfully sell online and earn higher profits. Out of all services, our Magento multichannel solutions are most loved by our sellers. For your smooth experience, we have a partnership with over 50 marketplaces.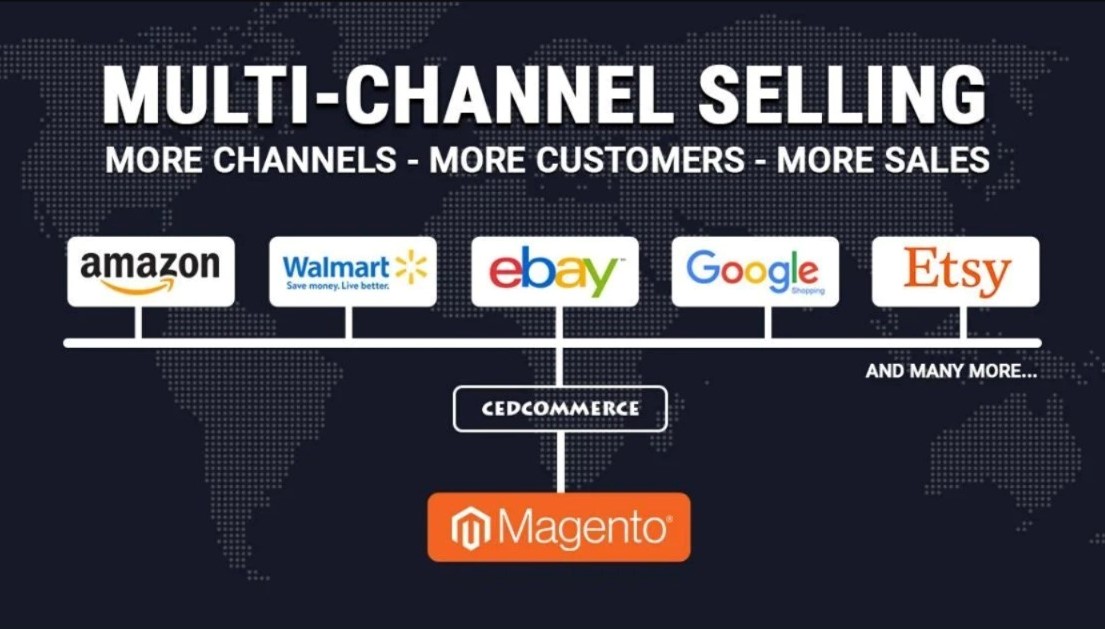 Top Rated Multichannel Integration
CedCommerce has many high-performing Magento-based extensions in its store. It includes Magento 2 Integrations, Dropshipping extensions, importers, and more. All our extensions are native and customizable. Some of the best Magento marketplace extensions include:
Amazon Magento Integration
As per Magento customer reviews, this extension is the best multichannel Integrator that connects your Magento 2 store with the Amazon marketplace. It further establishes synchronization so every detail is uniform between the two platforms. In this extension, you will find features like multiple account management, bulk product import, real-time synchronization, and more.
eBay Magento Integration
Another most sold Magento extension is eBay Magento Integration, which is developed to ease selling between the two platforms. It simply automates the stores so you don't have to do repetitive tasks manually. In this extension, you will find features like bulk product upload, order auto import & creation, and more.
Facebook Magento Integration
Want to sell through the biggest social media platform in the world? Then, using Facebook M2 Integration, you can easily connect your Magento store with FB and expand your reach. It comes with features like bulk product upload, automated inventory synchronization, and more.
Are you to a CedCommerce Integration User? If so, feel free to drop your valuable Magento customer reviews at Trustpilot
Google Shopping Magento Integration
Google Shopping offers a commission-free and frictionless shopping environment. So, if you want to give the same experience to your customers, Google Shopping Integration will help you. Product category mapping, profile-based product upload, product renewal are some major features of this extension.
Walmart Magento Integration
Walmart is a famous online selling platform and so is our M2 Integration extension as per Magento Customer reviews. Additionally, you can use this solution to directly sell on Walmart from your Magento store. To further simplify the process, the extension comes packed with features like inventory synchronization, shipment reminder, order automation, and much more.
Wish Magento Integration
Wish is the fastest-growing marketplace that has helped many sellers expand their business. To make this process even smoother, you can use our most demanding Wish Magento 2 Integration extension to connect both stores. It also comes with features like inventory synchronization, product upload, and much more.
Etsy Magento Integration
Have you been trying to sell unique or vintage products online? Then, our Etsy Magento Connector can help you simplify the selling process. So, you can focus more on important tasks and earn higher profits. Here are a few major features that you get with this extension – profile-based bulk product upload, inventory synchronization, and more.
Find more Magento 2 extensions from here.
Closing Remarks
We really appreciate and are thankful to all our loyal and trustworthy clients who have been sending words of praise for our dedicated team and extensions on different sites. When we get a new positive customer review, we feel we are doing everything right. It further motivates us to give our best and come up with new initiatives & ideas. This blog highlights the best Magento customer reviews and is a token of gratitude to our sellers who have been using our products dedicatedly. We are looking forward to hearing more from you all, so keep sharing!