Web Store or a Marketplace: Which one to choose?
Running short of time? Get PDF of the blog in your mail.

Play Now
Are you confused between whether to go with a Web Store or a Marketplace? Let's try to understand why we need a web store and their pros and cons and decide accordingly.
With each progressing day, the share of marketplaces like Amazon, Etsy, Walmart, etc. in retail sales are increasing. With new sellers registering in huge numbers every year, it makes sense too. Online Web Stores and marketplaces have benefits that supersede the limitations of a physical store. They are not bound by restrictions like a geographic limitation, lower outreach, overhead costs, and lack of metrics to measure the ROI (Return On Investment).
Marketplaces like Amazon, Etsy, and eBay have their pros and cons, just like a web store. To come up with a single line answer to this question is not that simple. The actual path to unveil the solution might be to weigh the pros and cons and decide for yourself. The one that serves best to your goals is the one you should select.
Difference Between a Web Store and a Marketplace
Web Store
It is the availability of an online store which wholly belongs to the business owner. The customer directly deals with the owners for a particular commodity.
Marketplace
It is the third-party service that facilitates business to make its products available online. Amazon, Etsy, Walmart, eBay are a few examples of open marketplaces.
Why Sell on a Web Store or a Marketplace?
With COVID – 19 becoming an integral part of our lives in the past few months, everyone's been following social distancing norms. However, the brick and mortar stores have come up with various innovative ways to keep themselves functional. There's a new trend of online shopping that has gained traction.
This trend is going to spread its wings even further. We also know there's been a Change in Consumer Behavior Trends amidst the pandemic. In addition to that, brick and mortar stores restrict the customer base for any entity to its local surroundings. It is the outreach of an online presence that tilts our debate in favor of selling online. There are two primary ways of getting this done:
Selling online on your web store using the likes of BigCommerce or Shopify. (The best SaaS based platforms to create and customize a store amidst many others.)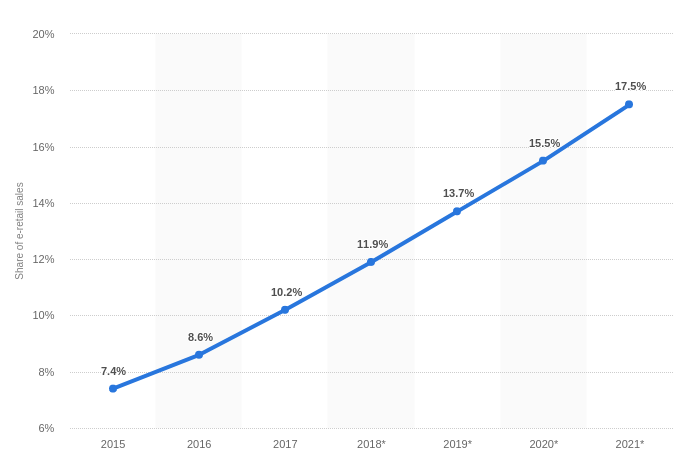 Selling on a Marketplace
When asked where they preferred selling online, a lot of new and budding sellers with options being a Web Store or a Marketplace? Choose marketplaces like Amazon, Etsy, eBay to sell products. As per USPS and comScore combined study, 97% of customers browse products on marketplaces before making an end-purchase. It creates an online presence for any seller, a must. Because the buyers' research often leads to purchase, and this entire process takes place online.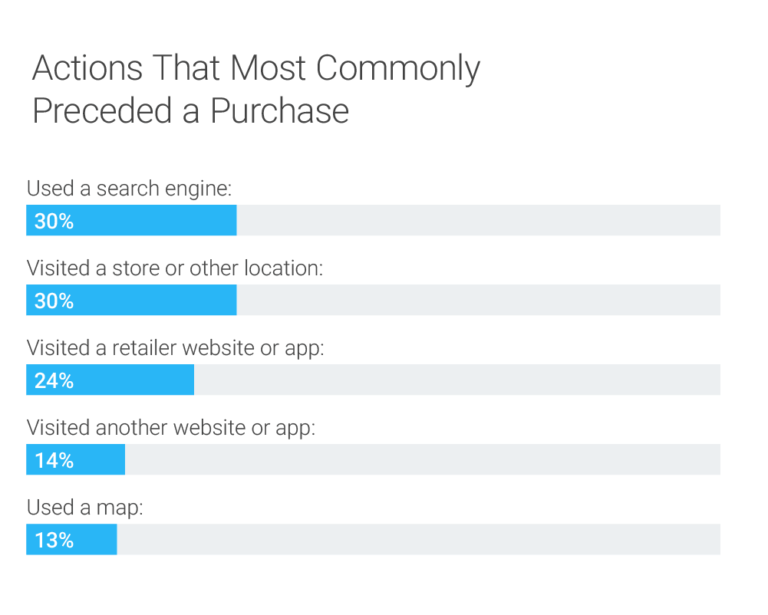 Benefits of Selling on Marketplace
Easy to get Started
The online marketplaces understand the needs and requirements associated with sellers selling online. They have built dedicated features and mechanisms to assist and track the performance of the seller's products. One also doesn't need to invest resources for a domain name, host, and other intricacies in setting up their websites.
In Built Audience
The state of the Inbound 2018 by Hubspot found out that 61% of marketers agreed that attracting their relevant audiences and leads were their biggest challenge.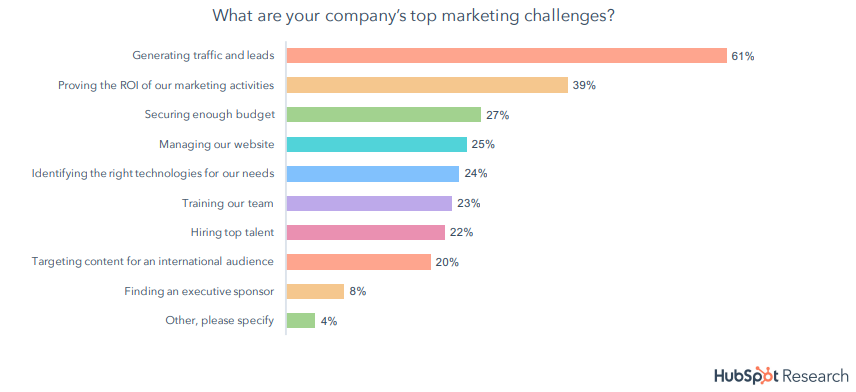 [Image Source: Hubspot]
This problem gets solved as each marketplace has its loyal customer base. A large portion of which frequently revisits to make repeated purchases. Hence, you'll have no trouble generating traffic for your featured products when selling online.
Mobile Apps and Their Effect
Though desktop still holds a more significant share of eCommerce sales. The majority of product searches take place on mobile phones. As these marketplaces are rich with resources, they have built their mobile apps that adhere to the latest customer preferences with regular updates based on ever-evolving technological changes.
As a result, when you are selling online. Listed products on these marketplaces appear in their mobile apps as well. It helps you to expand the viewer base for your products through mobile phones as well. This results in an increase in sales and an invariably increase in your revenue.
Wider Payments Options
The marketplaces offer a wide variety of payment methods. The payment methods get integrated into their e-commerce marketplace. It helps in reducing the rate of cart abandonment.
"In a recent study, 42% of online shoppers said that the types of payment options offered are a factor that influences them when deciding where to shop digitally" — Paypal
Faster Shipments
Most of the marketplaces are offering a service similar to FBA (Fulfillment by Amazon). It is of great help because once you stock your products in the Fulfillment by Amazon facility, it takes away the entire shipping and order managing responsibility off your shoulders.
When looking at the choices, it gets tempting to list products on marketplaces and connect with the ideal audience. But, let us look at the drawbacks of selling through a marketplace.
Pitfalls of Selling on Marketplaces
So far, we discussed how beneficial selling online in a marketplace can be. Still, there is a caveat to it. Although you can get new customers, you can't sell to them again by providing them with promotions and offers. It acts as a loss in terms of regular customers' gain. Apart from that, there are various other problems that a seller has to face while being active in a marketplace:
The Marketplace Fee
There's no gain for the marketplaces if they're going to let you sell items without getting anything in return. After all, everyone's in the business to make money, right!
All the prominent marketplaces have a policy of levying charges on the sellers. These are in the form of a fixed amount or a percentage of revenue from their sales. The expenses like the listing fees, selling fees can be a bit much for sellers affecting their investment return. It makes a dent in the pockets of the merchants selling online.
The Pressure of Being Affordable
Marketplaces usually operate on the principle of Buy Box. It means if someone out there is giving a better deal and service than you can; They'll be getting the majority of orders, which might include orders intended for you. It can be quite frustrating. It also means that although your product is superior in quality, if a product with similar features beats your price, you'll experience the drastic decline in revenue.
The Competitor, Just by the Neck
Also, your competitor is by your side. They'll never leave you alone. It brings an additional pressure of creating a great listing. If you fail at it, you won't get the benefit of the doubt by the customers as there are always multiple options available to choose from.
Not Generating a Loyal Customer Base
The buyers buying your very own product through these marketplaces may never get to know of your existence. Every time they want to make a purchase, it'll be the marketplace they'll remember as a point of reference for their previous purchases and not your store. It hinders any chance you have to create brand awareness among customers.
There also exist some malpractices by competitors, which can cause you great harm.
Selling on a Web Store
When the question is selecting one, between a Web Store or a Marketplace, The sole idea of complete ownership is enough to lure someone into opening a Web Store.
Websites are like retail stores having a permanent address a person uses to make purchases. The commodities of his/her choice are made available on the web-store. The only difference is that the address you provide is your web address. On the other hand, the customers visiting your Web store are not a physical phenomenon but a virtual one.
There are numerous ways to get a Web Store of your choice. It depends on the time and resources you are willing to allot for your store. Above all, you'll be selling online without the problems that marketplaces bring with them.
Open Source or SaaS Based Platforms for a Web Store
There are two types of platforms mainly used to create Web Stores: Open Source and SaaS. The former was managed by the owner while the latter, a 3rd party-based store managed by its supplier. It is a vast topic and will take up a lot of your time. So we'll stick to the basics. But, we need to keep in mind that selecting the Best eCommerce Platform for Online Store is of utmost importance.
Why Do You Need a Web Store?
Your products need relevancy, and your store provides this sparkling difference between you and your competitors with the type of services you provide. Providing the customers with an impression that stands out with great Logo, Taglines, and the Voice of the brand, which states what the brand stands for help get the required attention, which is not possible when selling through a marketplace.
Benefits of Opening an Online Store
User Interface
When deciding between a Web Store or a Marketplace, remember that Web Stores opened through SAAS based platforms like Shopify have many features. Customizable Themes, language selection, order management, pricing, shipment being a few of them. These features suit your store, facilitate you, and make managing everything a walk in the park. The perks do not end here. The customers browsing your site have a great experience too. This flawlessness of the Web Store helps you create an excellent first impression with first-time visitors.
Create Your Customer Base
Unlike marketplaces, where obtaining the user data is not easy, you say Hey! to email marketing. You can upsell your products by creating and reaching out to more qualified and aware customer groups when selling online. It helps you in increasing your loyal customer base. It further decreases your marketing cost.
Take Home What you Earn
With no listing fees or sales fees, you can save more and earn more. The only recurring cost that you worry about is the store's upkeep cost (depending upon the platform) and the fee you pay for your payment gateways.
24*7 Product Availability
With an online Web Store, your entire range of products is available for your customers 24*7. In contrast, this might not be the case with a marketplace. When you start operating through a Web Store, the inventory gets managed so that your store never goes out of stock. The marketplace, on the other hand, may go out of stock. It gives the buyers a benefit as they can shop any time of day without waiting for the product to be available.
Flexibility
You can introduce offers and discounts on your products at any time of the day. You get freed from having to wait for marketplace sale days. Managing the entire store's operations from any corner of the world becomes a piece of cake too.
Problems and the Solution While Operating a Web Store
After winning an everlasting battle to decide between a Web Store or a Marketplace in the Web Stores face a different problem. Web Stores get less time and resources in the initial days by the owner. The product and order management, along with other aspects of the store, takes up a lot of time. It leaves less time for other critical business-related objectives. To counter these problems, platforms like Shopify have a dedicated apps page. You can find all the apps related to the platform on this page.
CedCommerce being an official partner, brings a vast range of applications. It helps the owners integrate their Web Stores and import products from other marketplaces. With the Multichannel Importer app, you can import product listings from multiple marketplaces like Amazon, Aliexpress, eBay, and others to your Shopify Store. The dedicated Integration apps for Shopify lets you integrate your Shopify store to them. You can sync product listings to make the entire process of selling on two different platforms easy.
The Sellers' path when deciding between a Web Store or a Marketplace includes using marketplaces to test their products. Once convinced and happy with the results. They move forward to build their brand independent of other identities.
Web Store or a Marketplace : Setup Cost
Most marketplaces come with a zero setup cost and charge based on sales made. These charges range from 5% to 20% of the sale value, depending on the product category. Although the commission varies from marketplace to marketplace, it restricts sellers expecting to see growth.
On the other hand, a web store requires an investment that's fixed and recurring when opting for a SaaS-based store. Web Store building platforms such as Shopify cost less than $29 (excluding Credit Card rates and transaction fees when using external payment gateways). This additional fee can be avoided if you have Shopify Payments (available in UK, Australia & NZ, USA, Germany, Canada, Japan, Spain, Ireland, and a few others). The Shopify Payments section can lead and provide you with a guide on the part.
Conclusion
While calculating the risks involved with a Web Store or a Marketplace, it was found that marketplaces were easy to list and initiate the selling process. But, it is unlikely to yield the desired results for sellers with a vision in the long run. A Web Store, on the other hand, is a great choice to operate things. But, generating leads and converting them into sales is a problem known to all.
The best solution is to make use of the best of both worlds! Increasing your customer count can be a gradual step with time. Make your Marketplace customers visit your Web Store using referral and discount codes. Marketplace shipments carrying leaflets and discount cards can be a great tool to increase and establish a loyal customer base and direct traffic to your store. The Shopify App Store offers many helpful and great applications which provide sellers a helping hand and reduce the entire workload by many folds. You can always go ahead and give them a try to automate the entire process.
Remember, It's never a question between a Web Store or a Marketplace. It is always about managing both to increase sales and profit.