How MultiStore uses Walmart Integration to ease selling on Walmart?
Running short of time? Get PDF of the blog in your mail.

Play Now
Short Summary
Challenges Faced
Owner of MultiStore Juan Vargas sought to streamline the procedures involved in selling on Walmart. He needed a solution that could automate most sales procedures to eliminate the multiple manual chores that required his acknowledgment.
Solution
Juan Vargas received the features he was looking for from CedCommerce's Walmart Integration, which satisfied his needs. The app's simple order management and automatic order acknowledgment made selling on Walmart much easier for him.
Outcome
Walmart Integration automated various tasks of selling on Walmart.
Thanks to the app, Juan Vargas receives all orders and sales-related information via email. His attempts to occasionally acknowledge orders were reduced by the app's auto-acknowledgment feature, which does this work for him.
About MultiStore
MultiStore, a Shopify-powered online store, is owned by Juan Vargas. MultiStore sells a range of cosmetics and home furnishings. Juan Vargas has been successfully selling these products from his Shopify site MultiStore for over 20 years.
About CedCommerce
CedCommerce makes online selling simple and streamlines multichannel selling. CedCommerce's Integrations make it simple and quick to sell on marketplaces. It's a one-stop shop for those looking to expand their visibility from their store to global marketplaces like Walmart. The tailor-made solutions from CedCommerce are designed per the requirements of specific sellers.
MultiStore's seamless journey with CedCommerce's Walmart Integration
Selling on the Walmart marketplace is made simple for MultiStore with Walmart Integration. Juan Vargas is now able to sell on both Walmart and MultiStore quickly and easily because of Walmart Integration's features described below: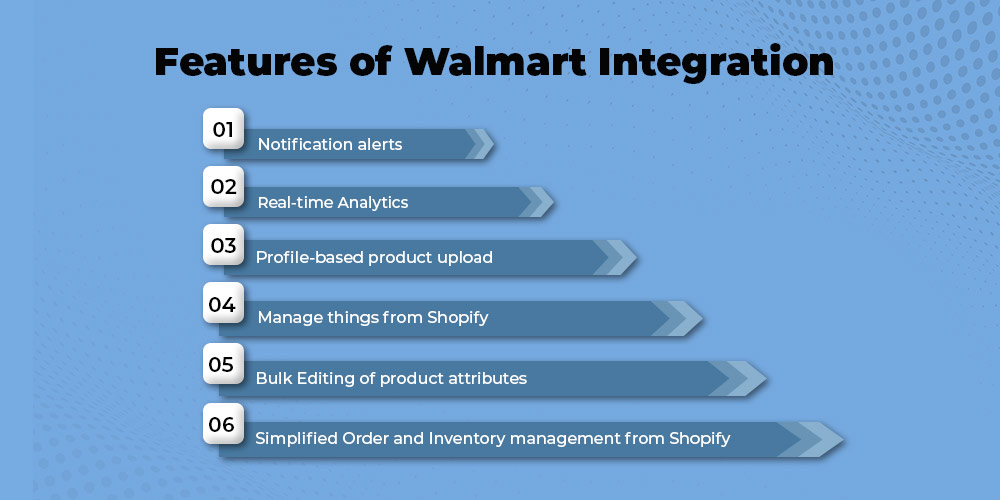 Manage things from Shopify.
Juan now has a location to easily handle the sales-related parts of both his Shopify store and Walmart. Juan easily executes tasks like updating inventory, tracking shipments, and listing products via Shopify.
Profile-based product upload
Juan now bulk uploads products to the Walmart marketplace with the profiling feature of the app. The app helps create product profiles and submit products on Walmart in accordance with those profiles. So no more struggling to upload products one by one on Walmart.
Simplified Order and Inventory management from Shopify
With CedCommerce's Walmart Integration, order management, updating, and tracking inventory details became very simple for Juan. The synchronization of Walmart and Shopify's inventories opened the door for receiving all updates on Shopify. Juan no longer needs to switch between Shopify and Walmart to receive order updates every time. He can control anything from Shopify with the installation of the app.
Bulk Editing of product attributes
Walmart Integration makes it possible to Edit product attributes in bulk.
With the app, bulk editing of product attributes like Color, Counts per pack, Shape, and Size became quick and easy.
Real-time Analytics
The analytics dashboard of Walmart Integration informs Juan Vargas of his performance at Walmart. The number of Cancellations, Reviews, Orders and Discoverability, Number of Active days, Listing quality score, etc., can be viewed from the app's analytics dashboard in a few clicks.
Notification alerts
Walmart Integration notifies Juan of every event, such as when an order is received, when it fails, when it is fulfilled, etc.
And more…
Along with the features mentioned above, there are still a few others that make online selling easier on Walmart, such as running promotions, error notifications, shipment management, etc.
Additionally, Juan Vargas can quickly find answers to all his questions with the app's 24/7 customer assistance from CedCommerce. Juan benefits from having a seamless selling experience at Walmart with the support of a dedicated account manager who is always in line with him.
Here are a few more success stories to read:
To Sum Up
For MultiStore, Walmart Integration automated many selling processes. It made him sell on Walmart more simply. Juan Vargas was very happy with the app's functionality and the Ced support staff's helpfulness.
Investing in Walmart Integration is smart if you want to connect your Shopify store with the Walmart marketplace. Its advantages make multichannel selling easier for online retailers. The app's features, like order management, inventory synchronization, bulk product upload, and round-o'clock support, make selling easy from Shopify to Walmart. If you, too, want to experience an easy selling experience on Walmart, connect with CedCommerce and simplify Walmart selling like Juan Vargas.