Know about How CedCommerce's Walmart Shopify Integration helped Plus Nutrition Store boost its sales?
Running short of time? Get PDF of the blog in your mail.

Play Now
Short Summary
Challenges Faced: Jennifer Alvarez is the owner of an online store named "Plus Nutrition Store." She realized that being an online store owner involves numerous complex tasks and wanted to expand to Walmart for progressive growth. As a result, she started searching for hassle-free solutions that could help her sell on Walmart from her Shopify store and seamlessly manage a multichannel approach and Soon, she discovered CedCommerce's Walmart Shopify Integration
Solution: Within no time CedCommerce's Walmart Shopify Integration enabled her in connecting her Shopify store with Walmart effortlessly. It also helped her automate various multichannel selling tasks, for example,' order acknowledgement and cancellation, inventory synchronization, etc. As a result, she can now manage every aspect of selling on Walmart from her Shopify store.
Outcome: Jennifer now seamlessly performs all the day-to-day operations with the Walmart Integration app. The app helps her in synchronizing the inventory between the stores. The alignment of a dedicated account manager provides 24/7 expert support and helps her solve queries at the earliest. Moreover, the app has also helped her with increased product visibility and has boosted her Walmart sales.
Plus Nutrition Store – A one-stop shop for health supplements
Plus Nutrition Store is an online nutrition store founded in the year 2020. It provides all kinds of supplements and workout accessories to customers to help them achieve their fitness goals. With over 1500 orders so far, Plus Nutrition Store offers the best shopping experience by providing hundreds of high-quality supplements and best-in-class products from numerous brands across various categories.
Multichannel growth with Shopify
Undoubtedly, Shopify stands among one of the most valued frameworks assisting the growth of SMBs globally; therefore it is the most preferred option for Small and Medium entrepreneurs. Shopify also complements Multichannel selling, consequently acting as an enhancer for merchants.
The hurdle between success
While ready to sell big on Walmart, Jennifer faced issues setting up variant groups for numerous products.
"I had many similar products in my Shopify store that varied in sizes and flavours. So, I was bewildered as to how I can display different variants in Walmart similar to the ones in my Shopify store," – Tells Jennifer Alvarez.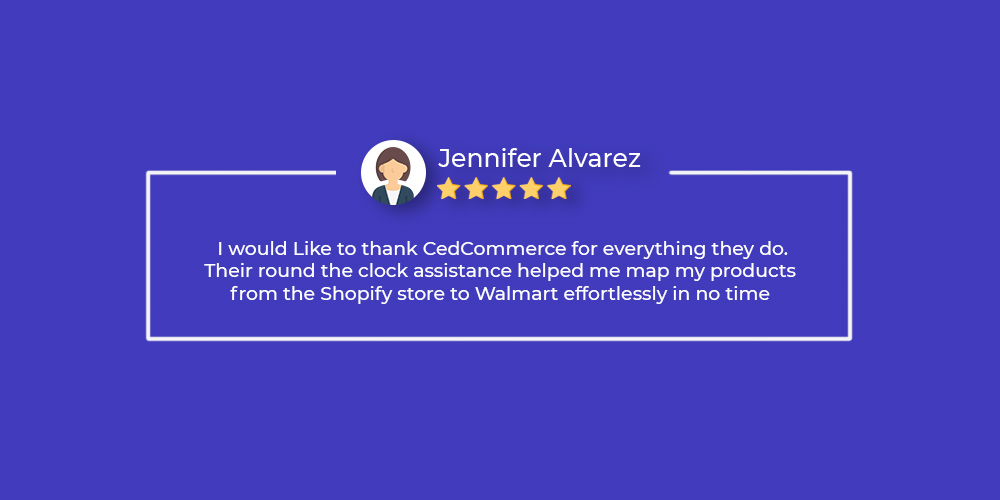 This is where CedCommerce came to assist Plus Nutrition Store. A small amount of CedCommerce's unaltered assistance helped Jennifer map the product attributes and upload them on Walmart.
The High-end Multichannel Selling Solution – Walmart Shopify Integration by CedCommerce
CedCommerce is an all-in-one solution to soothe out multichannel selling. In other words, it provides customizable solutions irrespective of the framework used by sellers to sell online. CedCommerce has helped sellers for over a decade by helping them sell seamlessly on marketplaces like Walmart, Amazon, eBay, etc.
The Walmart Shopify Integration by CedCommerce is a cutting-edge multichannel selling solution. The integration app seamlessly connects your Shopify store with Walmart. In addition, it provides automation that simplifies everyday store operations and the most efficient selling experience.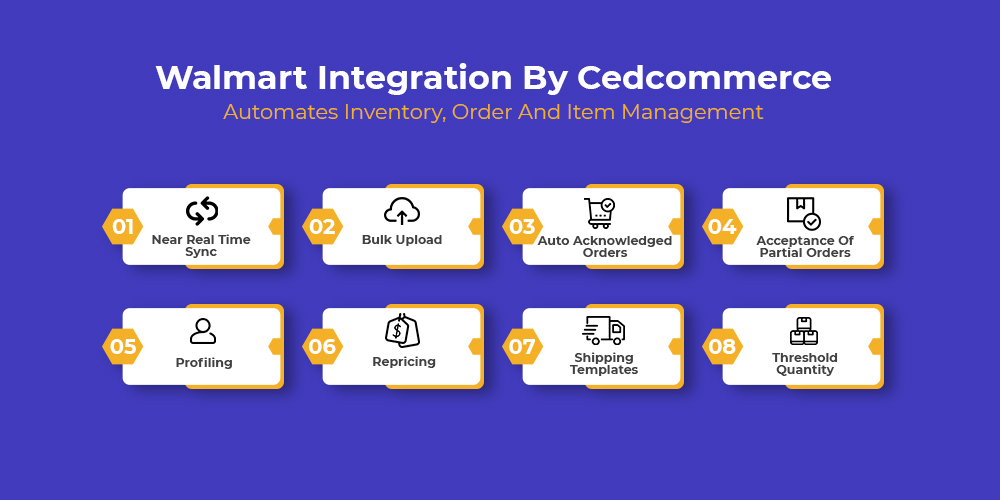 CedCommerce's Walmart Shopify integration app is one of the highest-rated Walmart solutions on the Shopify App Store, reflecting the testament to its functionality.
Conclusion
CedCommerce's Walmart Shopify Integration solution became a game-changer for the plus nutrition online nutrition store. With the advanced integration features and flawless Customer Support offered by CedCommerce, Jennifer Alvarez can now effortlessly execute multichannel Selling from Shopify to Walmart. CedCommerce looks forward to assisting Jennifer with everything eCommerce in the future too.
Are you too looking for an integration solution that fits your needs? Connect with our experts today and find the right plan for your business.