Get your business running with WooCommerce this festival season.
Running short of time? Get PDF of the blog in your mail.

Play Now
Do you want to set up an online store with WooCommerce this festive season? Festivals are the perfect time to launch any niche of business. But when it comes to opening an online store, there are several factors to consider. Some of them can be time-consuming and challenging, like developing products and figuring out a marketing plan. WooCommerce, on the other hand, ensures that adding eCommerce functionality to your WordPress site isn't difficult. Bringing you a step closer to your launch, here are some essentials to look for while setting up the store.
The magic of WooCommerce wizard:
Take a walk-through with the setup wizard to get to know the basics of the WooCommerce store's setup. Answer a few questions surrounding your business plan, such as industry, products or services you provide, location, so on, and so forth. These questions will provide recommendations that might be suitable and useful for your store. In case you want additional functionalities embedded in your store, go ahead and hit the Extension store. The extension store showcases supplemental extensions surrounding marketing, payment options, shipping, and a lot more.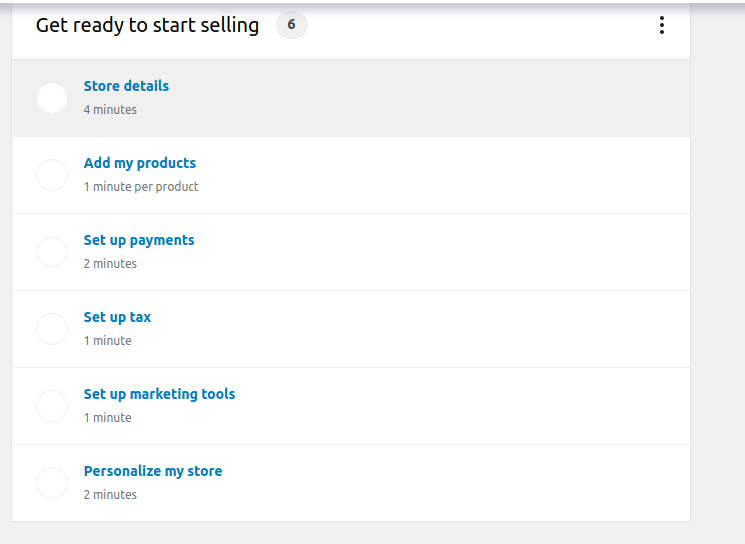 Setting up your store's theme:
You will be prompted to do the first thing –'choose a theme' for your store. In effect, your store theme will control the design and layout of your website. In addition, if you already have a WordPress website, the themes will be compatible, but in case you are a first-timer, look for a theme that goes in line with your business and fits your store's needs. By all means thanks to the flexibility imparted by the WooCommerce platform, you can easily switch your store's theme anytime.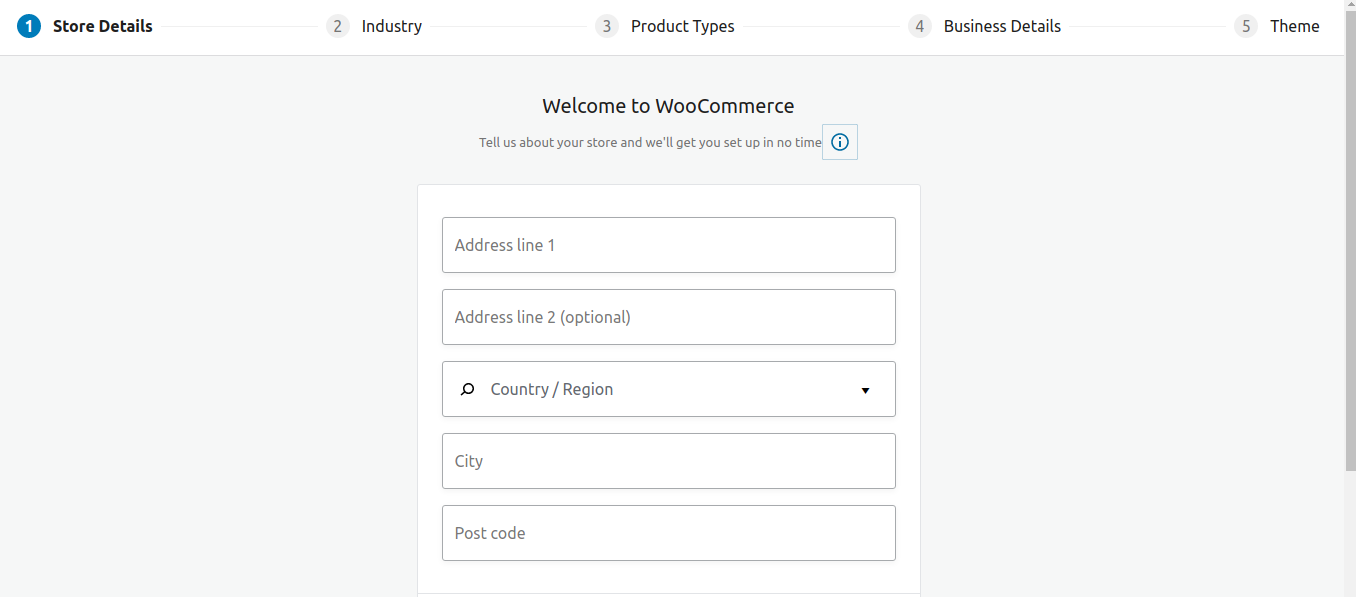 Adding products to your store:
Add products by clicking on Add Products in the setup wizard. You get the option to add products manually, import products from a spreadsheet, or can migrate from other platforms such as BigCommerce or Shopify. If you wish to add products manually, simply go to Product→Add Product in the WooCommerce dashboard. Add all the relevant information and details such as title, description, pricing, shipping, product photo, and much more.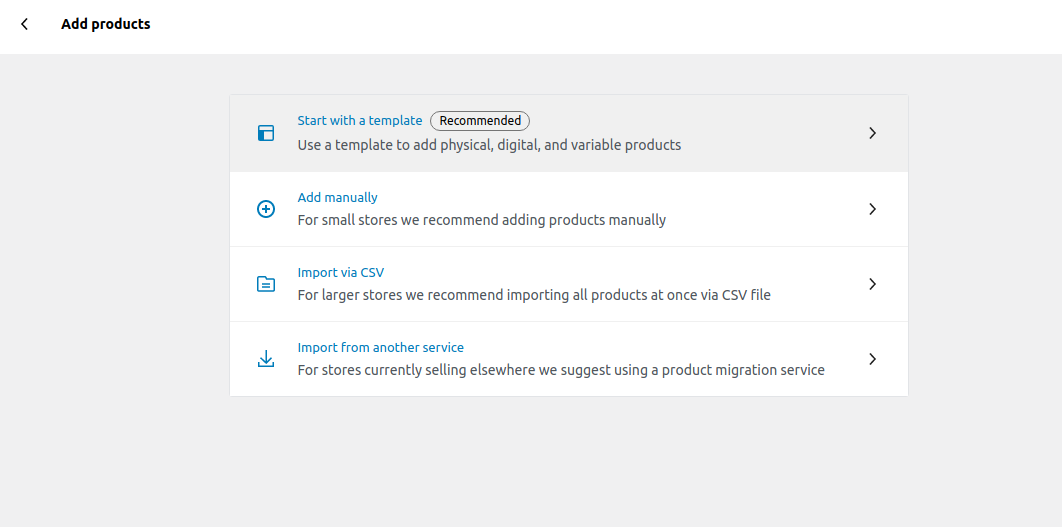 Check out the pre-launch strategies before launching your WooCommerce store.
Set up payment options and gateways:
Through the wizard, you can easily choose the payments on the same screen. Otherwise, click on WooCommerce→Settings →Payments. There are a number of options made available to you, such as cash payment, check payment, bank transfer, along setting up payment gateways. Payment gateways provide a secure channel for your payments. Even more, the gateways securely accept and process the customer's credit card details, validate the information, and proceed with the money transfer. PayPal and Stripe are common gateways that you can opt from WooCommerce Payments with additional benefits like multi-currency support and instant deposits.
Set up tax for your store:
In the WooCommerce setup wizard, click on SetUp Tax or simply follow WooCommerce→Settings→Tax from the dashboard. You can choose to enter prices for products with or without tax, select the address you'd like to base tax calculations on, and set your tax rates, among other things. It is advised to carry thorough research into tax rates based on your location and your targeted region for selling. For the same reason feel free to reach out to our team to take care of the task.

Add shipping methods:
A smooth shipping procedure is vital for the success of any online store. Considering the ongoing festive season, it's high time that you pay extra attention to your shipping methods.
Basically, all shipping settings can be handled via setup wizard. For specific settings, navigate to WooCommerce→Setting→Shipping and assign shipping zones and other such options as per the requirements.
Personalize your store:
Your store's layout should speak for itself. And to reflect your business and products, you get to personalize your store by clicking on Personalise my store. Consequently, you can easily create a homepage, logo, store notice, and other additional elements, which can also be altered later on.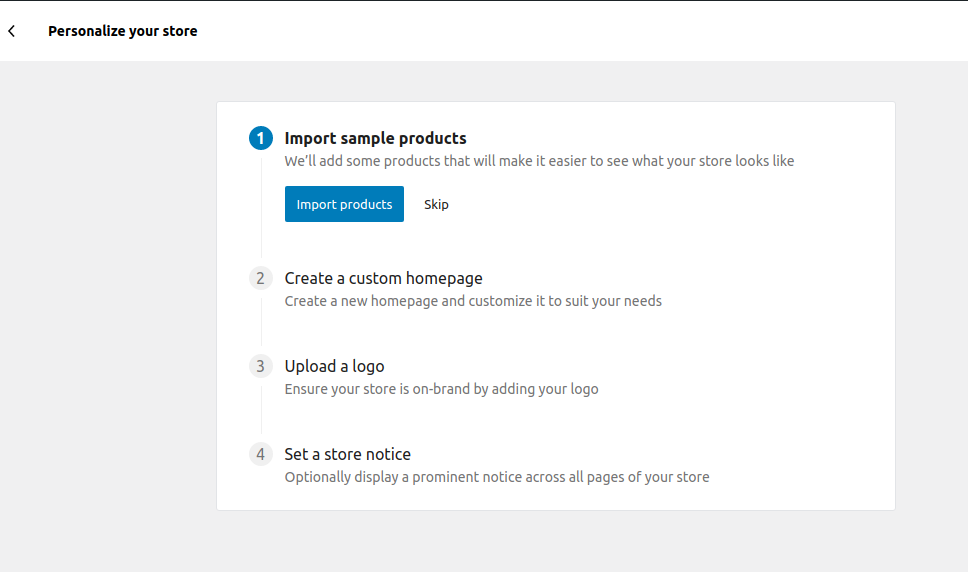 Other design and functionality for your store-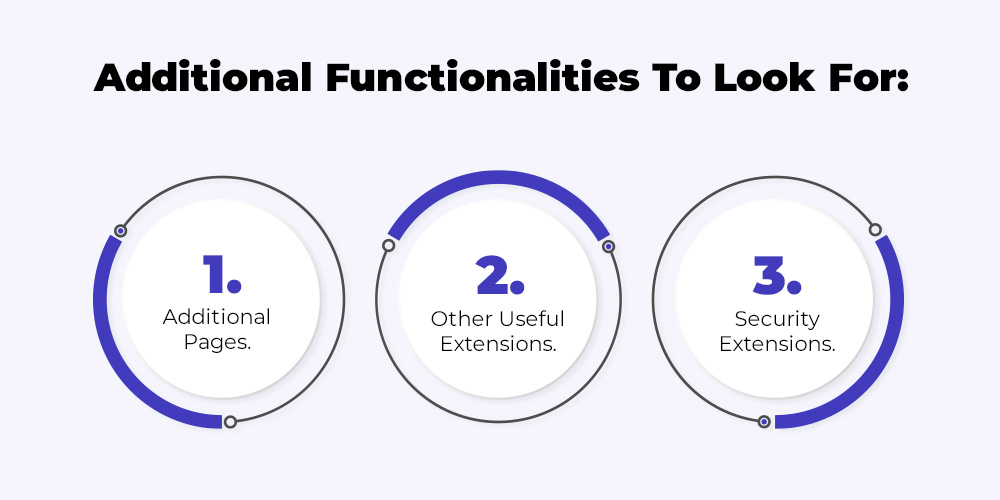 Once you are done with the setup procedure via the setup wizard, your store is ready with the basics to get going. But you can, in addition, customize your store as per your business with:
If you already have a WordPress site, you've presumably already generated all of the necessary pages (e.g., a homepage, about page, contact page, etc.). You can adjust the theme to meet your brand and store. The theme you chose took care of a lot of the design work for you (see your theme documentation for details). With the drag-and-drop WordPress editor, you can also add visually appealing content to any page.
Extensions are comparable to WordPress plugins, except they are WooCommerce-specific add-ons. Connect with our WooCommerce experts for WooCommerce Essentials for a hand-picked set of plugins created to assist novice store owners in getting started.
Secure your store with security extensions:
Once you've set up your store, you don't want to risk losing it! Everything, from content and purchase information to customer data, may be secured with just a few simple steps. Take advantage of free security tools for improved protection and store monitoring, from backups to malware scans to spam avoidance.
Summing it up.
CedCommerce is a global name serving a number of prolific brands to optimize, empower and navigate their toughest ecommerce challenges Experience full-fledged digital solutions – from store setup to product feed management and optimization aligned with 24/7 expert support setup.
Intrigued to know more?
Contact our experts on WP Excel to set up a WooCommerce store. Or just drop us an email on wpexcelsupport@cedcommerce.com