8 eCommerce holiday dates you should not miss for your business!
Running short of time? Get PDF of the blog in your mail.

Play Now
The holiday season is up and it is the right time to plan for huge traffic and high sales! It's time for the eCommerce holiday!! Have a look at what we have covered:
eCommerce Holidays play a very important role for the businesses, as along with them they bring in humongous sales too. To have a solid marketing plan and strategy for them is quite necessary, and planning for them in advance is the key to get the most out of them.
In a survey, most of the eCommerce businessmen revealed the time they start planning for these holiday seasons and it was seen that a large number of them started at the beginning of Q3 and take it to the peak by its end i.e. July – September.

The festive season is about to hit the eCommerce sector and one should remember that the early birds get to eat the best fruits.
Giving more power to WooCommerce Sellers, CedCommerce enables retailers to outreach their products' in the SEA market.
WooCommerce Shopee Integration is now live on Official WooCommerce Marketplace
Over the years, the trends have shown that shoppers have been spending more and more every year. The total money spent during these holidays has shown a gradual increase- starting from $608.0 Billion in 2014 to $717.5 Billion in 2018. The year 2019, is also expected to see a good percent increase in the numbers.
| | | | |
| --- | --- | --- | --- |
| Year | Spent Per Shopper | Total Amount Spent | Percent Increase |
| 2014 | $802.45 | $608.0 billion | 5.0% |
| 2015 | $805.65 | $626.1 billion | 3.2% |
| 2016 | $935.58 | $655.8 billion | 3.6% |
| 2017 | $967.13 | $682.0 billion | 4.0% |
| 2018 | $1007.24 | $717.5 billion | 4.3% |
| 2019 | – | – | – |
For you, we have compiled a list of all the upcoming holiday dates which really do matter for your business and the numbers that you require to plan for them-
In the US and few other regions, the schools and colleges(most of them) go on a long summer break and they reopen in the first week of September. During this time, the students and their parents do a lot of shopping to fulfill their requirements. This becomes one of the major seasons where the businesses adopting the right strategies make out the most sales.
Let's have a look at the numbers to formulate strategies for this 'Back to School' season-
In research done by  Prosper Insights & Analytics, there could be a 10% year over year growth in the number of consumers shopping over online, summing it around 55.4% of them.
Mobile shopping stole the show as in a Deloitte survey, it is noted that there was a prominent increase in 2018 in the usage of mobile for searching and price comparisons of the products in comparison to 2017: 53% in 2018 versus 49% in 2017.
Most of the shoppers intend to shop beforehand for the Back to School season. The top shopping dates in which the consumers did most of the shopping in the past years are-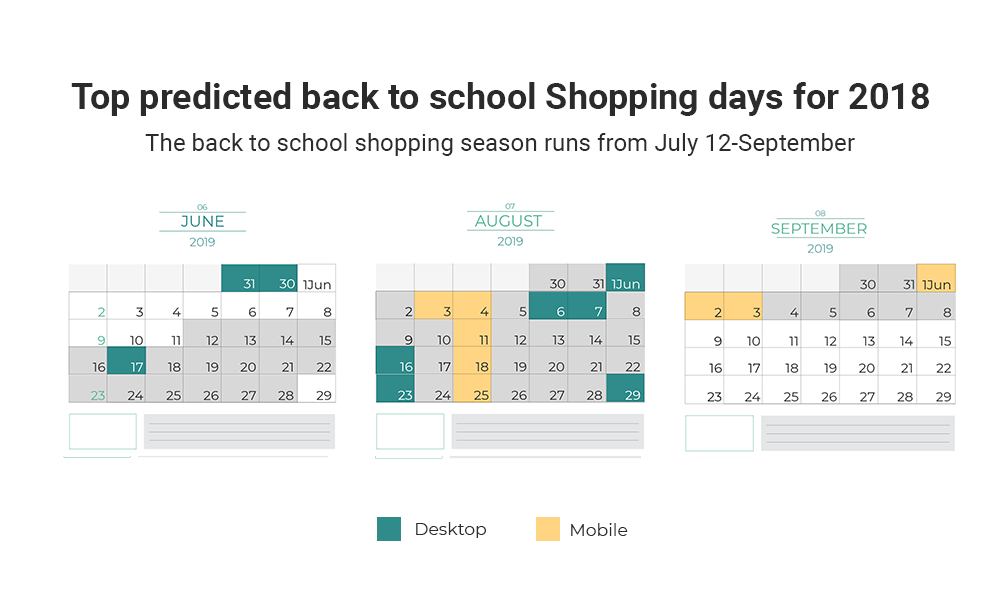 The dates shown in the above image had the highest shopping frequencies by the shoppers. But, knowing what sold the most can be of great benefit to you. So, let's see what were the top-selling products during the Back to School eCommerce sales-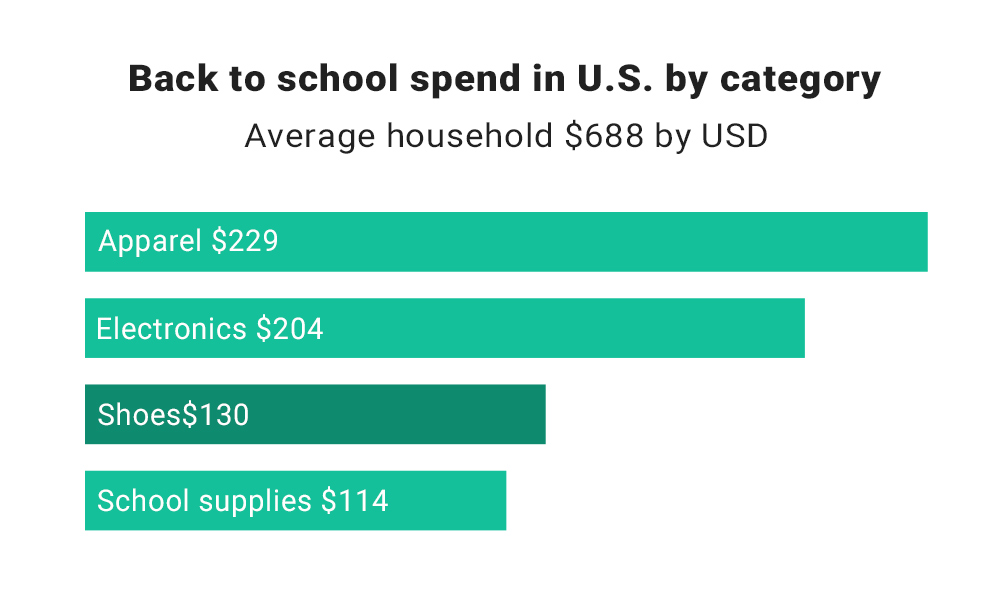 Average spending by a household in the US reached $688, among which-
$229 was spent on Apparels
$204 was spent on Electronics
$130 was spent on Shoes
$114 on School Supplies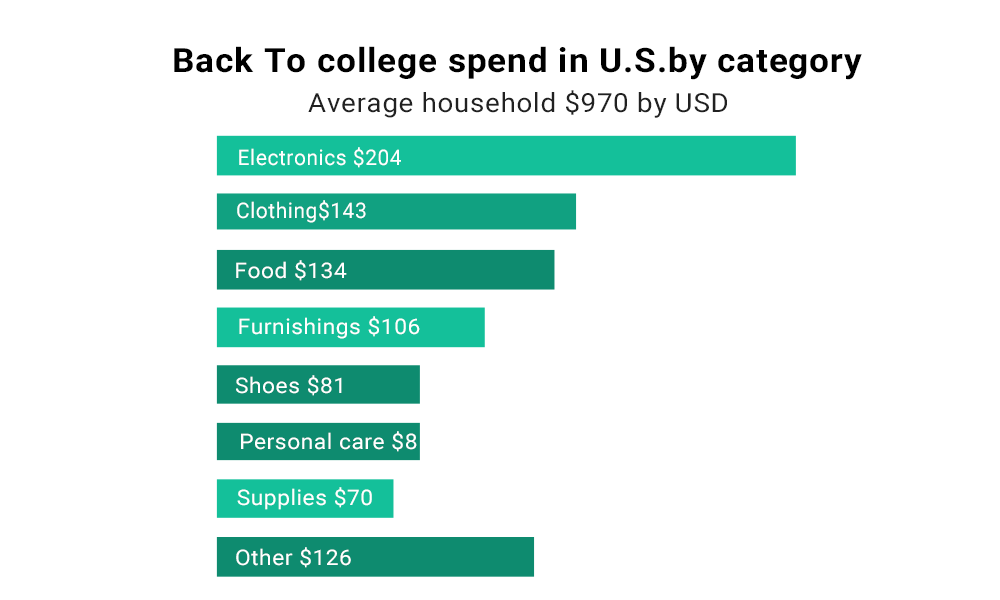 Average spending by a household in the US reached $970, among which-
$229 was spent on Electronics
$143 was spent on Clothing
$134 was spent on Food
$106 was spent on Furnishing
The remaining part of the expense was spent on the necessities like shoes, personal care, supplies, and a few other products.
What you should be doing?
Around 78% of the businesses planned to increase their investments over the Social Media channels considering it to be a game changer-The focus was on Facebook and Instagram. The following of the channels can be used effectively to drive in more potential buyers to your products, generating more ROI to your products-
Facebook Live Events can be a good choice in case you are ready with your offers and discounts and want your customers to engage with your real-time.
Seasonal Blog posts explaining about your offers and planning to the customers prior to the holidays can definitely drive in more traffic to your site.
Push notifications, however, are ignored, but if used in a good manner can be a great plus point to allure your customers to your store.
Videos and Podcasts are already proved mediums that drive more engagements
Personalized targeted emails briefing about your holiday promotions can be a good choice if you are looking for a more personal and direct reach.
Also Read: Back to School season is here! and so is the season of sales!
Your planning and strategies for most of the holiday seasons can be resembling each other, but when it comes to Halloween, a pinch of spookiness is what the aptest strategy seems to be. But first, let's look at a few numbers that can be helpful in your understanding of how prominent the Halloween's Day holiday is for your business-
When will your customers start their purchases? OR When you should be ready with your store?
6% of shoppers will start shopping before September.
28% of the shoppers will start their shopping in the Month of September
41% of the shoppers are likely to get done with their shopping in the first week of October
25% of the shoppers wait until the latter half of the October month in search of more profiting offers
What does the eCommerce trends have to say about Halloween's Day?
The Halloween's Day has always been a prominent Holiday in various parts of the world and specifically the US and other Western Regions. The trends have been making buyers buy majestic and spooky costumes, candies, horror posters, colorful lights, and other traditional stuff
Filling up your inventories with these products should be the first thing to do in your to-do list!
Here are few stats for a clearer view:
170+ Million Americans celebrated Halloween's Day in 2018.

$30 were spent on an average by a person on Halloween's Day's decorations.

More than 50% of the Americans purchased Halloween's costumes.

More than 70% of the Americans purchased candies in the 2018's Halloween for the trick-or-treat, making it to an average of $25 each
Read our complete guide on 'Boosting your sales this Halloween Day 2019!'
What you should be doing?
Get ready to convert your store and give a spooky transition to your store! Here are some 'used and proven' strategies for you that can help you swirl your store high on sales!
1. Get a little uncanny
Ornating your store with some Halloween decorations will make our customers relate more with the festive vibes. However this would be temporary revamp of your store, it is not advisable to design a whole theme from scratch and spend most of your valuable time in it when it is required for some other important management.
If your website runs on any of the frameworks like WooComemrce, Shopify, Magento, BigCommerce, Prestashop, etc. you can check for the FREE THEMES that you can use and can optimize accordingly for stores during the festive season. Not all of them are free, but you'll still have a good variety of them there.
OR
My personal suggestion would be that, rather than revamping the whole store, you can make a few custom modifications like-
Decorate your offer pop-ups!
It is for sure that you must be having a strategy for your offers and promotions that'd be live during the festive season. To grab your customers attention, you'd be needing a pop-up or an offer strip or something just the same that catches your customer's eyes.
See below for an example of what we are actually talking about-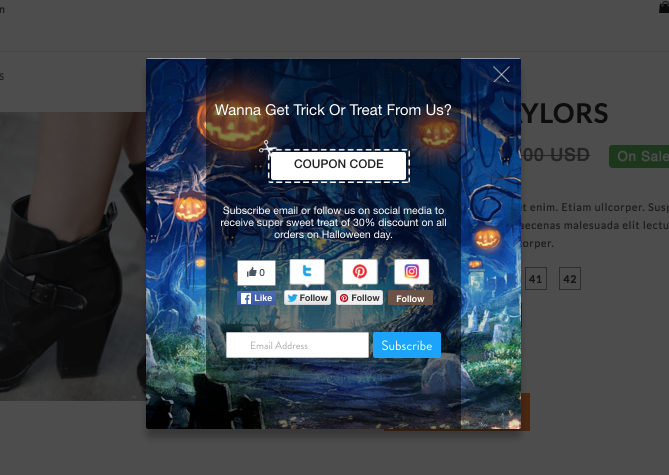 Decorating your Brand Logo/CTAs
These would be very small but noticing changes, which will definitely be alluring your customer's attention. Many big brands use the same strategy and make very small modifications during all the major festivals. Have a look here at the VLC, a multimedia player company revamps its logo each year during the Christmas season.-

Focus on email marketing
When it is about a perfect marketing strategy, missing out on seasonal emails can be a great loss. Sending Newsletters to your customers will develop a good sense of relationship building and in a passive manner would insist a brand value. Remember, it is all about trust and ease.
Bringing your store's discount and other promos to your customers right in their inbox, you're marketing game is getting one step up!
Here, read a few stats that I gathered from the internet-
99% of consumers are in a habit of checking their emails on a daily basis.

When asked, 59% of buyers responded that marketing emails

do

influence their buying decisions.

Active email accounts are expected to reach +6 billion by 2020.

Around 55% of marketers believe that email marketing strategy brings in the most ROI among all the other channels used.

Preparing a nice and catchy promotional newsletter during the Halloween season can be a direct engagement too and this can bring your offers, one step closer to your customer's reach.

Promos and Discounts on festivities

Well, we have been discussing the promos and discounts frequently in the above-mentioned points. So, how important they are?

THE MOST!

To your customers, 'holidays means sale' or to be apt, 'holidays means discounts'. Every consumer of your product will look for a time when the prices wham down he can enjoy the amazing offers from your store. Allure your customers to your store with various d discount and promos during the eCommerce holiday festivals.

What products you should put on discount?

Costumes: More than 50% of the American population bought costumes in 2018, Halloween's Day.
Candies: In 2018, more than 70% of Americans gifted candies.
Pet Costumes: Around 16% of Americans loved dressing their pets in Halloween Day 2018
Festivities: Average spending per person for the decorations and festivities came out to be $30

Now you know what spookiness you need to mix with your store this Halloween's Day!

Leverage the potential of Gift Cards

The importance of gift cards as effective marketing tools for an e-commerce business cannot be stressed enough. Gift cards are perhaps one of the easiest marketing strategies to implement and highly affordable for businesses of all shapes and sizes.

A survey by the National Retail Federation demonstrated that around 58.8% of customers during holiday seasons preferred receiving gift cards. Gift cards have been on top of the list for the most requested gift items for almost a decade now.

Gift cards have experienced a 100% average annual growth rate

65% receivers of gift cards tend to spend 38% higher than the total value of their card.

$44.8 is the average expenditure value on shopping cards during the holiday season.

It's evident how gift cards have been customer favorites al the year-round, more so during holiday seasons. It's time to leverage the potential of this marketing tool on your site too.

Provide for Payments through multiple modes

Make shopping on your website easier for your customers by providing them access to multiple payment methods. Different customers have different preferences when it comes to payment methods. One may want to pay through their e-wallets while the other may want to opt for payment through their credit card. You ought to be prepared for all.

8% of online shoppers customers have claimed to abandon carts in the absence of their preferred payment methods

By 2020, 55% of online payments would be made using alternative payment methods (APM)

Considering the fact that credit cards are not immensely popular, given only 17% penetration across the world why stick to the few traditional methods of payment. Why not let your customers pick and shop as per their convenience this holiday season.

Also Read: Boost sales with multiple eCommerce payment methods on your online marketplace

If you haven't yet heard about the Single's Day's massive record!

Know that the eCommerce giant, Alibaba's Singles Day that falls on 11th of November. The four 1s' of the date are the reason for its name as 'Single's Day'.It has also become one of the major holiday sales dates now.

Let me unfurl the numbers in front of you right now!

In 2015, the Singles Day holiday resulted in 14.3 billion GMV

In 2016, the numbers rose to 17.8 billion!

And, in 2017, it went up to 25.3 billion.

With more than 180,000 merchants and sellers onboard, the year 2018 broke all records and reported a huge 30 billion GMV during the 24-hour mega sale!

And, not just that!

Within the first hour of the 2018 Single's Day sale, the sales hit a surprising 1 billion in 85 seconds and by the time it as a minute, the numbers touched 10 billion!

Now, sellers around from various parts of the world sell their products on Alibaba's 11.11 eCommerce holiday! 

While the time the sellers and merchants in the US region prepare for their Cyber Monday and Black Friday sales, in the meanwhile, Chinese vendors, utilize the month on October aptly.

Looking at the big numbers, here are a few quick tips for you in order to be READY for the 11.11 shopping festival:

Start Planning from August itself

A prominent plan of action is required because when the holiday would hit in, there would be no time for you to do so! So, plan in advance about

What you would be selling.

What would be the top discounted products?

How would you market your sale

What should be the PROMO codes and offers?

And other important sales decisions!

Stock your store up!

Once the planning is done, now you need to look keenly and make a firm decision of- How much physical stock would you need?

Looking at the humongous numbers of the 11.11 sale, you should be making sure that you have enough products aligned to the SKUs, so you never go out of stock!

Upload all your products on your store and be ready for the sales to hit!

Strategize your Ads

Now when your products are on sale, and there are numerous offers running on your store, you'd definitely like to take those in front of your customers' eyes. Right?

Let's do that in the most effective way, does the 11.11 sale!

One way of doing that is running banner and search ads on Google and covering a wide variety and the other one is your marketplaces itself.

How? Let's see which type of ads you should be focusing upon. And Why?

(a). Google Ads/Search Ads:

With no second thought, yes these are beneficial, but due to their wider audience coverage, especially when it comes to the 11.11 sale, they fall a little less effective in comparison to the other options.

As various researches have already proved that most of the

buyers generally make a Google search for price comparisons and reviews

.

With these ads, there is a possibility of covering the audience, which might still be in a research phase and not sure about making a purchase.

(b.) Marketplace Ads

These ads and boosting, on the other hand, are visible to the buyers while he is shopping over the website. This way, you directly get to cover the consumer set who is all set to make a purchase.

11.11 Sale is quite prominent in the Southeast Asian and in the Chinese regions,  the big eCommerce giant in these regions happen to be – Alibaba, Shopee & Lazada

All of these provide you a facility of boosting your products, enhancing their visibility to your customers.

Automate your store!

Why? Why not!

With the humongous amount of sales getting in and a large number of products being sold, it often gets tricky to manage all of this. While the products being sold at such a loud rate, you need to assure the following:

Auto acknowledgment of orders

Central Control over all your orders

Inventory management

and much more!

Automating your store will save you from all the unnecessary hassles and will give you the space to give time to the things that are more necessary.

Make a choice and sell smartly!

Thanksgiving Day | 28th November

This cultural festival and a prominent eCommerce holiday, Thanksgiving Day is celebrated in various regions of the US as a mode of expressing gratitude for the good harvest and blessing of the preceding year.

This day, most of the retail/offline stores stay close, thus this gives rise to the online shopping in the region on the holiday. With the commercialization of this holiday over the years, Thanksgiving has become one of the important eCommerce Holiday, that the sellers and vendors cannot afford to miss.

What you should know about Thanksgiving Day?

A huge sum of $3.7 billion was spent by the US buyers in the last Thanksgiving

With more than 50% of traffic being recorded from mobile devices.

37.6 % of sales took place from eCommerce sites.

For the first time the US, sales from mobile devices touched the milestone of $1 billion

A total hike of 28% was seen in the overall spending as compared to the last Thanksgiving Day

Thanksgiving becomes the first of the 5-major holidays lining in its way.

Internet Retailers research resulted that around $21.6 billion gets spent in between the period from Thanksgiving Day to Cyber Monday.

How to plan?

As Thanksgiving Day results in all the offices and brick-n-mortar shops being closed, the US population is more likely to sit at their homes with smartphones in their hands, searching for a product to buy. So, are the two 'must-do' things for you-

In an Adobe Digital Insights report, it came out that around $4.6 billion of goods were left on the table on abandon carts due to the slow checkout process.

There is still a need for a few improvements in the game of going 'mobile-first'!

Black Friday | 29th November

Myth in the History

The prominent holiday Black Friday got its name as in the early days the retail shop owners stated that the day brings in red lines to their books of accounts. The common belief, that right after Thanksgiving shopping, consumers feel no need to make a purchase, making it dark for their sales graph.

Thus, giving it the name 'Black Friday'.

What do the numbers have to say?

More than 137 million shoppers take part in the Black Friday sales

Clothing has been top-draw with around 35-40% of the total sales.

Office supplies were put on discount on an average of 50%

What should be your strategy for putting discounts

As per the trends that the past years have been showing, the shoppers expect discounts over the following items, and the sellers have been putting the stuff on an average discount that is calculated, accordingly. Have a look-

Office Supplies are expected to go on discount by an average of 50%

An average of 37% discount is expected on Clothing

For gifts, the average discount store goes at 31%

Knowing all this can help, as the buyers look forward to some similar discounts and offer during the Black Friday. So, this Black Friday, you've got it all!

FUN FACT: Around 40% of the shoppers regret for what they shop on Black Friday

The baseline would be the ease and trust, the customers are able to develop while shopping with you. Remember, a happy customer will always prefer you over others!

Cyber Monday | 2nd December

In 2015, when the Monday after Thanksgiving turned out to be on Shop.org representing a shopping festival day, it took no long time to become one of the biggest shopping festivals in the US. The high amount of sales with amazing offers and deals for the customers, Cyber Monday, is a boon to the eCommerce holidays.

What are the trends?

 After the holidays and rest of Thanksgiving, on Cyber Monday people are in their offices in front of a desktop or a laptop working, thus in such situations, the mobile-first strategy, unfortunately, doesn't work! 

Significantly, this decreases the mobile GMV during Cyber Monday coming up to 43% lowering down from 53%.

Among all the sales channel available, the webstores gain the most traffic.

Facebook stays on the second spot with a significant difference when compared to the webstores.

Fashion and Jewellery brands experience the highest revenue from Facebook, making it up to 70% of the total Facebook sales.

What should be your selling strategy for Cyber Monday 2019?

Choosing the right sales channel: Facebook & Instagram

Facebook and Instagram's AOV(average Value Orders) tends to be quite high looking at the trends. After the webstores (having highest AOV), it was Facebook and Instagram which lined in the queue.

Effective email marketing strategy

Planning for Cyber Monday would require you to give apt attention at the email marketing strategy of yours. Starting before the Thanksgiving could be a good choice, as once the Thanksgiving festival starts, shoppers start to receive bulk emails and often, they get irritated. So, for once again, the early birds get to eat the fresh fruits!

There could be more benefits selling through Amazon

However there are plenty of marketplaces available, the trends have been showing good numbers and sales stats for the shoppers who sell through Amazon. A trusted brand name with a good customer base can be a good choice to opt for.

Inventory Management

And because the sales numbers would be high, you'd be needing a huge inventory and stock. Maintenance of such a huge inventory can be tedious sometimes. You can look for some automation solutions that can make the tasks easy for you.

Social Media Campaigns
With the social channels playing a significant role in the sale, there is no question left to WHY Social Media Campaigns are a 'must have' for you. Come up with engaging social media engagement and promotion strategy and make the most out of them.
Food & Beverages and Garden Equipments were the ones with the highest AOV in Cyber Monday 2018.
Alipay's Doubles Day | 12.12
Exactly One month and One day laters falls the Alibaba's sub-company- Alipay' 1Doubles Day. Another day full of deals and offers to allure a large number of shoppers to your store and a good time to earn some good ROI. However, these 11.11 and 12.12 shopping festivals are artificial in nature, but the commercialization of these holidays have left a great impact on the eCommerce world and these two dates have now become renowned shopping festivals in the eCommerce industry.

The Southeast Asian Marketplace cannot be missed when talking about these two festivals. With giant eCommerce Brands like Shopee and Lazada, in the game of sale, the eCommerce scenario becomes more interesting and competitive
Let's dive deep straight into the strategies that you should be following:
Promotional Measures
When such eCommerce holiday sales arrive, the top question among the sellers become that if it is right to double their marketing investment? Would doing so would be profitable?
Of Course it would be!

But only when the right measures are followed-
Choosing the right channel for promotions

Planning a 'warm-up' pre-promotional strategy (if affordable)

Making your customers aware beforehand about the offers through emails and adverts.

Discounting, not always work for big brands, bundling and giving an add-on value can be the choice.

SMEs or individual vendors can offer discounts to allure customers.
Gathering the right traffic
Gathering the right traffic to your products is also one critical factor that should be taken cared in a precise and apt manner. Over the internet, there is a vast audience surfing the web for various different reasons. You need to make sure that the exact right kind of audience is gathering on your website.
Who would be the right kind of audience: for your products?
Well, the one who'd actually be looking to purchase and not research!
Proper Audience research

Targeting your audience through your ads can be a great strategy.

Set up the proper demographics and other filters

Use the marketplace's features of boosting and promoting your products

Use email marketing to get one-on-one engagement
Our suggestion, If you are selling on the SEA's eCommerce giants, prefer using the marketplace's features like Lazada's Sponsored Products or Shopee Boost, to get a more filtered audience. 
Customer Service
This is gonna be easy for you, if you are an individual seller as then you'd be having a deep knowledge of the products that you are selling.
But, if you are a business selling various products with multiple people onboard, make sure that:
The customer service is quick!

Proper knowledge of each and every product is there!
In such a scenario, providing a deep product training is required to the executives.
Here is a nice review by HipFlaskPlus for the amazing customer service provided by one of our executives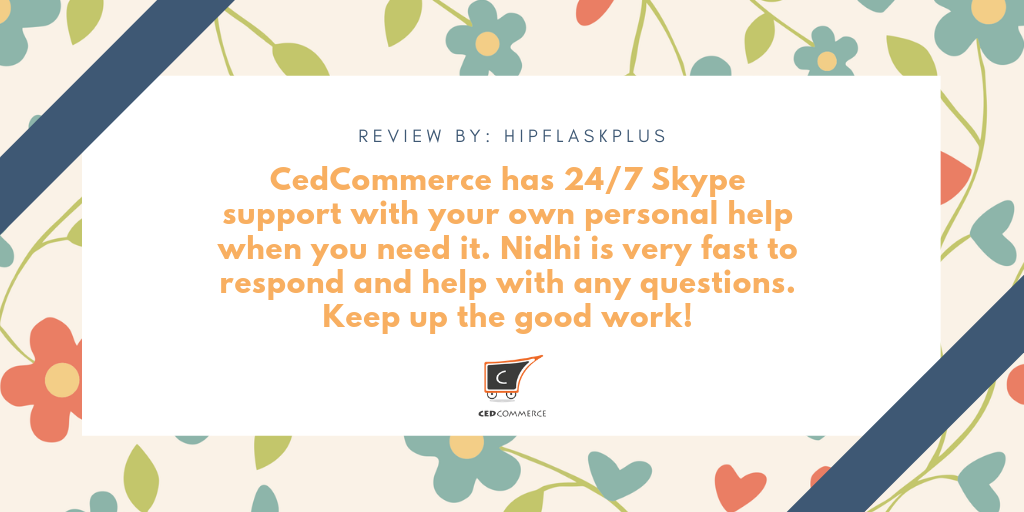 Some big merchants often hire temporary term-based executives during the high sale days in order to maintain a smooth flow.
Christmas | 25th December
Christmas Day is celebrated worldwide with lots of celebrations and joy.
For the eCommerce sector too, this holiday is very prominent and it is of great value.
Every year, during Christmas, the sales graph turn high and this makes this eCommerce holiday one of the most important ones!
Let's Look at the trends:
The past years show that the highest average amount spent on Christmas by a US household results at $906, which is quite high.

The second highest spending average reports at $886 which is subsequently the same.
High spending habits of the population during the Christmas make it the best event for the eCommerce vendors and sellers to dig out the best profit.
What do they Buy?
Because, Christmas is celebrated among all groups of ages, the wishlist differs based on it. Here is a list of the wish-list products respondents reported to buy on Christmas: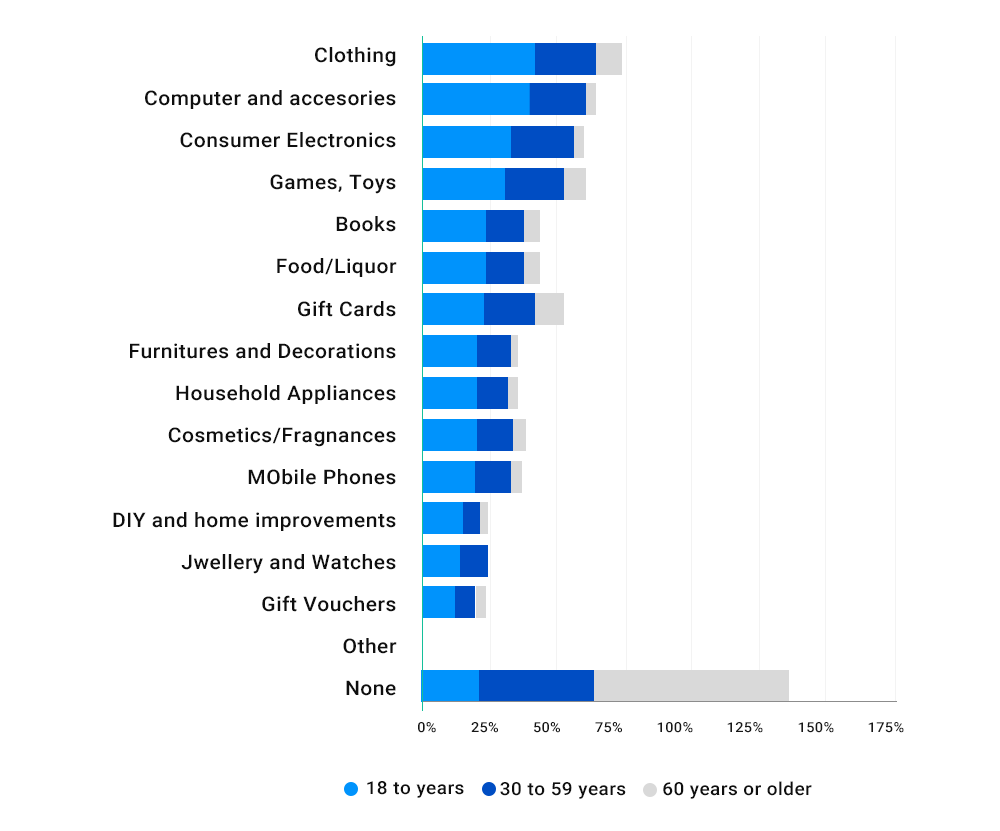 How should you strategize your planning?
Come up with amazing offers:
Delighting our customers is a must. The buyers search for amazing deals to invest into during the Holiday season. Especially, due to the proximity of Christmas and New Year, the buyers look for buying more and more with less and fewer investments. Alluring the customers with bundled products, offers and discounts can be the #1 strategy if you are planning for Christmas.
Untangle your check out process:
There has been a lot of stats and figures that show that the complications in the check process become a prominent reason for the buyers for abandoning the cart.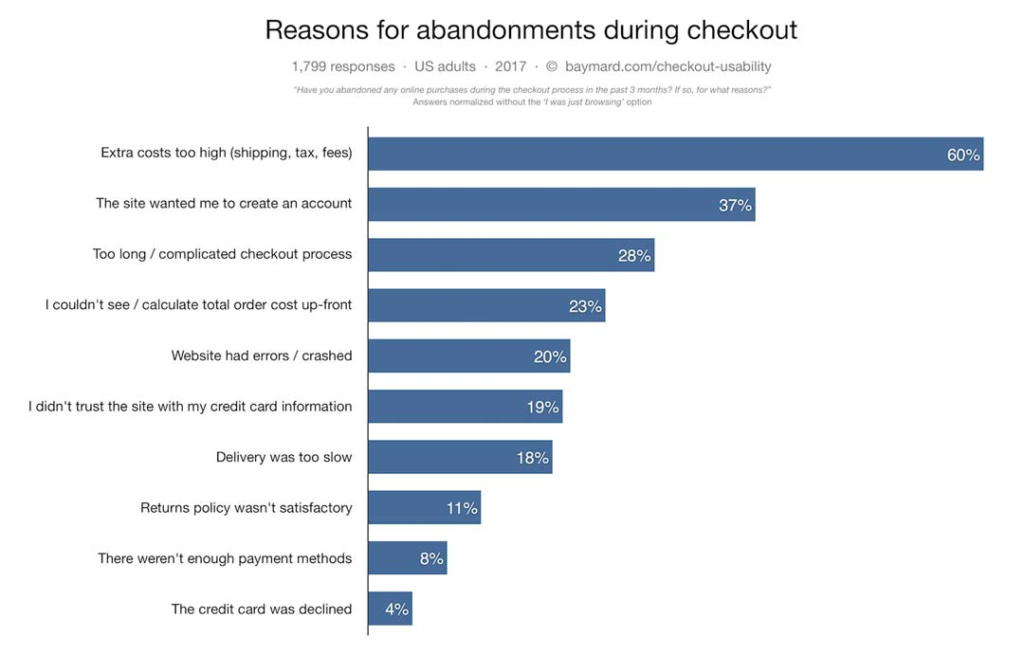 Source: Baymard Institute
So, unfurling your checkout process, giving ease to the customers can really give you admirable sales.
Be more flexible with your delivery
With more and more customers looking into your hops to buy it can be said that the ROI would be appropriate for you. In such a case, being flexible with delivery charges can be a good choice.

Other than this, you can also provide express delivery to your customers on the standard delivery charges. These small treats to your customers will conclude for the ultimate shopping experience for your customers, turning them into your potential buyers.
In the above chart, you can see that a prominent number of cart abandonment was due to the slow delivery process. So, making some changes and upgrading your delivery process during Christmas sales can be a good choice to opt.
Enhance your store
To keep up with the changing trends you need to have a dynamic store that caters to your customers' expectations. Post analysis of features that can help your store stand out, make the choice and focus on implementation.
Be it providing for referral bonuses, gift cards or integration with multiple payment methods, leave no stone unturned this upcoming holiday season to leverage maximum potential.
Summary
So, now you have all the important dates for your eCommerce businesses' financial year 2019. With all the tactics and tips being told, now it is your turn to make decisions and start planning for the holidays that are aligned in the rows.
However, there are various ways that are mentioned in the content you read, for all the eCommerce holidays that are yet to come, there can be a few of them, which are to be kept at constant for each of the festivals-
Stocking up your store/Inventory Management

Marketing and Ads
And, as I mentioned earlier too,
'The early bird gets the best fruits',
Starting to plan today can be the first strategy to follow!
All the best wishes!