Back to School season is on!- The season of sales!
Running short of time? Get PDF of the blog in your mail.

Play Now
What is Back to School all about?
With summers about to get over, the time when the schools and colleges in the US get started is here! With every new year counting in! There is a huge crowd of new students joining schools and colleges. Specifically, in the US and also in the other parts of the world, the schools get long summer vacation and they get reopened in the month of August-September. This season is known as Back to School or First Day of School.
What makes this more intriguing is the fact that the time of these School getting reopened varies through various states in the US.
What comes out as the top predicted shopping days during the Back to School?
However, the shopping for the Back to Season sales start in the month of June itself, the shopping spree prevails at a high pace in the month of August too. Have a look at the calendar dates in the image: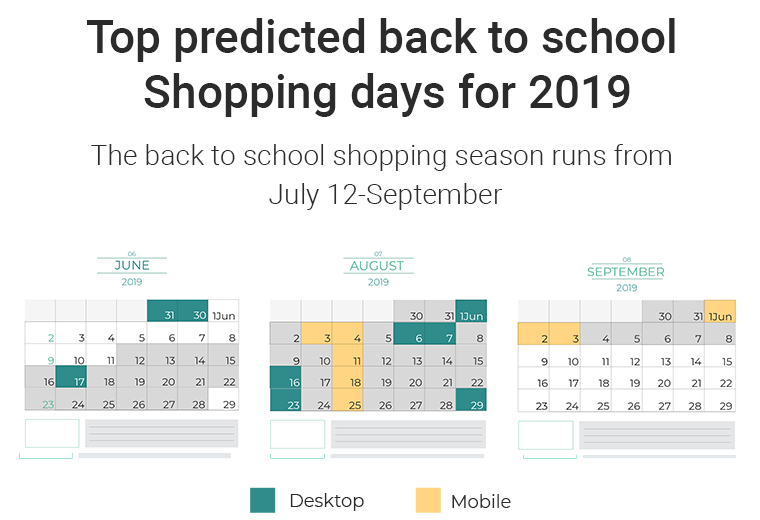 Why so much hype about Back to School?
Because it is worth that!
A huge number of students joining the schools, looking for school supplies and other stuff and guess what! A major percent of that happens over online.
This all makes it all worthwhile as the new-gen looks up for amazing discounts and offers over the stores to make purchases! Every year there has been a year on year increment in the sales numbers and spending of the US household.
However, in the past 7 years, 2018 came out to be the best year with average spending of $688 by US household on school supplies and an average of $970 on Back to College Supplies.
How much does an average household spend on school supplies every year during Back to School?
$500 will be spent over just the Back to School stuff by parents according to Deloitte survey.
Who makes purchases during the back to school season?
More than 44.6 million Americans participate in the Back to School sales every year.
What are they buying?
Apparel

Electronic Devices

Shoes

School Supplies
Various discussions have led to the talk that the Back To School shopping intent of the customers and their shopping decisions are mostly influenced by the kids. 
When such a scenario prevails, it becomes necessary to come up with strategies that allure the kids to buy your products.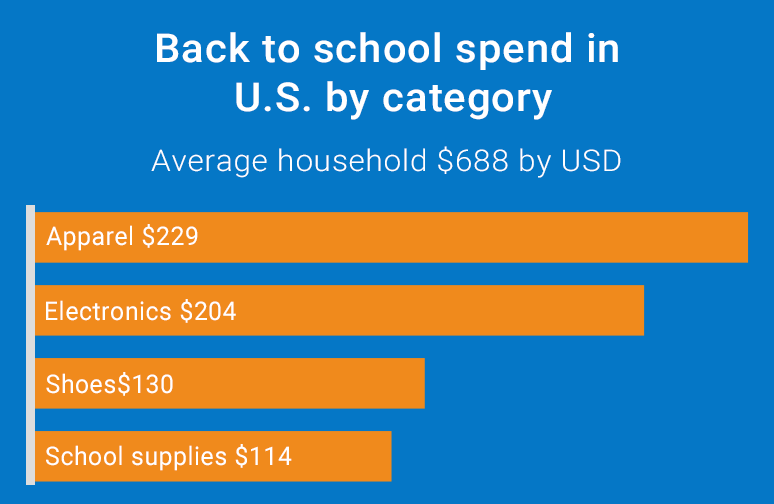 How should you be planning for Back to School?
Planning for Back to School becomes really necessary as this sales season bring in huge traffic to your stores and to deal with it, strategic planning is a must-have!
So let's see how you can plan for this Back to School season sales:
Categorized Planning
And because Back to School sales is for all the students out there, a proper categorization on the basis of students and their needs is required, in order to cater to each section with the best products.
One common practice used by the sellers during the Back to School sales is assorting their products based on school grades like- elementary, secondary school, high school, and others.
Bundled Products/Creative Offerings
'What to put on discount' and 'How to present it to your customers' during the Back to School sales that it stands out of the crowd is a big question!
Because the parents look for that they get all the supplies at one single place in one single deal, bundling your products together and giving a discount on them can be a good strategy for selling in the Back to School sales!
Plan more than just postings

The rapid changes in the tech world have made gradual changes in the internet world making it more advance. Your audience has also become more advanced. Just postings won't do! What else you can do?
Interactive Live Sessions

Viral Challenges

User-Generated Content

And much more!
Plan for mobile!

You need to keep in mind your ultimate consumer in order to allure and bring in the right kind of audience to your store. Going mobile-first should be the key to focus on!
In a survey done by NRF, Back to School, more than 40% of the shopping is being planned to be done using a mobile device. This shows a great 10% increase from the past 5 years. 
Let's have a look at how mobile is being used by the shoppers during the Back to School sales:
Around 58% of the US population used mobile devices from doing product comparisons
39% downloaded digital coupons
and 30% of them used to look for pictures of the products they are about to purchase.
To grasp a tight grip on to the youth, having your own app can be a great way to soar high on the sales number during the Back to School sales!
A great time to develop customer loyalty

During the rushy hour of sales, where there they find ease is where they're gonna stay.
Planning your Back to School sales strategy to develop potential customers during your way can help you in long run too! But how to do that?
Maintain an email list
It is now really common to generate an email list from your customers in order to maintain an in-touch relation with them. Sending timely offers and marketing emails will make sure that your customer remembers you. So, the next time they are looking for a product to buy, your bond will have an advantage over the others.
Also Read: 7 email marketing tips for the upcoming holidays season!
Gift Cards
Wonder why these big stores and markets like Walmart, Best Buy have those plastic cards made up and how they market it each time you are standing in the checkout queue. Well, that is developing customer loyalty.
The most common practice is crediting a few points to those cards whenever a customer shops. Later those points can be redeemed to shop more. Look for the aptest way in which you can do something like that to develop your customers relation.
In the same way, giving rewards, special discounts to your premium customers, etc can be used to build brand loyalty during the Back to School sales.
Multi-channel selling
With the past researches, it has been found that the customers have been looking forward to multiple marketplaces in order to search discounts, doing price comparisons and deal lookup! In such a case, going multi-channel definitely increases the chances of your product getting clicked and sold!
Marketplaces like Walmart, Amazon revamp their product categories during the Back to School sales for making it easy for your customers to search for a product. Eg. Amazon has already restructured its product categories page according to grade levels.
Also Read: 7 Tips to maximize Multichannel efforts during eCommerce holidays
Great Customer Service and Shipping

During the rushy sales time, the ones giving the express shipping options rule and they enjoy more orders on their store.
Why?
Consumer behavior trends have revolutionized with the availability of options. Now, when the express shipping option is available where customers can get the product delivered to footsteps in no time, the competition to be at the top and best with the shipping facilities prevails during the Back to School sales.
Plus, providing amazing customer service to your customers will reward you with their trust and reliability on your products.
Make sure to have a flexible return policy
Give multiple payment options
Ask for feedback
Summarizing Back to School
There are a hundred more ways to plan for the upcoming Back to School sales. Depending upon the scale of your business and types of product niche. Many merchants agreed that they start to plan for the Back to School sales just a week ago and they make it through in an amazing manner.
Respondents when asked what becomes most important for them during the Back to School, said to drive in more sales through attracting potential buyers to their stores.
Pro tip: Categorizing your planning can be a good option. Rather than covering up the whole Back to School at once, you can prioritize on the basis of grades viz. elementary, secondary high school etc. Remember, along with Back to School, there is a lot of crowd for Back to College too.
Now with all that feed to plan your Back to School sales, you are all set to sell in this Back to School with all the gears.
What can be the best place to begin?
So, what are you waiting for! Start Today!
---
Also, check our Infographic for the