Walmart BFCM 2021: The Perfect To-Do Checklist For a Successful Year-End
Running short of time? Get PDF of the blog in your mail.

Play Now
Quick Brief – Black Friday was initially known for the financial panic in 1869 caused by a market crash with no connections to shopping at the time. In the late 1950s, the term "Black Friday" became associated with shopping day after Thanksgiving. It resulted from an influx of people coming to the city to shop the day after Thanksgiving. On the contrary, the term "Cyber Monday" came into existence in 2005, representing a flurry of online sales the Monday after Thanksgiving day. These events mark the beginning of Black Friday Cyber Monday, which are now most awaited for exciting deals and discounts. The Black Friday Cyber Monday 2021 awaits fabulous sales and high profits. If you wish to gain all of these exciting benefits this BFCM 2021, then read till the end to have your checklist on How Sellers can prepare for Walmart BFCM 2021?
Contents:
The evolution of Black Friday shopping over the years
As you already know about the origin of Black Friday shopping, the sales have evolved to the present time. The Black Friday Cyber Monday sale initially lasted for 24 hours only in the physical stores, with shoppers sprinting in on sunrise and fighting over products. But, ever since it had to compete with Cyber Monday, the deals hugely are available earlier on the eCommerce sites. Shoppers are now exposed to month-long deals and discounts, which tends to cause huge sales at the seller end. Therefore to help you with higher sales at the peak of the year, we present you with some tips on how sellers can prepare for Walmart BFCM 2021?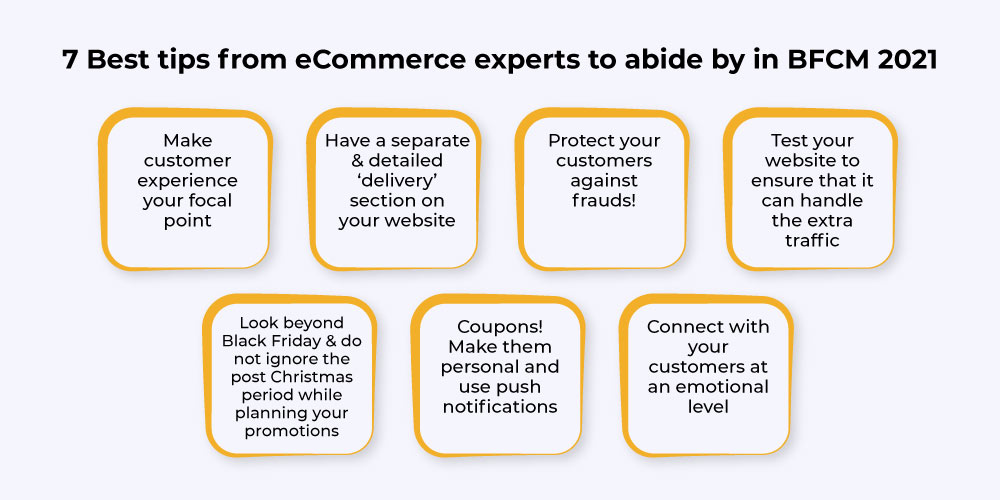 How Sellers can prepare for Walmart BFCM 2021
To streamline your BFCM 2021 and plan your ecommerce strategy, below mentioned are some of the best ideas to get your store ready:
Put up your offers way ahead of time.
Provide offers way before time to make the optimum use of the year's best shopping festival. Start promoting on social media rigorously in advance as the advertising cost will be the most premium during this time of the year. Also, Grabbing new prospects' attention enables you to remarket them with target and personalised offers in the upcoming BFCM week. With early offers, extension beyond BFCM is one of the most favourable steps to successful sales.
Spread the net as wide as possible!
Capitalise the maximum number of digital channels and platforms you can, ranging from email drip nurtures to SMS to google and facebook ads and so on. With the widespread digital audience with each passing day, capture every bit of their attention via a streamlined multichannel selling.
Do not stick around the discounts only.
Bargains are always appealing to the customers but not the only way to grab their attention—research ways to influence their products' value. Highlight your product qualities and the importance they offer instead of just giving discounts. Don't forget to create seasonal FOMOs by providing limited period deals and shows that may end soon.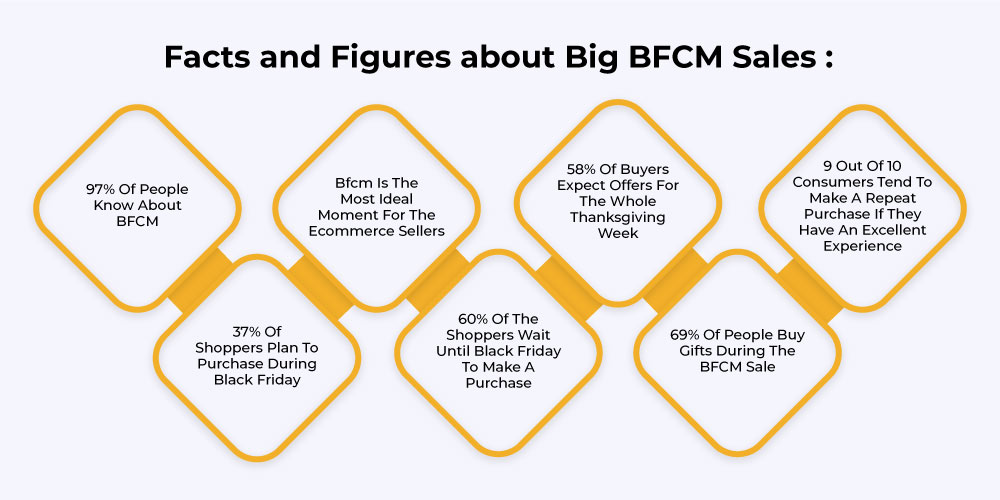 Also, read:
A perfectly crisp checklist to follow on BFCM 2021
Provide an addition of faster shipping
An addition of faster shipping will hit buyers and attract them more to your seasonal deals. Check out the shipping deadlines for this year? And most of all, remember this rule: fast shipping beats free shipping, especially during December ahead of Hanukkah, Christmas, and other holidays.
Test everything before execution
Test your emails for receipts, order confirmation, shipping confirmation, delivery confirmation, etc. Do not forget to thoroughly check your website loading and other customer experience points on desktop and mobile in incognito mode to test your customer flow. Test these in advance, so you get time to fix any snags.
Create a strategy for abandoned carts
If you don't do this already, send an email 15 minutes after a visitor abandons the cart. There might be a possibility of them getting distracted, and an email reminder may persuade them to execute the checkout process!
Post-purchase customer experience
Investing in building relationships with shoppers keeps them coming back even after the holiday season. Send an email to your loyal customers offering them a discount code encouraging repetitive purchases. The BFCM holiday season is the best time to set up a loyalty program and use reward psychology to boost your bottom line.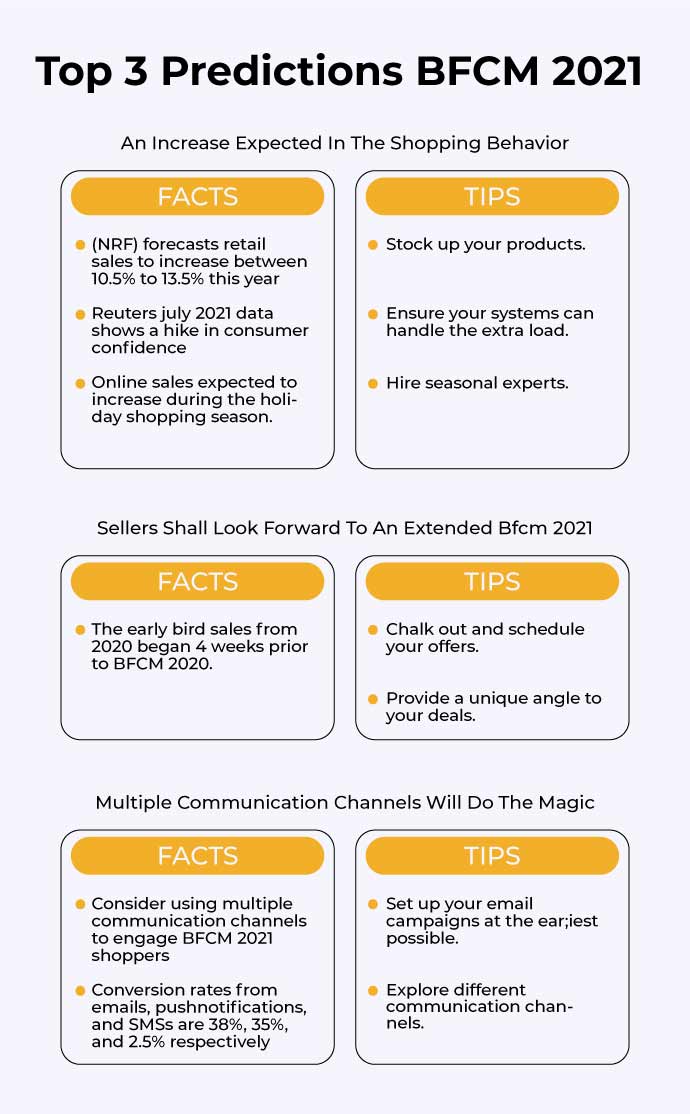 What we are saying is →
This BFCM 2021 does not repeat the old strategies. Cover every extra inch to reach out to your shoppers. Plan for a longer BFCM 2021 deal and stand out among your competitors. So, do you need a marketing brainstorm or the perfect integration service for your eCommerce store? We have got it all under one roof. Book a quick value-packed appointment with our experts and get the most out of your eCommerce experience and strategies for BFCM 2021.