Black Friday marketing guide to sell higher on Walmart
Running short of time? Get PDF of the blog in your mail.

Play Now
Black Friday, the biggest shopping day of 2022, is around the corner. The festival marks a spike in online traffic and a lot of revenue for online sellers. This way and long before, customers start looking for offers on the products they want and shop like crazy. To make the most out of Black Friday 2022 on Walmart, you need to buckle up now. This blog will tell you about the critical facts related to Black Friday and the Black Friday marketing tips to help you make the most out of Black Friday 2022 on Walmart.
Let's get started!
When is Black Friday in 2022?
The date of Black Friday keeps changing each year. But it always falls on the Friday following Thanksgiving. This year it will fall on 25th November 2022.
Importance of Black Friday Marketing
Following Thanksgiving, Black Friday offers great deals to shoppers. Here are a few key Black Friday stats that reflect the enormous opportunities it brings for the sellers:
In 2021, 155 million Americans shopped on Black Friday, 88 million of which were online shoppers.
The US Black Friday 2021 sales reached a whopping $8.9 billion.
The average spending per person was $430 in 2021, which was a 5% increase compared to the previous year.
Per NRF, Free Shipping was the most significant factor influencing purchase decisions in 2021.
The maximum conversions were achieved by Desktops, overtaking smartphones and tablets.
As per a report, around 76% of Americans plan to complete their holiday shopping on Black Friday 2022.
94% of customers will be shopping online in 2022.
Marketing tips for Black Friday
Black Friday is crucial from the sales point of view. Customers buy in significant numbers during this day of the year. And as a seller, you must prepare for the vast customer inflow to your online store. To help you sell better on Walmart during this Black Friday 2022, follow a few Black Friday marketing tips given below: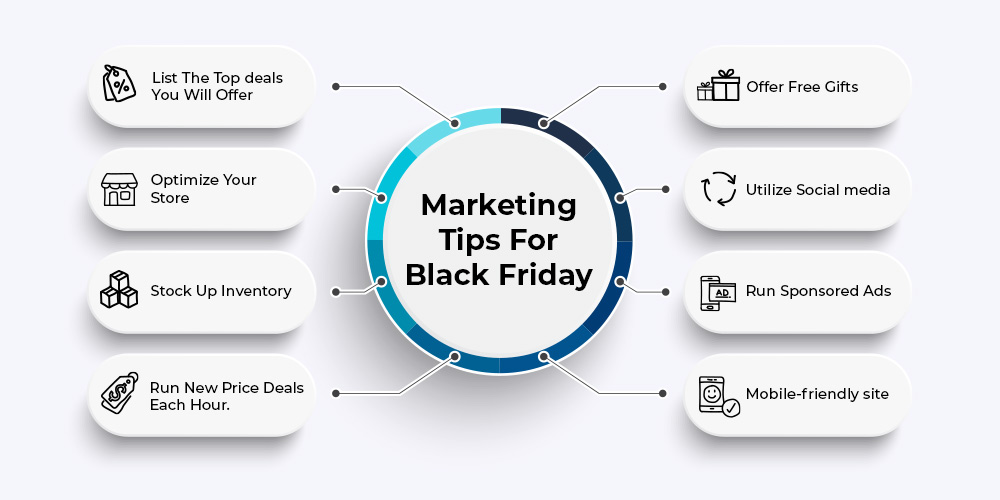 Prepare a list of the top deals you will offer
You first need to create a list of the deals you will be offering during Black Friday. Prepare a plan to adjust your products' prices so that your profits remain unaffected and the customers get the best prices.
Optimize your store
You also need to optimize your store for Black Friday marketing. Optimize your product titles and descriptions to make your products stand out in relevant searches. Do a thorough study of what sells the most these days. Also, run sponsored ads specifically targeting Black Friday.
Stock up inventory
The important thing is to stock up sufficient inventory to meet high demands for Black Friday. Imagine customers wanting to buy your products, but you cannot fulfill the orders because of insufficient stock. In such a case, it leaves a negative impact on your customers.
Run New Price deals each hour.
Run new price deals each hour. This way, you can embed a feeling of surprise in your customers, who will come back to your site several times to see what's new for them in the new hourly deal.
Offer Free Gifts
Offering gifts is a fun way to entice customers to make a purchase. Based on your profit margins, decide on a limit and offer gifts on every order above your defined limit.
Utilize Social media
Utilizing social media platforms like Facebook, Twitter, Instagram, etc., can help promote your products. Running social media campaigns for different social media platforms helps to increase the visibility of your products.
Run Sponsored Ads
Run advertising campaigns to make your products visible for relevant searches, and with the sponsored tag, the visibility of your products increases.
Mobile-friendly site
Your shopping site must be mobile-friendly. Since most shopping occurs through mobiles these days, not having a mobile-friendly site can negatively impact your sales.
Why Sell on Walmart this Black Friday?
In 2021, Black Friday sales reached $8.9 billion, and it's expected to grow further as more than three-fourths of Americans plan to complete their holiday shopping on Black Friday 2022. So it's the perfect time to onboard a marketplace where already massive traffic lands to increase the reach of your products during Black Friday.

So, to make the most out of Black Friday, onboard Walmart. This way, you can increase your product's visibility and amplify your sales by showcasing your products on one of the largest marketplaces in the US. A few exceptional points that favor the expansion on Walmart are listed below: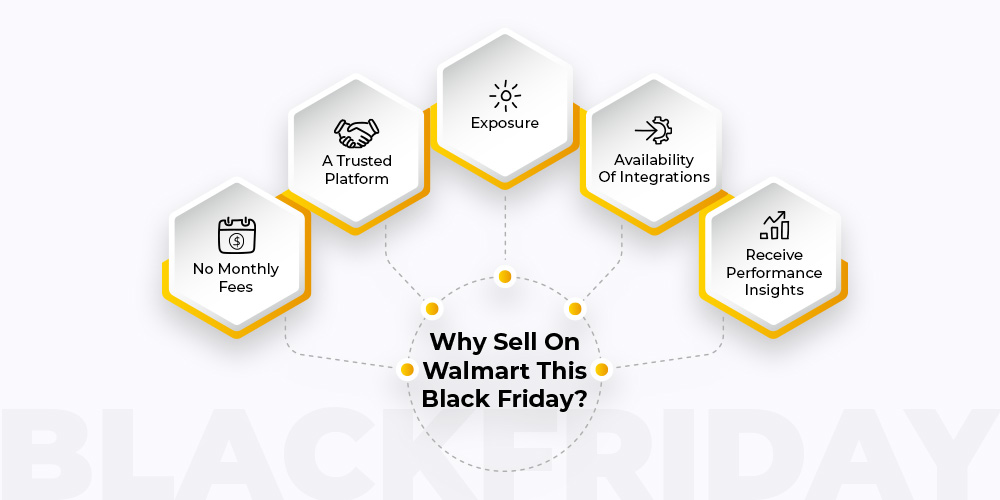 No monthly fees
The best advantage of selling on Walmart is that you don't need to pay any monthly fee. So list your products and stay relaxed. Walmart only charges a fixed percentage as a referral fee based on the product category on the product's sale.
A trusted platform
Walmart is a trusted platform. You can utilize this trust by listing your products on the Walmart marketplace. The availability of your products on a trustworthy platform makes your products reliable.
Exposure
Millions of customers land at Walmart each month. This can be well understood by the fact that during the fiscal year that ended on 31st January 2022, Walmart's global net sales were 567.76 Billion USD, an increase of approximately 2% from the last year.
Availability of Integration solutions
Integration solutions help you connect your store seamlessly with Walmart.com. With the advanced features of integrations, multichannel selling gets simplified.
Receive Performance insights
Walmart gives performance insights to all its sellers through a performance dashboard. With it, you can quickly assess how well you are performing as a seller at Walmart.
How CedCommerce helps in selling on Walmart?
Integrating your store with Walmart using an integration solution can be the best thing to do. Since the integration automates most tasks, you can be free from managing tasks manually during high rush hours. With the use of an integration solution from CedCommerce, efficiently sell on Walmart. The integrations come power-packed with the following features that ease multichannel selling:
Auto acknowledgment of orders
With the installation of the app, you don't need to sit facing your computer continuously for hours to acknowledge the orders. The app automatically acknowledges orders, whether from Walmart or your store.
Order management
Order management gets simplified with the integration app. The app also tells you all the information about all sales orders, failed orders, and refunded orders.
Near Real-time synchronization
CedCommerce Integration solutions help to synchronize inventory between your store and Walmart in near real-time. So you don't need to worry about your inventory levels, as the same inventory is visible on both platforms.
Product profiling
With the integration app, you can create profiles for different categories of products on Walmart and perform similar settings for the products within the created profiles. This way managing the products becomes easy.
Round O'clock Customer support
CedCommerce integrations come with 24/7 customer support. A dedicated account manager from CedCommerce helps in the seamless usage of the app, and whenever you need assistance of any kind, that person will help you out.
To Sum Up
The above write-up must have provided you with great marketing ideas for Black Friday. Now you know the critical points that need to be kept in mind for successful Black Friday sales, you can easily look for the areas of improvement. Also, if you find something that is a must to follow to streamline selling processes for Black Friday and we have missed it, do leave a comment below and share it with us.