All in one Research-based Tips to Create a Profit-driven Customer Feedback Strategy
Running short of time? Get PDF of the blog in your mail.

Play Now
Customer feedback is not just a revenue-driven marketing strategy but also a secret key to establishing long-term online customer relationships during the festive season. Customer feedback has seen a prominent significance in recent times when most of the businesses switched to online platforms using multichannel and omnichannel platforms. Direct To Consumer brands and Small and Medium Enterprises have seen a massive rise in terms of customer experience and revenue through creative ways to get customer feedback.
Let's see what a Customer feedback loop is, its benefits, and some creative ways to collect customer feedback. This will help you understand your customer base, future prospects, and discover unique ways to retain existing customers and convert loyal customers to premium ones, especially during the festive season.
What do Customer Feedback and Customer Feedback Loop mean in the eCommerce world?
Selling through multiple marketplaces or personal e-store is sufficient to attract a new and wide range of customers. However, to retain them and make them loyal ones is complicated. Customer Feedback is one such small-budget marketing strategy that does not only give you customers' opinion but also instill their faith in you and your business endeavors.
So here it is, Customer Feedback is the entire process of collecting opinions, suggestions, reviews, and ratings by your new/old customers who have made a purchase or have visited your site (based on your business needs).
Customer feedback loop refers to circle or inter-connected stages that follow one another. It includes: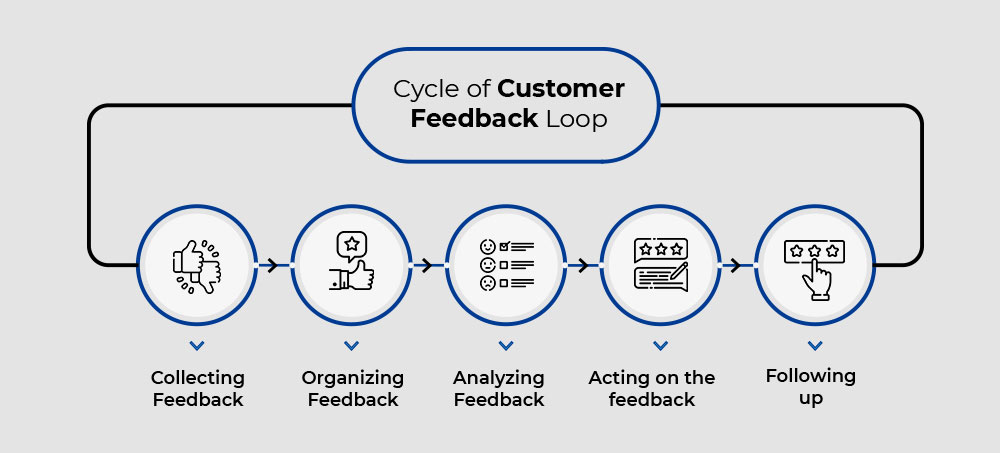 How Does Customer Feedback Loop Help eCommerce Business Grow and Evolve?
Customer feedback adds to the quality of your selling on marketplaces or on your own online store. Feedback helps a business grow in multiple directions or in the direction of its major business strengths and prospects. Let's see how customer feedback can stimulate revolutionary opportunities for an online business: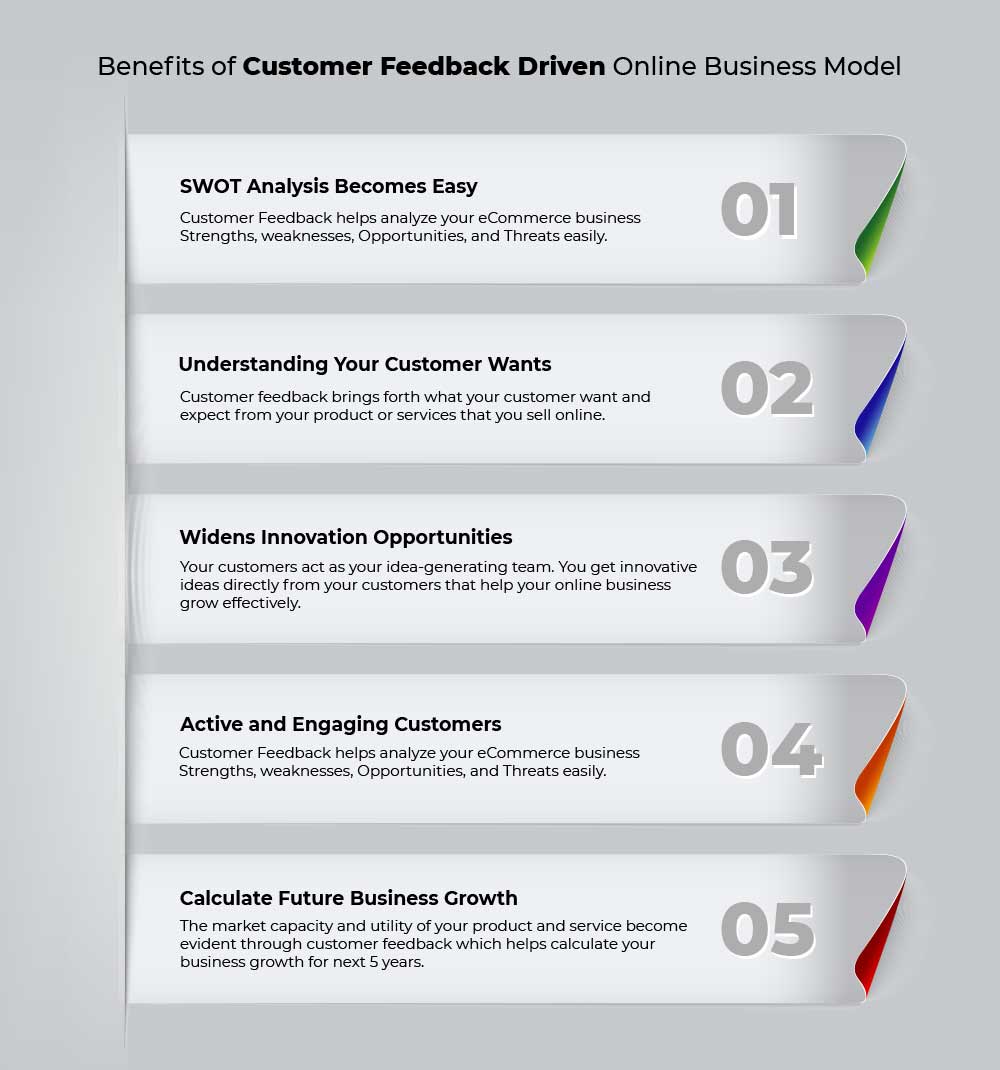 Do you know that selling on marketplaces like Amazon, Etsy, Buy On Google, and SEA and European region-based marketplaces can give you a wide range of prospective audiences this festive season?
Top Creative ways to get customer feedback for your eCommerce website
The benefits are evident from the points mentioned above. To avail of those benefits of customer feedback, here are the top experimented creative ways to ask your customers for their feedback about the product and services.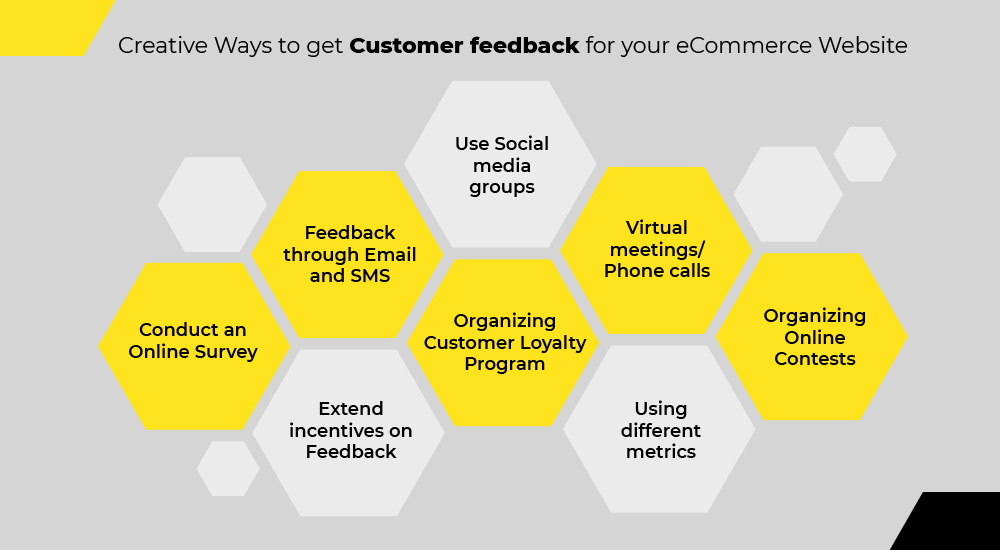 Conduct an Online Survey
Conducting an online survey is an easiest and effective way to collect feedback from your customers. You can attach this survey form to your website, accessing to which your customer/visitor will have to fill a survey form before exploring/browsing your e-store/website.
Note: Make your website attractive, colorful, and festive friendly to attract your customers to further explore your e-store even if they have to fill a feedback form.
Feedback through Email and SMS
If not through a survey form on your store website, you can use emails and SMS channels to humbly ask your customers to leave their valuable feedback about your products and services. Take a note of drafting a persuasive and humble email and SMS content asking your customers for their valuable opinion. A rude, direct, and forceful content can do more harm than good.
Extend Incentives on Feedback
You must already have discounts and offers in place to delight customers in this festive rush, so why not use the trick here as well. Go on offering a discount or cashback or something alike to the customers who cooperate with you. Simply tell them how they will be delighted if they go forward and honestly fill a feedback form required by you.
Use Social Media Groups
Social media channels are very important today, even the prominent trend in 2022 will be social media channels functioning like social media as well as eCommerce platforms. Thus, social media survey campaigns or groups can be the right platform to be active on and monitor your customer's opinions and comments on your products.
Not only that, but you can also create a campaign for your customers to post a picture on Twitter, Facebook, or LinkedIn with their honest comments and reviews along with tagging you. Good reviews can act massively in your favor. This can serve two purposes. One, it can be a good marketing strategy, and second, collect feedback ideas from your loyal customers.
Organizing Customer Loyalty Program
A customer loyalty program helps you understand your customers not just indirectly but face to face or through virtual meetings. Loyalty programs make you understand your customers, their problems, wants, preferences, and future needs in a much better way. It instills credibility and reliability in your customer for your online brand and customer loyalty.
Virtual meetings/Phone calls
If your audiences are wide and scattered over different countries, i.e, you have cross-border eCommerce business in the US, European, or SEA regions, then arranging surveys or a feedback program directly on a phone call can be the best way. If you have an outbound sales team, call customers and ask them directly about their entire customer experience with you and the problems faced.
Using Different Metrics
There are as many as 50 metrics used by eCommerce businesses to understand their customer shopping journey and overall customer experience with them. Here is a list of the 5 best metrics that you can use as part of your feedback data;
Net Promoter Score (NPS)
It is the score that shows how many of your customers would like to promote or recommend your brand to their friends, family, and relatives. Big businesses do it through a survey and count them separately in two groups of 'Yes and No'. By subtracting the no. of non-promoters with no. of promoters, you get the result.
Customer Satisfaction (CSAT)
It is another metric that helps you to analyze how satisfied are your customers with your products and services. You can create a customer experience form to rate your services between 'not satisfied' to 'completely satisfied' and examine the overall success of your marketing strategies.
Customer Effort Score (CES)
This metric measures the level of effort your customer had to go through to reach that final product they have been looking for. This is how you can do it. Frame a question like – 'Your journey finding this product has been easy and great?' and ask your customer to choose an option from 'Very easy', 'Moderate', or 'Difficult to find'. You can record many such responses and maintain data of your own.
irst Contact Resolution (FCR)
To put it simply, it means the no. of problems/queries resolved by the customer call center in the first round of asking. These metrics show the efficiency of the customer support team to resolve the problem of the customers timely and efficiently. That's how it is measured –
FCR = No. of queries resolved in the first attempt/Total no. queries * 100
Customer Engagement Score (CES)
The customer engagement score highlights the action taken by the visitor on your page or website. This is a helpful metric for online businesses than offline ones. No. of page views, scroll rates, bounce rate, no. of clicks, etc, are certain criteria that can be considered under these metrics.
In the same way, there are many other important metrics like customer churn Rate, customer lifetime value, customer acquisition, and the list goes on. However, the successful strategy is not to choose a lot of metrics but just the right ones that are valuable to your business needs.
Organizing Online Contests
The best way to know what will work for your business and customer is to ask them directly. Starbucks stands as a perfect example of this aspect. By organizing an online contest through social media for your own website, you can ask for product ideas or service ideas, or anything innovative and creative straight away from your customers. Subsequently, rewarding them for their valuable comments. For example, making them a premium member without having to pay a subscription fee for a few months or a year.
Did you know that Hubspot Integration by CedCommerce has helped many SMEs and brands establish a robust customer feedback mechanism? Here is all that you need to know about Hubspot Integration by CedCommerce.
What are the best question criteria to include in the Customer Feedback form?
Your questions will play a major role in bringing the right information to your business house. If you want your customers to help you grow, ask them what exactly do you need from them. Here are major categories you must revolve your feedback question around:
Customer Shopping Experience
Make yourself aware of their overall shopping experience. This will include product browsing, product relatability, checkout, and delivery experience, etc.
Product Usability
Your feedback must include the rate and review space for the product bought by your customers. Ask about the quality, usability, and problem-solving capacity of the product. You can also ask about the suitability of the price range.
Satisfaction Rate
Questions like likelihood to buy again, or wish to shop again for the same product or the brand, etc should be addressed.
Scope for Improvement
Opening a space for honest comments and review, can play a crucial role in understanding areas of improvement. You can also go for a pilot survey. For instance, testing your products with your loyal customers, and taking their suggestions. It can bring a huge change in the overall selling approach if your online business weather through your own e-store or marketplaces.
Best Solution to Adopt for Customer Feedback driven Online Business with CedCommerce
Customer Feedback assists in encompassing the essential tips for the growth of your online business through your own e-store or marketplace. The smart way is to go for the best eCommerce integrations that provide you with Customer relationship management solutions. CedCommerce delivers a varied range of eCommerce solutions that help you Build, Launch, Scale, and Upgrade your Online business.
To build a loyal and retained customer base with the best Customer Relationship Management services; CedCommerce is in partnership with Hubspot and Mautic. With solutions like Hubspot CRM solution and Mautic CRM solution; CedCommerce has succeeded to cater to the Customer-related requirements of the sellers globally. The outstanding features mentioned below are just glimpses of these solutions have to offer you:
Customer demographic division,
Most and least searched product categories,
Automated workflow,
Calculating Return on Investment
Reducing Cart Abandonment Rate
The Integration helps in sending the emails timely, to the targeted customers and with relevant questions periodically. All the feedback collected is further organized and analyzed by the integration along with suggested strategies. These suggestions will help you build customer related strategies during festive days like BFCM , Thanksgiving, etc.
In addition, CedCommerce has emerged as leading Shopify and Bigcommerce experts for building, scaling, and upgrading your e-store. In the same vain, converting it into a brand with potent digital and marketing automation services.
CedCommerce offers complete power-packed customized solutions for multiple frameworks and multiple marketplaces. All favorable to eCommerce business size at budget-friendly charges with 24*7 customer services.
To connect to us or to know more about us, you can visit the site or contact our experts. These experts are open to all your queries and business needs.
Final Words
Customer Feedback plays the best role in improving customer experience and long-term business goal. With so much selling pressure and strategies in the competitive online marketplaces; opting for eCommerce solutions for customer relationships will surely be a profitable idea in the long run.
Happy Festive Selling!