PWAs for enterprise businesses: 11 most asked questions
Running short of time? Get PDF of the blog in your mail.

Play Now
PWA for enterprise businesses combines the best of mobile and web apps, offering several advanced functionalities to improve user experience. Some prominent features of progressive web apps include their rich SEO functionalities, discoverable on search engines, shareable, push notifications, and works on unstable network connections. Furthermore, as a web app, PWAs deliver an enhanced mobile app-like experience with fast and reliable performance, high-end security, minimal updates and storage, and more.
Initially introduced by Google in 2015, PWAs have already garnered significant attention from startups and established businesses alike. With the relative ease of development and favorable results it brings for businesses, PWAs are instant wins and might soon be the next big shot in the eCommerce domain.
Table of contents
Today, we answer some of the most asked questions centered around PWA for enterprise businesses. Let's explore PWAs functionalities driving brands to use PWAs to connect with customers, how PWAs leverage web functionalities, and how PWAs became central to eCommerce success.
How do progressive web apps work?
At its core, PWAs are just websites that took the highlights from websites and mobile apps. It's a web page developed with existing technology and frameworks to function similarly to mobile apps. More importantly, PWAs are developed to deliver a flawless experience, where users fail to distinguish between a web app and a mobile app.
Furthermore, PWAs are web pages that users can install on their devices and pull updates in the background every time they run the app. The extent to which you can make your progressive web apps similar to mobile apps depends on the web browser and operating system. Moreover, most browsers display a prompt before users can install a PWA on their devices. Progressive web apps for enterprise businesses are an ideal solution to poor user interface and low conversion rates for online stores.
Alex Russel, Chrome Developer, defines PWAs as, "These apps aren't packaged and deployed through stores, they're just websites that took all the right vitamins."
Learn more about how to integrate PWA in Magento 2 stores?
Written in JavaScript, CSS, and HTML, PWAs look like regular web pages but work like mobile apps. Functionalities identical to those offered by mobile apps include push notifications, fast, intuitive, responsive, and more. Moreover, you can convert PWAs into APK and IPA files and submit them to Google Play Store and Apple Store, respectively.
How does a fast-loading web page impact your business?
It's easier and quicker to visit a web page compared to downloading and installing apps. Furthermore, you can enable your customers to share the web app with potential customers with a shareable link.
More importantly, Google emphasized the importance of a fast-loading web page in ranking a website higher on search results. A fast-loading PWA for enterprise businesses can help you streamline business processes and give your users an enhanced overall experience. Furthermore, higher the page load time, higher the bounce rates. Faster loading time incentivizes your customers to stick around and return for repeat purchases. PWAs are a great solution to customers finding speed as the major problem while shopping online.
Is a slow-loading website hampering your business? Find out the importance of PWAs for Magento stores.
PWA can increase speed performance by 63% compared to the original mobile website.
What makes PWAs responsive, reliable, and engaging?
You can deliver instant access to customers with progressive web apps for enterprise businesses. At the same time, PWAs are optimized for mobile devices and don't carry any additional installation steps. More importantly, users can add a PWA to their home screen without occupying too much device storage space. PWAs work on all devices on passing the Google Lighthouse benchmark, with the exception of outdated mobile operating systems that don't support the latest browsers and modern technology.
Let's talk about some unique and prominent features of a progressive web app for enterprise-level businesses that translates into convenience and better user experiences.
Key features of PWAs for enterprise businesses
Mobile app-like experience
Real-time background sync
Rich in SEO
Shareable
No downloads and updates required
Automatic updates
Push notifications
Works on slow network
Cross-device compatibility
Google introduced progressive web apps in an attempt to prioritize a mobile-first approach. The responsive nature of progressive web apps makes them more user-friendly. Furthermore, the background data sync functionality can improve your web app's performance and perceived response time. However, all browsers don't support background data sync in real-time. The responsive design of progressive web apps makes them compatible with all devices and platforms. Thus, you wouldn't have to tailor their interface for different devices.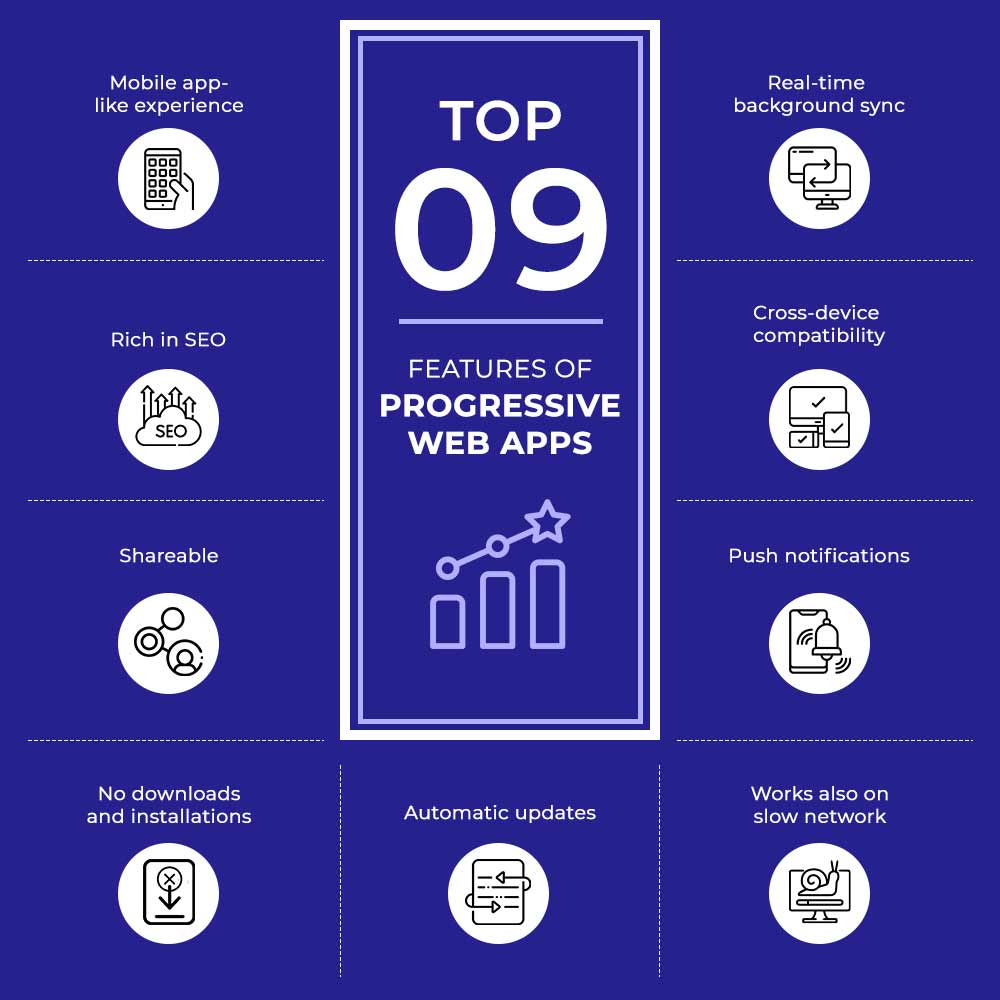 Furthermore, PWAs compare favorably with mobile apps concerning performance, interface, and experience. Regardless of frameworks and technologies used in developing a PWA for enterprise businesses, it is similar to mobile apps in look and functions. Enhance security, the ability to work on an unstable network connection and real-time background sync make PWAs a perfect alternative to storage-heavy mobile apps.
Major benefits of progressive web apps for enterprises
Less development time and cost
No app distribution required
Reliable and fast performance
Enhanced user experience
Minimal storage space
Adaptive and flexible
A PWA is comparatively smaller in size than mobile apps. Thus, it require less memory to run and don't strain the user's hard drive, making them load faster. Progressive web apps for enterprise-level businesses are created with a flexible and adaptive design to avoid redesign in light of changing customer behavior and expectations.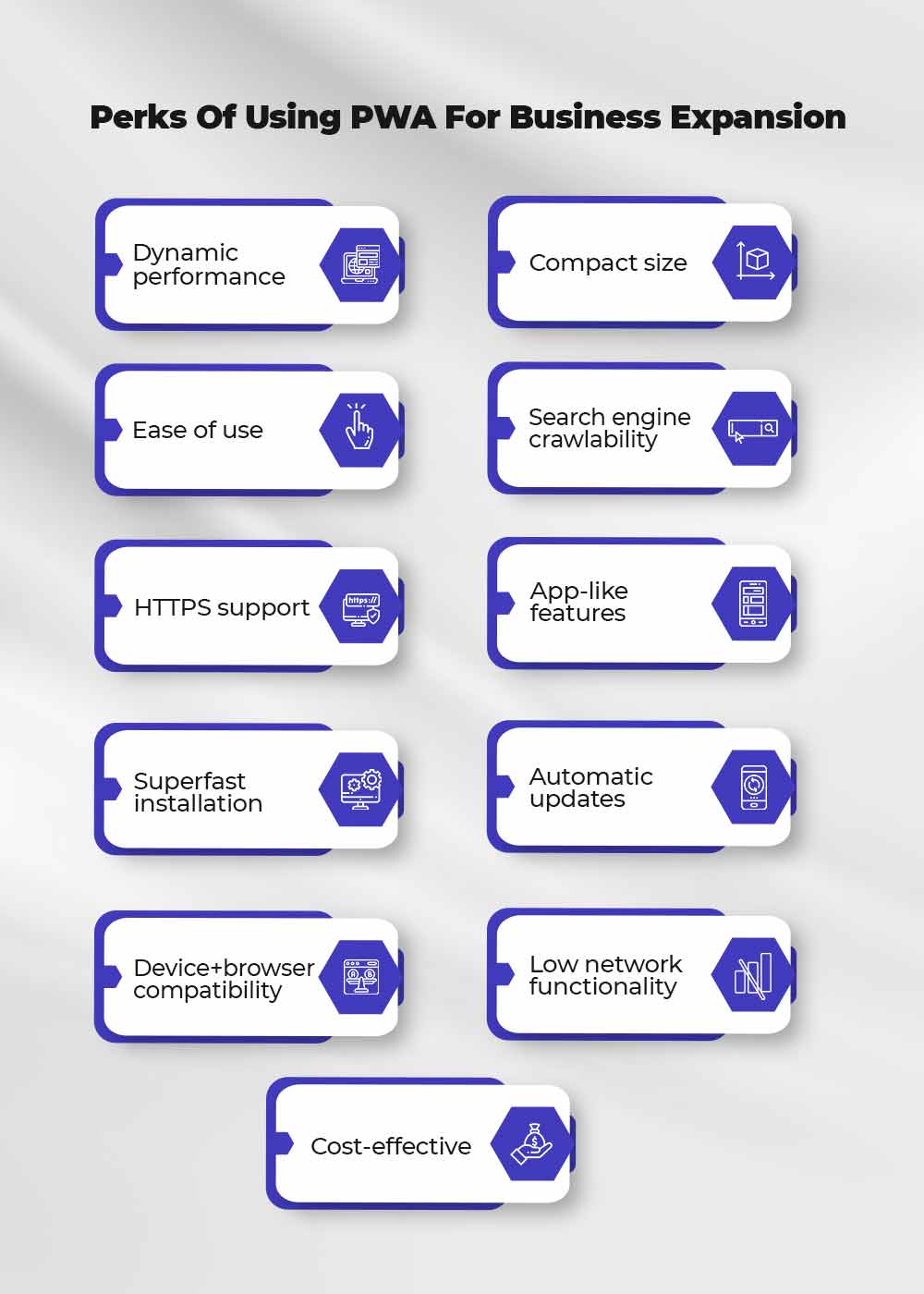 Web pages load two to four times faster with progressive web apps. PWAs load within 2.75 seconds on average.
PWAs have background service workers who handle various difficult tasks without the user's involvement. Additionally, service workers power two of the most significant PWA features, the ability to work on a sluggish network connection and real-time background sync. Progressive web apps rely on HTTPS to protect user data and reduce the likelihood of security and data breaches. Furthermore, HTTPS prevents content tampering, snooping, and other unlawful and malicious activities.
How do PWAs for enterprise businesses bring in more conversions?
Every time a user visits, progressive web apps enable caching of content, providing a smooth, much-improved user experience. Additionally, caching of content speeds up website loading. PWAs positively affect conversion rates since these are quick and dependable in maintaining consistent performance. More importantly, a high-quality and improved user experience aids in establishing customer loyalty, retaining new customers, and attracting new ones. You can win over mobile users by standing out from your competition and offering a superior digital journey to increase engagement and conversion rates.
Push notifications, if done right, can help you increase conversion rates by almost 104 percent, as they did for AliExpress. Furthermore, a responsive interface and fast-loading web page can mean all the difference between a conversion and an abandoned cart. Since mobiles drive a major portion of organic traffic, it's also imperative that a PWA for enterprise business is mobile-optimized.
Why do eCommerce businesses need progressive web apps?
Every online business can benefit from progressive web apps in multiple ways. The likelihood of cart abandonment increases when your customers get stuck at the checkout page. Furthermore, there's a high possibility of increased bounce rate when your customers don't get the seamless shopping experience they hope for. Eventually, you put potential conversions and revenue at risk with every tiny flaw which could have been avoided if only you had used a PWA for enterprise businesses.
Customers are hard-earned for every business. Progressive web apps ensure customers engage and complete their purchases quickly and efficiently. However, it's not a given that an eCommerce business will instantly double its conversion rates with a progressive web app. Though rest assured, online businesses can now provide a high-converting, mobile app-like shopping experience with this technology to a much larger audience on the web.
Early adopters of PWAs have witnessed a positive change in their business, including conversions, revenue, organic traffic, overall performance, and more. Progressive web apps for enterprise businesses present extensive opportunities to deliver a superior shopping experience.
Progressive web apps can increase monthly organic traffic from 14% to 630%.
Though mobile traffic is growing, it still accounts for minimal conversions. New and existing eCommerce businesses should consider the prospect of selling their products and services via progressive web apps. With most eCommerce businesses still catching up with the technology, PWAs presents a great opportunity to get ahead of the competition.
Progressive web apps increase mobile traffic by 68%.
How do progressive web apps improve SEO?
Since progressive web apps are web-based, your customers can discover them on search engines. Unlike mobile apps, users can share any content on PWAs via links and ranked by search engines, such as Google and Bing. Furthermore, super-fast page load times, reduced bounce rate, enhanced user experiences, responsive user interface, and minimum data storage are all SEO ranking parameters by default. With PWAs offering all of these and other benefits, it's logical to believe that PWAs will eventually result in higher rankings. More importantly, Google is more likely to rank well-designed PWAs higher than any regular website.
Moreover, you shouldn't neglect the technical SEO aspects. Progressive web apps use JavaScript. Thus, Google sees every published page as a JavaScript site. Google crawls PWAs similar to how it would crawl an AJAX or JavaScript site. However, the search engine's ability to accurately discover, crawl, and index heavily JavaScript-reliant content has historically been poor.
However, it's nothing that some PWA optimization techniques wouldn't resolve. While building a PWA, developers can ensure it ranks high by giving them the right architecture with client-side rendering.
How do PWAs boost mobile marketing?
A progressive web app for enterprise businesses can help expand customer interaction beyond one-time purchases on a website. Furthermore, you can use your progressive web app to share relevant information about discounts and special offers and keep your customers engaged. It helps you stay in the loop with your customers, reminding them of your brand presence in their everyday lives.
As opposed to a standalone eCommerce website, PWAs are an immersive space for establishing and maintaining brand awareness. Engagement, if planned and executed well with PWAs, can help you attract new loyal, long-time customers for your enterprise business.
The average time a user spends on a site increases by 119% once a user installs a PWA.
How do PWAs reduce bounce rates?
The speed with which web page loads impact multiple aspects of a website and even a PWA for enterprise businesses. More than half of visitors are likely to leave a web page if it takes more than 3 seconds to load, increasing the bounce rate. However, PWAs remove any lag and clunkiness your customer might experience while browsing, enhancing customer satisfaction.
PWAs reduce the bounce rate by 37.6% on average.
PWAs use an alternative approach, client-side rendering, to render content on the client-side browser with JavaScript. Thus, users only receive a string of data with JavaScript files that request and render the required parts of a web page in the client's browser instead of sending an entire HTML document from the server every time. Eventually, it has a noticeable effect on page load time.
What is headless PWA?
When a PWA for enterprise business incorporates the headless approach, the frontend of your online store is separated from the backend of your eCommerce platform. The decoupled front and backend give your business a lot of flexibility and freedom. You can share content and make updates and changes to the frontend without depending on developers to make edits to the backend.
How are PWAs different from mobile apps?
Mobile apps and progressive web apps for enterprise businesses differ in the following aspects:
Development Method: Mobile apps are developed with Swift and Objective-C for iOS and Java for Android, while PWAs are developed with HTML, CSS, and JavaScript.
Development Costs: Since different versions of mobile apps are developed for Android and iOS, these carry significantly higher costs compared to the cost of PWA development for enterprise businesses. Furthermore, maintenance costs for mobile apps also make them less pocket-friendly.
Platform-Independent Codes: Progressive web apps have the same code base for most platforms, requiring less development time. While the same cannot be said for mobile apps.
Submission to App Stores: Though submission to app stores can increase downloads, it's completely optional for PWAs to do so since these are easily discoverable on search engines. However, you must submit your mobile app to app stores, enabling customers to discover and download it.
Optimization: PWAs can rank higher on search engines with search engine optimization (SEO). At the same time, app store optimization (ASO) is used for ranking mobile apps in app stores.
Downloads & Installation: Users must download the mobile app on their device to use it, which often takes up considerable device storage. However, PWAs require minimal storage when installed on a device.
Learn more about the cost of PWA development for enterprise businesses.
Expert tips on PWA development for enterprise businesses
Progressive web apps are developed to mirror the mobile app-like user experience. However, there are some crucial factors developers and enterprise businesses should consider before and during the development of PWAs. Below, we have compiled pro tips from Forbes Technology Council members.
Determine your website's future prospects
You should consider the future prospects of your website. Furthermore, you should also decide whether you wish to build a PWA on top of your existing website or make a complete rewrite. According to Rachana Kumar, Etsy Inc, both aspects have pros and cons.
Learn more about the future of PWAs in 2022 and beyond.
Don't dismiss the functional limitations
Oleg Fonarov, Program-Ace, advised comprehending the business logic before you get into PWA development. Furthermore, you should remember that the PWA will not have access to hardware, such as near-field communication, Bluetooth, or a camera.
Prioritize features that support your business model
Researching your target audiences' behavior and demands seems the obvious step if you plan to enhance the user experience with a PWA. However, most eCommerce businesses dismiss the customer experience in the face of budget constraints and a rush to enter the market. Shawna Koch Mishael, SenecaGlobal emphasizes prioritizing features that support your business model.
Don't stuff it with excessive features
Combining a simple user interface with high-performing functionalities instead of jampacking your PWA with as many features as possible is important. It can help you make your PWA more accessible, reduce friction in customers' purchase journeys, and generate high conversions, according to Sarika Khanna, Medallia.
Measure your PWA's effectiveness to users
Milin Desai, a Sentry, says building a PWA without analyzing its impacts on consumers might bring up several challenges. For a PWA to be reliable and deliver a seamless and high-quality performance, you must understand how your customers will interact with the web app.
Faster loading time comes full circle
PWAs might not entirely replace mobile apps since several users still prefer mobile apps to engage with your brand. If you don't want your PWA project to become a complete failure, Roman Taranov, Ruby Labs, suggests making your PWA load faster and open instantly.
Don't solely focus on the mobile experience
While talking about PWAs, we primarily focus on mobile browser users. Thus, the user interface of PWAs has centered around mobile. However, customers may use a PWA on their desktop computer or laptop. According to Nadya Knysh, a1qa, you should think beyond mobile when developing a progressive web app.
---
Are you considering the prospect of getting a PWA for your eCommerce business? Click on the link to learn more about our Cenia Pro Theme for Magento 2.
Our Cenia Pro PWA theme enables retailers to improve their Magento store's visibility, conversions, performance, and other aspects. You can improve the user experience across all devices by converting your Magento store into a responsive PWA storefront. More importantly, your PWA will be quicker, smarter, interactive, smooth, and cost-effective with our Cenia Pro Theme.
Here's your guide to choosing the best PWA theme for Magento 2.
Discover how your store shall look and feel.
Or talk to our experts and discuss your PWA requirements.