How is Daily Deals Wonder thriving on Facebook Marketplace and Shopify simultaneously?
Running short of time? Get PDF of the blog in your mail.

Play Now
A home is a place where everyone greets, where family and friends gather together. Decorating a home not only adds beauty but also enhances the ambiance of your home. Sometimes a tiny flower can bring unexpected joy and surprise to the family. The attractive decor items manufactured by Daily Deals Wonder accessorizes the memories you create in your home, making each moment beautiful and embellishing every story. They feel that Home and garden decor adds loveliness which helps you escape from the hubbub of everyday stress. So, with our Facebook and Instagram Shopping App, they are decorating myriads of homes and gardens and skyrocketing their sales on Facebook Marketplace.
Mr. Darshak, the founder of Daily Deals Wonder, reckons that each product they create will not only be a solid but beautiful testimony to the perfection that customers are always looking for. They want the customers to enjoy the experience of having unique homes and gardens. Therefore, he along with his team style them with the most functional and high utility products.
Daily Deals Wonder: An Overview
Led by a passion for Home and Garden Decor, Darshak and his friends launched Daily Deals Wonder on Shopify. They offer one-of-a-kind home and garden accessories, authentic furniture, indoor and outdoor sculptures, and unique home and garden décor. Daily Deals Wonder has presented unique planters, wall arts, and creative furnishings to passionate buyers looking for such items.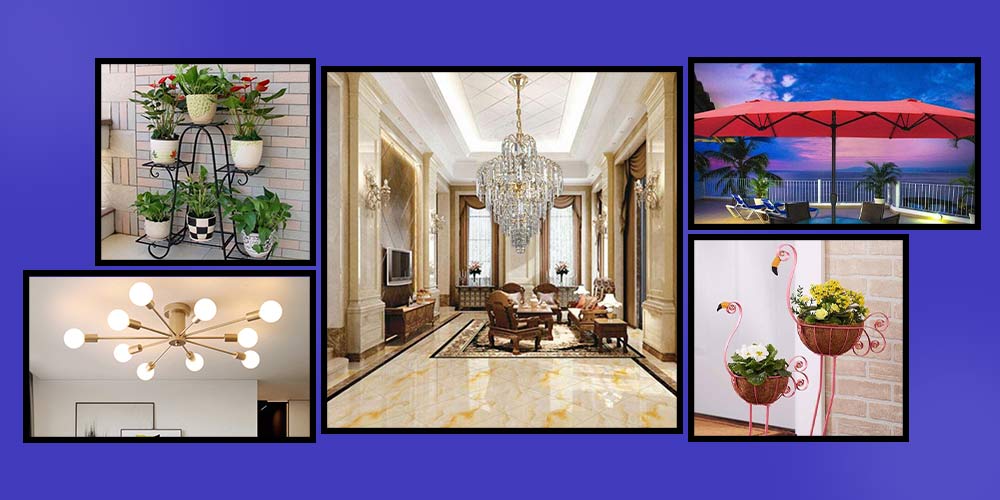 Having realized the importance of social giant Facebook, Mr. Darshak and his team thought of selling products on Facebook Marketplace. They felt that growing on Facebook Marketplace and Shopify can provide a chance to have a cake and eat it, too.
Although his reach improved, his small group was finding it utterly challenging to manage double administration. The entire squad wanted to import goods from their Shopify store to Facebook Marketplace with minimal effort.
Discover how Darshak's decision to sign up for Facebook and Instagram Shopping App proved to be the best so far.
Obstacles on the way
Daily Deals Wonder, a Home and Garden Decor Website had a store on Shopify and was facing difficulty in syncing products. Mr. Darshak Shah, the store owner, used to miss notifications on stores. His team faced problems in importing products from his Shopify store to Facebook Marketplace. Hence, they had to manage their inventories, offers, and pricing manually. It was tiring, took precious person-hours and a lot of energy. Mr. Darshak and his team faced difficulties in maintaining both stores at the same time.
The End of Quest at CedCommerce
While searching for the solution to his problem, he landed on Facebook Business Partners Page and found CedCommerce. He then visited cedcommerce.com and immediately sensed that CedCommerce was the only reliable option. 
Mr. Darshak was impressed with excellent reviews of the App. He believed that CedCommerce's Facebook and Instagram Shopping App was the ultimate solution for the problems he faced while expanding his online business. 
The Outstanding Growth
Within two months of the Facebook and Instagram Shopping app installation, it improved the sales and traffic of the store. Certain products that had been slow to sell began moving briskly. 
"CedCommerce provided excellent customer service. They helped me in smooth onboarding on Facebook Marketplace. The App is doing wonders for us, and we have been receiving orders daily."

– Mr. Darshak Shah
The Savior – CedCommerce's Facebook and Instagram Shopping
CedCommerce's Facebook and Instagram Shopping App provided Daily Deals Wonder with user-friendly features and ensured flawless sync among Shopify store, Facebook Shop, and Marketplace. Let's see how this feature enriched App aided Daily Deals Wonder with their pain problem :
1. Smooth Handling of orders with Centralized Order Management
With this feature, Mr. Darshak and his team can now manage all the orders from a single location. Hence, eliminating the need to go back and forth to acknowledge or cancel between the store and marketplace.
The App automatically fetches all his orders placed on Facebook Shop and Marketplace on the Shopify store. It also keeps him updated with real-time notifications for errors, stock-out, & orders right away in the App.
2. Listing Made Easy by Profile Based Product Listing
Facebook and Instagram Shopping app allowed Mr. Darshak to group his products based on their properties and attributes. Then, later on, upload, edit, or delete the products by selecting their category. Also, he could list all his products in just one click.
3. High-end Synchronization Made Smart Regulation of Inventory & Orders
The App helped Mr. Drashak in real-time synchronization of inventory and orders across his Shopify store and Facebook Marketplace. There was no more juggling between the two. The quick and seamless product upload saved time and effort for other tasks.
4. A Dedicated Account Manager for Assistance
A highly skilled specialist was assigned to demonstrate the solution and explain the App's ins and outs. The dedicated account manager assisted Mr. Drashak and his team resolve any compromising issues with the store's seamless operation.
Selling on Facebook Marketplace Effectively 
Daily Deals Wonder began selling swiftly after signing up for CedCommerce's Facebook and Instagram Shopping App. With CedCommerce's Facebook and Instagram Shopping app, the owners could upload products in bulk and manage orders from a central location. It eliminated manual inaccuracy and made their online selling experience more straightforward. This has freed Darshak and his team from all the tedious chores. Now they could sell quickly and disrupt entrenched industry leaders.
Summing it Up
We at CedCommerce work non-stop to make it a wonderful selling experience for the merchants.
Mr. Darshak is quite overwhelmed with the 6 months of free support from CedCommerce and step-by-step guidance by our experts. He was ecstatic to see the team getting so involved and assisting him with the details he had overlooked. He's relieved that now he could sell without any glitch.
After experiencing stellar growth on Facebook Marketplace, Daily Deals Wonder is now willing to leverage Instagram Shopping to strengthen its brand.