Global ecommerce marketplace: Sell in UK, the US & elsewhere for free!
Running short of time? Get PDF of the blog in your mail.

Last quarter of 2017 saw the highest e-commerce sales in the history of US commerce with sales amounted to $108+ billion dollars. The e-commerce marketplaces were a huge contributor in the last high spending season. The success of last year sales has excited online sellers to explore more Global ecommerce marketplace for sales. Here Fruugo can be a substantial addition to your multi-channel marketing efforts.
Fruugo: Riding the Success Wave
The fact that Fruugo is overseeing triple-digit growth over the past 4 years attracts merchants interests at the same time it must be noted that it isn't the replacement to your businesses at Amazon or eBay however you could easily add an incremental 5% to 10% revenue. Fruugo is well on target to exceed £10m annual GMV this year, from 1.3m products, and 1m visits per month.
A Brief About Fruugo:
Fruugo is a Global ecommerce marketplace which is multi-language, multi-currency, multi-shipping, and multi VAT compatible platform. Fruugo has a presence in 32 countries including the UK, most of Europe, parts of Asia and also Australia and New Zealand. It offers services in 17 languages and 22 currencies.
Global ecommerce marketplace: Continent-wise Presence:
Europe: United Kingdom, Ireland, Germany, France, Spain, Portugal, Belgium, Luxembourg, Netherlands, Poland, Austria, Italy, Denmark, Sweden & Denmark.
Europe (Non-EU): Norway, Switzerland, Russia.
Rest of the world: South Africa, United States, Canada, Australia, New Zealand, Japan, India, Saudi Arabia, Qatar, Bahrain, United Arab Emirates, Egypt & Kuwait.
Advantages of Selling in the UK and US with Fruugo
Faster Checkout:
One of the Fruugo's USP is that a seller can purchase multiple items from different sellers based out of different countries in a single go with its one-checkout in single visit and transaction. Fruugo makes all the calculations and translations in one time.
One Listing, Multiple Languages:
Another advantage merchants can have is to list in a single language and Fruugo takes care of translations in other languages and currencies. Therefore, enabling sellers to offer their items in the best format in whichever country they live in.
Strong Fraud Detection Policies:
The leading UK marketplaces eBay, Amazon, and Fruugo have agreed to adhere to HMRC's public list citing e-marketplaces to publicly commit to tackling VAT fraud among traders using their online platforms. This a great move for european based sellers are non-European sellers benefited from the weak VAT tax policies and evade the tax which in turn made their products expensive in par with non-European sellers.
Now, HMRC has instructed the e-marketplaces to educate the sellers on VAT obligations, provide data on traders, and react swiftly to evidence of non-compliance.
Following chart depicts the total vat collected and projected leakages in taxes as a result of poor compliance regulations.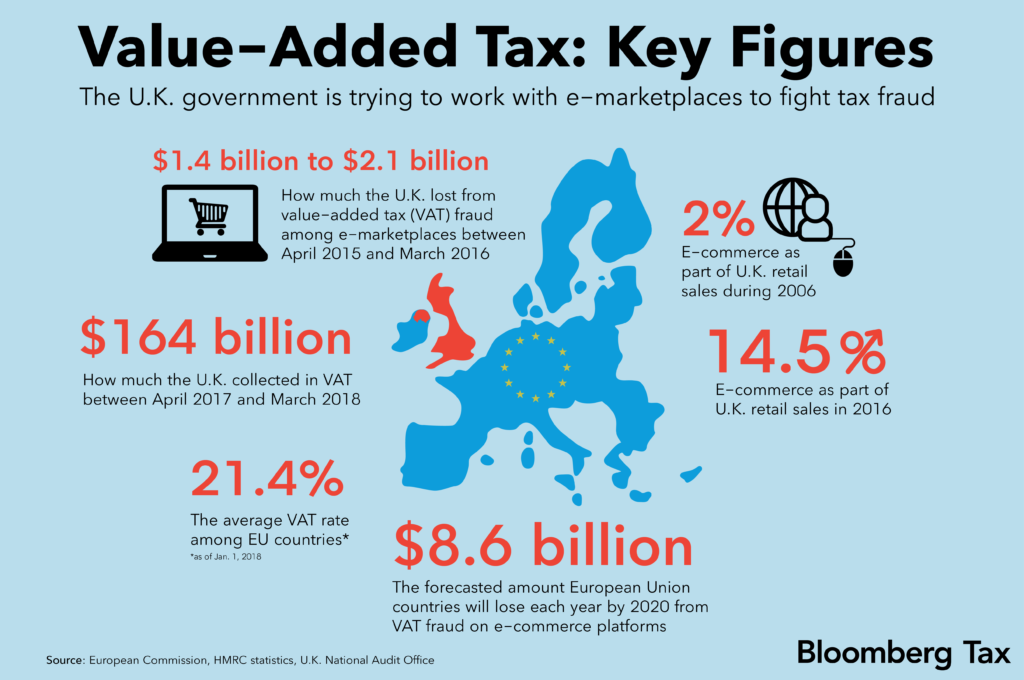 Important Note: Fruugo has almost 700 Chinese traders in numbers who basically sell new products, opening the field for non-European sellers.
No Listing Fee:
Fruugo doesn't charge any Joining fee, set up, monthly or marketing fee for any of the items listed on its marketplace platform. Fruugo charges 15% commission fee (excluding of VAT) and additional funds processing fee of 2.35% of the transaction value of each completed sale.
Some Fruugo Facts:
Top Cross Border Destinations
21% Australia

16% North America

41% Western Europe

18% Scandinavia

4% Rest of World
High Performing Product categories
Sports, Outdoor & Leisure

Health and Beauty

Home and Garden
Other Categories:
Clothing

Kids & Toys

Electricals

Food & Drink
Reasons to sell on Fruugo:
Takes care of Cross-Border Needs: Global eCommerce marketplace

Fruugo is strategically placed to garner the highest cross-border sales in Europe as Fruugo has dedicated Payments and Shipping options (11 language and 11 currencies). A lot of UK sellers are exploring their opportunities in Spain the other e-commerce market as Fruugo has got the back of sellers.
"76% of Fruugo orders are cross-border and 73% are cross-currency (not every international order is cross-currency"
Payment Related Advantage:
Fruugo has a seamless payment method which is mainly responsible for customers in Spain abandoning their cart. The top cart abandonment reasons are 41% abandon if a retailer charged for their preferred payment method and 39% would leave if their preferred method wasn't available.
Logistics Related Advantage:
Almost 52% of Spanish consumers want free delivery, however, due to a more varied geography than the UK, it has its unique challenges, to tackle this Fruugo partnered with national postal service of Spain, Correos which possess local expertise for the last mile as its adept, experienced and familiar with consumers."
Furthermore, it simplifies selling around the world helping you to sell into overseas territories and also help you win Google shopping visibility in those countries.
Item Localisation:
This is the biggest asset Fruugo offers to merchants as it automatically " localizes" all products (currency, language, VAT) for shoppers in countries around the world. This enables merchants to gain visibility and sales for their products in country-specific and language-specific versions of "Google Shopping" elsewhere in the world
Merchants stand to gain benefit free of charge from Fruugo's automated programmatic buying of traffic from Google Shopping globally & major Comparison Shopping Engines (such as myshopping.com.au).
Who will benefit?
Online users in the aforementioned geographies are eligible to sell on the Fruugo. Also, the Fruugo Marketplace integration app is compatible with all the leading e-commerce frameworks such as:

Conclusion:
Keeping in the mind last year's bumper sale season where almost all of the marketplaces witnessed an increase in their revenue, one should not leave any stone unturned, especially those who are ready to do the high lifting for you.
More from CedCommerce: