Did You Know You Can Sell On Facebook – Here's Everything You Should Know!
Running short of time? Get PDF of the blog in your mail.

Play Now
For how many years have you been using Facebook to connect with your friends? And did you ever think that as a merchant, someday you would be able to sell on Facebook? From only being a social media platform to evolving itself among social commerce platforms, Facebook has come a long way!
However, there are still several merchants who don't know that you can connect your online store with several Facebook surfaces and enhance the reach of your business.
Initially, Facebook Marketplace was the first Facebook surface that allowed merchants to sell their physical products online.
And since then, other surfaces such as Facebook Shops, Instagram Shopping, and Checkout on Facebook have empowered merchants and brought their business in front of a greater audience.
In this blog, we will lay the foundations for selling your products on Facebook. And discuss the possibilities and potential of the Facebook social commerce platform.
What exactly is a social commerce platform?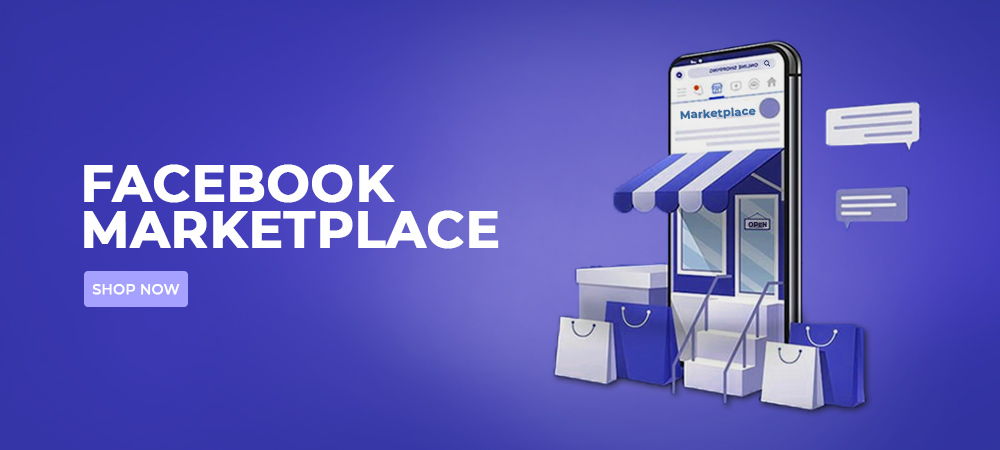 If you thought social media was created to only connect to people worldwide, then you might not be aware of its potential. As a merchant, you must always update yourself with social selling trends.
Social commerce has become the talk of the town! 79 million buyers in the US alone used social commerce in 2020, and this number is expected to increase to 108 million by 2025.
When a product is being advertised, promoted, sold, or purchased on social media, that social media platform comes under the category of social commerce. Social commerce allows users to sell physical products on social media platforms. It allows users to complete the entire process of purchase within the social media platform and not direct them to another online store or page.
A Social Commerce platform allows the merchants to expand their business's reach and reach a broader audience. Additionally, social commerce provides merchants a much better platform for them to advertise and reach an audience interested in their products.
But how? How will the merchants be able to sell their products on social media? Let's find out.
What are the benefits of social commerce platforms?
Social commerce allows merchants to increase their sales and expand their business reach. Additionally, there are several benefits that social commerce provides, including:
Enhanced Customer Engagement
With the help of social commerce, merchants get the possibility of creating a link directly between their customers and their business. It not only lets you advertise your products but also helps you engage better with your products. Additionally, the customers who have purchased your products also get the opportunity to review your product. This helps in creating transparency between the business and the customers.
Regular customer growth
The main objective of social commerce is to create a loyal customer base. Every year social commerce provides a rise of 19% in new customers. Consequently, it's very important for merchants to look for better social selling trends constantly. Owing to this, merchants can expand the reach of their advertisements and promotion campaigns.
Improving the Average Order Value
Several merchants now understand the importance of creating a simple and seamless user interface. Moreover, this pushes the customers to explore products more and, in turn, spend more time on a single purchase. Thus, as a result, it provides an increased average order value.
Better SEO Ranking
Social commerce is a platform that not only allows users to explore and initiate the buying process. It also allows users to complete the entire process of purchase within the platform. And this, in turn, allows more leads to be converted! Therefore, this improves the engagement rate and drives more relevant content. Hence, the organic traffic improves drastically, in turn increasing the SEO ranking.
Enhancing Audience Insight
One of the major advantages any merchant can gain from social commerce is that it comes with its insights. Social commerce provides merchants with insights such as engagement, impressions, and reach. This helps in filtering out the more relevant audience and hence improves sales.
Facebook as a Social Commerce Platform!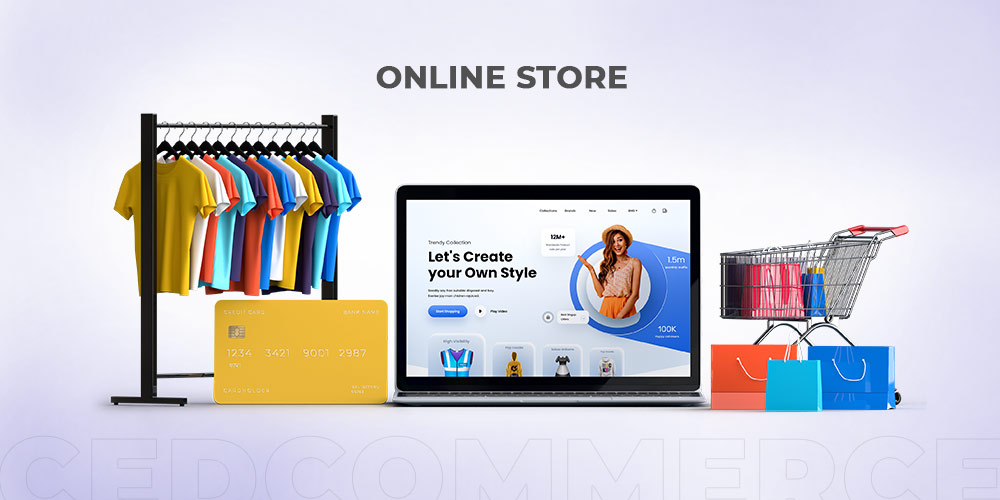 Everyone knows that Facebook is a social media platform that allows users to connect with friends and share videos and photos. But how many of you are aware that Facebook has its marketplace. And it even allows merchants to sell their products.
As of today, 800 million people use Facebook Marketplace in around 70 countries. Every third person in the US is using Facebook Marketplace!
Read the blog to learn more about how to Sell on Facebook Marketplace.
And not only that, in 2021, Facebook reported sales of $40 billion which were 49% more than in 2020. Another report goes on to say that every two people in a group of seven around the world use Facebook, which nearly surmounts half the online population.
Only one conclusion can be drawn from such reports, which is that Facebook has become one of the most powerful social commerce platforms all around the globe. And the question that revolves around every merchant's mind is how to sell products on Facebook marketplace?
There are several surfaces where, as a merchant, you can sell your products on Facebook. Additionally, selling your products on Instagram is another option where you can reach more customers.
Here's a list of all the Facebook surfaces where you can sell your physical products:
Checkout on Instagram
Checkout on Facebook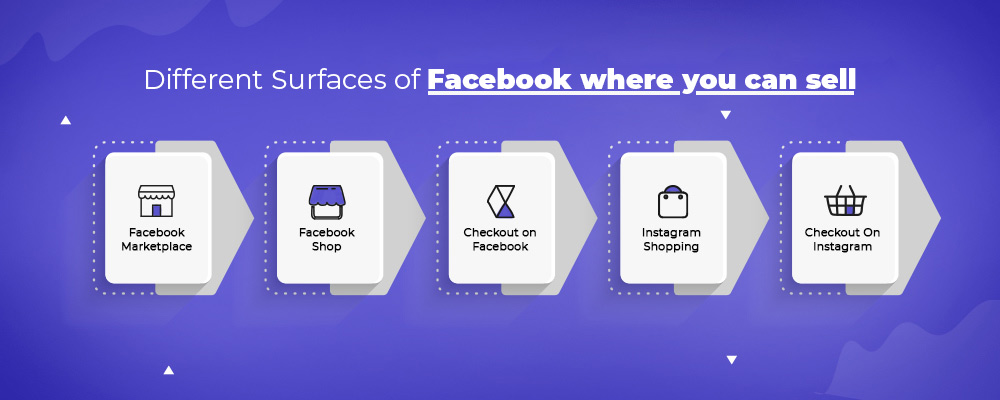 Merchants worldwide can choose any of the following surfaces to sell their products on. However, Checkout on Facebook is only available for US merchants.
How can merchants sell on Facebook surfaces?
After knowing the true potential of social media, merchants want to leverage every other merchant who wants to sell their physical products on Facebook surfaces.
But how to sell your products on Facebook? How can merchants list their products on Facebook surfaces and start selling?
The answer to your questions is connecting your online store with one of the Facebook surfaces using an integration app. An Integration app helps create a link between your online store and social commerce.
Let us take you through the process of selling on Facebook surfaces through an integration app.
How does an Integration App help?
An Integration app allows merchants to connect their online store with the Facebook surface. Additionally, it helps merchants easily manage their online stores from a single space. The Facebook and Instagram Shopping App by CedCommerce even allows merchants to create and run their own ad campaigns through the app.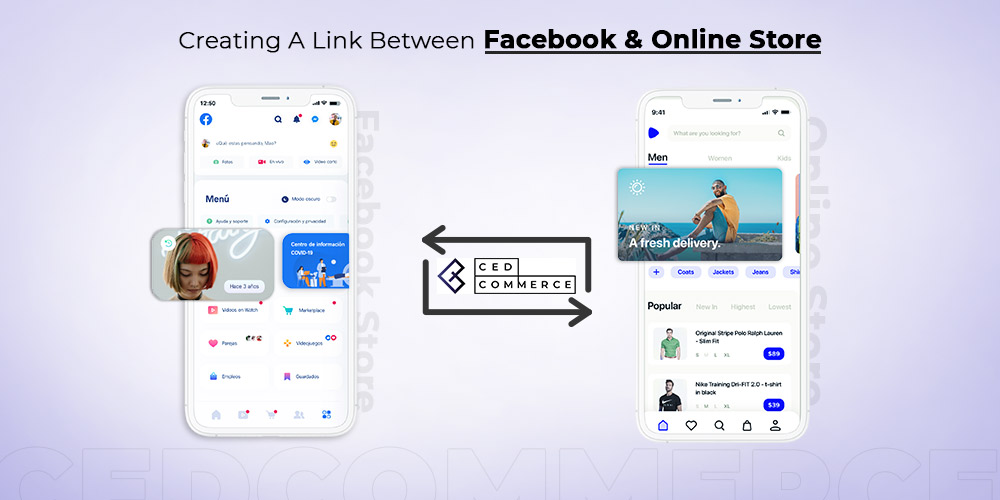 What is the first step when you want to sell on Facebook Platform?
Wondering how to sell your products on Facebook and what's the first steps? It is needless to point out that you require a business, but how can merchants connect that business with the Facebook surfaces? With an integration app, it's as simple as installing an app!
The first and foremost thing that you need to do is to set up your Facebook Shop. Once you are done with that, all you need to do is connect your Facebook Shop to your online store with the help of an integration app. This is where CedCommerce comes in with its Facebook And Instagram Shopping App.
Read this Complete Guide on How to Sell on Facebook Shop in 2022 to learn more.
What features should you look for when making a choice?
When you are looking for an integration app, there are certain features that you must keep in mind before making any choice. Here are some of the features the integration app must have.
Easy Onboarding: Allows easy onboarding onto different Facebook Surfaces to easily sell and reach more audiences.
Inventory Synchronization: Create a synchronization between your online store and Facebook surfaces.
Centralized Order Management: Fetches orders created on the Facebook surface to your online store.
Product Repricing: Creates profile and enlists different product prices as per the needs.
Better Customer Service: Allows 24*7 customer service to guide them on every step.
How can CedCommerce help to Sell on Facebook?
As a Meta Business Partner, CedCommerce has always wanted to help its customers in the best way possible. And the Facebook and Instagram Shopping App by CedCommerce aims to provide merchants with the best possible features to manage their business easily and take their business to the next level.
But what makes the app so effective and successful? Here are some features that the merchants benefit from:
Unified and Expedited Onboarding from One Single Place
Enriched Product Listing with Additional Attributes and Supplementary Feeds
Real-Time Inventory synchronization across Metasurfaces
Order Management with Real-Time Error Notifications
Dynamic and Flexible Ads Targeting for Personalization
Conversion API and Pixel Support for Accurate Tracking and Analytics
No Cost Ads Optimization with Marketing Experts
An All-through Account Manager and 24*7 Human Support
And to top all the features, merchants can download the Integration app absolutely free.
Conclusion
Selling on Facebook can benefit merchants in several ways, such as enhanced reach, customer retention, greater sales, and building brand presence.
In this blog, we talked about all the basic understanding you require to take the first step towards bringing your products on the social commerce platform and enjoying its benefits.
Furthermore, this is going to be a six-blog series where we will take you through the journey of selling on Facebook surfaces. And the requisites to sell on Facebook, how to drive traffic and sales with ads, and many more.
Stay tuned for the next blog, which will discuss all the things you require to start selling your products on Facebook.