Case Study: How MiAmor Deluxe store sells on Walmart from Shopify
Running short of time? Get PDF of the blog in your mail.

Play Now
Short Summary
Challenges Faced
Emily Garza wanted to sell on Walmart without involving any extra effort. And this made her search for a perfect solution that could sync her Shopify store "MiAmor Deluxe" flawlessly with Walmart.
Additionally, she wanted to overcome the complexities involved in simultaneously selling at Walmart and her store and make selling at Walmart easy for her.
Solution
The best option for Emily Garza was Walmart Integration because it offers all the capabilities that make selling on Walmart from Shopify easy.
Outcome
With Walmart Integration, Order management, product listings, promotions, and order acknowledgment were all made simple for the MiAmor Deluxe shop. With professional direction, the likelihood of error is now almost zero. The workflow between Emily's store and Walmart has been made easier by the app's seamless sync between Shopify and Walmart.
About MiAmor Deluxe
In March 2022, Emily Garza started MiAmor Deluxe. The fashion website MiAmor Deluxe provides women with a range of apparel and beauty products. Its selection of goods includes women's underwear, jackets, and other dresses. This online shop also offers plus-size clothing for women.
About CedCommerce
With the custom Integration solutions created to meet clients' needs, CedCommerce simplifies eCommerce selling. These Integrations lighten the eCommerce stores from the inconveniences associated with selling on online marketplaces. CedCommerce offers an Integration to connect any major eCommerce platform with known marketplaces like Walmart, Amazon, eBay, etc.
CedCommerce's role in simplifying Walmart selling for MiAmor Deluxe store
MiAmor's Deluxe's sales journey on Walmart was made easy by CedCommerce's Walmart Integration. The features described below quickly connected her store with Walmart: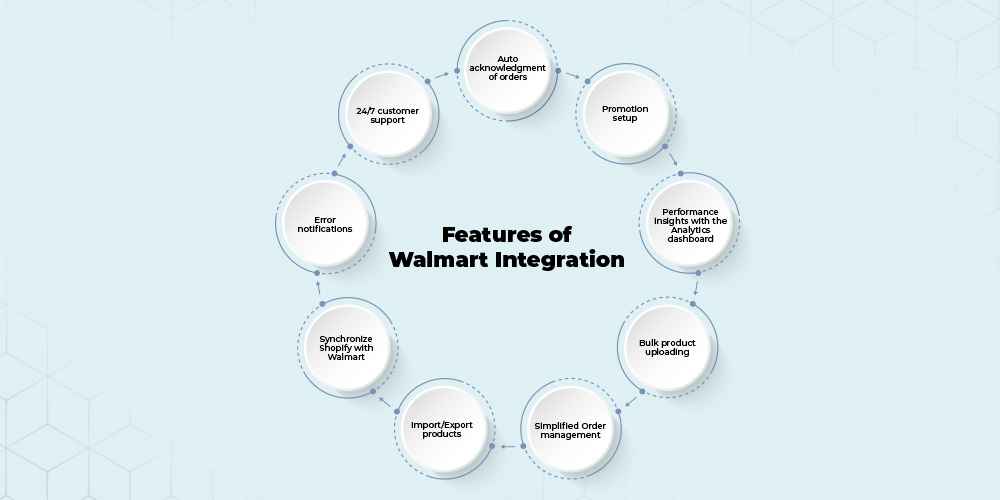 1. Manual acknowledgment of orders removed
Auto-order acknowledgment has relieved Emily of the burden of acknowledging every order that comes through. Now all orders placed on Walmart are automatically acknowledged with Walmart integration.
2. Run promotions and Clear the unwanted stock easily.
With the app, Emily Garza now easily speeds up the sales of the products she wants out of her virtual shelves.
3. Get performance updates with the Analytics dashboard.
With Walmart Integration's analytics, Emily Garza gets timely updates on her sales performance at Walmart. The Analytics dashboard informs Emily Garza of her sales metrics like order cancellations, pro seller status, listing quality, content, discoverability, etc. These metrics assist in performing well and inform her about the areas that need the most attention.
4. Upload products in bulk on Walmart.
Using the profiling feature of Walmart Integration, Emily Garza now uploads products in bulk on Walmart. The app lets her create product profiles and bulk upload category-wise products on the Walmart marketplace, thus saving her time.
5. Simplified Order management
Emily now has a simple way to manage orders coming from both her Shopify site and Walmart. The order area of Walmart Integration makes it simple to manage all sales orders, unsuccessful orders, and/or order refunds.
6. Perform Import/Export between Shopify with Walmart
The Import/Export feature of the app simplifies product listings and helps to perform tasks like updating a product, retiring a product, uploading a product, or mapping shipping templates between Shopify and Walmart.
7. Synchronize Shopify with Walmart
Synchronization of product prices and inventory between Shopify and Walmart helped Emily maintain uniform information on Shopify and Walmart. This made it easy for Emily Garza to update the same information at both sales spaces, as any change in price or inventory gets reflected at both sales points.
8. Error notifications
Since the app notifies when any error occurs, the occurrences of happening of errors in uploading the products on Walmart are next to none.
9. Solve queries any time with 24/7 customer support.
One added advantage of getting Walmart Integration is the Customer Support that CedCommerce brings to the app users. The app gives a friendly support to the sellers so they can resolve their queries soon. So the dedicated account manager aligned with Emily assists her in resolving all her queries, and she sells on Walmart like a pro.
Here are a few more stories to read:
To Sum Up
The easy-to-use app from CedCommerce simplified the selling processes on Walmart from Shopify. The app presented a fantastic selling experience for MiAmor Deluxe online fashion shop.
To make your journey seamless, like MiAmor Deluxe online fashion shop, reach out to CedCommerce and comfortably sell on Walmart from Shopify.