Brand Monitoring for Cycle Trade accomplished through effective Google Ad Campaigns
Running short of time? Get PDF of the blog in your mail.

Play Now
"It's the first machine we master as children and the one we abandon when the seduction of automobiles take over."- Colman Mc Cartly
In this era of the internet we are surrounded by abundant inspiring stories. Some of them emerge in the form of businesses or some other artistry. It is never easy to flourish a business which was started initially to support personal requirements. Keval Gohil's Cycle Trade was one such case, where the idea was initiated as supporting income but then it blossomed like no other.
Evolving the idea into a business reality and creating a digital avatar is a struggle for everyone. Digital marketing services play a major role in making you look smart and humorous. Google Ad campaigns is one such solution that can allure your audience and give you high-quality website traffic and thus brand visibility. Explore how CedCommerce helped Cycle Trade set a benchmark on digital platforms through the paid marketing strategy.
Cycle Trade- A Comprehensive Store For Expert Riders

'Dreams don't work unless you do'- and so was the inclination towards the idea of Cycle Trade. The availability of digital services is paramount and it's a hassle to convince people to get out of the web loop. Cycle trade immediately comprehended the necessity of encouraging people by bringing the importance of these bike parts online.
It then countered this challenge by selling bicycle parts, accessories kits, frames and exchange of premium parts or bicycles. The product contains everything you need to assemble your bike. The product line is a combination of vintage parts, paddles, seat posts, MTB parts, forks, shock absorbers, droppers and much more.
Challenge of Acquiring Digital Brand Presence- A limitless Opportunity
After a successful establishment, Cycle Trade started marketing their products. Their marketing strategies included social media marketing, Facebook ads, and promoting via BigCommerce. Despite the efforts they were still facing hindrances in creating an impactful digital brand presence. The main challenge for them was to maneuver the website traffic into loyal paying customers. They wanted massive groups of motivated customers on digital platforms through paid ad marketing techniques specifically mentioning well-structured Google Ad campaigns.
The Stipulated Approach
Cycle Trade was puzzled in its challenge and then it came across CedCommerce through Shopify App Store Via eBay Integration app. Our role was to analyze and understand the fundamental issue. We came up with the simple solution of offering Google Ad campaign services. This would give them the visibility, conversions and the numbers on digital platforms they are striving for. They started taking our services from 15th June' 2021 and the success journey of Cycle Trade began.
How Did We Pull Off The Numbers?
We came up with a customized and well structured campaign planned for Cycle Trade. The efforts were mostly focused to attract numbers through enticing google ad campaigns. We provided them a plan which included all the services we will be offering under the Google Ads section.
Google Ads Free Audit Report
Google Analytics and Merchant Center Setup
Product Feeds Setup
Conversion Tracking Setup
Dynamic Remarketing Code Setup
Account linking of Google ads to Analytics
Brand and retargeting campaigns Setup
Merchant Program Management
Once they were well versed with our plan we ensured to take imperative actions.
We started with creating shopping campaigns with the goal of attaining website traffic
We then fabricated remarketing campaigns to re-target the previous visitors
Carried out designing of the video campaigns to build brand awareness
Then started off with the other campaigns to cover all major networks with right audience targeting
Thereafter, created and managed the brand campaigns
Lastly, optimization and analysis of accounts carried out on a regular basis
Majestic Results of Google Ad Campaigns
Witnessed a massive increase in its conversions by 50%
The Conversion rate upsurge 58%
They acquired the return on investment of upto 1600%
There was an awesome hike in their online store sales which accounted to 198%
Their Online Store Sessions augmented by 109%
They noticed huge improvement in their sales via marketing by 3929%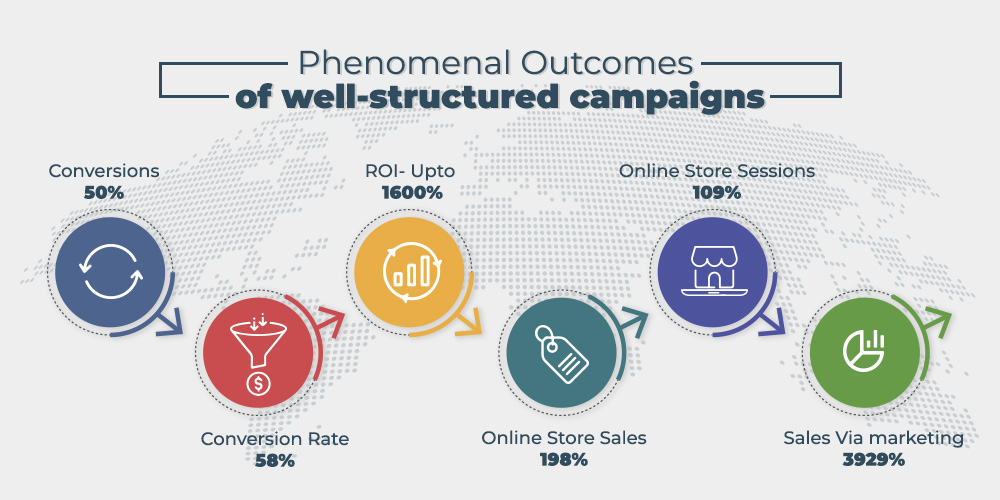 Summing Up
Cycle Trade attained overwhelming results with the well framed and executed Google Ad campaigns. Our team of dedicated professionals and experts diligently focused on flourishing the brand. The website noticed a colossal increase in its numbers, conversions and acquired reliable customers.
About CedCommerce
CedCommerce results driven approach and skillful mindset help its clients live their dream goals. With over a decade of experience, CedCommerce swears by its motto to satisfy its clients by offering them the best industrial digital marketing solutions.
Moreover, CedCommerce's digital solutions and e-commerce solutions are bothー native and SAAS-based. CedCommerce also provides digital marketing solutions to businesses to expand their reach and visibility over different online channels.
In short, Cycle Trade accomplished roaring success with us. The trading and the numbers saw a significant and valuable increase in its functionality. We are continuously growing and developing to bring more innovation and ease for users in the Global e-commerce processes.
Your dream success is just a click away!