Best Selling Items, Products and Categories on Amazon in 2022
Running short of time? Get PDF of the blog in your mail.

Play Now
With more than 12 million products live, Amazon is the world's largest online retail store which sells almost everything. Have you ever wondered that among a pool of so many products, which are the Best selling Items on Amazon in 2022?
According to a report by eMarketer, Amazon has successfully captured 49% of the entire eCommerce marketplace of the US pushing down competitors like eBay and Walmart.
With the evolution of the eCommerce industry, the product categories are also increasing like wildfire. Among these, it becomes a challenge to search for a perfect product category to sell on Amazon.
Do you ever wonder which are Amazon's Top Selling Products and top selling categories?
Successful are those sellers on Amazon who choose their product categories wisely.
I have compiled a list of all the amazon best selling products and categories that will help both experienced as well as new Amazon sellers to realise the areas to focus on.
So without any further ado, Let's start rolling them out.
Best Selling Items on Amazon
Video Games & Accessories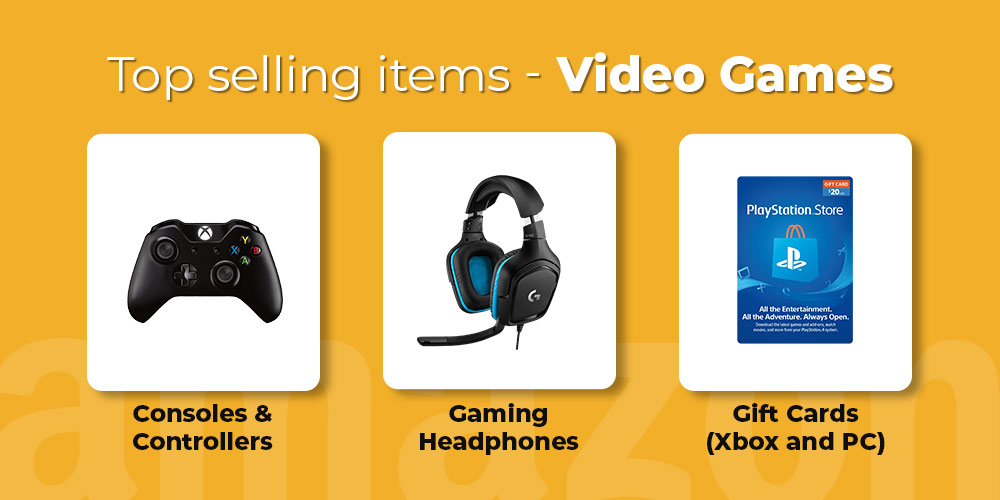 In 2020, the world was forced to stay at home, which gave rise to the high demand for video games. The video gaming industry is booming to be worth $200 Billion by 2023, making it the next top selling product category on Amazon.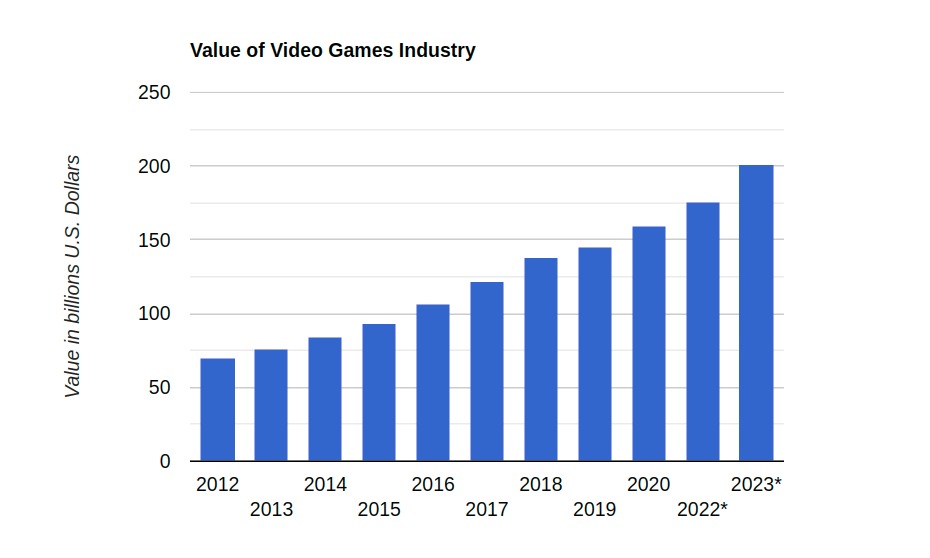 This survey by NewZoo can judge the magnitude of the market – There are more than 2.7 billion video gamers worldwide.
Under video games, the top selling products on Amazon include:
Consoles and Controllers:
These days wireless consoles and controllers have taken over the traditional wired ones.
The leading companies to consider selling on Amazon for consoles & controllers includes:
Xbox
Nintendo Switch
PS4 and PS5
Sega
Gaming Headgear:
The next important accessory that a gamer desire is the gaming Headphones with a mic.
Gaming Headphones have been gaining a lot of popularity these days making them an ideal product to sell.
The most selling brands on Amazon in gaming headphones include:
Gift Cards (Xbox and PS)
With the advancement of the online gaming community, Gift cards have become a popular product to buy. The gaming community itself usually sells these gift cards as digital codes to unlock in-game features.
The most common brands that sell gift cards on Amazon include:
PlayStation
Nintendo
Xbox
Gift cards on Amazon range between $10 to $100 but the most widely bought gift card are of $10.
Also Read: A Complete Guide to Amazon Product Sourcing
The next product category that makes it to the Best selling items on Amazon list is Books.
Books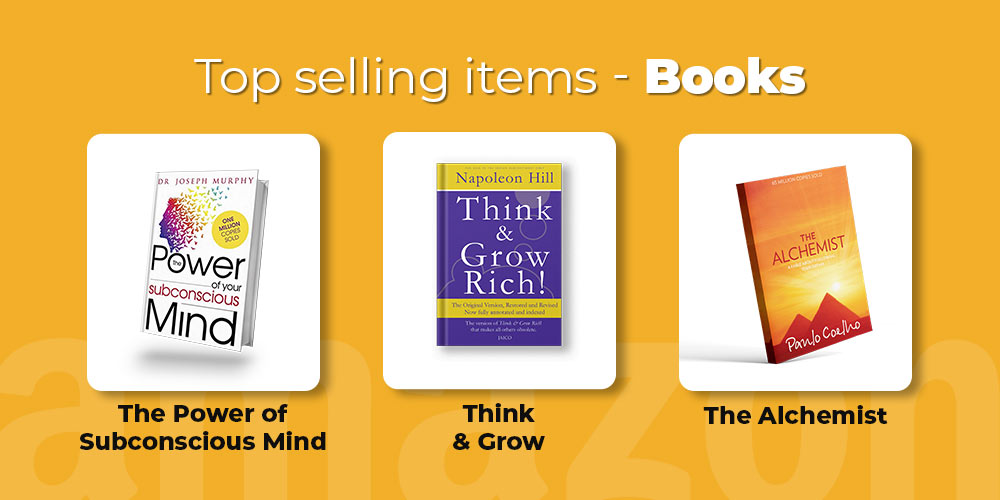 As per TheBookSeller, Amazon controls more than 50% of the entire book sales throughout the U.S. and 83% of all the e-book sales.
Isn't it impressive?
Amazon marketplace made its name by selling books and even today there are no marketplaces that sell a more wide range of books online.
Last year more than 675 million books (print) were sold on Amazon.
So for a seller dealing in books, Amazon provides you with an ample opportunity to sell.
Have a look at the best selling books on Amazon:
The Power Of Subconscious Mind by Joseph Murphy:
The December 2015 edition of Joseph Murphy's brilliant book has been sold over a million copies on Amazon.
Amazon customers across the globe wish to bag the secret to unravel the power of their subconscious minds. So adding this book to your selling campaign will drive more customers and sales towards your products on Amazon
Think and Grow Rich by Napoleon Hill:
This book earned the title of 'Amazon best reads'.
Everyone wishes to know the secret to success and what could be a better way to learn about it when it is compiled all in a single book.
Add this book to your list to benefit from Amazon's best sellers.
The Alchemist by Paulo Coelho:
With more than 65 million copies sold, 'The Alchemist' is among the reader's favourite and most selling novels on Amazon.
This book has gained so much popularity that it has been translated into 80 different languages, setting the Guinness World Record for the most translated book by any living author.
Also Read: Inventory Stock Management: Tips To Reduce Overselling On Amazon
The next most selling product category on Amazon is Electronics and Accessories.
Electronic and Accessories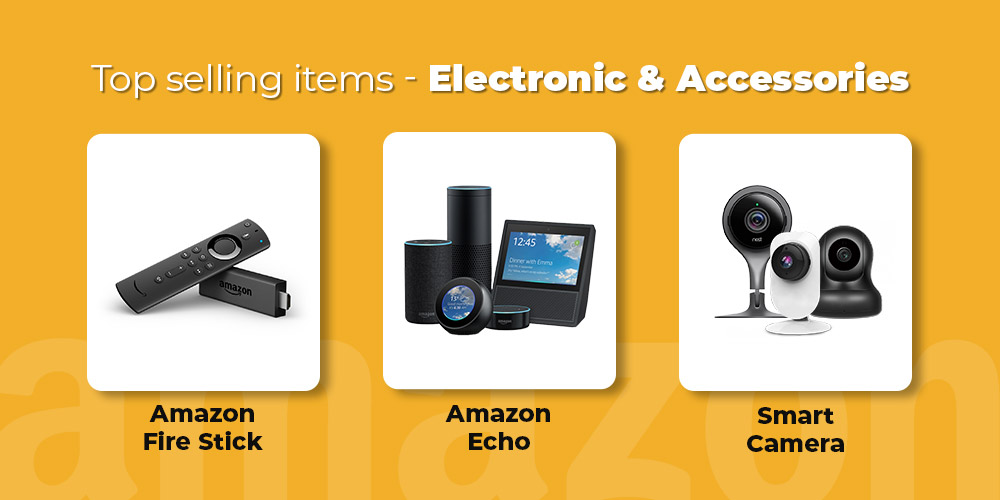 Electronics & Accessories is an evergreen product category on Amazon. Sellers selling under this category can never feel empty-handed as this product category is sold throughout the year.
Talking about the future scope, Zion Market Research shows that the Global Consumer Electronics Market Will Reach USD 1,787 Billion by 2024.
In fact, the Electronics and Accessories category comprises 10.8% of the total sales on Amazon's marketplace.
The best selling products under this category include:
Amazon Fire Stick:
Watching television is now just fashioned with the introduction of the Amazon Fire Stick. A cool invention where you can watch your favorite shows at your own convenience.
Since this innovation has made life so simple for entertainment lovers that it has risen to be the most selling product in the electronics category.
A simple device that just requires a wi-fi connection to operate.
The next best selling product on Amazon in the electronic category is –
Amazon Echo:
Home automation is an essential need of the hour and it is gaining popularity very soon. And the first name that pops up with innovative home automation devices is the Amazon Echo.
Integrated with the world's most efficient AI – Alexa, Amazon Echo has been the first choice for customers.
As per the report by The Verge until now more than 100 million Amazon Echo devices have been sold.
Smart Indoor Home Camera:
Surprisingly, making it to the list of the top selling products on Amazon under the category of Electronics is the smart indoor home camera.
The smart indoor home camera's sale has been in huge demand on Amazon for the past 3 months.
The cameras that are night vision and could be controlled via Google Assistant or Alexa are in huge demand.
The top brands under this category include:
Also Read: How To Sell On Amazon Saudi Arabia – The Heart Of eCommerce In The Middle East
Now let us move on to a very popular product category on Amazon – Health and Beauty.
Health, Beauty & Personal Care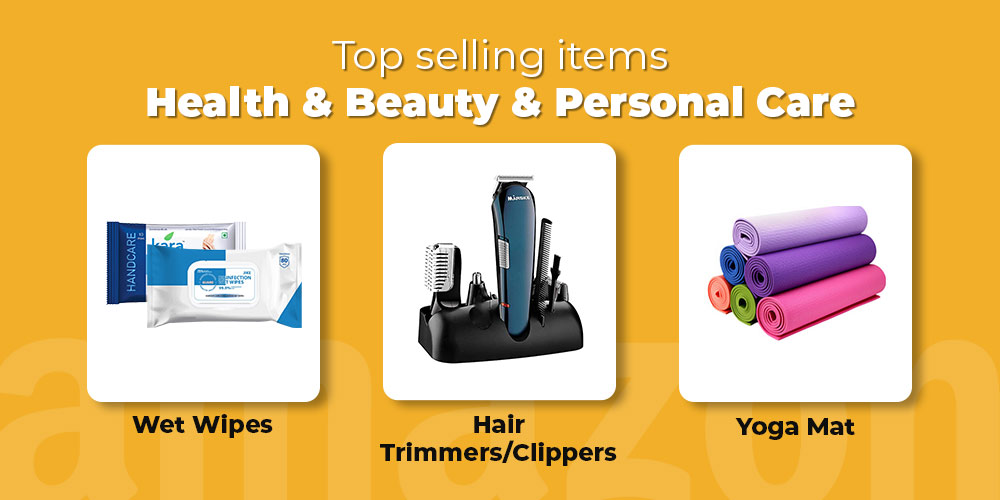 According to eMarketer, Health and beauty care products industry is on a rapid growth & is expected to rise at the rate of 16.4%.
Makeup wipes & cleansing towelette:
In the beauty and health category on Amazon, cleansing towelette and makeup wipes are being sold at a very high rate.
You need not go for a very big brand to sell these.
Customers love to buy towels in sets
Start small and go for economical wipes and towelettes.
Hair Trimmers & Clippers:
One of the best selling items under the health & beauty category is hair trimmers.
This is something that never runs out of demand so for a seller this is a very profitable deal.
Remember to sell only 'All in one' trimmers because they are the ones that are in most demand.
The best brands under this category include:
Yoga Mat:
Health consciousness among the masses has led to a huge demand for easy to carry yoga mats.
In fact, yoga mats are the most searched and reviewed products in the fitness category on Amazon and average sellers can easily generate as much as 350-400 item sales daily.
Just remember that yoga mats are frequently bought along with dumbbells and other exercising equipment, so don't forget to include these. Provide your customers with all they need in a single place.
Also Read: Step by Step guide on how to sell on Amazon
Cell Phones & Accessories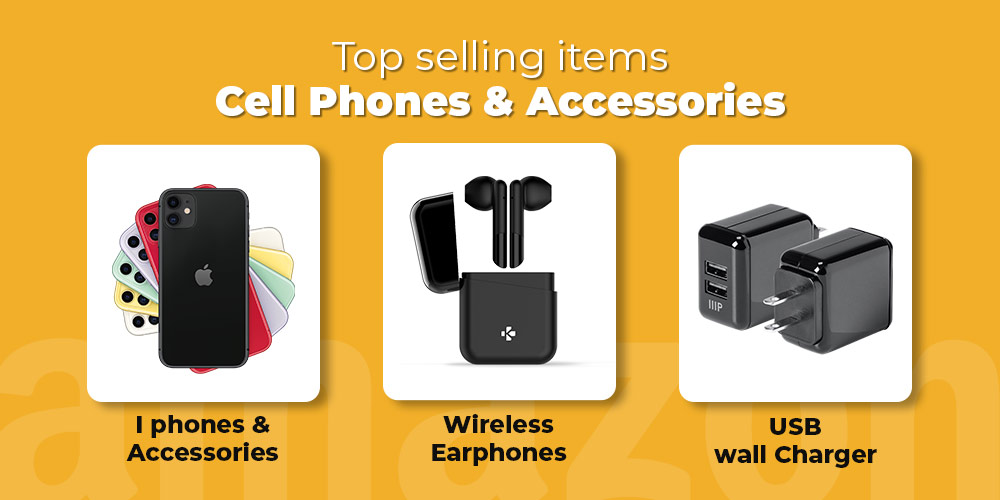 Cell Phones & its Accessories is one of the first names in Amazon best selling category worldwide. With more and more technological advancements going around the world, mobile phones are experiencing an ongoing evolution. This gives rise to a huge demand for mobile and its accessories on giant marketplaces like Amazon.
To understand it even better, I have further classified the Best selling items on amazon under this category. It includes:
iPhone and accessories:
iPhone and its accessories are one of the Top Selling Products on Amazon in 2022. People are very fond of buying accessories including air pods, screen guards, and chargers for iPhones.
The most selling accessories of iPhone on Amazon include:
Glass Screen Protector
Air Pods
Designer Mobile Cases
Wireless Earphones:
Wireless earphones are on a boom since the 2nd quarter of 2018, and the sales number has been rising ever since. The following figure represents how the demand for wireless earphones has risen in the past years and is expected to continue in the coming years as well.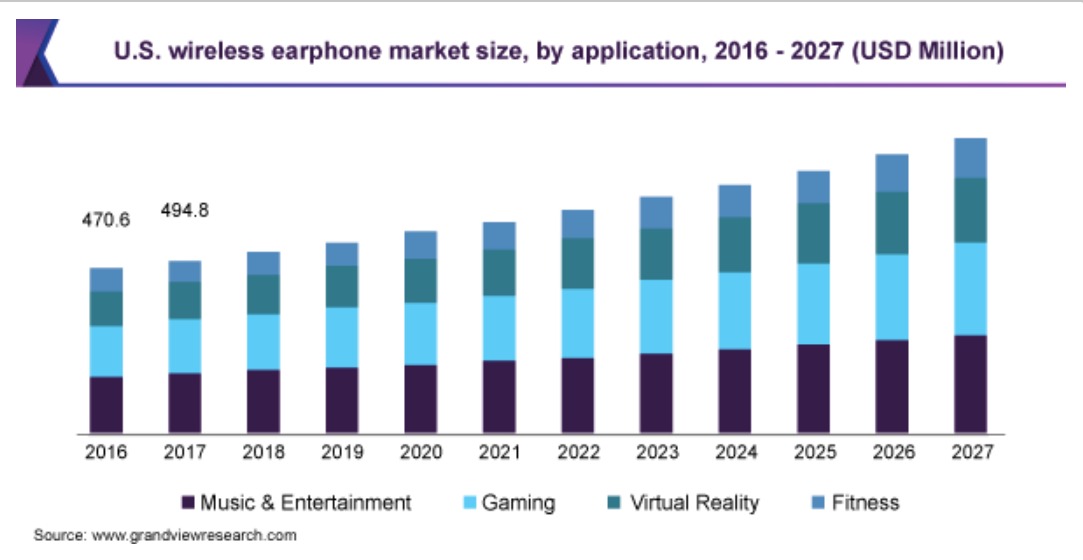 Further breaking it down, The best selling brands of wireless earphones on Amazon includes:
USB Wall Charger
The USB wall charger with a USB port is a product of great demand on Amazon. Shoppers look for chargers with fast charging and compatibility with multiple phones.
There are two trends which are to be noticed:
Firstly, Shoppers on Amazon do not go ahead with the purchase if the charger's cost is above $15.
Secondly, People buy in bulk rather than a single charger. The purchase of charger combos is much more than the ones sold in single pieces.
This is something a seller must keep in mind.
Also Read: Expert Seller Tips On Amazon Order Defect Rate Improvement
Home & Kitchen Category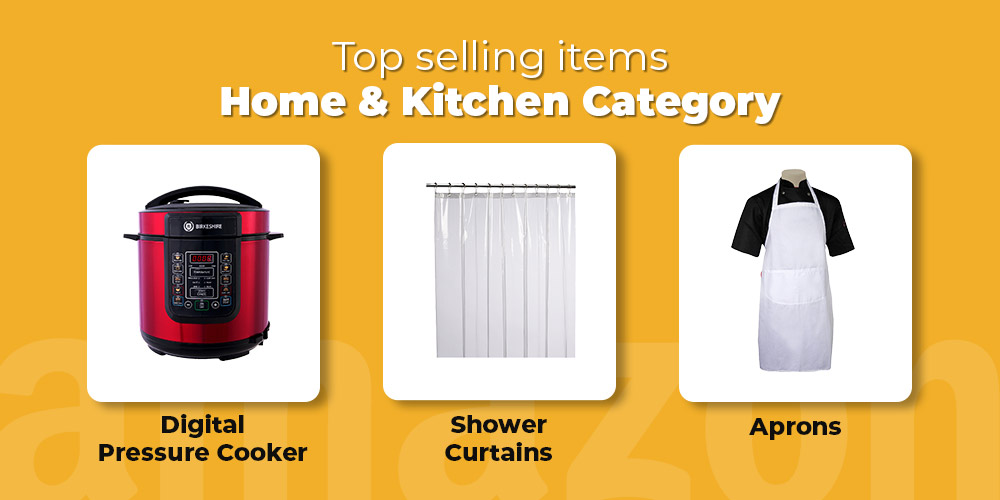 Home and Kitchen Categories drive around 10.5% of the total annual sales on the Amazon marketplace.
This is not an evergreen category as there is a significant spike in this category's sales in the months between September and December. For the rest of the year, sales are quite constant.
So if you wish to benefit under this category try and add products between the above time frame and clear up the inventory as soon as the trend runs out.
According to feedvisor, the purchase of home and kitchen products came up to 39 percent of the total purchase by Amazon shoppers in the United States
The best selling items on amazon under the home and kitchen category includes-
Digital Pressure Cooker:
This multi-purpose cooker has become a huge hit in the North American region.
There was a time when people would buy different food equipment like a stove, grills, ovens, and much more. But now all they want is a handy instant cooker that can make multiple dishes all in one.
The digital display makes it much easier for users to operate making it perfect equipment for every household.
The top selling brands of Digital pressure cookers on Amazon include:
Instant Pot
MooSo
Masterchef
Shower Curtains:
One of the top selling products under the home & kitchen categories is shower curtains.
Plastic Shower Curtains with patterns or designs printed on them have been an evergreen demand for global customers.
Shower curtains ranging between $11-$19 turns out to be the most favourite for customers.
Our next Best selling item on Amazon under Home & kitchen is-
Aprons:
Kitchen Aprons and Bibs are found to be a product that is in demand.
Aprons ranging between 20 to 25 dollars are the most selling products under the home and kitchen product category.
Just make sure to add a variety of aprons including both plain and printed.
Also Read: Top Reasons for Amazon Seller Account Suspension And Tips To Avoid It
Toys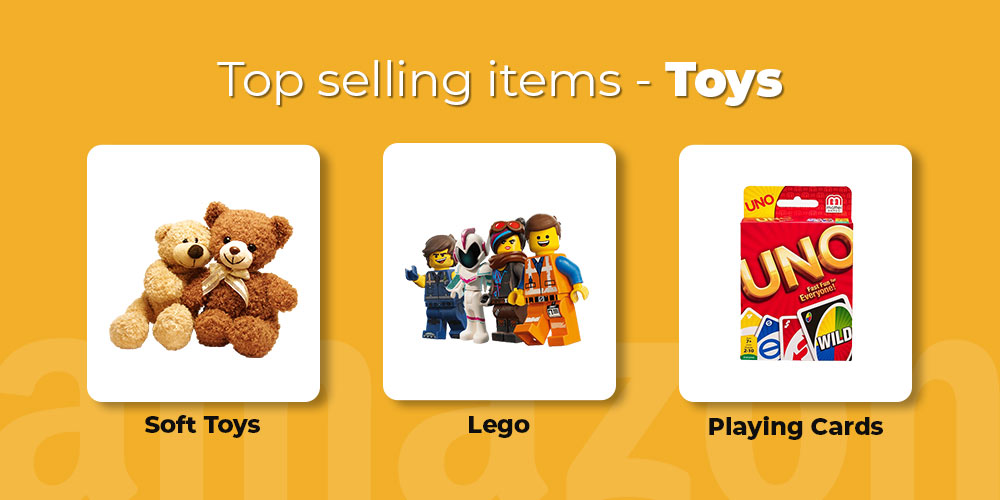 In the past few years, buying toys online has become a frequent habit for sellers.
The market size of the Online Children's Toy Sales industry in the US has grown 10.7% per year on average between 2016 and 2022.
A report, one-click estimates Amazon's share of the total U.S. toy market (online and offline) to be roughly 16.7%.
And that really means something.
This makes toys an ideal product that sellers can add to their list while selling on Amazon.
The top selling products on Amazon under this category include:
Soft toys:
The most common types of toys that are popular on Amazon are soft toys and dolls. Kids, especially below the age of 5, have taken a keen interest in these types of toys.
In the US and UK regions, the bedtime doll is the most bought soft toy.
Since they are safe to play with and budget-friendly, this product category is showing an immense boost in popularity.
Research from Persistence Market shows that the global stuffed & plush toys market is expected to represent a value of over US$ 11,000 Mn by the end of 2026.
Hence this makes an ideal product for sellers to sell on Amazon.
Plastic toys (make n break)
The next product in the toys category that is the best selling on Amazon is Plastic toys. The most demanded plastic toys on Amazon include Building kits AKA, the Lego toys.
The magnitude of sale can be mapped with this bizarre fact by Nat Geo – If Laid end to end, the number of LEGO bricks sold in a year would reach more than five times around the world.
Intriguing isn't it?
So if you are selling toys, then I would suggest you consider these Building kits as a part of your product list.
Playing cards
You must be thinking that this is some kind of a mistake.
Playing cards in the top selling list?
Well, history repeats itself and it has once more in this case.
Playing cards are back in action and have risen to be one of the best selling items on amazon in the toys category.
The most popular cards these days are:
The classic cards (for Poker, Rummy, Canasta, Pinochle, Euchre, Blackjack)
UNO
If you are wondering which are the most popular companies that sell toys on Amazon, here's the list:
Lego
Mattel
Hasbro
Nintendo
The next category that makes its way to the list of top selling items on Amazon is
Clothes, Apparels, and Shoes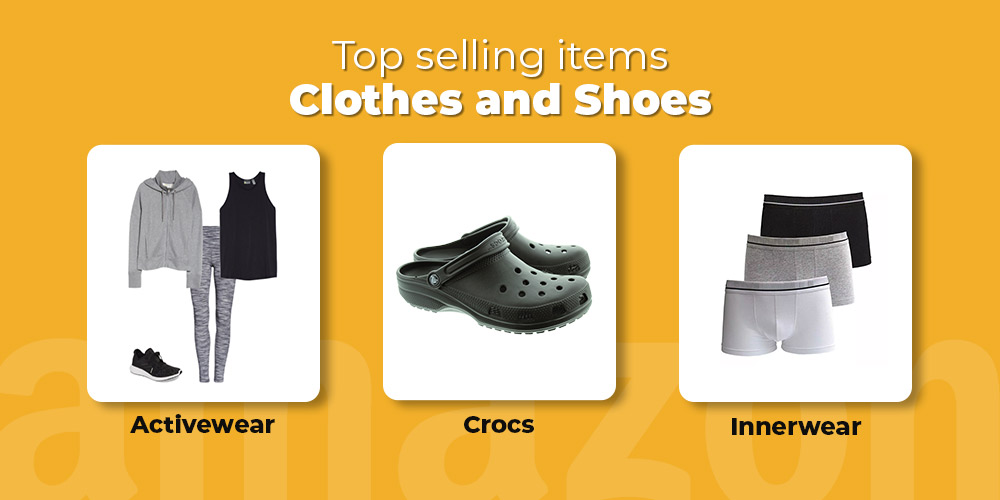 One of the product categories that shoppers can never overlook on any marketplace is Clothes, apparel, and Shoes. In the case of Amazon, it's not any different.
In recent years, Amazon has kept its focus on capturing the maximum share of the clothing category. Amazon increased its web apparel sales by 22.6% which is faster than the 250 top online apparel-focused merchants, which collectively grew 13.7%. (source: digitalcommerce360)
This report from Statista shows why shoppers find the best fit for Clothing and Footwear.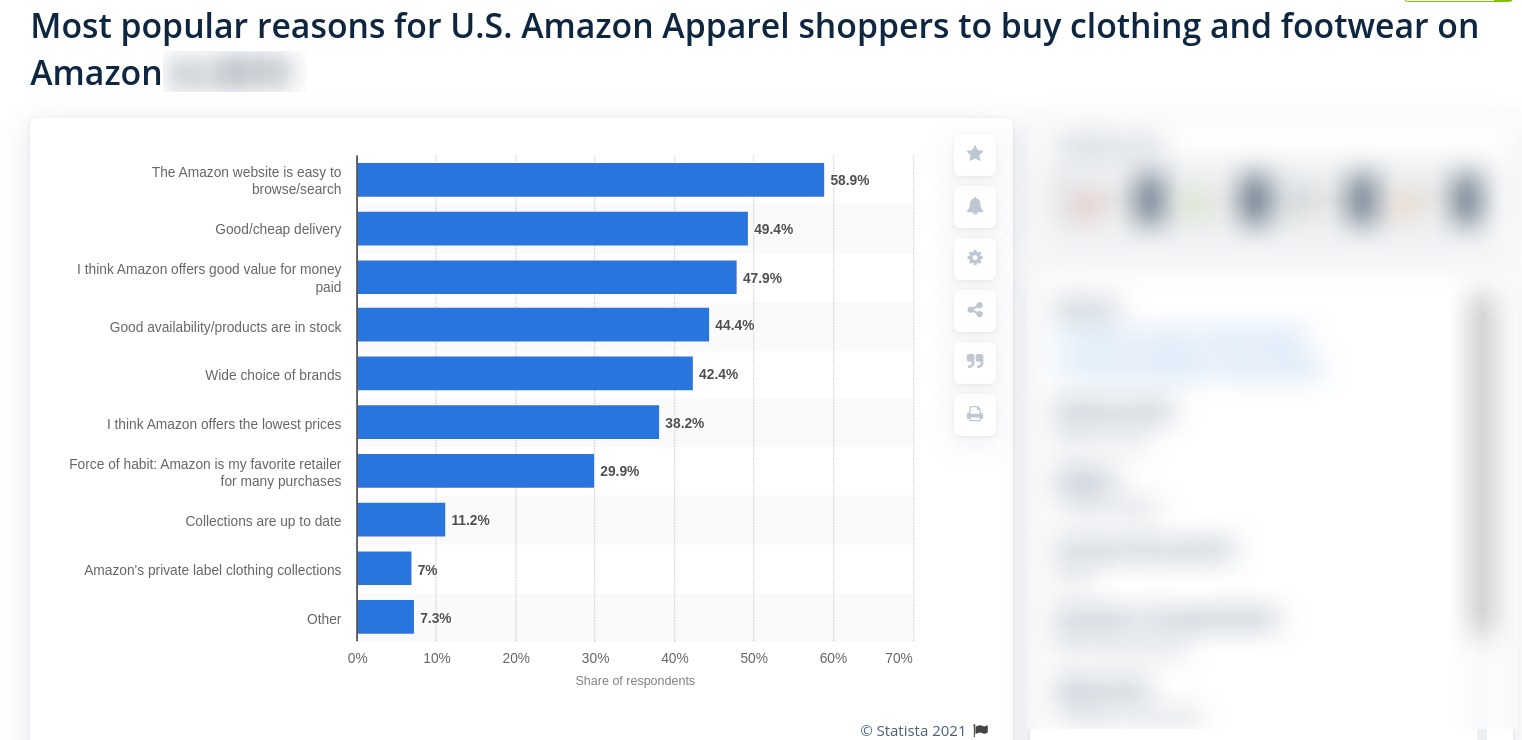 Now you must be wondering, which are the top selling products under this category?
Well, the answer to your question is –
Athletic wear / Active wear:
The most popular products on Amazon under clothing and apparel are athletic wear. As per the Intelligence node, in the past 2 years, Activewear sales accounted for $33.7 billion, which makes up to 16 percent of the total apparel market.
The most popular athletic wears are:
Yoga pants
Fleece Sweatshirts
Pair of socks
The next product in this category is:
Crocs
Comfy footwear for home is what every human desires and there's nothing more comfy than crocs.
Crocs are the undisputed first-choice footwear for shoppers on Amazon. I mean I don't even have to explain why.
So a seller can easily notch up their customer's interest towards their products by throwing a few crocs in their catalog.
Move on to the next best selling items list we have:
Innerwears:
Another product that makes up the list of top selling products on Amazon is innerwear.
Customers prefer buying innerwears in bulk so selling a combo pack is more profitable than to sell singles.
Tip: Shoppers don't prefer to buy Partywears on Amazon, so a seller must refrain from investing in these.
The next and very important product category that is widely sold on Amazon is appliances.
Appliances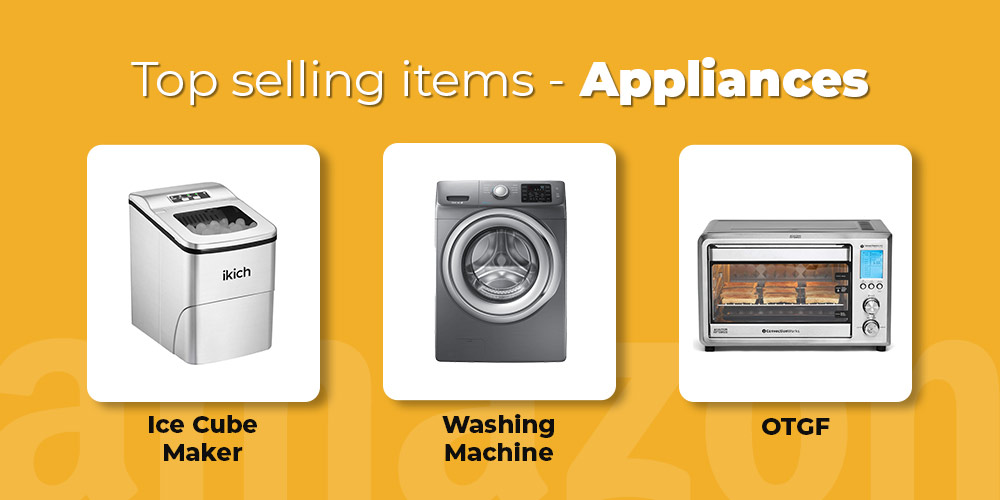 Technological advancements and the rise in consumer disposable income serve as a major factor in the increased demand for Home Appliances. This is an evergreen selling category on Amazon which is growing at a CAGR of 2.57 %.
The Home Appliances Market worldwide is projected to reach USD 208.65 Billion by 2026.
This product category has and is always expected to be in demand no matter what the circumstances are.
You can also take advantage of Amazon promo codes to get further discounts.
Have a look at the best selling products:
Ice Cube maker:
It may come to you as a surprise, but ice cube maker is the most selling product on Amazon in the appliance category.
Ice cube maker finds its place in the home and cart of almost every US-based shopper.
On Amazon, Ice Cube makers ranging between 100-200$ are the most in-demand.
The best brands famous on Amazon for the same are:
The next top selling product in our category is –
Washing machine
A fully automatic Washing Machine is quite a popular product among shoppers. In this hard paced world visiting a laundry service on a regular basis is not an option.
Washing machines have transformed from a DESIRE to a basic NEED for every household. That's one of the major reasons for the huge demand among customers, making it one of the top selling items on Amazon.
OTGF (Oven Toaster Griller Fryer)
Well, it would be hard to find a household without an oven and toaster. But that's not what we are really discussing.
We are discussing the 4 appliances which are now blended into 1 and that is OTGF (The oven toaster Griller Fryer). It is one of the most demanded home appliances today on Amazon.
The top selling brands for this include:
Now let's head to the last category for the top selling products on Amazon which is:
Pet Supplies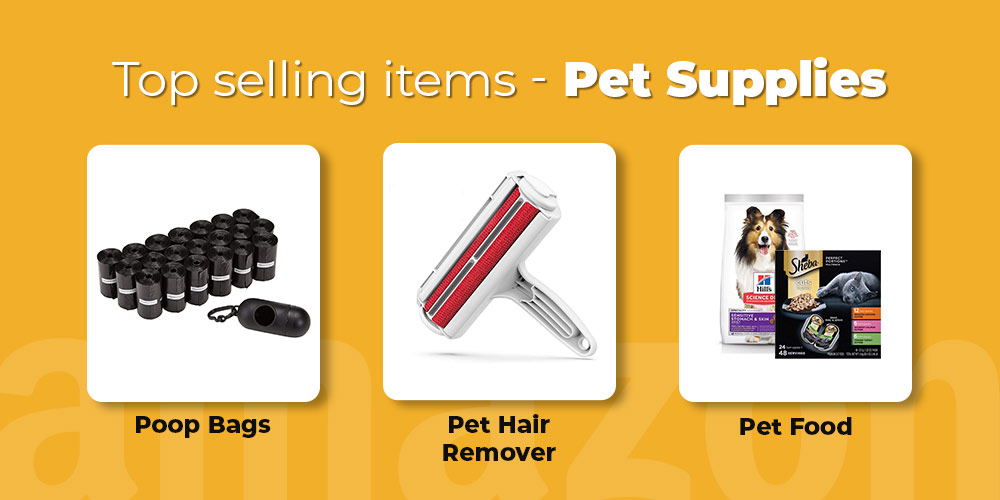 According to a National Pet Owners Survey conducted by the American Pet Products Association (APPA) Sixty-seven percent of U.S. households own a pet. That roughly rounds up to about 85 million families.
The reason why I presented this stat is to make you aware of the magnitude of the market for pet supplies.
Looking from the perspective of an Amazon seller – Pet supplies are one of the recurring product categories where you once gain a customer, it yields benefit in the long run.
Here are the best selling products on Amazon in Pet Supplies-
Poop Bags:
Pets shower love, but their love comes at a price, which is taking care of their poop. No matter how much trained your pet is, you will have to take care of their bathroom issues.
And that's the major reason why Poop Bags are the top selling products on Amazon under pet supplies.
Pet Hair Remover:
Other than poops, pets also keep leaving behind their hairs on sofas, couches, beds, carpets, blankets, comforters and more.
Maybe that's the reason why the next top selling product under pet supplies is hair removers for pets.
Shoppers usually look for the rollers with brushes, not the ones with adhesives or sticky tapes.
Note: Pet Hair Remover below $25 are the ones that customers actually prefer.
Pet Food:
Last in our list of best selling items on Amazon is Pet Food. Cat owners mostly prefer the wet/canned foot whereas dog owners seek dry food.
Note: Dogs and Cats only dominate the pet supplies section on Amazon, so selling products for other pets is really not useful.
The list for the top selling products on Amazon ends here…
Food For Thought:
Now a few questions arise – is selling in the above category enough to be a successful Amazon? Is it really easy to win the buy box under these categories and for these products? Are these products in demand worldwide or just restricted to a few countries?
Well, I will try and answer all your questions one at a time.
Why Must A Seller Go For The Best Selling Items on Amazon?
Selling under the top selling categories and top selling products is always going to prove beneficial for you as a seller. The reason being that even though you could not convert every customer into buying your product, you are driving sales towards your products.
The demands for these products do vary on the basis of:
The location you are based in and selling in.
The latest trends.
The time of the year.
The pricing of the products.
So you have to stay updated with the latest trends and know the customer's demands by putting yourself in your customer's shoes.
Winning the buy box under the best selling categories can turn out to be quite challenging for new sellers as there are various factors like pricing, seller reviews & ratings.
So I would advise you to search for the most optimal best selling products and categories on Amazon. Looking for products in this fashion will give you a better ROI.
Also Read: Amazon Seller Central VS Vendor Central – Which Is The Better Platform For Amazon Sellers?
How to look for the best selling items on Amazon for yourself?
Must be economical: As a seller, you must know that a majority of customers on Amazon shop for low-cost products, products having a price range somewhere between $20 – $100.
Must be in demand: Make sure that the products you wish to sell have at least more than 10 sales per day.
Can be easily shipped: A customer always frowns before paying additional for shipping & delivery. The same is the case with sellers too. Shipping large-sized products not only cost your time, resources & effort but also takes up space in the inventory. So always try and prefer products that are small, light, and easy to ship. Ensure that FBA is provided on the product.
A perfect profit margin: Look for a profit margin of at least 50% on the products, so that you can easily capitalize on your selling.
Must have more than 200 customer reviews: An ideal way of knowing what your customers need is looking at their reviews. A product with more reviews (especially the positive ones) is more likely to sell more.
Choose Quality Products: Selling quality products is something that benefits you in the long run. Once your customers like what they bought from you don't have to worry about much then.
Frequently Bought together: Keep exploring areas which interest your customers related to the products you are selling.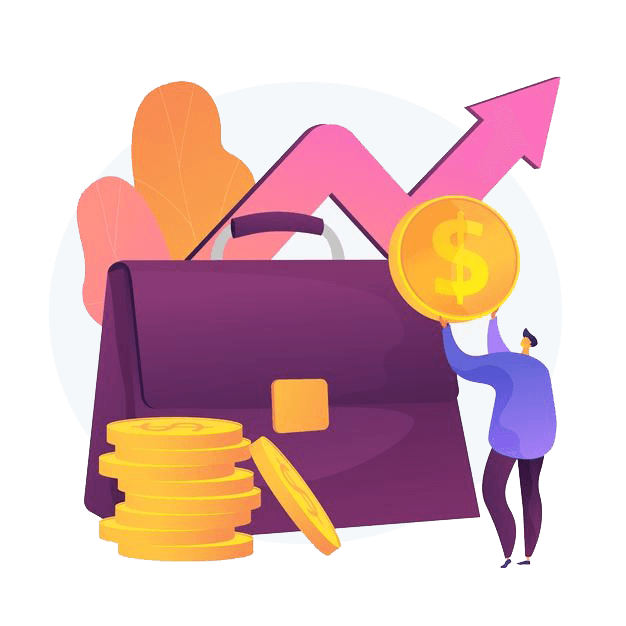 Get Free Consultation from an eCommerce Expert
Need help in taking your eCommerce business to new heights or want to start your online business from scratch but don't know where to start?
Conclusion:
I believe that wraps it all. Above is the list of all the best selling products and categories on Amazon.
I'd like to add one more thing for sellers on Amazon-
Amazon is a huge marketplace with huge benefits for eCommerce sellers. But in order to gain these benefits, it requires huge commitment as well. Selling on Amazon can turn out to be quite a daunting task for new sellers, if not planned properly. Many businesses (even the stable ones) could not survive the competition because they fail to keep regular tabs on the latest customer trends and act accordingly. Sellers can easily avoid any such situations by just being aware of the top selling items on Amazon and redesigning their selling campaign accordingly.
If you have any queries and doubts or would like to tell me any item that I might have missed, feel free to comment below.