Top Southeast Asia eCommerce Platform | A Complete Magento Multichannel Selling Guide
Running short of time? Get PDF of the blog in your mail.

Play Now
Southeast Asia marketplace is the fastest-growing eCommerce market, with 90 percent population connected through their mobile phones. Many similar data suggest that Southeast Asia is a land of opportunity. And, when you have an opportunity to sell on a top Southeast Asia eCommerce platform, you won't lose it, will you? Especially if you are a Magento seller.
Magento is a popular eCommerce framework used by more than 250,000 sellers worldwide. It provides around 5000 plugins, applications, and extensions that help sellers sell on different marketplaces efficiently. Being a Magento seller gives you many additional advantages over others. So, if you are planning to start your multichannel selling business, selling on top Southeast Asean marketplace can bring many opportunities for you to earn high profits and grow.
Now, you must be wondering…
Why Magento Sellers should Sell in Southeast Asia?
There was a time when Internet penetration and faith in Southeast Asia marketplace were low. It still lacks in many regions, but countries like Singapore, Indonesia, and Malaysia are moving rapidly toward change. The pandemic also has a role in expanding the eCommerce business in this region. Over the years, online eCommerce market split has increased over the offline market.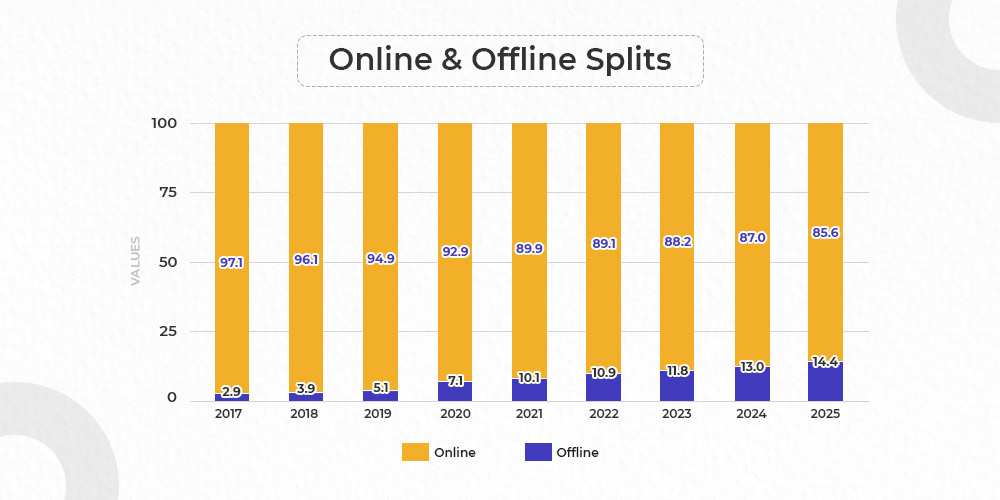 According to the latest report by Statista,
eCommerce Market Revenue
The eCommerce market revenue will likely reach US$ 158.50 billion by the end of 2023. It is further expected to increase at the rate of 12.03% annually, producing revenue of US$249.70bn by 2027. This data suggests the hidden opportunity of the Southeast Asian marketplace online.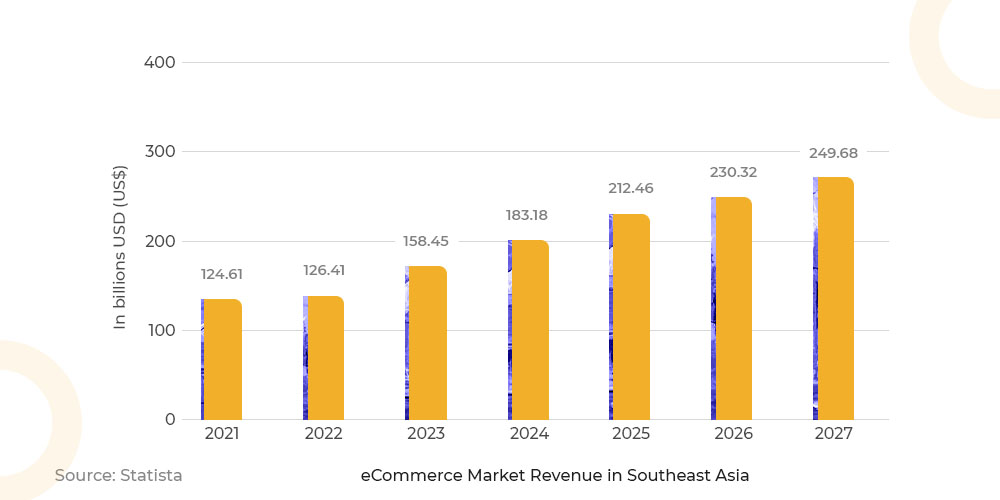 User Penetration
Another data from the same source suggests that user penetration will reach 58.0% by the end of 2023. But it won't stop there and will grow further. The eCommerce market users are likely to expand to a 68.3% growth rate by 2027, around 485.6 million users.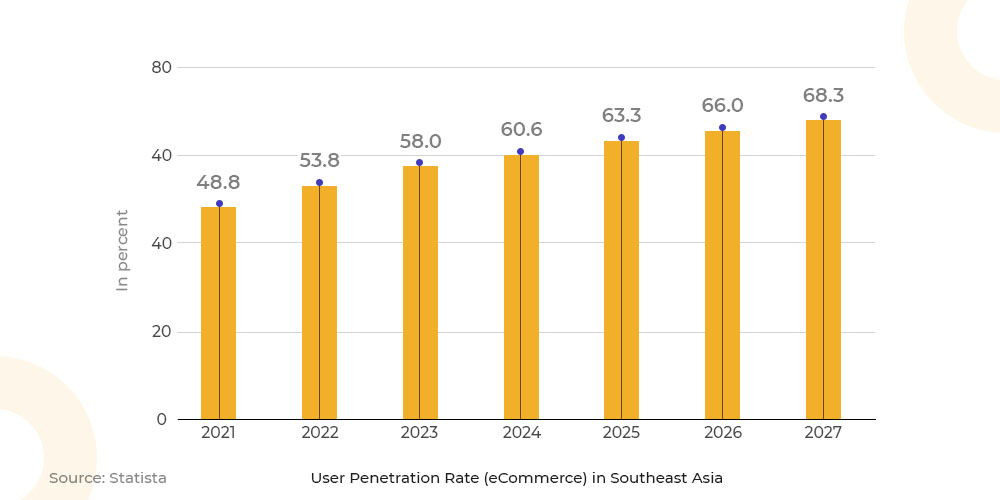 Did you Know?
There is a no-tax policy for Goods and Services purchased through cross-border trade. It is applicable for products purchased for $400 or less in Singapore, Malaysia, and Thailand regions. This policy has encouraged the population among these countries to buy from foreign countries and hence, opening new doors for sellers.
If you want to know in detail about cross-border trade and how to set up a perfect cross-border campaign – click here.
Also read: Reasons why Magento sellers must sell on multiple platforms
These are some interesting facts but…
What are the major regions for eCommerce in Southeast Asia?
Southeast Asia majorly consists of 11 countries, out of which 6 of them are the dominant regions in terms of online shopping. It includes Singapore, Thailand, Indonesia, Malaysia, Vietnam, and the Philippines. These are the fast-growing regions of the Asean marketplace. So, opting for multichannel selling in these regions can help sellers reach their truest potential. Especially if the marketplaces are one of the top Southeast Asia eCommerce Platforms like Shopee or Lazada. By enlisting products in the best Asian online market, you can expand your reach and increase your customer base.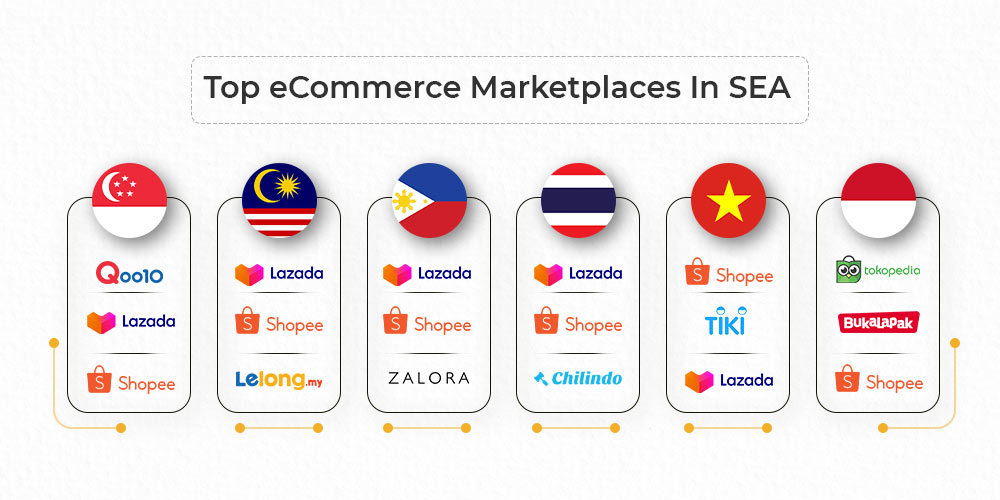 Best Southeast Asia eCommerce Platform to Target
With time, many eCommerce companies have established themselves and made their mark in Southeast Asia. If you think we are talking about Amazon, eBay, AliExpress being the top eCommerce in Southeast Asia, you are wrong! These marketplaces are huge, no doubt. However, their presence and reach in the market are not as strong as local Southeast Asean marketplaces.
So, which marketplaces dominate in this region? Here is a list of top eCommerce companies in Southeast Asia with all the details you need to start selling:
Let's explore these top Southeast Asian eCommerce marketplaces one by one!
Shopee
Shopee was established in 2015, but it grew rapidly and made its strong presence in the Southeast Asian eCommerce market. It earned over 1.8 billion USD Gross Merchandise Value (GMV) during the initial year of launch. Shopee's popularity can also be determined by the fact that it gets around 21.26 million monthly visits. Along with this, this Asean marketplace has a tight grip on Tawainese and Indonesian markets. Presently, it has online marketplaces in 12 countries, including countries outside Southeast Asia such as Poland, Chile, Columbia, etc.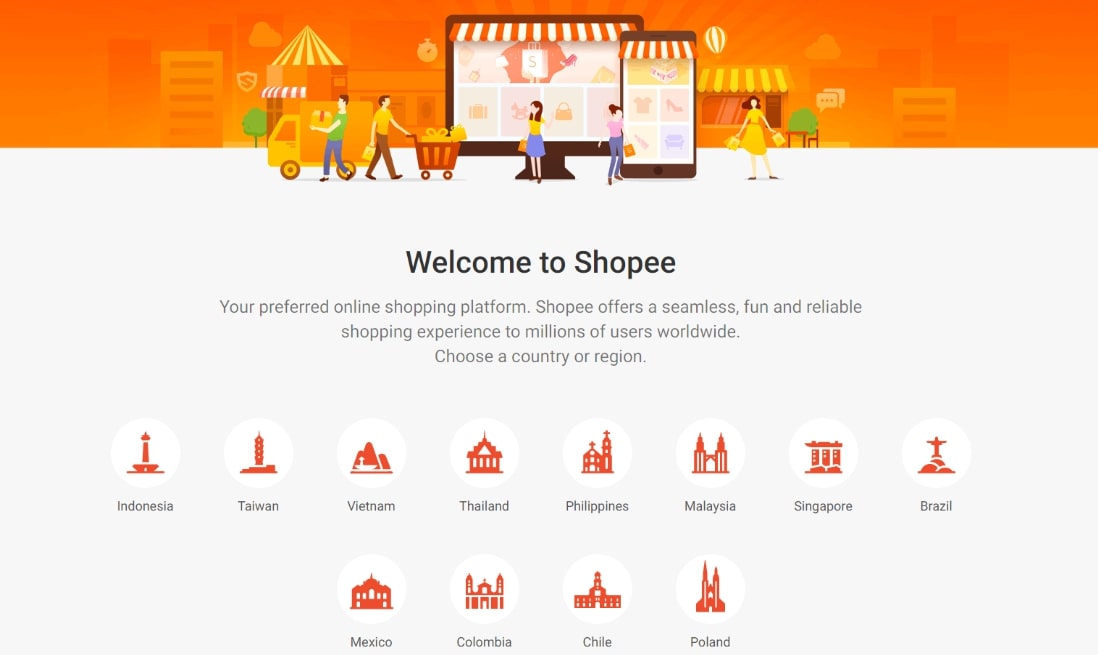 What can you sell on Shopee?
Fashion, Beauty, and Home & Living Decor products are the top product category on Shopee.
Which items you can't sell on Shopee?
Here is the list of items that are prohibited on Shopee and can get you banned from selling on this platform –
Alcohol beverage
Orthodontic items (DIY braces, crown)
Tattoo needles and similar items
Physical currency/card
Government, military, or police uniforms (including close lookalikes)
Any particular listing or reserved items
Vanity car/motorcycle plates
Toy gun accessories
Is there a listing or other additional charges?
Shopee doesn't charge any commission or listing fees. Plus, there isn't any hidden cost.
Shipping and Delivery Services offered by Shopee
Apart from its own, Shopee Express, this Southeast Asia marketplace offers the following major delivery and fulfillment services –
NinjaVan,
J&T Express,
Urban Fox,
U Parcel
Payment Methods offered by Shopee
Shopee supports the following payment methods –
Debit/Credit card
Shopee Pay
PayNow
GPay
Lazada
Lazada is another famous name in the top Southeast Asia eCommerce platform. This platform has made quite a name in this region. Established back in 2012, Lazada presently has over 1,45,000 local and international sellers. Its popularity has increased many folds since the launch of its mobile application. Currently, it hosts around 3000 brands and 560 million customers, making this Asean marketplace more fascinating for the new sellers. Lazada is present in the top six leading countries, Malaysia, Thailand, Singapore, Indonesia, the Philippines, and Vietnam of Southeast Asia.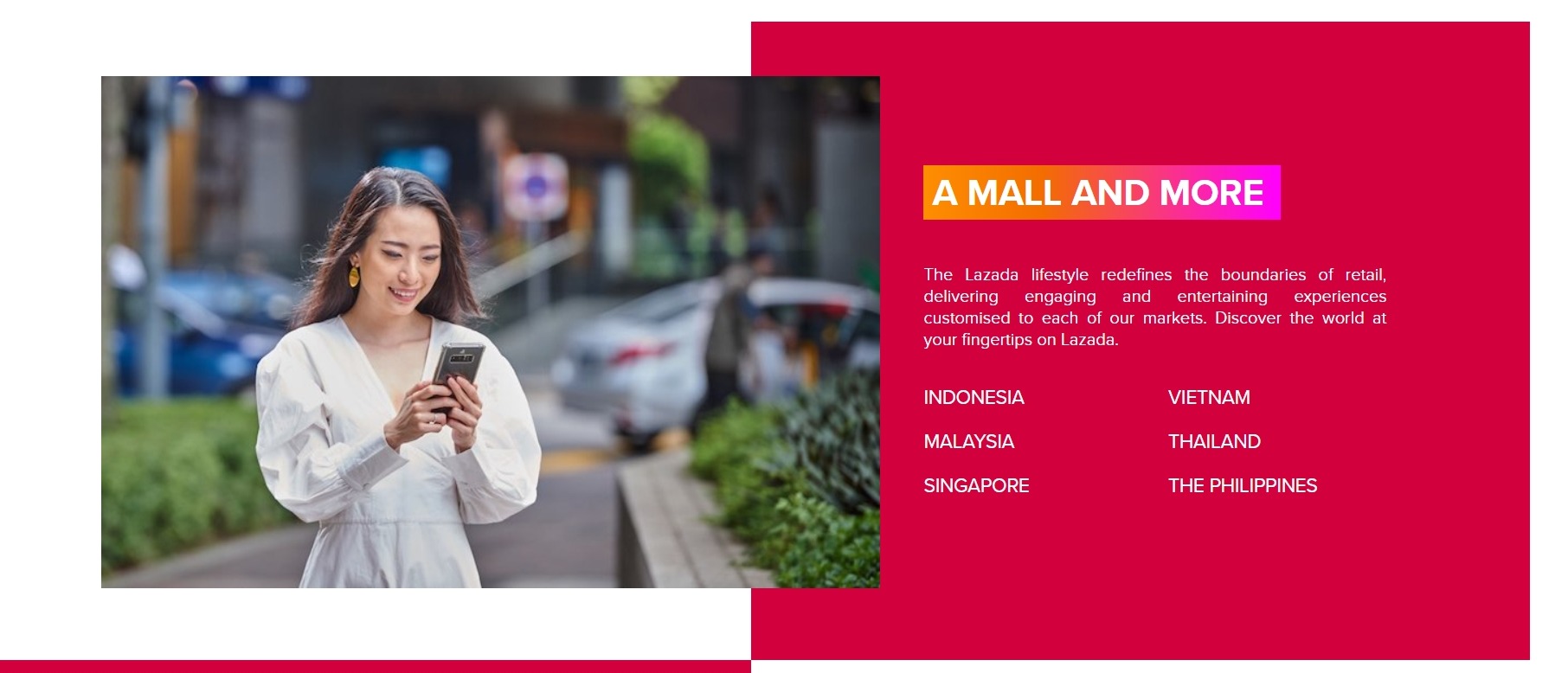 What can you sell on Lazada?
The best selling products on Lazada are given below –
Mother and kid products
Home products
Sports equipment
Clothes
Phone accessories
Groceries
Beauty products
Weight Loss items
Which items you can't sell on Lazada?
Here is the list of items that are prohibited on Lazada and can get you banned from selling on this platform –
Pirated software
Fake or second-hand products
Food products that violate food regulation standards (like expired items)
Telecommunication devices
Products bigger than 300 cm (Length+Width+Height)
Liquid items with a volume of more than 20CL
Any kind of weapons, toxic items, or chemicals
Is there a listing or other additional charges?
The selling fees on Lazada are one of the reasons why it is the best Southeast Asia eCommerce platform. The marketplace doesn't charge any listing fees, plus there isn't any hidden cost. However, the sellers are liable to pay commission fees from 1 to 4% for some specific products.
Shipping and Delivery Services offered by Lazada
Lazada has collaborated with some of the delivery and fulfillment services in the region to cut down the work of sellers. Sellers can choose the following Shipping and Delivery Services to fulfill their orders on Lazada:
J&T Express,
NinjaVan,
CJ Logistics,
ZTO express
Payment Methods offered by Lazada
Lazada supports the following payment methods –
Credit or debit card
Lazada Wallet
Gcash
Zalora
Established back in 2012, Zalora soon became a fashion destination in Asia. It is currently available in six major countries, Singapore, Malaysia, Thailand, Indonesia, Vietnam, and the Philippines of Southeast Asia. Zalora offers a promising future for sellers focusing on the fashion and clothing niche. It can be further supported by the fact that Zalora grabbed 2.6 million customers in just its initial six years.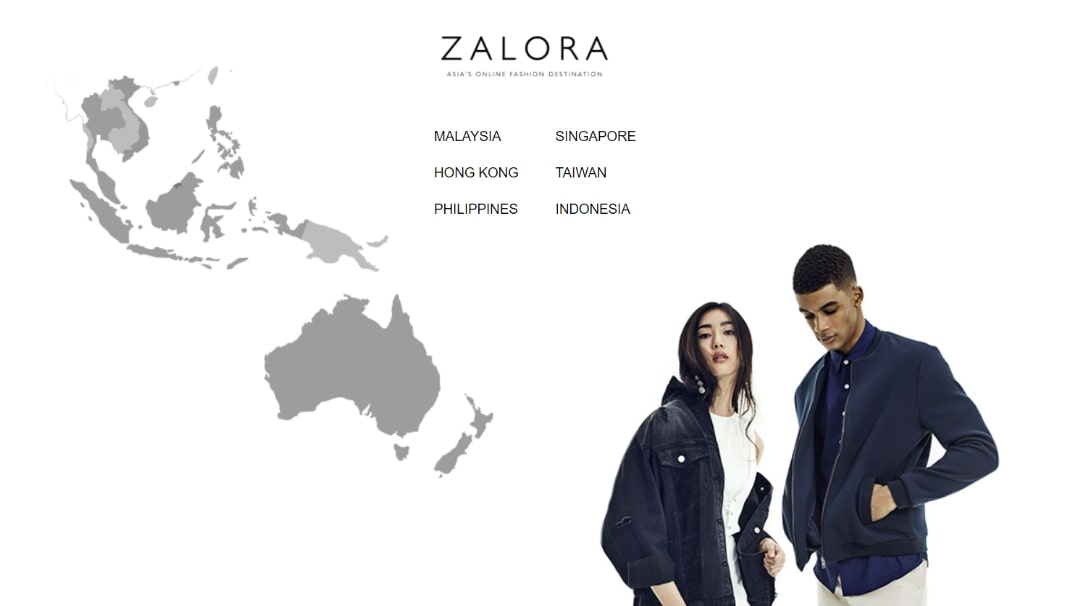 Moreover, it gets around 200 million visitors on its website. The numbers are fascinating enough for any seller looking to start selling in the Asian marketplace online.
What can you sell on Zalora?
Here's a list of items you can sell on Zalora –
Tops
Dresses
Bags
Shoes
Outerwear
Which items you can't sell on Zalora?
As Zalora focuses on selling fashion products, it won't make any sense to sell groceries on this platform.
Is there a listing or other additional charges?
Zalora doesn't charge any fees in the initial stage, before the registration process. But you have to pay multiple fees once you have completed the process. Its commission fees range from 10 to 30%, along with some additional and hidden charges.
Shipping and Delivery Services offered by Zalora
Some of the major delivery services that sellers can opt for while selling on the Zalora marketplace include:
GDex,
Ninja Van,
TA-Q-BIN,
NinjaVan,
Pos Laju,
CollectCo
Payment Methods offered by Zalora
Zalora supports the following payment methods –
Credit/Debit card
PayPal
GCash
GrabPay
Qoo10
Established back in 2010, Qoo10 has gained popularity in less time. Presently, it is one of the emerging eCommerce companies in Southeast Asia. Currently available in major cities of Malaysia, Indonesia, and Singapore, Qoo10 promises a bright future for new sellers. It provides a seller-friendly and easy-to-set-up platform for small to medium-level businesses. If you are looking to expand your business and multiply your sale, this Southeast Asia eCommerce platform is just the right place to start.
What can you sell on Qoo10?
Here's a list of items you can sell on Q0010 –
Women's clothes
Bags and Wallets
Cosmetics and Deo
Watches
Furniture
Computer and Games
Mobile accessories
Cameras and Recorder
Automotive & industry
Which items you can't sell on Qoo10?
Here is the list of items that are prohibited on the Qoo10 and can get you banned from selling on this platform –
Alcohol beverage or drugs like narcotics and steroids (drugs that need a prescription are also banned)
Hazardous products
Used products, especially cosmetics
Hazardous products
Animals and wildlife items
Counterfeit currencies, government stamps, credit/debit cards
Art treasures, indigenous products, artifacts
Grave related products
Electronic equipment like cable TV de-scramblers, radar scanners, and other similar items
Firearms, weapons, or throwing knives
Slot machines
Is there a listing or other additional charges?
Qoo10 doesn't charge any listing fees. But there are other fees, like service fees, that the seller needs to pay.
Shipping and Delivery Services offered by Qoo10
Qoo10 offers Qdelivery service by QXpress for the fast delivery of products and services for its customers.
Payment Methods offered by Qoo10
Qoo10 supports these payment methods –
Credit card
Q-money
PayPal
AXS
These four Southeast Asia eCommerce platforms offer equal opportunities for new and established sellers. But is it possible to sell on these marketplaces concurrently?
Yes, it is. However, there are some challenges that you may have to face.
What are the Major Challenges of Multichannel Selling in the SEA region?
There are many benefits of Multichannel selling, but it comes with multiple challenges. And, these challenges can easily scare any seller from experimenting with different marketplaces like Southeast Asia eCommerce platforms.
Here are the major challenges –
Enlisting products and their details
It is the major issue sellers face while selling their products on multiple Asean marketplaces. When you are selling the same products on different platforms, it is necessary to keep their details consistent on all of them. In the case of the SEA region, you need to consider at least 3 marketplaces for proper multichannel selling. This means that doing it manually for each item one by one will consume a lot of time and energy.
Inventory Management
Providing details for each product and enlisting them on every channel you are using isn't enough. The Southeast Asia marketplace is known for the high demands of trending products. So, you must have enough inventory supply for each of them as well. Moreover, the products and new orders aren't visible for different platforms. So, you have to keep checking everything manually and update product information (quantity) for each sale made on different platforms.
Data management and Analytics
As you start making sales and your business expands, you will get a lot of data coming in and going out to manage. Moreover, you have to keep an eye on the source and check its accuracy. It is because these data will give an insight into which business strategy needs improvement to increase sales.
…And the list continues. If you want to learn about more challenges, read our blog on Common Multichannel selling challenges to overcome for Magento sellers face.
Yeah! These challenges are scary. Are you thinking of taking a break to reconsider starting a Multichannel eCommerce business in the asean marketplace? Or are you looking for a solution to overcome these challenges?
I am glad you chose the latter!
Also read: Difference between Omnichannel vs Multichannel eCommerce 
The Solution
CedCommerce provides a solution for Magento sellers looking to start their multichannel selling business and double up sales. The solution is the Magento Multichannel Integration extension for Southeast Asia eCommerce platforms. This extension offers multiple benefits and improves the new seller's experience! Here are the major benefits of using a Multichannel Integration solution for selasealing on the Asean marketplace –
Bulk Product Upload
The sellers can use the extension to easily upload products in bulk with just one click. It will save both time and hassle. Now you can focus more on marketing and sales!
Product Category Mapping
This extension also offers category mapping. This technique helps sellers map multiple attributes and categories into a single attribute and category. There is also an optional attribute that you can create from your end. Great!
Automatic Syncing
This extension automates the syncing process. So, you don't need to manually update product order, price, inventory, listings, and inventory on each channel. It gives real-time product updates that help inventory management even more straightforward. Now you can save many more hours!
Feed Management
The feed management section will allow you to check for any errors by creating a feed when a new order is created. There is no place for mistakes in a business!!
Cron Management
Cron is the most notable feature as it automatically updates order status and inventory every 5 minutes. Isn't it something you always wanted – an automated solution?
Yearly Subscription Plan
This integration comes with a yearly subscription plan with a zero Commission rate and no hidden cost.
Easy to Use
The extension is installed directly into the Magento seller panel. No additional dashboard is required as the extension creates a centralized platform to manage everything from a single location.
How to Download the Magento extensions for the Southeast Asean Marketplace?
You can download the Magento multichannel Integration for the Southeast Asia marketplace you want to sell on by visiting this page: Magento Multichannel Selling in Southeast Asia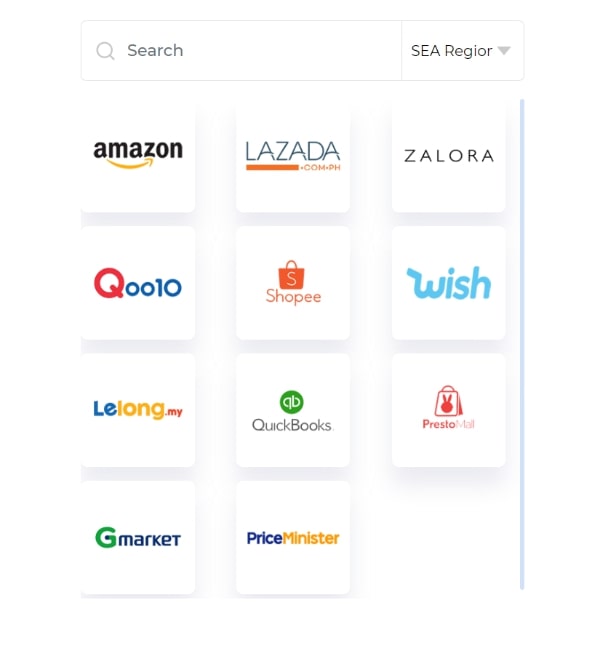 Summing-Up
Southeast Asia is a growing economy. And with the rapid increase in the number of internet users and shopping enthusiasts, Southeast Asia marketplace offers a huge opportunity for new sellers. Multichannel selling further helps sellers expand their businesses in a new region and increase sales. If you, too, are looking for new opportunities, it is the right time to make a presence in the Asean marketplace. Shopee, Lazada, Zalora and, Qoo10 are some top Southeast Asia eCommerce platforms that you can start with and expand your business.
If you are worried about the challenges in multichannel selling, we have a solution for you. Join us today to sell efficiently on different platforms!