Cross-border trade: All you need to know is here!
Running short of time? Get PDF of the blog in your mail.

Play Now
With technology and innovation getting evolved day by day, the world is becoming smaller. The entire globe has today become a small family and the services and communication being exchanged is a common practice. In line with that, the e-commerce world has been developing a practice called cross-border trade and that is what we will talk about today!
What is Cross-Border Trade?
When a consumer buys a product online from a merchant who is located in another country, it is cross-border trade. In this practice, customers and sellers are located in different countries with different policies. It generally occurs in case a product or service isn't available in the buyer's country or it is with an offer that a buyer wants to grab.
The act of selling a product from one country to the buyer of another via B2C is cross-border trade.
In simple words, buyers who want deals and offers that are available across the border, buy products from sellers of that country, and this is cross-border trade. As a result, a merchant is expected to deliver the products and services to the buyers from another country. It helps the sellers to expand their business at a global level.
What do Facts & Figures say about Cross Border Trade?
Here are some global facts & figures for Cross Border Trade:
According to Forrester, cross-border shopping will make up 20% of e-commerce in 2022. Not only this, but the sales will reach $627 billion.
As much as 70% of consumers make at least one international purchase a year.
The cross-border trade sales were marked to be US$ 300 Billion in the year 2012.
More than 21% of the global online trade totality consists of cross-border trade.
67% of shoppers in the US are at least spending 10% of their monthly online shopping budget on cross border eCommerce.
Amazon and eBay are two of the most popular marketplaces for shopping cross-border, especially in North America and Europe. Cross-border sales now account for nearly 25% of third-party units sold on Amazon.
Before we delve into the details of the marketplaces, let's take a look at the Cross Border Sales in this perspective.
How To Sell on Marketplace to leverage Cross Border boom?
Marketplaces are driving cross-border sales. Amazon and eBay are two of the most popular marketplaces for shopping cross-border, especially in North America and Europe. Cross-border sales now account for nearly 25% of third-party units sold on Amazon.
China is reshaping cross-border commerce in North America. The rise of eCommerce in China, which is now larger than the markets of North America and Western Europe combined, will force cross-border retailers and logistics providers to adjust to a rapid change in global online sales.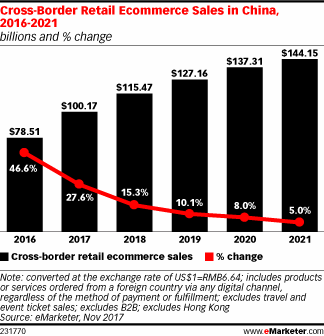 Increased cross-border selling is cultivating more cross-border services: Cross-border eCommerce is driving the creation of new services that protect retailers from the expense of returns, extend and simplify payment services, create local eCommerce ecosystems, and reduce the overall cost of eCommerce logistics.
You must be wondering which are the top marketplaces for Cross Border Trade.
Well, Here's the answer:
Top Marketplaces Offering Cross Border
Fruugo
Mercadolibre
Amazon
eBay
OnBuy
Zalando
Asos
To learn about this in details, visit this blog – Top Marketplaces Offering Cross-Border eCommerce
But do you know, which region is the leader in Cross Border Trade?
Europe, the Champion of Cross Border Sales:
As visible from the statistics, Europe seems to be the epicentre of the cross border sales and this can be attributed to the common euro economy. However, this trend is going to witness replication across all the markets of the world due to the deeper penetration of e-commerce.
Also, the proposed e-commerce legislation in Europe aims at removing the bottlenecks which affects cross border e-commerce, "geoblocking of eCommerce buyers from EU nations outside of the seller's own; improve oversight of cross-border delivery services while compelling them to be more transparent about pricing; and strengthen enforcement of consumers rights", reports eMarketer.
Other than Europe, Cross Border Trade in Latin America is dominated by Mercadolibre – the best marketplace in latin america.
For online sellers, Cross Border Trade can be beneficial and challenging at the same time. You must have a good understanding of these –
4 ways how eCommerce solves Cross-Border Puzzles for Online Sellers
1. Seamless payment processes:
Choice of payment processes differs from region to region. The developed world prefers Paypal whereas Asians generally don't. Chinese use Alipay and WeChat and Indian prefer COD. However, it is a credit card that is the most popular method of payment across the world.
It is the marketplaces that provide great assistance to online merchants. It gives the freedom to customers who can choose generally from larger payment methods available. These marketplaces have partnerships with leading payment gateways, also it results in lower transaction fees.
2. Established Fulfilment network:
Like payment systems, people across geographies have different tastes for their fulfilment method. The U.S customers want direct delivery to their doorsteps whereas French also expects the same but with some collection points. Therefore it adds to the complexity to the operations and adds constant innovations to that. So, relying on 3P fulfilment partner or, adhering to marketplaces' fulfilment service should be followed.0
3. Localised Listings:
People are more comfortable in their native language and technologies are also embracing these. Listing on marketplaces also gives you an edge here. You can easily localise your marketing and merchandise strategy. It is easy to translate the product information and create a copy that resonates with buyer aspirations.
4. Deep Insights:
Marketplaces have analytical tools and have deep insights on what matters the most. Also, what makes users hit "Add to Cart", what are their preferences which of the products can a hit, and which potential disaster. Leveraging their intelligence and insights, sellers can reach to the complete new buyers which otherwise is inaccessible.
What Are The Benefits of cross-border trade (CBT)?
With multiple benefits cross-border is something every merchant wants to focus on. Glance over some of them below:
Global  Expansion
Sustainability
Increased access to end customers
Brand Awareness
Increased Revenue
Build a customer base
Selling of low-demand products globally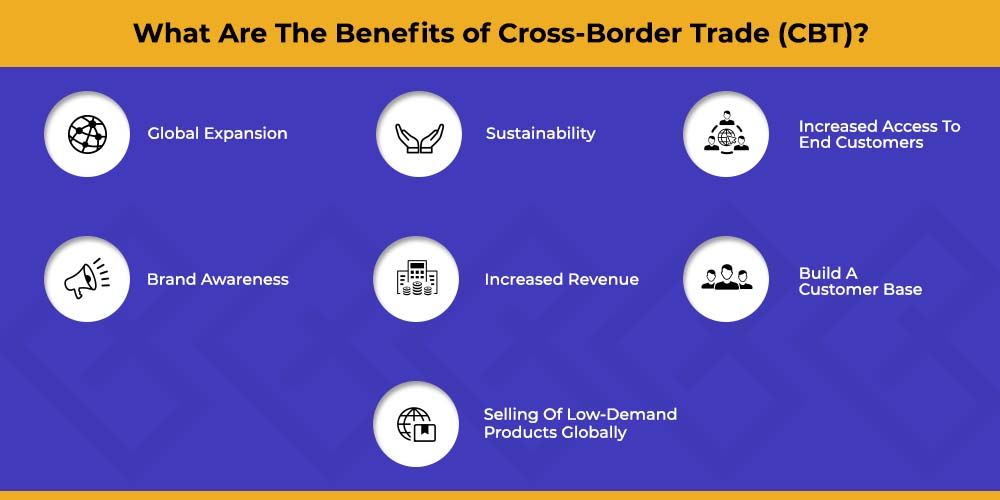 Now let us go through them one at a time.
Global Expansion:
The worldwide exposure of the products that a merchant is dealing with is the biggest advantage that a cross-border trade brings. Selling without hassles of geographical boundaries is a benefit that allows the merchants to sell in a region where its best to sell. Merchants can penetrate the market of the regions which have burgeoning economies.
Sustainability:
To make the brand presence more eminent across the globe, cross-border trade helps the merchants to create a mark in the world of e-commerce. A brand gets noticed and helps the merchants make a mark in the market with the brand building amongst the customers.
Increased access to end customers:
Without distributors, sellers have direct access to the customers. Results? The higher profit margin with profit getting increased manifold. In this case, the sales will always be higher.
Brand awareness:
Better brand awareness results in better choice and better choice results in better results. The brand building is the most important factor if the mind of buyers needs to be understood. If the brand awareness is in sync with the changing buying needs and trends of the market, it can procure the best results from the buyers. Also, it can make a positive image of the brand in the target group's viewpoint.
Increased revenue:
It is quite obvious that more sales and demand will get the merchants more revenue. Selling across-border means bigger target group for your product, which means that you have a bigger customer base to cater. Once your product gets recognized in the international market, it keeps on amplifying the sales with no loss to bear.
Customer base:
Expansion leads to a bigger customer base and numerous clients for the products and services you offer across the border. The presence in the global market hence always helps the merchants to increase their customer base.
Selling of low-demand products globally:
Some products have lower demand in the domestic market as compared to the cross-border market. For such products, cross-border trade can prove to be a savior. As the products are already low in demand, the risk can be considered, but still, the results can be better when you're stepping into a new market.
What Are The Cross-border Trade Challenges?
It's true that cross-border trade is thriving each moment, but the hurdles are not less. These hurdles may be encountered by both buyers in general and merchants in particular. Apart from trust issues, there are multiple challenges that really DO exist and the prime ones among those are categorized into two parts:
External Challenges
Internal Challenges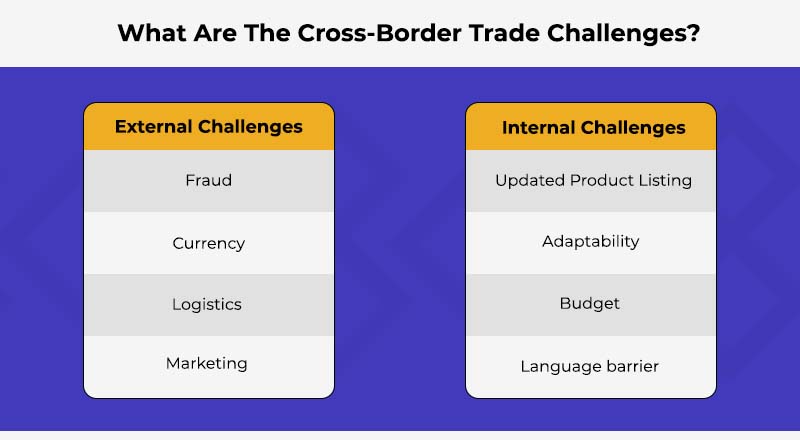 Now let's discuss them in detail:
External Challenges:
Fraud
Currency
Logistics
Marketing that's not up to the mark
Fraud:
One of the most common challenges in cross-border trade practice is Fraud. The potential fraud can, however, be avoided if a safe, secure, and trustworthy payment option has been chosen by the merchants.
Currency:
Apart from accepting a foreign currency, another concern of added shipping cost can be a challenge in cross-border trade. Such is an effect of this particular challenge that it is accountable for over 25% of shopping cart abandonment.
Logistic:
The difference in infrastructure, warehouses, and delivery method between merchant's country and buyer's country can become a threat to the seller's business. Its advisable for merchants to care of these beforehand.
Marketing:
Marketing in a foreign land is not a piece of cake. Establishing a brand in international markets to sell internationally is a tough task that sellers need to take care of. In absence of strategized marketing, no business can tend buyers to take actions under the cross-border trade practice.
Internal Challenges:
Updated Product Listing
Adaptability
Budget
Updated product listing:
Merchants need to make sure that the changes in the product listing and its content must reflect across international market(s) where the merchant is focusing.
Adaptability:
Product Marketing in different regions needs localization of the information and product content. It, in turn, needs management of different languages, currencies, payments etc.
Budget:
Expansion of business a border requires a staff, money, and manpower that imposes a burden on the budget of a merchant.
5 Points to consider before practicing the Cross-border trade
While practicing cross-border trade, there are points that a merchant should take care of. It is to make the most of the business and to turn the maximum profit.
Regulations:
The taxation system and local government policies should be clearly examined by the merchant. This is vital in order to avoid any negative impact on your business due to different policies, while you sell internationally.
Researching the territory:
It is very important for merchants to keep in mind certain points before they start cross-border trade and sell internationally in international markets. One of those points is the apt territory. A merchant should consider first the territory from where most of the traffic is coming. A merchant should consider whether the region where the traffic is coming from is worth giving importance or not. It should also be noted whether the expansion is going to render fructifying results or not?
Third-party platforms:
It is important for sellers to understand the importance of third-party sellers in the cross-border trade before selling internationally in international markets. They must know if their competitors are using third-party platforms such as Amazon, Alibaba, eBay etc. to sell in that particular region.
Get to know the feedback:
Before you sell internationally, try to get feedback from the prospective buyers of the region that you are planning to focus. This can be done in the form of surveys and even better if done by the merchant by visiting the region's market of interest.
Communicate with other merchants:
Try to get in touch with merchants who already sell internationally in international markets. Additionally, try to know the kind of strategies they have followed to turn the profit. Learn from what other merchants have done in the market.
Let's go through all the points once again: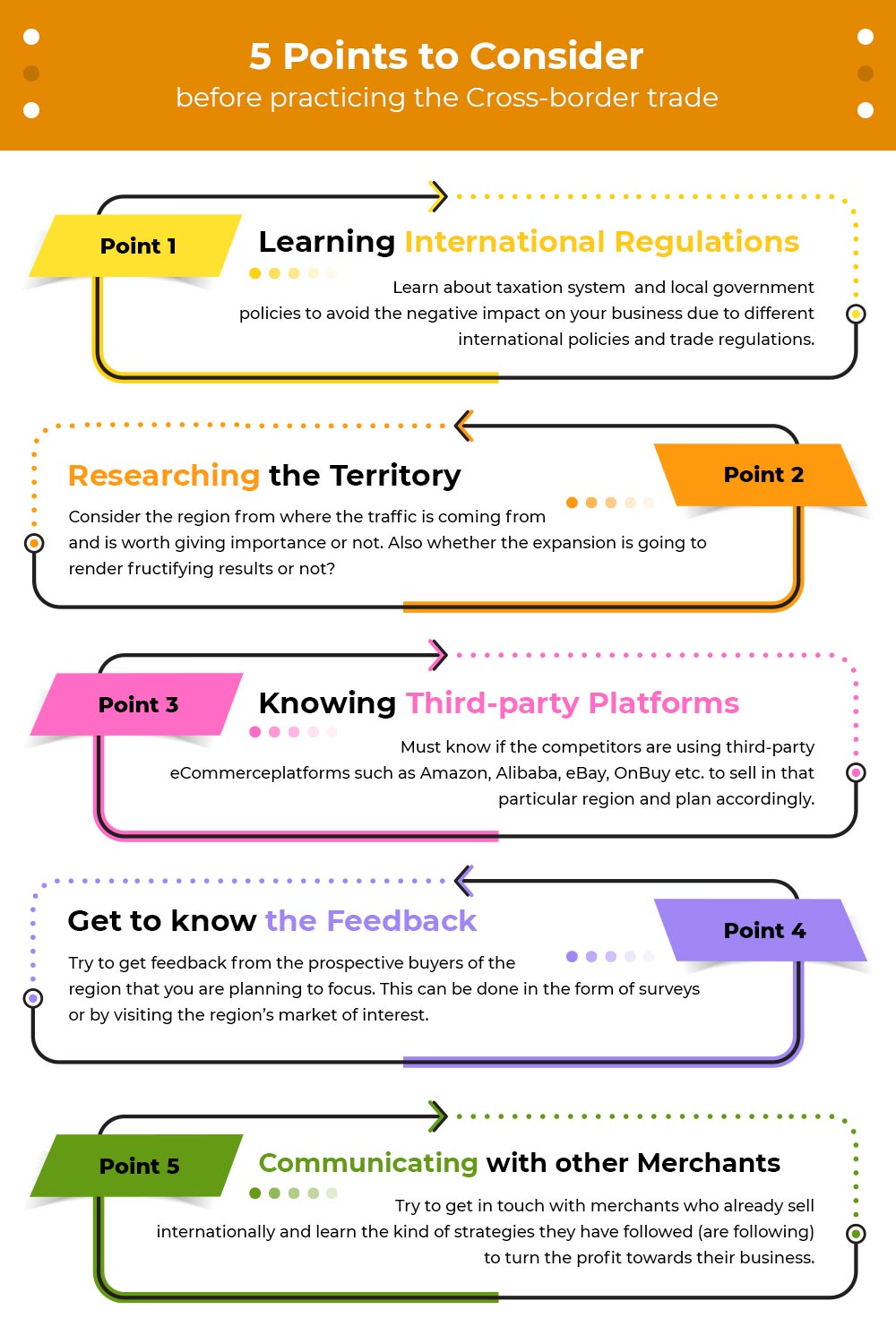 Conclusion
Since the world is moving towards e-commerce, it is only prudent time to give your products a platform that can truly judge the potential of its utility on the global scale. No wonder some of the unexpected ones can do the wonder for you. You never know!
So if you want to sell internationally in international markets across the border, expand your business, or generate the revenue that you have always dreamt of, Contact Us and take your business to the soaring heights! You can also reach us via! Skype or Live Chat.
Continue Reading:
Sell on Top Marketplaces Offering Cross-Border eCommerce and Dropshipping