CedCommerce Enables Shopify Merchants to Sell Easily on Kaufland.de Marketplace
Running short of time? Get PDF of the blog in your mail.

Play Now
Isn't it fascinating to see how a seller from one corner of the world connects to a shopper from another corner? With the spirit of connecting merchants with apex marketplaces, CedCommerce is excited to join hands with Kaufland.de marketplace – Germany's one of the biggest online marketplaces. Kaufland.de marketplace integration solution by CedCommerce opens a new channel of trade for Shopify merchants. This integration solution will help grow your store's presence in the European continent by streamlining your business process with automation and near real-time syncing. 
Post-pandemic, we witnessed a boom in online shopping. To keep up this spirit, we feel ecstatic to announce our affiliation with Kaufland.de marketplace. Our solution enables Shopify merchants to connect with German online shoppers. With this pristine partnership, we want to raise the bars of multichannel selling by streamlining the flow of sellers connecting with their potential customers. – Abhishek Jaiswal, CEO – CedCommerce. 
Kaufland.de Marketplace Integration Solution by CedCommerce – Spilling the Beans – 
The world, along with eCommerce, is going through a lot of changes. Our stint with eCommerce tells us that 2020 was an unprecedented era for Shopify merchants. As a result, a slight change in your mindset can make the coming fall in your favor. CedCommerce introduces a new trade channel for Shopify merchants – Kaufland.de marketplace integration solution. The integration solution will help your Shopify store connect with 32 million online shoppers in Germany.
And not to worry about managing your store and marketplace transactions. With this integration solution, you can work everything under one window. As a result, you are free from the tedious job of managing things alternatively.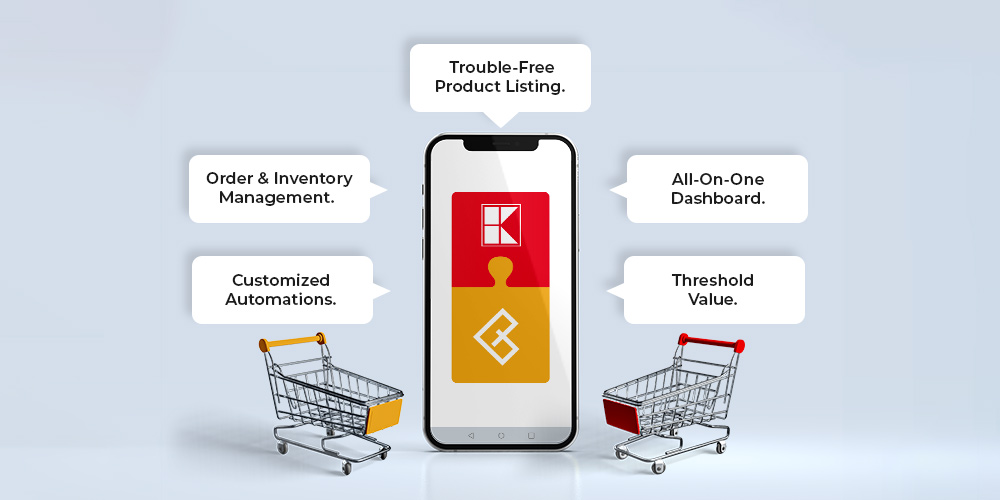 Below are the prominent features of the Kaufland.de marketplace integration solution by CedCommerce – 
Simple Dashboard & Easy Onboarding – 
How should an ideal integration solution be like? It should be understandable, responsive, and effective. Our app's dashboard displays an abstract of products, orders and filtered sales data. You can sync products from your Shopify store or list them on the marketplace in a few clicks.
Don't worry about the onboarding process. You only need a client and a secret key. You can get both the keys while you are making your seller account on the Kaufland.de marketplace. 
Customized Automation – 
You can utilize the pricing template, which will update the prices of your products as per the marketplace standards. You can also save general information about your products. As a result, you can use these templates as and when required while uploading your products. 
Order & Inventory Management –
You can manage, fulfil and cancel incoming orders from the marketplace. Our app will fetch new orders to ensure quick fulfilment.
To manage inventory, you can decide the threshold levels of your products. As a result, you will be informed when a product reaches its minimum levels. So that you can refill them before they run out of stock.
Another perk is that you will get personalized assistance from our accounts manager.  For more details, refer to the step-by-step integration document. 
What Makes Kaufland.de Integration Solution Unique From Others?
Exclusivity of our partnership brews from the fact that Kaufland.de and CedCommerce both want to empower small and medium businesses and help them grow.  Here are significant highlights of the Kaufland.de integration solution by CedCommerce –
Kaufland.de accepts all primary payment methods. 
You only need to have EAN or GTIN for onboarding. 
Kaufland.de marketplace provides exceptional support to its seller base. 
Unlimited product listing. 
Pay commission only on realized sales. 
No contract periods. 
Kaufland.de is a hub of 5000+ product categories. 
Being a part of the International Marketplace Network, you can also sell on four different platforms simultaneously. 
Lifetime free updates from CedCommerce. 
A dedicated accounts manager at your convenience. 
Why Should You Sell on Kaufland.de Marketplace?
Kaufland is a German hypermarket chain. As a part of Schwarz Groupe, they have 1300+ retail stores. A year ago, Kaufland forayed into eCommerce and acquired real.de – Germany's favorite online marketplace. As a result, Kaufland.de has become one of the biggest online marketplaces in Germany.
Real.de was also a member of the International Marketplace Network since 2019, connecting real.de, Cdiscount, eMAG, and e-PRICE.  You only need to sign up on one of the four marketplaces, and you will be eligible to synchronize all the offers in real-time. 
Kauflannd.de joining hands with real.de is a unique handshake to become one of the apex marketplaces in Germany. As a result, Kaufland.de marketplace is a hub of 7000+ merchants selling 25+ million products to 30+ million German shoppers. 
Summing Up – 
To grow an online business one should be open to experiments. One such experiment is to adopt a multichannel approach. Which is all about searching and picking the right marketplaces where you can showcase your products. Just like you do it in your Shopify store. 
Kaufland.de marketplace is one of its kind because of its hybrid nature hailing from a reputed offline hypermarket (Kaufland) and a German online marketplace (real.de). With a community of 7000 sellers, Kaufland.de marketplace is welcoming small and medium businesses to be a part of the journey where together they serve 32 million German shoppers. 
CedCommerce's Kaufland.de integration solution is free of cost. We can relate to the hustles of Shopify merchants and we aim to make their hustles worth it.