Major eCommerce Trends Influencing Online Business Priorities in 2022
Running short of time? Get PDF of the blog in your mail.

Play Now
The eCommerce world is all about educated guesses on sales and consumer trends; trends that are changing every day through influencer marketing, advertising campaigns, and technological advancements. As a result, shoppers' preferences have been a significant subject of studies for online sellers and marketers. This helps them hone and grow their selling capacities. The most common online marketplace trends in 2022 will move around Augmented reality uses in future, multichannel selling, more visual and live streaming, and many more. Let's read each of these eCommerce trends 2022 in detail one by one.
Major eCommerce Trends to pervade throughout 2022

Augmented Reality Uses in future will increase
The need to feel more realistic in shopping has seen a recent upsurge. Augmented Reality market currently holds a surprising value of $3.5 billion dollars. Not only that, the age group between 18-34 will be more convertible through AR with an expectation to reach 1.7 million AR users worldwide on mobile devices by 2023.
Augmented reality is just delivering a more real-life shopping experience to people. While sitting at home and sliding fingers on their device screens, Augmented Reality builds a virtual reality platform to feel, check the quality, and practically test of the products.
Products like items of Furniture, automobiles or home interiors, etc. need more persuasion and a convincing approach to make conversion online. Through augmented reality, this exactly is achieved with overwhelming results.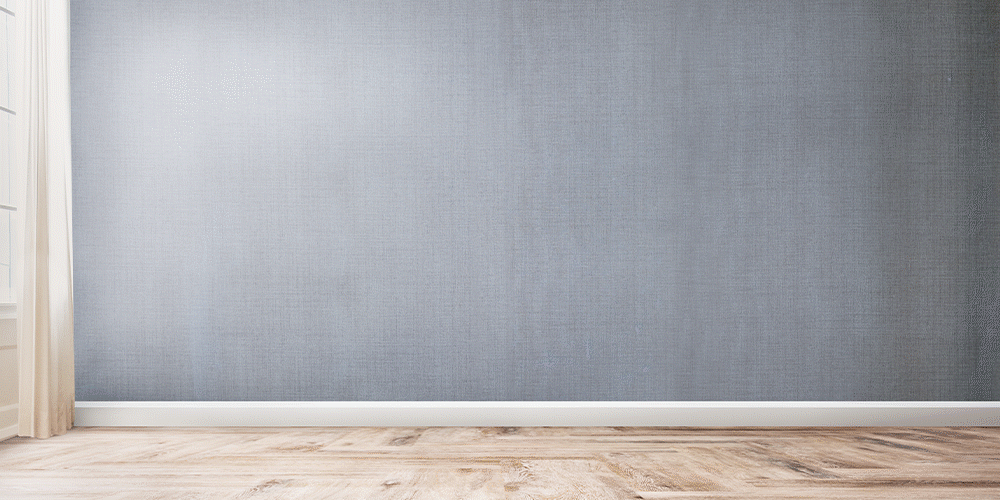 To tap into the huge opportunity on mobile devices, you must ensure getting your mobile app or website in place. Progressive Web Apps are one such platform that highly supports features of Augmented Reality and Virtual Reality on mobile phones. Making your website/Brand mobile-friendly with advanced features of AR will surely be a great treat for 2022.
Multiple Hassle-Free Payment Methods Will be Yielding
Imagine a situation when a customer made a purchase decision on your e-store but changed his mind at the eleventh hour because of a lack of preferred payment options. This sounds undesirable, right? This exactly happens when your payment methods are topsy-turvy and is a hassle for customers.
As many as 55% of shoppers abandon their cart if they are asked to refill their Credit details again. The need here is to understand what customers want for their excellent checkout experience. Here is a list for you:
Firstly, offer On-page Checkout
Secondly, ask for most needed details only
Additionally, error notification and the auto-save system is always reaping
Also, mention shipping, delivery, and other details clearly
Certainly, ensure displaying security badges
Most importantly, Customer Support must be available
Moreover, allow guest checkout, avoid forced registration
The list can have several more things, but embedding these will do the needful of delivering a hassle-free and smooth checkout process to your potential customers. POS solutions can help online sellers immensely in automating the checkout process with smooth functioning across multiple selling platforms.
Social and Mobile Commerce will be most engaging
Social and Mobile commerce has taken the global marketplace trend by storm. As a matter of fact, practically everywhere and engaging people from all walks of life, social and mobile commerce are the most suitable platforms to target in 2022 for added selling benefits.
Social media platforms are most engaging as far as global marketplace trend is concerned. Social media platforms like Facebook and Instagram have welcomed sellers globally, offering their platforms for online businesses to target and cater to their millions of active users. Not only that, these social platforms are offering different ads and marketing options to target different sets of audiences as per business needs.
Mobile commerce on the other hand has complemented the selling process. With only increasing penetration of mobile devices, social media engagement is only increasing dramatically. Capitalizing on these ideas can unfold a great customer base for small businesses and Brands in 2022.
By bringing your business to the Facebook marketplace, and Shop or Instagram shopping, you can easily get your store set-up, automated inventory, and order management. With less manual work and involvement, as a seller, you can focus on other strategies and customer relationship building.
Personalized Omnichannel Approach will be new essential
2021 and a couple of years preceding it, saw how people loved to see and click on relatable products on multiple devices. With multiple screens, we refer to multiple marketplaces, mobiles, desktops, and physical stores. Your website or store must be available on multiple screens for customers to enjoy the Omnichannel approach.
Now, your omnichannel selling strategy should not be vague. They must be personalized. With a good marketing and digital strategy in place, you can exactly know your target audiences, your top-ranking products, the time of high sales, and loopholes as well that need special attention or complete knockout from your plan.
A personalized approach helps you in several ways as a global marketplace trend:
To begin with, you reach the right customers
Subsequently, providing valuable content/product/services
Additionally, builds a bond between brand and customer
Moreover, develops brand loyalty
Above all, increase brand awareness
These points are just like scratching the surface. The actual results are way better and heart warming if done the right way.
Live Stream and Visual Shopping will be captivating than ever before
Live streaming and Visual shopping are always more captivating and converting way as per many global marketplace trend research reports. It enables a consumer sitting far physically to get a chance to participate and put queries. It is certainly a more real, personal, and interactive shopping experience.
The product categories that score higher conversion rates through Live streaming are Apparel and Fashion followed by Beauty, Fresh/organic food, Consumer electronics, Furnishing, and Home decors, and automobile.
Sustainability will determine Ethical Brand Value
Do you know that 57% of consumers are willing to choose a brand again because of its higher ethical brand value? The shoppers from millennials and Gen Z love to know what they are purchasing. Customers now appreciate, follow and recommend others to buy from brands that promote green consumerism. Not to mention, Green Consumerism has become a recent need to focus as prominent eCommerce trend 2022.
Here are examples from two brands: Free package shop and Koko. The brands primarily focus on promoting zero plastic products be it a kitchen, beauty, clothes, or daily use items. The look, feel, and sustainability pitched through the title, product descriptions, and store content are highly captivating.
For instance, take a look below: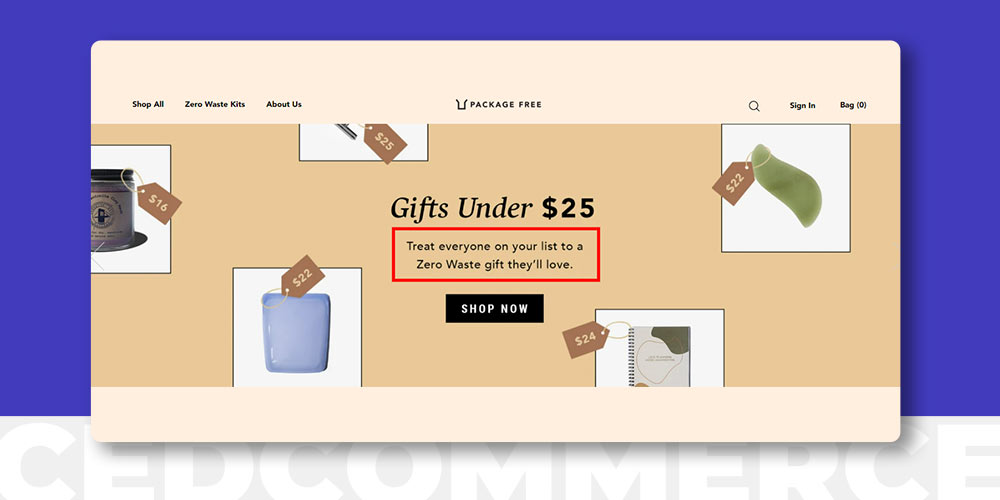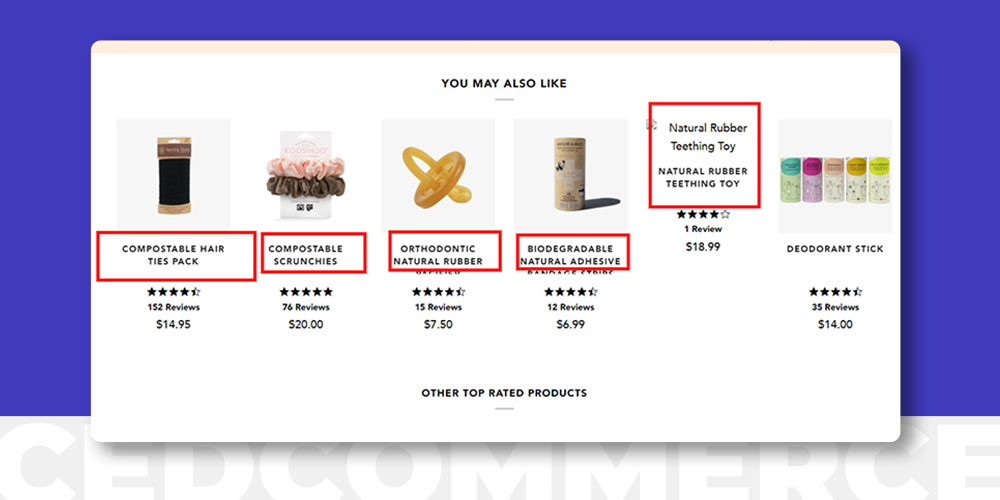 The selection of words like compostable, biodegradable, and Natural Rubber are enhancers of the ethical value of the brand. The brand successfully caters to the current global marketplace trend through title and product description.
A similar example goes with Koko: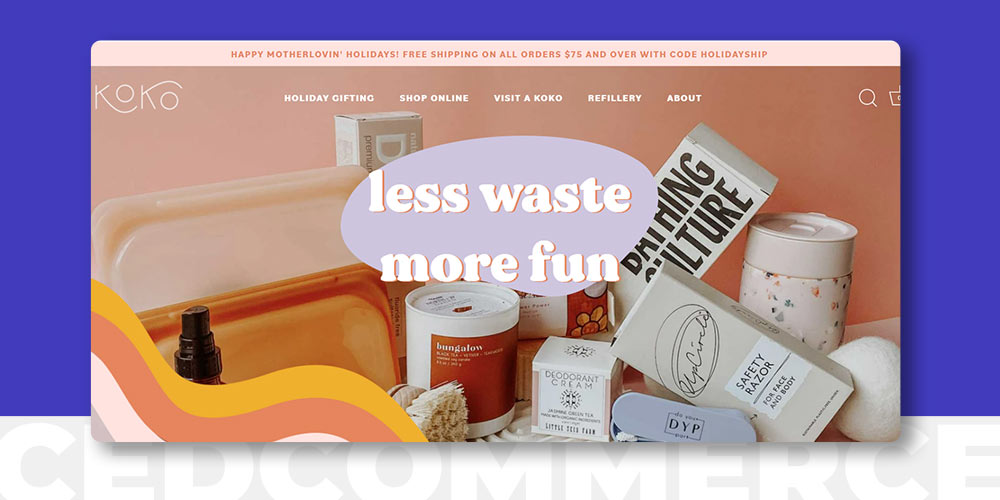 The color, keywords, description, and feel, practically everything about the brand seems to stand for its idea of an ethical and sustainable approach.
eCommerce trends 2022 will be filled with consumers jumping towards brands capable of doing less harm to mother nature and its consumers. And the good news is building a sustainable store isn't difficult. With a good integration partner you can easily get your store set up, store themes customized, and marketing automation in place easily.
What will retail experience look like in 2022 with a Multichannel Selling Approach?
Multichannel selling platforms have contributed hugely to building a dynamic eCommerce world. Marketplace behemoths have pioneered online retailing and have revolutionized the selling and buying process especially in recent years and 2022 will be no different.
Amazon, Walmart, eBay, Facebook have flooded the eCommerce world with the latest updates and incentives ensuring an elevated and advanced selling and shopping experience. Amidst huge opportunities, expanding to multiple platforms has become the need of the hour.
Potential consumers rely on various online channels for getting the best of their products. Hooking such customers on a maximum of online platforms increases your sales and revenue opportunities. Sounds laborious to manage multiple selling accounts and listings? Actually not. With Multichannel Solution, you can easily bulk upload your products and automate Inventory and Order without manual involvement.
Be it any framework; Shopify, Magento, Opencart, Prestashop, Woocommerce etc, just consider getting a highly reviewed solution partner and leverage a budget-friendly approach towards maximizing sales and minimizing manual hassles.
Final Words
The eCommerce trends in 2022 will certainly be more planet and consumer friendly. Augmented and virtual reality will add to the shopping experience of the shoppers. Mobile devices and social media like Facebook Shops and Instagram will certainly open an omnichannel shopping portal for targeted audiences.
As sellers, understanding your target audience, delivering a great customer experience, and getting a trustworthy solution partner, heading into 2022 with the exception of online sales will be much easier than ever before.
In case you find this article helpful and curious to get a good solution for your store or marketplace, consider contacting the experts on Skype and WhatsApp. You are welcome to post and ask your queries anytime anywhere.
Happy selling!