What does Google Free Listing Mean for Opencart Store Owners?
Running short of time? Get PDF of the blog in your mail.

Play Now
Gone are the days when one can just go out to run errands. COVID has changed the lives of consumers and as well as the sellers. In these hard times, Google Free listing has come across as a breath of fresh air for the sellers. But what does Google Free Listing really mean for Opencart Store owners? Should you implement Google Free listing for your opencart store as well? Is it any good for your Opencart store? So let's dig a little deeper into Google Free listing.
Did you know about the new opportunity that lets you keep all your profits to yourself? With the exclusion of commission fees from the Google Shopping Actions programs, you can enjoy all the profits made through your sales. Grab the opportunity with us today!
Quick overview: What is Google Free Listing?
Google Free listing is a wonderful way to get your products on Google Shopping organically through a Free Merchant Center program called Free Listing.
Your products will appear on Google Shopping tab, along with the sponsored Shopping Ads, and on Shopping.google.com.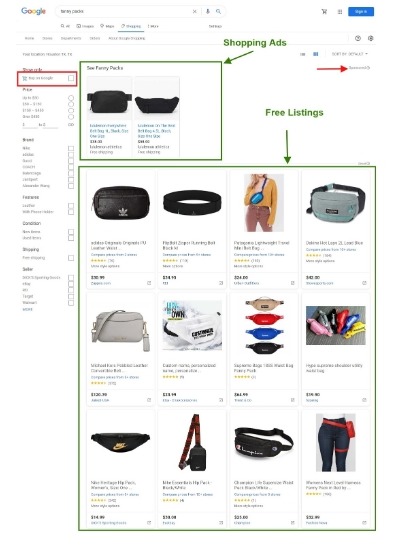 What are the benefits of Google Free listing
To begin with, Google Free Listing is absolutely free. Secondly, early experimental data indicates that retailers will see a 3-5% increase in aggregate clicks which clearly indicated that your products will gain an instant visibility boost.
Moreover, as consumers are coming to terms with the changing shopping environment, and they can no longer go out to shop for their basic needs, they are turning to eCommerce. Which is evident by the 52% increase in eCommerce consumer sales.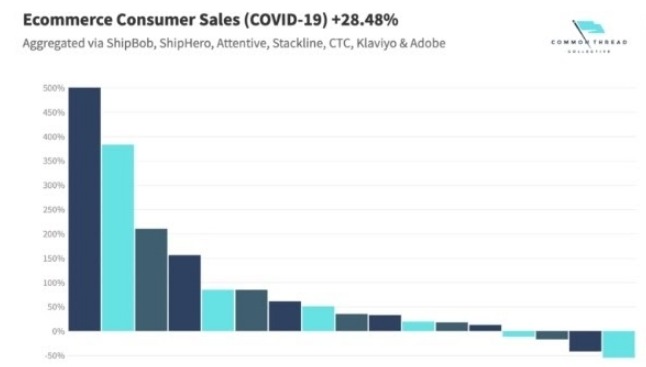 (Source: Common Threads)
This is the best time to get your products online!
Shopping Ads are no longer of any use?
Assuming this could seriously hurt your online business. There is no doubt it is the best way to capture more audience which is evident by the fact that Google Shopping Ads now drive 76.4% of retail search ad spend, that generates 85.3% of all clicks on Google Shopping ads campaign.
Google Free listing will help you get your products on the Google Shopping tab, but with Google Shopping Ads you can get your products on the Google Search as well as on the Google Shopping tab. The more your products appear on several platforms, the higher the chances of getting more sales.
CedCommerce experts agree that Google Free Listing is the best way to test the waters, to see how customers are responding to your products. Once you know how your products are performing, you can take it up a notch and begin leveraging Shopping Ads' benefits.
Should you implement Google Free listing for your opencart store?
In short, Yes! Being a free program, you don't have to worry about squeezing this in your tight budget.
Get the power of Google free listing for your Opencart store
You will only require one thing: a Merchant Center account and even if you don't have one, we can help you set one up!
We understand how hard it could be for you to keep your business up and running in these hard times, so we are playing our part. Now with our free services, we help you generate a product feed that completely falls through with Google's guidelines and upload it to your Merchant Center at absolutely no cost.
But why stop there!
You can get your products on Buy On Google, a profitable marketplace by Google that has a ton of benefits for your business, such as:
There are absolutely no seller fees. You only pay when you make a sale
Your brand gets a lot more visibility as your Google Shopping store uses your logo.
Your products appear more which consequently increases your sales.
More and more customers are choosing Google Shopping as it offers them a seamless shopping experience with free shipping, free delivery and one-day shipping.
Buy On Google can really help you in improving your sales, just like Pixielure saw a 60% increase in its sales!
So what's the wait for? Get Google Shopping Opencart integration and enjoy an efficient way of selling on Buy On Google. Our integration has features that set us apart from all the other players.
'Buy on Google' program in France will be ending on December 7, 2021. For more updates or support, get in touch with the experts at CedCommerce here!
Why and how we are different: Google Shopping Opencart Integration features
Do you dream of scaling up your business in the future? If yes, then your inventory size is likely to expand as well, but getting your entire inventory up on Google Shopping is going to be a hectic and time taking process.
Bulk upload feature automates this process and enables you to upload a number of products on Google Shopping.
Profile-Based Product Upload
Automated products upload enables you to easily create a profile based on a single category, and then assign the products to the profile.
With Google Shopping Opencart Integration enjoys the seamless many-to-one category mapping, i.e., you can map many categories of your Opencart store to the single category of Google Shopping.
Creation of Opencart Orders
Orders are automatically acknowledged and every order placed on Google Shopping is automatically created as it is in your Opencart store with all the required details. This ensures efficiency and saves a ton of your time!
Our Google Shopping Opencart integration enables validating of the product information in accordance with Google Shopping standard, values and guidelines.
Automated Synchronization
Imagine how much time you will save if synchronization was automated, now stop imagining because it is as easy as 1-2-3!
Auto-synchronization of the product listing, order, inventory, return and refund, and pricing at regular intervals has made possible with our integration between your Opencart store and Google Shopping.
With a large number of orders coming in, you have to make sure to stay on top of everything. With order management, you can be sure to not miss anything. Get all the status of completed, pending, shipped or cancelled orders in one place.
Moreover, we are the only players who provide Google Shopping order management for your Opencart store.
It only gets better: Benefits of Google Shopping Opencart integration
You could do more with less
Once your products are on Merchant Center through our integration, you can use it to set up Free Listing, Buy On Google and Shopping Ads.
Even if you have a brick and mortar store, Google has programs to help bring your products online and boost their visibility. With Free Local Listing and Local Inventory Ads, you can easily get your products online.
Some of these programs are also free making it accessible for all.
But as you already know, you need an error-free product feed to set any of these programs, and this where our integration comes in. Be it generating a product feed with our free service or managing your products and orders at an affordable price, we do it all!
Marketing experts at CedCommerce can help you set up Shopping Ads and Local Inventory Ads. Our solutions are tailor-made for your business. To know more, check this out!
24X7 free customer support
No matter what, our customers come first! So if you have any queries or you feel stuck somewhere on a Sunday, at 1 in the morning, no doubt we are there to solve it. You can reach out to us without any hesitations.
One-on-one customer support
We understand that bots can not solve all your problems. Some issues require our special attention and a tailor-made solution. With our integration, you get to enjoy our award-winning customer service.
Conclusion
Even if you are not an Opencart store owner, this is the best time to get started! Our experts will help you create and manage one.
We know a bunch of tips for success and very useful insights of Buy On Google marketplace as we are an official channel partner of Buy On Google. Many merchants connected with us have seen a whopping 500% growth in their GMV. You can also be one of them. So why wait? Connect with us today!