Festival Season 2020 Highlights – User Spending, Emerging Trends
Running short of time? Get PDF of the blog in your mail.

Play Now
Three cheers to 2021. New year, new hopes, and lots of new happenings. But one thing that remains the same is the fear of the grim virus among us. A virus potent enough to stop us from getting out of our house. While the world slowly took eCommerce's help for their holiday shopping in 2020, offline merchants were defending themselves from the retail apocalypse. They took advantage of online selling when the time was dark for traditional retail. This holiday shopping 2020 report is a descriptive approach that provides insights about the best selling merchandise of 2020, how eCommerce turned out to be a phoenix during dark times for offline retail. Along with how much online shoppers spent during the stay-at-home Halloween followed by Cyber weekend in the east. Singles day and Diwali in the east. Oh, and Jingle bells too! All the holiday shopping stats of this year are compiled for you so that you can actually re-think if COVID-19 really stopped us from celebrating the festival season of 2020. 
Stay-at-home culture in 2020 highlighted the importance of multichannel selling. If you are selling your products on multiple channels (from a mobile app to a small aisle in a brick-and-mortar store) you're visible to more consumers (which ultimately means more conversions). 
First Half of 2020 – The Retail Apocalypse! 
Let's forget the pandemic for a while. How would have been this year's holiday season then? We would be kickstarting the day by marching out of our houses, running from aisle to aisle in retail ourselves, and grabbing those heavy discounts and offers! 
But the pandemic took down the streets and brick-and-mortar stores didn't pull much of the customers. And that's how lockdown turned out to be apocalyptic. During this time big-and-small retailers tried to go online (from offline), but quite a few stores were on the verge of bankruptcy. 
Retail stores across the world were shut down so that all of us could avoid social gatherings. 
For some time, departmental stores did well. But after prolonged lockdowns big and small retailers started selling groceries online. Now a family could order groceries online, pay online, and receive the goodies right outside their door (and fresh). Eliminating the human touch (which was of utmost importance).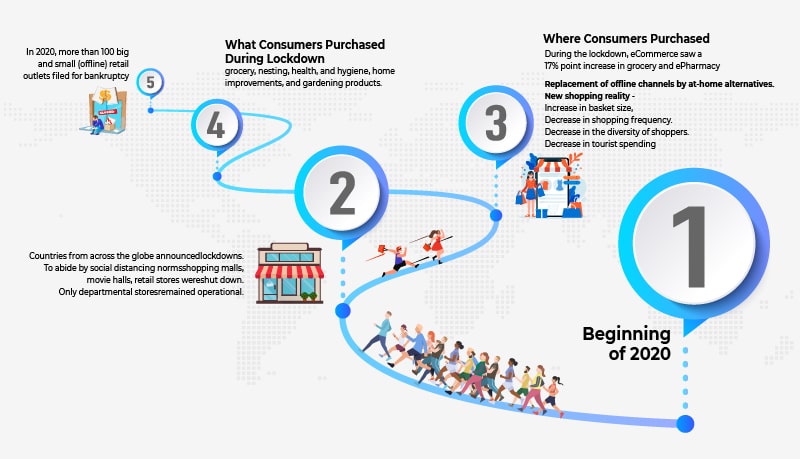 There was a slight (but convenient) change in consumer behavior during holiday shopping this year. Now, be it a teabag for daily use or trending tees to jazz up the evenings – shoppers are considering online channels of shopping more than ever before. 
While the global offline retail sector was doomed to silence, eCommerce was raving to the sounds of the festival bells. Holiday shopping stats of 2020 highlights the importance of online selling and how eCommerce turned out to be a phoenix during the retail apocalypse. 
From getting insights about this year's holiday shopping amid COVID-19 to considering the idea of selling online – the report serves its purpose. 
Second Half of 2020 – Stay-at-home Holidays – 
A duty (and punishment to many of us) sometimes fun, sometimes boring – but worth doing – staying at home! 2020 gave stay-at-home a broader meaning. A culture calls for a change – a change in habits, hobbies, temper, and in our strength to work towards bringing that change. However, changes are not always smooth especially when you cut-off from the rest of the world. But all this happened during the festival season 2020. 
The internet is one of the few things that gave us a sense of connection during all this time. While our habits were changing, how we acquired goods also changes. We started buying more stuff online! 
More in quantity and more categorically. This revolutionized the eCommerce industry and the festive bells of 2020 just add music to this event.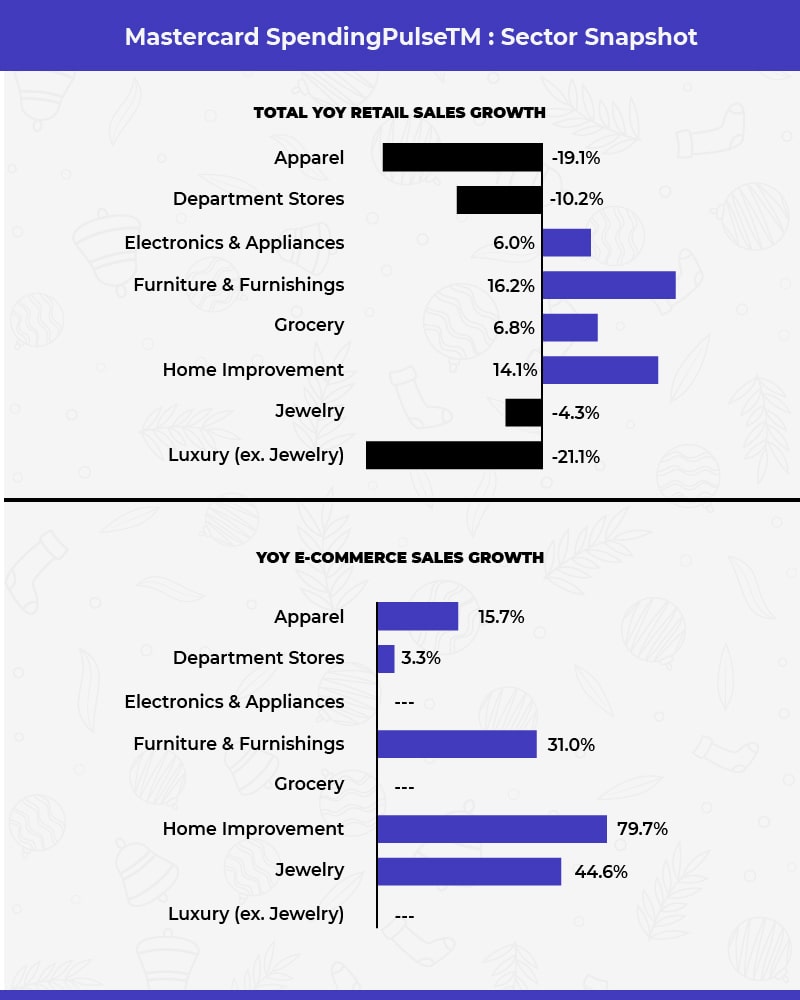 According to the US Department of Commerce data, online's share of total retail sales was 13% last year. But during this year's holiday shopping alone, eCommerce sales were up 49% (during 11th Oct – 24th Dec). eCommerce accounted for 19% of the overall US retail sales. Categorically speaking,
Furniture and furnishing had the strongest growth followed by home improvement. The apparel category declined while electronics went up.
Groceries are selling online more than ever before. 
Talking about the east, India's eCommerce during the holidays bagged ₹58000 crores in sales during 15Oct – 15th Nov. This is 65% more as compared to the last year. It was forecasted that this year's holiday shopping in India will be around $7 billion. 
And all this time we not only learned to cherish the stay-at-home culture but experienced the very first stay-at-home festival season. Let's see the story of all the festivals individually. 
Festive Bells, eCommerce & Devoted Shoppers – 
Even after the pandemic and uncertainty about consumer's willingness to spend, the National Retail Federation expected 2020 holiday shopping to be between $755-766 billion. Online and other non-store sales are said to contribute 20-30% during the holiday season 2020. 
Throughout December 31st, Americans were likely to spend $28.1 billion (more using their smartphones as compared to last year) and small retailers were to contribute $10-50 million in sales during the holiday season with a collective revenue boost of 107%. 
Isn't that too much of a shopping? Well, not really! It's the holiday season after all – new changes, new gifts, shopping, lots of shopping! 
October Month & The Spooky Halloween – 
Festive season bells ring loud and clear from the day of Halloween – bonfires, spooky costumes, and trick and treats all around. But unfortunately this year we didn't get to see much of that. 
During that Halloween festival 2020, despite the grim pandemic, 46% of Americans dressed up for Halloween celebrating spookiness at home with their family. Best selling Halloween costumes this time was that of a witch, vampire, cat, princess, superhero costumes. Even after a rare sight of trick or treaters, candies were the best selling merchandise during this year's Halloween season.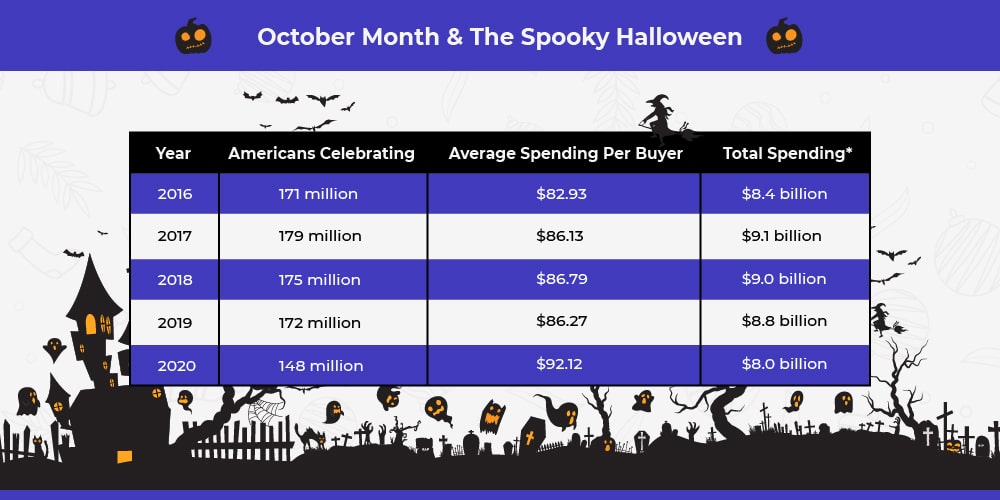 However, this year's holiday shopping during quarantined Halloween was less compared to last year. 148 million Americans spent $8 billion during the 2020 Halloween festival. But the average spending went up to $92 (compared to $86 last year). 
Jam-Packed November & December – 
As per the forecast by Deloitte, eCommerce sales were to grow by 25-25% Y-o-Y during the 2020-21 holiday season. 
However, the overall picture is slightly complex. According to the US Census Bureau, over the past ten years, the average retail growth from October to November was an increase of 0.2% making 2020 a relatively small anomaly. 
But the good thing is that on a year over year basis, retail sales in November 2020 were 7& higher than November last year.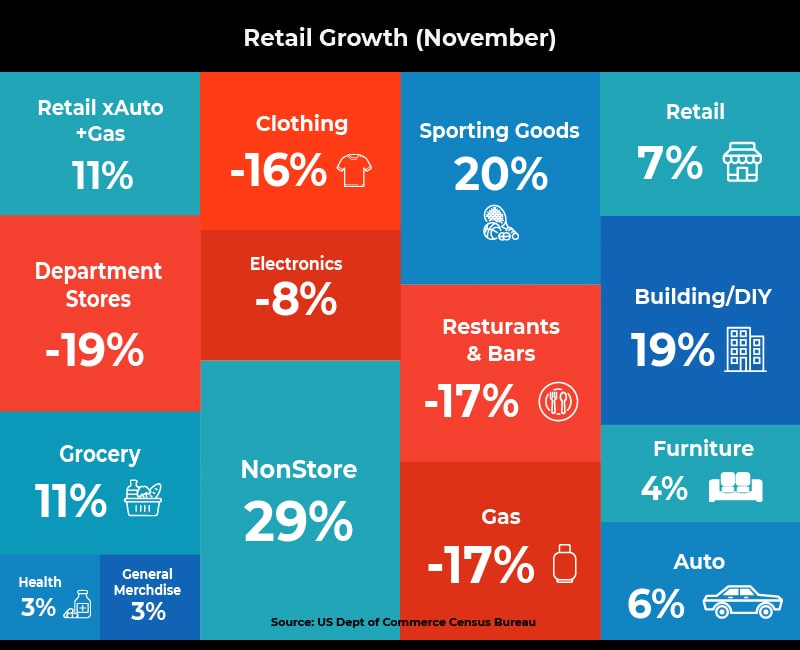 In 2020, no category was hit harder than restaurants, movies, and departmental stores. Overall online channels of shopping grew 45% and 37% in Q2 and Q3. 
Holiday stats during this year's festival season tells that consumer spent $62.5 billion in November. Even before Thanksgiving shoppers started looking for valuable discounts on gift items. 
Adobe analyzed 1 trillion visits to the US retail sites and found that curbside pickup (buy online and pick up in-store) has shot up to 140% so far.
Online sales topped $1 billion in the first 24 days of November. 
Record-Breaking Black Friday, Cyber Monday – 
Black Friday and Cyber Monday broke the uncommon silence and turned out to be the biggest days in terms of holiday shopping 2020 in the US. Online sales during Black Friday 2020 hit $9 billion (22% more from the previous year). 
Best selling merchandise during Black Friday was the smartphones driving in $3.6 billion in sales. Online shopping of smartphones during this Black Friday accounted for 40% of total online spending. 
Cyber Monday 2020 hit another record and reached $10.8 billion in the US. As per this year's holiday shopping stats, Cyber Monday was the largest online shopping day in the US. Best selling merchandises during Cyber Monday include – computers, sporting goods, toys, appliances, and other electronic goodies. 
While in-store traffic was down by 52%, US shoppers downloaded the shopping apps like crazy! Approximately 2.8 million shopping apps were downloaded during the BFCM 2020. This breaks the record of first-time installs of mobile shopping apps in the US.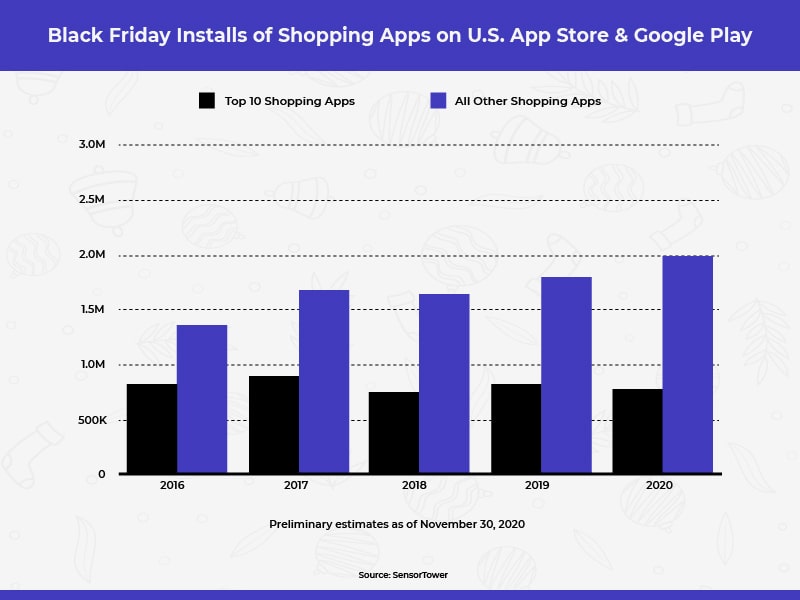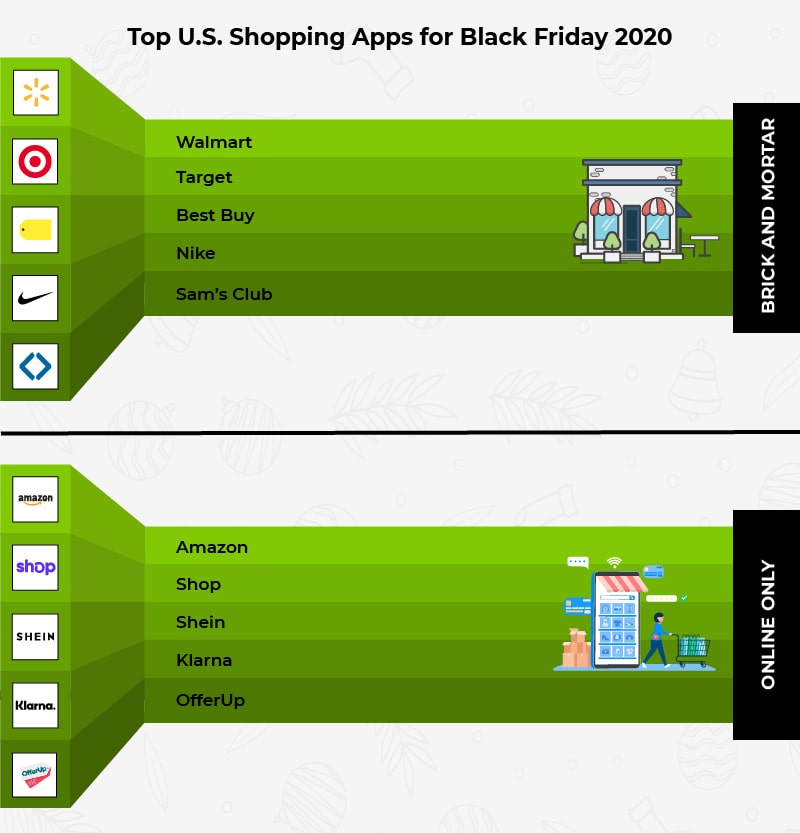 The East is the Best – 
Not only in the west, but eCommerce was raving in the east too. As per the holiday shopping stats of 2020, shopping during Singles day and Diwali roared than ever before! For the first time in the history of holiday season shopping, the Chinese economy was able to pull around $115 billion this year on the Singles day event. 
In India, the eCommerce festival season (15th Oct – 15th Nov) bagged ₹58000 crores ($8.3 billion!).
Singles Day & Triple-Digit Sales in 2020 – 
Also known as Bachelor's day, it's a Chinese unofficial holiday season – a day dedicated to the singles. 11th November – 11.11 abstractly refers to all the singles together in a group. A mere unofficial celebration of singledom started during the 90s' is now a big hype. 
On 11.11.11 more than 4000 couples got married in Beijing!
Singles day festival not only saw year over year growth in marriages but this holiday became the largest online shopping festival in the world. In 2009, Alibaba started offering discounts during 11.11. 
Chinese eCommerce giants Alibaba and JD.com bagged $115 billion in sales across their platforms during Singles day even. GMV over the 11-day period was $74 billion – quite more than last year!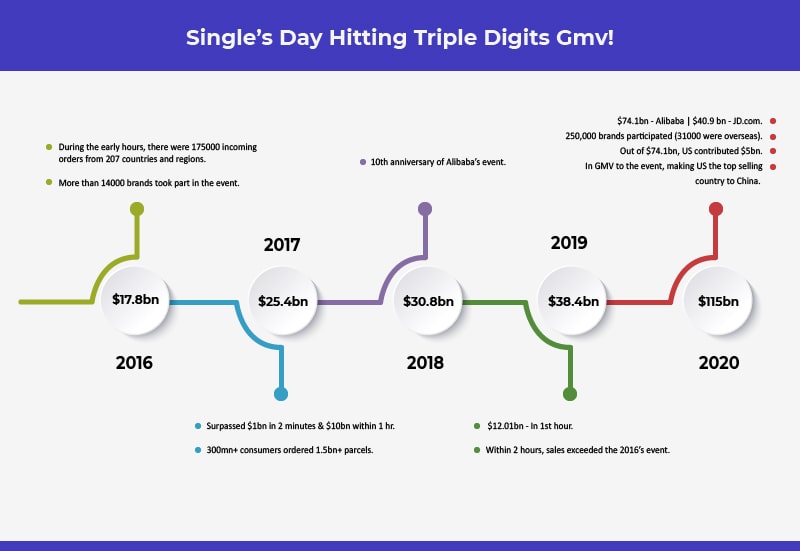 Sparkling Diwali & Holiday Shopping Stats of India – 
The year 2020 was a momentous one for the Indian eCommerce industry. Online shopping channels in India grew more than ever before and the performance of Indian eCommerce surpassed all expectations. 
During the October-November period, Indian eCommerce bagged ₹58000 crores ($8.3 billion) of sales. Spending patterns of 200,000 GenZ and millennials revealed that shopping during the festival season sales was 77% more as compared to 2019. 
This time consumers belonging to tier-II cities and beyond shopped a lot. Flipkart recorded 666 million visits during the Big billion days sales and 52% of these were from I-III cities and beyond. During the festival season 2020, consumers have become more value-conscious than before and are now shopping across new categories. As per the holiday shopping stats of India, the best-selling merchandise during the Diwali festival was from beauty and wellness and personal care.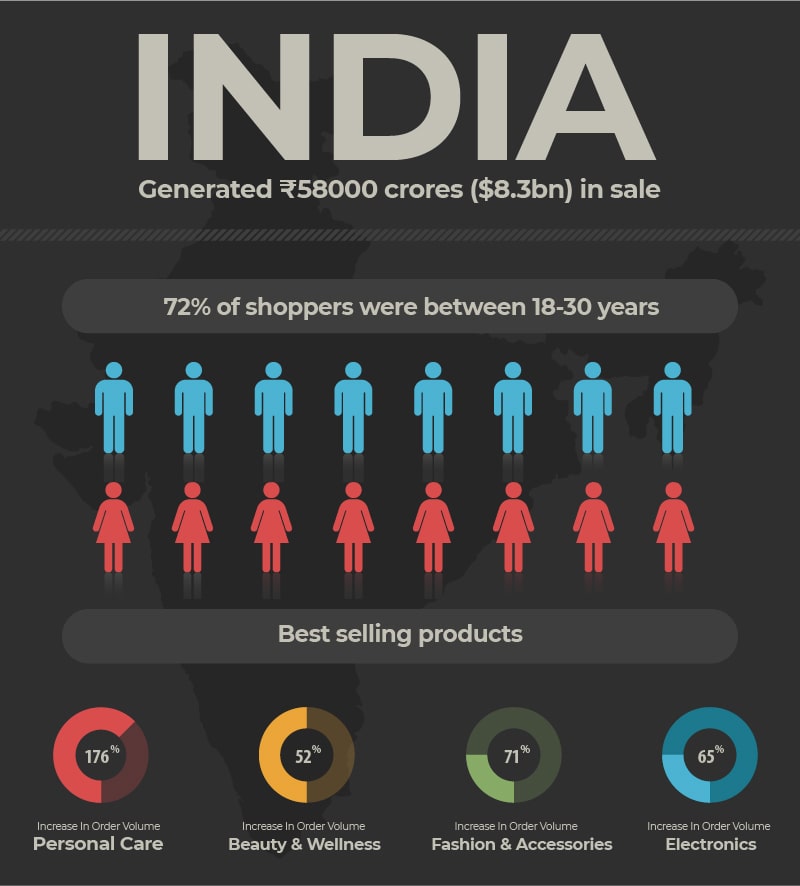 Sudden categorical shifts and more online purchasing gave room for growth for small, home-based vendors. During the festival season 2020, Amazon India had 1.5 lakh, new sellers, joining its platform. Businesses of small-and-medium enterprises selling products on Amazon witnessed exponential growth. More than 4000 sellers surpassed sales of ₹1 crore this year. 
Jingle Bells & Farewell of Festival Season 2020 – 
Convenient shopping and stay at home festival season 2020 made consumers shop earlier this year to avoid FOMO (fear of missing out), extra shipping costs, and delivery timeframes. Online sales grew more than 40% between November – December 2020. 

After huge spending on toys, electronics, and accessories during the Cyber weekend, best selling merchandise came from the home and garden category. Food and beverages, health, and beauty verticals also performed well.
During the peak shopping time between 27th December – 2nd Jan, in the UK, brick-and-mortar retailers reported 72% less foot traffic year-over-year. 
How Much Was the Festival Season 2020? 
As per the holiday shopping stats, consumer spending during the festival season 2020 was HUGE! While offline channels of retailers witnessed a slowdown, online channels bloomed up during the holiday season this year. 
US brick-and-mortar retail declined by 4%, eCommerce made 25% of the overall retail sales this year.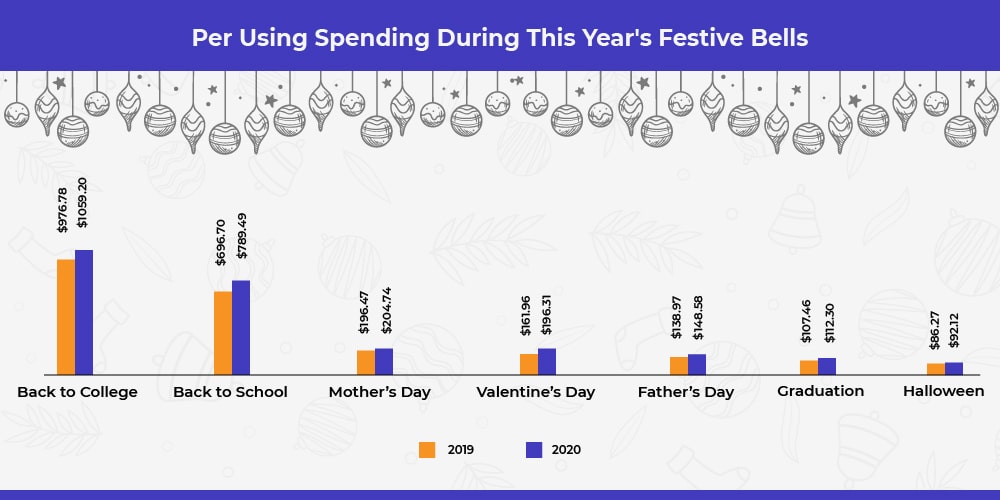 Cyber Monday was the largest online shopping day in the US with $10.8 billion in sales. Black Friday bagged $9 billion this year. Overall, Cyber week 2020 reached $270 billion globally. 
Emerging Trends During Festival Season 2020 – 
Below are some major highlights from the holiday season 2020 that are going to help online sellers in staying up-to-date with the recent happenings in the industry. 
A Shift in Payments – Festival season 2020 not only witnessed a change in how customers brought products but also how customers paid for their products. 18% of the millennials aged between 26-40 years have made at least one BNPL purchase over the past 2 years. 
According to Afterpay (which contributed $1 billion in US sales during the festival season 2020), the best-selling merchandise this time were thermal knits and socks from Old Navy and Crocs. The company experienced a rise of 30% in the average basket size for it's US Customers. 

Credit-card giant Mastercard saw a 40% jump in contactless payments during the holiday season 2020 including tap-to-pay and mobile payments. 
Categorical Shift – Usually gifting season and festivals are associated together. And when we talk about gifts, we mostly guess it's apparel, toys, or such stuff. But this time, best-selling merchandise during festival season 2020 belonged to personal care, beauty, and wellness. Electronic items and grocery items were among the emerging categories. This time, apparels didn't grab much of the limelight. 
Long story short, now online shoppers are ordering perishable and non-perishable goods, eatables, non-eatables, productivity hack products, and a lot more during the holiday season 2020. 
Personalization is a Must – Robotics and artificial intelligence is not just a fictional term anymore. eCommerce stores from across the globe are utilizing conversational commerce to enhance user's experience in their online store. 
Through messenger chatbots, brands like – L'Oreal, Starbucks, and Lego offered a whole new personalized shopping experience. After answering some quick FAQs, the chatbot helps the customers in their shopping journey. 
On the other end, SaaS-based eCommerce platform Shopify extended most of its services absolutely free until 1st Oct – 2020. Realizing the hard times for online merchants and small businesses willing to go online, Shopify helped retailers to shift to online selling!
Multichannel Selling – It's all about considering other channels of shopping as well. Holiday shopping stats of this year's festival season clearly indicated the need for multichannel selling. 
Successful sellers are always looking for new channels of trade – other than just an online store. With Shopify, you can only set-up your online store, but you can also integrate to top marketplaces and social media platforms to sell to a wider audience. You can sell on Facebook and Instagram, Walmart marketplace, Expand your print-on-demand store, or learn how to leverage Etsy and carve a better brand. 

Shopping from Mobile – Shoppers from across the globe continued to shop from their smartphones throughout the festival season this year. According to holiday shopping stats of this year, smartphone orders accounted for 43% of all orders. For the coming years, shopping from mobile will only grow. 
Google is moving into AR-powered cosmetics try-on experience on its search. The feature is said to allow consumers to try on makeup shades across a range of models with various skin tones or even themselves using their front-facing camera on mobile devices.
With such interesting features wrapped up with state-of-art technology, consumers are most likely to shop through their mobile devices. 
Want to have your store's dedicated mobile app? Checkout Shopify's drag and drop app builder 
Wrapping  Up – 
And that's how the stay-at-home festival season 2020 turned out to be a power-packed ceremony for eCommerce. The world's most celebrated festivals witnessed record-breaking shopping this year when the fears of COVID-19 wrapped the entire world in it. 
Throughout the holiday shopping 2020, we came across some of the best selling merchandise from personal care, home, and furnishing.  We hope this year's holiday shopping stats should help you in mapping your eCommerce plat for 2021. 
Happy selling!