Indian eCommerce Performs Amazingly During Diwali Festival !
Running short of time? Get PDF of the blog in your mail.

Play Now
Out of all the Indian festivals, the Diwali festival is the favourite pick. It's the festival where houses are loaded with shimmering lights, candles, and diyas. During the Diwali festival Indian eCommerce witnesses a stampede of online shoppers. This article portrays a microscopic view of the eCommerce market in India along with recent trends in the Indian eCommerce market.
India's 2 largest eCommerce giants take this festival quite seriously. If you're running an online store in the Indian subcontinent then you're well aware of Amazon and Flipkart. As we progress with the article we'll talk about how the 2 giants are reaping the best out of the Diwali festival. 
Diwali Festival & Indian eCommerce: A Sweet Spot for Amazon & Flipkart –
Indians are usually on a shopping spree during the auspicious days of Holi and Diwali festivals. But it's Diwali where consumer spending breaks record year after year. The image below gives a clear picture of Indian eCommerce during the Diwali festival –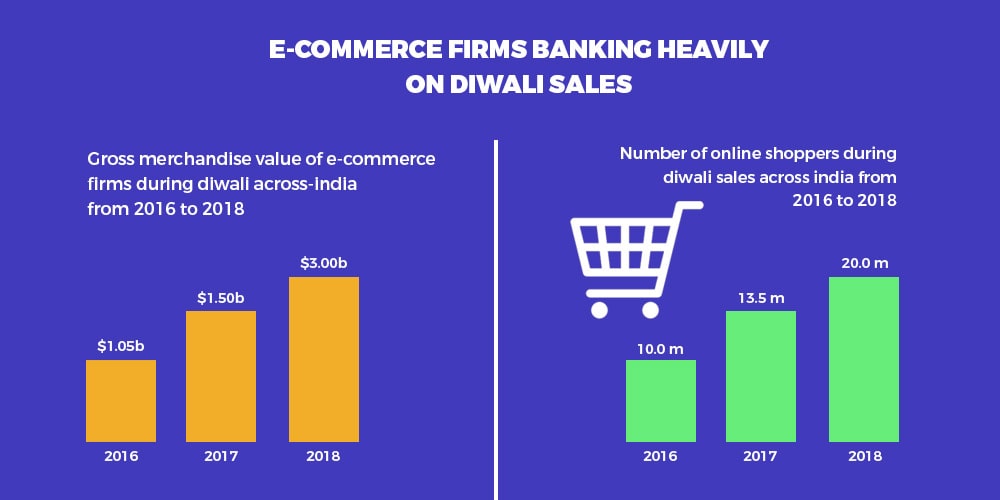 $3 billion GMV in 2018. That's quite a lot, isn't it? Having said that, let's figure out how Amazon & Flipkart are able to grab most of the limelight in the Indian eCommerce ecosystem – 
During the Diwali festival, the 2 giants flood the internet, television, and newspapers with advertisements for Amazon's Great Indian Festival and Flipkart's Big Billion Days. Diwali festival arrives with titanic expectations in terms of consumer spending during this time of the year. 
The number of transacting shoppers nearly doubled during the Diwali festival of 2019. While the number of orders placed increased by 160%. Overall spending during the 2019 Diwali festival went up by 51%. 
The sale of apparel, smartphones, electronics, and consumer products grew about 7-9% during this time of the year. 
Flipkart's Big Billion Days, 30th September 2018 was the single largest day for the Indian eCommerce market. 
More than 50% of Flipkart Plus shoppers belonged to T-II cities. T-III cities grew by 100% on a year-on-year basis. 
Flipkart's TBBD (The Big Billion Days) was the biggest festive season for smartphones where brands achieved more than 2x growth in 2018. 


& Some More –

In the fashion category, Flipkart saw 70% growth as compared to last year while 40% of new customers were attained through this segment. Females contributed 45% to the overall fashion sales in terms of units sold. 


Amazon and Flipkart grab approximately ₹19,000 crores in sales from the Indian eCommerce during the Diwali festival!

From 29th September – 4th October 2018, Indian etailers achieved a mind-blowing $3 billion in GMV (according to RedSeer). 
The major reason behind the dominance of Amazon and Flipkart in the Indian eCommerce is that it's nearly impossible to beat them in terms of offers, discounts, pricing, and marketing strategy!

All these facts make the two things clear. Firstly, during the Diwali festival, it is nearly impossible to beat the 2 giants in terms of promotion and user spending. Secondly, Indian online shoppers might be silent during the rest of the days, but when it comes to Diwali festival shopping, they can break records at any given point in time. Lastly – there is a lot of scope for online merchants to tap the eCommerce market in India.  
How to Compete with the Giants During Diwali Festival? 
Who doesn't want to reap the best out of India's favourite festival? But because Amazon and Flipkart are dominating the eCommerce market in India it becomes quite difficult to surpass them. In terms of … everything! But this doesn't mean that Indian shoppers won't consider your online store for their Diwali shopping! 
You need to make sure that your festive marketing strategy should directly correlate with that of the 2 giants. Because they are heavily funded they will always have more merchandise to offer at dirt cheap prices! 
Unboxing the Secrets of Diwali Festival & Indian eCommerce – 
The eCommerce market in India is highly sensitive and dynamic in nature. This is why your festive marketing strategy should also move ahead with time. For your convenience, we have divided the entire process into 3 phases.
Phase I: Pre-Diwali Strategy – 
Focus on getting new audiences from social media through organic postings. Avoid paid ads during the festive season because CPC would be on the higher side.
You should use brand awareness campaigns like boost posts, events boost, and Instagram stories to engage with brand new audiences. 
Use Google Display Network to generate curiosity about your brand among customers and in your niche. Combine keyword strategy to target specific product categories. 
Avoid running any kind of Diwali festival shopping ads during the pre-Diwali week.


Flipkart & Amazon are already dominating there! You might get clicks, but chances of conversions are quite less!

Place keywords like Discounted Diwali gifts, Diwali gift hampers, Diwali celebrations hamper, and likewise in your product descriptions.
Run canvas ads to engage with your audience. Use maximum (but cleverly) CTA and make them visit your Diwali collection page. 
Start Dynamic Remarketing and bid 30% higher than new audience GDN bids.  
Initiate Diwali festival shopping ads with only the best selling products. 
Phase II: During Diwali Time –
It's high time now. You need to use Dynamic Product Ads on high budgets. Apply the sale price column to improve the conversion rate with the sale price. 
Stop all the non-conversion campaigns for a while. Pause all the new audience campaigns if they are not performing well. 
Be creative with your social media posts and ads. Apply CTAs like discount coupons in the ad text. While the Diwali festival is going on you should avoid any kind of A/B testing. 
Phase III: Post Diwali Festival Strategy – 
Keep on running Dynamic Pricing Ads and pause all other campaigns in the meantime. 
Use analytics to collect customer's data. Get it mapped and find out what worked and what did not. It will be useful for the next time!
Keep your brand awareness campaigns and social media posts active post-Diwali festival.
You see, competing against the giants doesn't mean that you need to have deep pockets. Even if you're following their strategy you will be able to shake their grounds in the Indian eCommerce market. After all, it's all about value-driven products at affordable prices. If you have a product at affordable rates then Indian online shoppers will find a way to you!
Don't Take Social Media Posts Lightly!
Competitive, creative, and hyperactive. These are the 3 requisites of doing something big during the festive time in the Indian eCommerce. 
Competitive pricing, creative and hyperactive on social media is a necessity!
A lot of online shoppers discover offers on social media. Then they navigate to the eCommerce store where they can do their Diwali festival shopping. Even if you're low on budget and you're not willing to spend much on ads and retargeting. The least you can do is – roll out a couple of captivating social media posts during the festive time.
The main agenda of social media marketing during this time is to communicate. Communicate with the audience about your brand and convince them to visit your online store for their holiday shopping!
What Drives Indians to do Their Diwali Shopping Online?
Families gather around, clean their homes during the daytime. As soon as the sun sets down they enrich their homes with shimmering lights and burn crackers out of happiness and celebrations. But there is one common thing during this time of the year – Shopping, lots of shopping!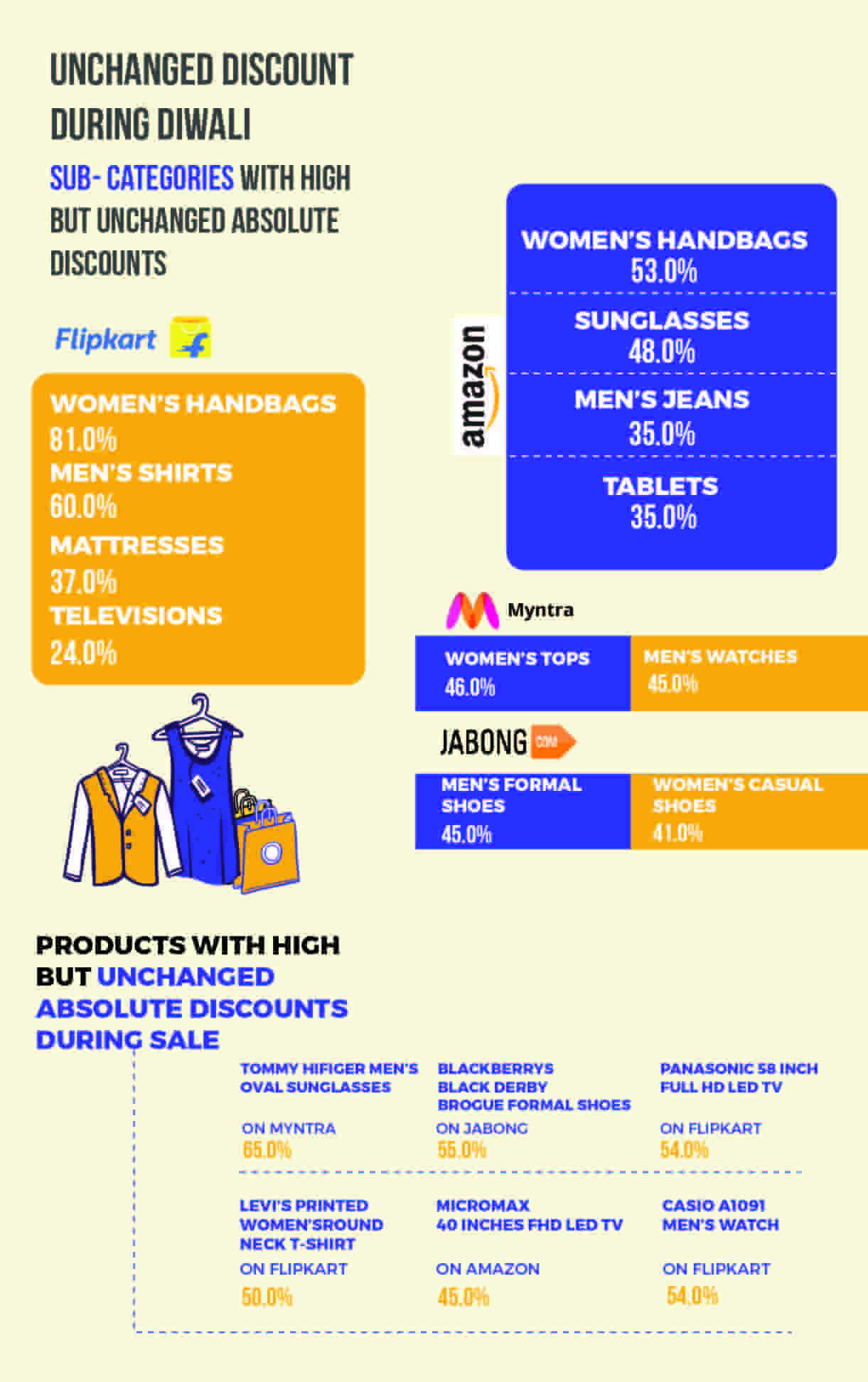 During the Diwali festival, Indian eCommerce witnesses a rush of discounts across categories. From buy 1 get 1, flat 50% off to exchange returns. You think of any offer and you will find discover a brand promoting that offer. If you're providing irresistible deals then online shoppers would consider your store for their Diwali festival shopping!
This is one major reason why Flipkart and Amazon are leading the Indian eCommerce market. This is also one reason why nobody wants to compete with them.
Diwali – The Perfect Reason to Go on a Shopping Spree!
Diwali is on 14th November this year. But celebrations begin prior to that. Before Diwali, comes Dhanteras – the worship of Lord Dhanvantri. It's celebrated as Laxmi Puja which is performed in the evenings when lamps of clay are lit. Indians consider these days as extremely auspicious to make new purchases especially gold, silver, and new utensils. 
When there is a festival where shopping can be a good sight.  Just imagine the scenario of the eCommerce market in India during this time of the year? From gold, silver to new clothes, gadgets, and cars. From branded merchandise to local shopping – there is no end to it!
Trending Social Media Posts During the Festive Time – 
Online sellers are in a great dilemma about what to post on social media regularly. That's where you need to embrace the creative side of yours! We have compiled a list of some trending social media posts that proved to be successful campaigns during the Diwali festival –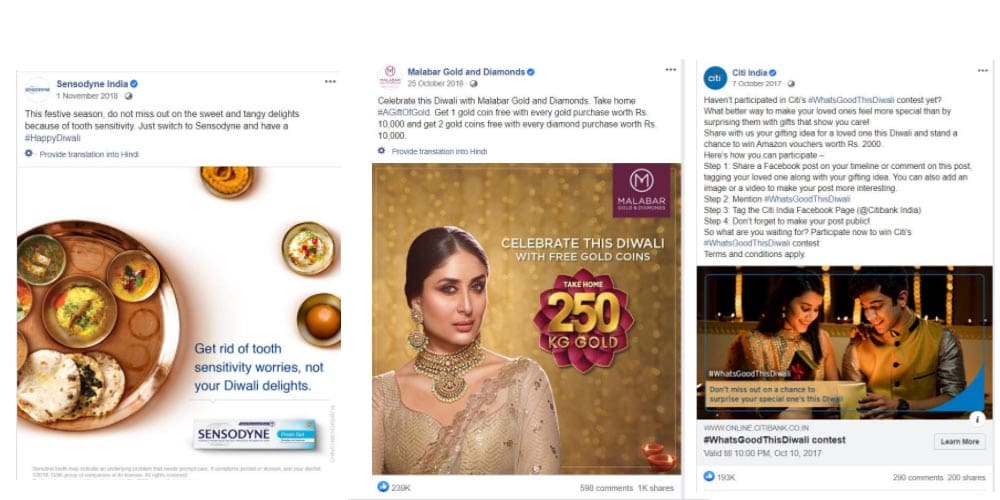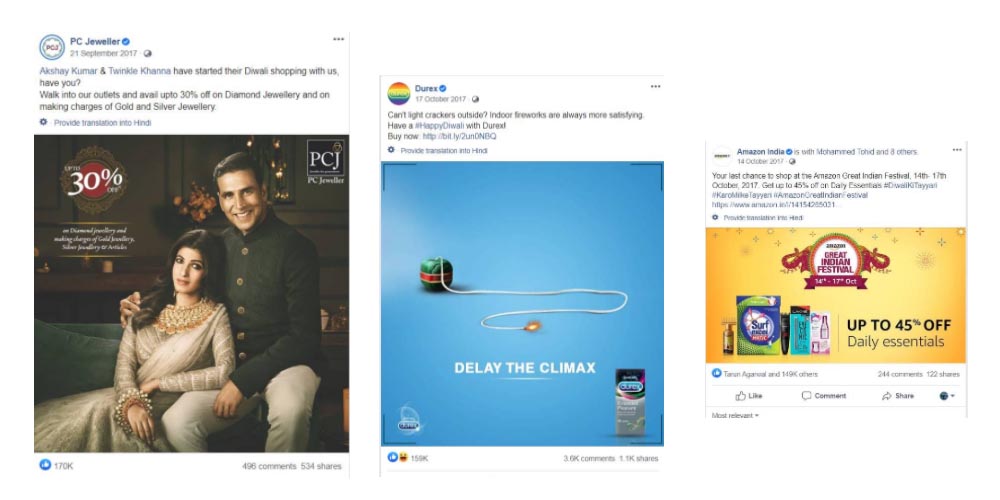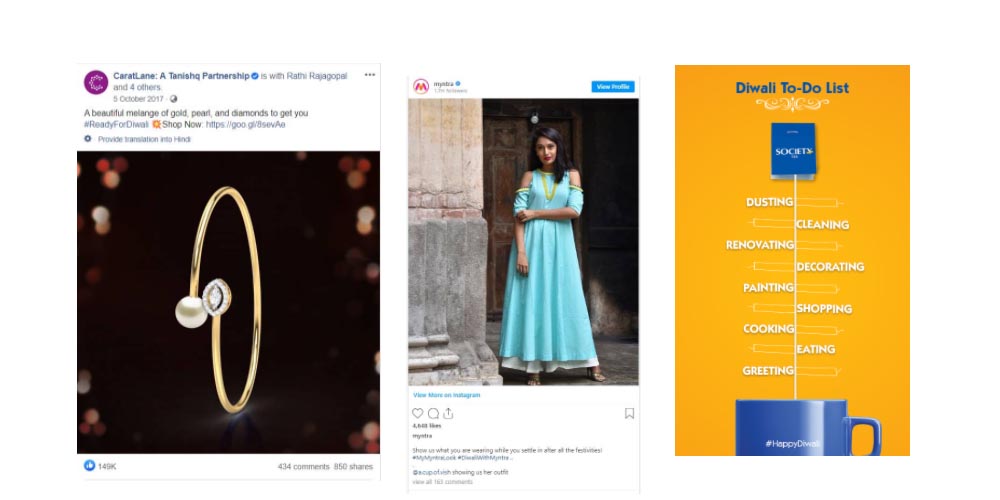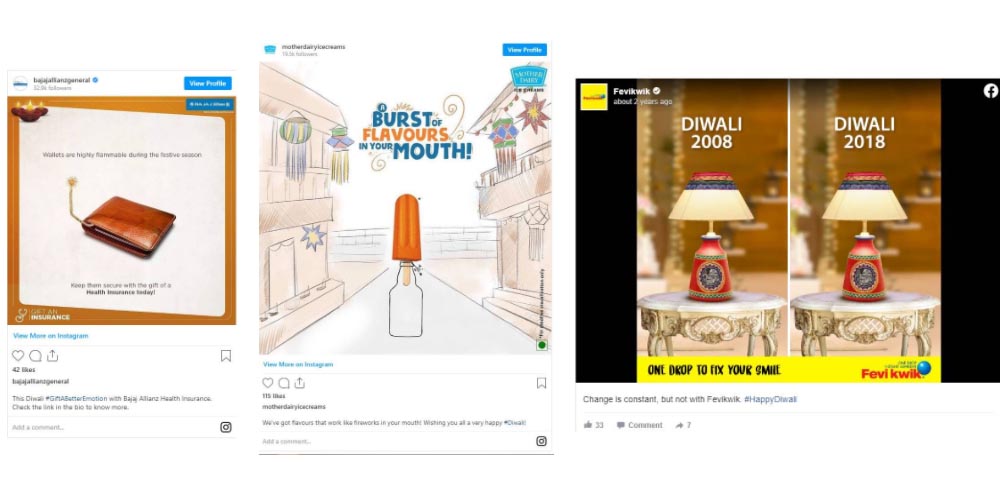 Social media is all about consistency and the presentation of your brand/products in a captivating manner. No matter what you're selling, where you're selling. Your online store needs to go on social media platforms!
Will COVID-19 Affect Indian eCommerce During This Diwali? 
COVID-19 was a disruptor then and it's still disrupting. But when it comes to the festive season, a pandemic won't affect much! This year we have seen a significant shift in what people are buying online. Face masks, sanitisers, and other safety instruments will be bought along with other merchandise.
There is only one thing that changed during the course of the pandemic. Conventional ways through which online sellers have been promoting their store and selling products. With marketplaces, your online store can get the right exposure it deserves! 
Conclusion – 
It's a wrong misconception that competing with the eCommerce giants wouldn't benefit at all. The only thing you need to be sure of is – your festive marketing strategy and how you're going to compete with them. 
Everyone started small – Amazon started in a garage! 
Let's change the trend and welcome online shoppers to your store for their Diwali shopping. 
To do that, you need to be hyperactive and patient enough to see the results in your favour. As Shopify experts, we can help you have the right festive marketing strategy in 2020! 
Happy selling!