A Complete Guide On eCommerce In Latin America
Running short of time? Get PDF of the blog in your mail.

Play Now
Latin America region is a diverse group of twenty eCommerce affectionate countries. It is one of the world's fastest-growing regions in terms of eCommerce. In Latin America, as much as collate with the rest globally, e-commerce has arrived to stay long. Major economies of the Latin American region include Peru, Argentina, and Colombia, which have been sketching increased attention due to their swift growth and multichannel selling trends.
The biggest propulsion comes from the rapid expansion of marketplaces like MercadoLibre, Amazon, and others. Global eCommerce players are moving towards the Latin American market, as it has demonstrated a strong affinity for digital commerce. There's a lot to experience and explore about Latin American eCommerce and multichannel trends in the region. Let's begin with an overview:
"Retail eCommerce sales will grow to $84.95 billion (i.e. 36.7%-) this year, which is almost double than the growth in 2020 (Source: emarketer.com)
An Overview Of Latin American E-commerce
Despite Latin America's precarious economic situation, the retail eCommerce segment continues to register strong double-digit growth.
Retail eCommerce sales in Latin America will grow by an estimated more than 19.4% in 2021.
Latin America is one of the most mobile and internet-friendly regions in the world.
The largest eCommerce market in Latin America is Brazil, which experienced a 25% jump in online shoppers' total number in 2020.
Latin America is a mobile-friendly region. As per the reports, the region will have 450 million mobile internet users. subscriptions—reaching 100% penetration of adults—by 2021.
Country Wise Overview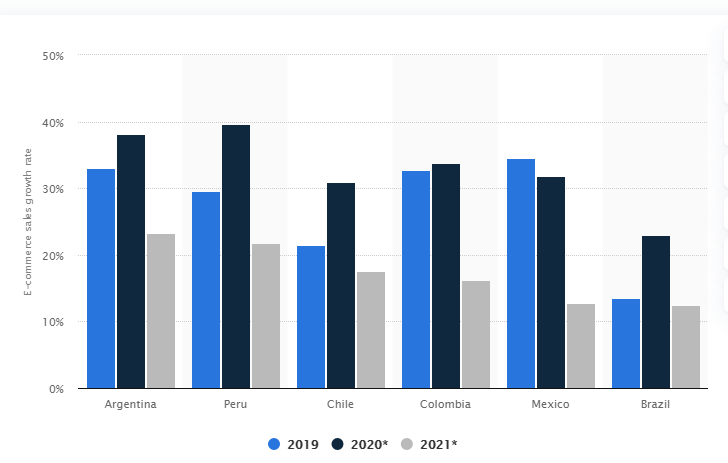 The eCommerce market in Brazil is likely to grow 8.3% and accelerate 19% in 2021, reaching a total value of USD 134 billion.
One of the fastest developing eCommerce regions, Brazil, alone, accounts for almost one-third (more than 32.5 percent) of the e-commerce market in Latin America and the Caribbean in 2021.
According to an AMI report, one of the fastest-growing eCommerce markets in Latin America, Colombia, saw e-wallet payments jumped 20% in 2020.
After going through the overview, let's learn about the latest trends in the region.
Latest eCommerce Trends In Latin America
Throughout the last few years, Latin America's population has become more engaged digitally over different online platforms. Here are some of the most common trends in the region.
Flexible Payment Options:
A large percentage of Latin Americans do not have a credit card. As a result, merchants must have alternative payment methods. To make payment easy and transparent for your customers, look into e-wallets, installment payments, coupon payments, mobile bank transfers, and other funding options.
Presence of Omnichannel:
Latin Americans love to explore multiple channels while selling. Therefore, selling through a variety of channels would allow you to have a seamless shopping experience for your customers while also attracting the most potential customers.
Considering Local Language:
While Latin America has 422.5 million people, only 800,000 speak English as their first language. Getting your site available in multiple languages would also help with SEO and online exposure in the area.
Social Selling:
A survey in January 2020 shows that Over 65 per cent of Latin American people use social media. The maximum exposure is in countries including Bolivia, Brazil, Cuba, Mexico, Ecuador, and Columbia. The most widely used social selling platforms in Latin America are Facebook, Youtube, Instagram, and Twitter.
Now let's discuss what makes Latin America an ideal place to start an eCommerce business:
Why Sell In Latin American eCommerce?
Latin American people spend most of their time on online platforms, especially on shopping websites and apps.
A growing eCommerce region:
The Latin American region is the world leader in eCommerce growth and is likely to grow above the global average of 11%, expected to double in value by the end of 2021.
Image: Latin America eCommerce sales 2017-2024, by category
Opportunity to get availed more, Latin America's middle class doubled in size over the last decade.
Despite being the smallest market among the surveyed countries, one of the fastest eCommerce growing Latin American countries, Chile is expected to see the volume of online purchases double in size by 2023.
Too Easy To establish (Lesser Competition):
The market is still not saturated, making it easier for you to grow your eCommerce reputation.
More internet user penetration is expected to jump to more than 65% around the region.
Latin Americans prefer local marketplaces. Hence it makes it easier for the sellers to set up and scale their stores online.
The Pandemic
Due to COVID-19, consumer's buying behavior changed. The Latin American region reflects a slower take-off for online shopping compared to Europe or North America. The biggest economies in the region are experiencing double-digit sales in the eCommerce vertical.
High Sales Volume
Sellers selling in the Latin American region generate high revenue collate with the rest in the world. Increased internet and smartphones in the Latin American region make it more lucrative and opportunistic for online merchants. The Developing infrastructure facilities and a surging number of internet users are expected to fuel market growth. By selling in the Latin American region, an online seller will have the opportunity to enhance and expand their online operation with rising and fastest-growing eCommerce trends and technologies. The rising of cloud computing has also positively impacted Latin American eCommerce market growth and the sales graph.
Now since we have learned why selling in Latin America is perfect, let's move on to the top platforms (marketplaces) in Latin America.
Top Marketplaces In Latin America
As per Statista, here are the top-performing marketplaces in Latin America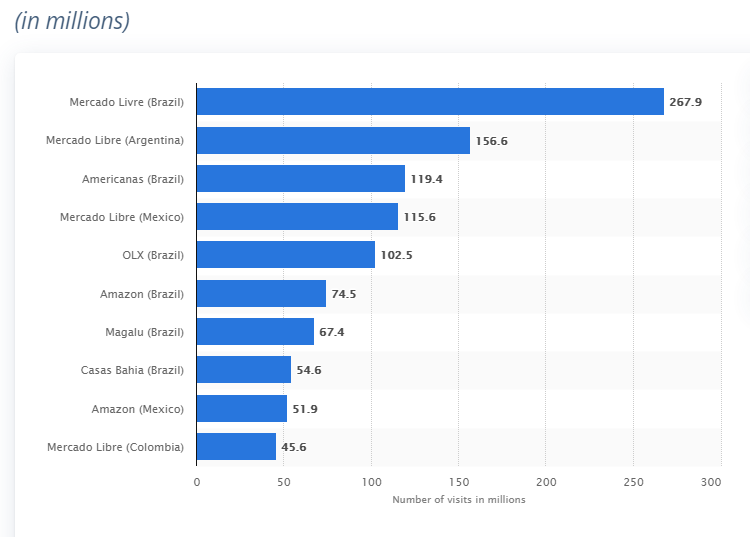 Five marketplaces majorly dominate the eCommerce industry in Latin America. Here is a list of all:
MercadoLibre
In terms of the largest online marketplace to sell in South America and Latin America, MercadoLibre is on top with 642.0 million visits per month from 18 countries across Latin America. For the betterment of the retailers in the region, this online marketplace has launched complementary businesses, including:
Mercado Pago for online payments, Offline payments, and loan
The Mercado Ads for advertising (formerly Mercado Publicado)
Mercado Shops for independent e-commerce stores
The Mercado Envios for shipping and fulfillment
However, the Mercadolibre global-selling program is allowed to sell across the globe to enhance online selling and reach a greater audience.
Also Read: Ten Expert Tips To Increase Conversion Rate On MercadoLibre
Amazon
Amazon is one of the largest online marketplaces among the global eCommerce players in the Latin American region. With Amazon's new expansion to clothing and footwear in the region, it claims that it will offer more than 3,00,000 products. The Amazon mobile app is one of the most popular eCommerce apps in this region. Amazon is not only the preferred choice of customers but also merchants to sell on Amazon.
For sellers looking to connect online eCommerce setup with Amazon marketplace, click here.
Also Read: Best Selling Items, Products & Categories on Amazon in 2021
Linio
The Linio marketplace is another fast-growing online marketplace in Latin America, offering a wide range of products to sell and enhance online business. Linio was launched in 2012, and its presence in eight Latin American markets, including Mexico, Peru, Chile, Argentina, Panama, Colombia, Venezuela, and Ecuador. Managing a catalog of 3 million products over 9,000 marketplace stores, with 4.5 million app downloads. e-Merchants are opting for the best eCommerce frameworks for selling online to get the shoppers to step in towards their online stores.
Push your selling up by integrating your eCommerce store with Linio online marketplace.
Privalia
The next marketplace on our list of top marketplaces in Latin America is Privalia. It is an online marketplace popular for its fashion and accessories. It was earlier started in Barcelona in 2006. With Privalia, more than 34 million shoppers are getting connected, followed by its expansion in Spain, Italy, Brazil, and Mexico. This marketplace facilitates selling with global eCommerce frameworks like Magento, Opencart, PrestaShop, etc by opting for the multichannel selling model to provide a huge opportunity to the online sellers. It encompasses every element that facilitates selling through this one of the most trending online marketplaces in the online fashion outlet vertical.
Wish
Wish online marketplace allows buyers to search and buy items from third-party sellers. This marketplace has more than 1 million registered merchants selling successfully. Wish marketplace has more than 300 Million users across the globe.
Sellers selling on the Wish marketplace have an opportunity to sell in 78 countries worldwide. This marketplace is one of the seller-friendly online selling platforms which charges merchants with pay only when you sell on.
How to sell on all the top marketplaces in Latin America:
You can sell on all these top marketplaces in Latin America using a centralized platform – The Multichannel eCommerce Integration by CedCommerce.
This is an automated tool that interacts with all these top marketplaces resulting in perfect synchronization of product listings, pricing, inventory, and orders. You can sell on all these marketplaces from one dashboard.
Closing Remarks
Wrapping it up, hoping that the aforementioned piece of information will help e-merchants make their thought process clear with no ambiguity. Latin America is poised to be a future "El Dorado" for online merchants. It has attractive growth rates and rising living standards in the major Latin American countries that are encouraging e-commerce multichannel selling and new services development. So before you start on your Latin American e-commerce business, here are the most accurate facts and market insights you should know before getting involved and paid. Get in touch with us for more information and expert advice on the latest tech and market-leading eCommerce tactics.
Also Read: Expand your selling in the US by selling on the top marketplaces in the USA.