With Advance Mapping options, product upload & order management at Bonanza made easier
Running short of time? Get PDF of the blog in your mail.

With the addition of Advance mapping options, the product upload at Bonanza through Bonanza Marketplace Integration app from Shopify gets easier. The new settings provide merchants with the flexibility to choose from multiple ways to upload a product on Bonanza at their right place.
Here is how to do it?
Earlier, Merchants were required to map the products to their respective categories at Bonanza at the time of configuration and, that too, with the only option of mapping through categories, however, it's not the case now:
The Improvements:
Now, you no longer require Product Type to import your products.
Also, there are options of category value through tags, vendors, and Product Title
How product upload now works?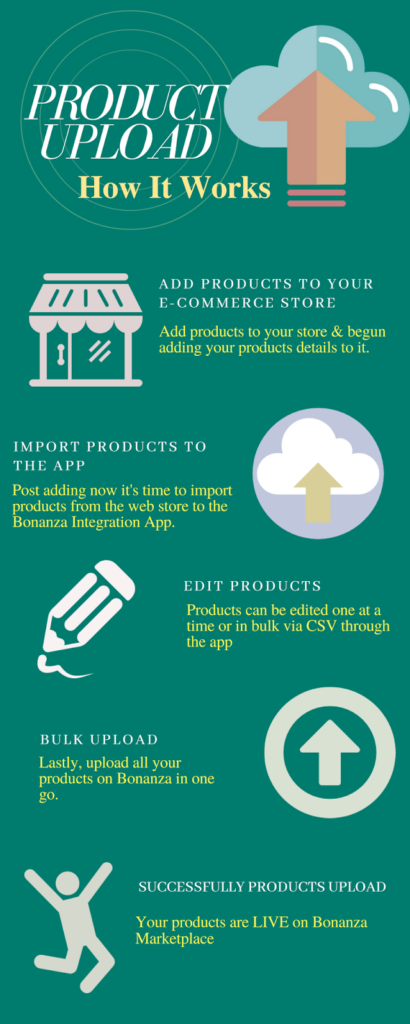 How to implement it through Bonanza Marketplace Integration app?
To implement the advance category mapping, visit the Profiling Option in the top menu bar and click Add profile. Once you do that, you arrive at the following page. Here, choose the General option from the side layouts.

Now once you've entered the Profile Name then Click Category Management option below General option. The below image appears:

Here you need to choose the Advance option and then click Add Condition button. Once you do that options with condition appears, as shown in the figure below:
Here you can choose from:
Product Title: The name of the product.
Product Type: The make of the product.
Product Vendor: The vendor of the item.
Product Tags: Associated tags at Shopify
Once you choose any of the condition, you need to further filter it down, using the Start With drop-down menu. The options are:
Is equal to: it's an exact match condition
Starts with: the first word
Ends with: the last word
Contains: for broad match
Consider the following example: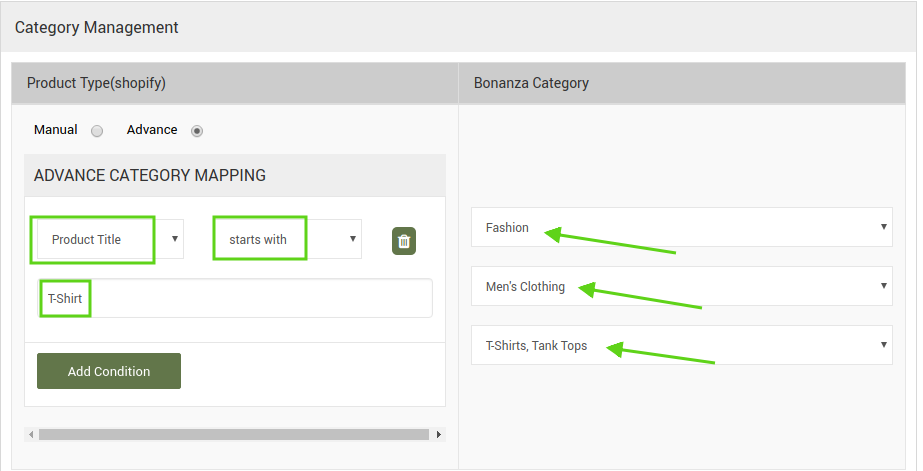 For example, we wanted to place T-Shirts (Men's) at their most appropriate place at Bonanza.
To achieve it we have chosen Product Title as a condition to start category mapping, to filter down we chose the secondary condition of Start With.
Now on the right-hand side, we have to choose relevant Bonanza Category which is Fashion>Men's Clothing>T-Shirts, Tank Tops.
Once you're done with it, subsequent fields to fill item traits appear. Item Traits are additional data points for items to make the listing information-rich.

Once you're done mapping, Submit the details to save it.
How order management at bonanza works now?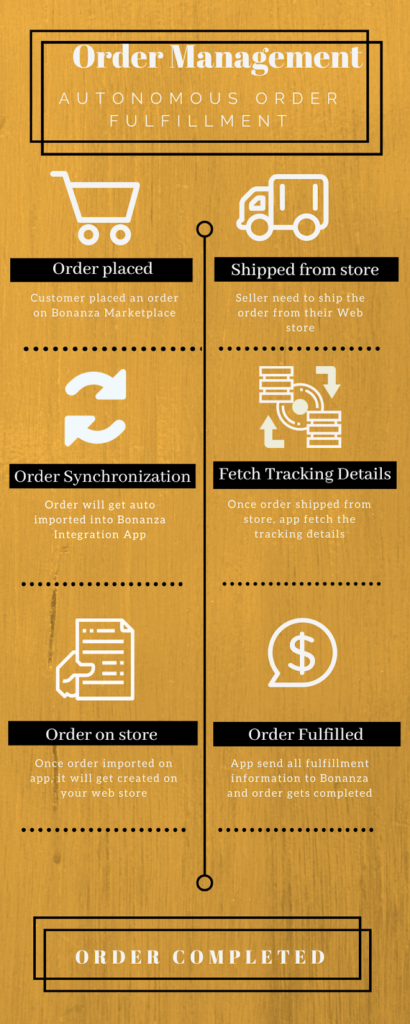 Conclusion:
The aforementioned exercise makes it easier for you to upload products down the road as the app detects and assigns the products to their respective product categories.
Aren't selling on Bonanza yet?

More from CedCommerce: