7 SEARCH ENGINE MARKETING TIPS FOR HOLIDAYS
Running short of time? Get PDF of the blog in your mail.

Play Now
In an increasingly competitive space, Search engine marketing, or SEM, is one of the most effective ways to grow your business. It gains importance in the wake of millions of businesses vying for the same spot and impressions. And in a world which is witnessing the meteoric rise of the digital economy, it's never been more important to advertise online. Here's how your customer reaches you
Customer:

-> 55% Direct or, Search
-.> 22% Email/Newsletter
-> 23% Other Channels
Non-Customer
-> 72% Direct/Search
-> 8% Email/Newsletter
-> 20% Other Channels
Aforementioned data clearly illustrates the importance of search engines for your business. Therefore, it's very important to work on the organic aspect of your online store before the Holiday Kicks-in. Consider following these Search Engine Marketing Tips.
Easy to implement Search Engine Marketing Tips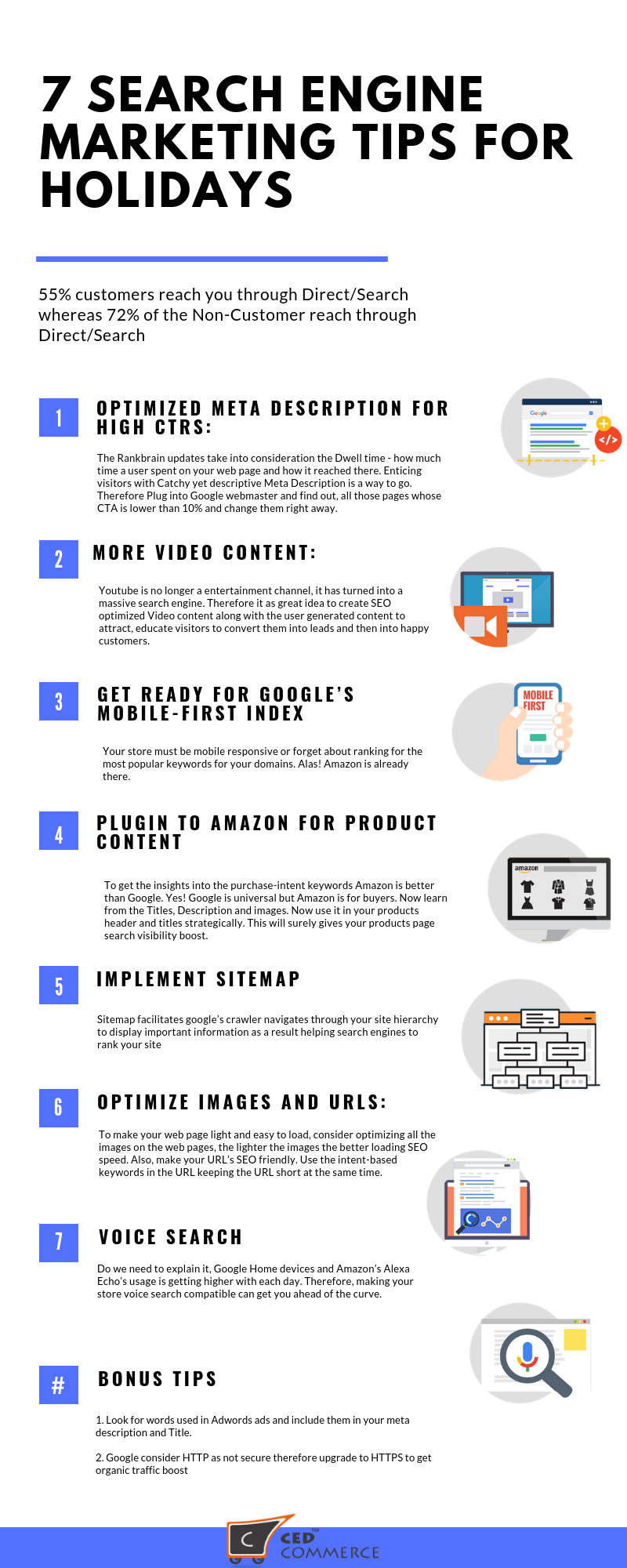 Conclusion:
There are dozens of other measures that can be taken care of to boost the visibility of your web pages in the Search Engine Ranking Pages (SERPs) however now is the time to implement those which can create the biggest difference.
Wait! One more thing!

For the ultimate solution on the best way to excel on Walmart Marketplace this holiday season, check out our eBook: Step By Step Guide To Selling On Walmart Marketplace. Look for regions of improvement yourselves, or let us help. Reach us with your query at apps@cedcommerce.com
More from CedCommerce:
1. 6 tips to optimize for a great mobile buying experience

2. 5 tips to create a great Desktop Buying experience this Festive Season
3. International Shipping Tips to make it Easier this festive season