10 Tips To Get Repeat Customers on Etsy This Festive Season
Running short of time? Get PDF of the blog in your mail.

Play Now
The are two kinds of shoppers in this world. The first one buys things only when they need them which makes it easy to turn them into repeat customers. But the second one is driven by want and desire instead of need.
The second kind of shopper wants a unique and personalized experience. The kind of experience that they only find on websites like Etsy, a marketplace for personalized, handmade, and rare-to-find products made by skilled individuals.
And this high expectation makes it difficult to turn them into repeat clients. But we've got you covered. In this guide, we'll show you how to gain repeat customers on Etsy this festive season and how to increase repeat customers even beyond the festive season.
This data from Statista shows that 40% of all Etsy customers are repeat clients. This is a very high number as far as the eCommerce repeat customer rate goes (between 20% to 40%).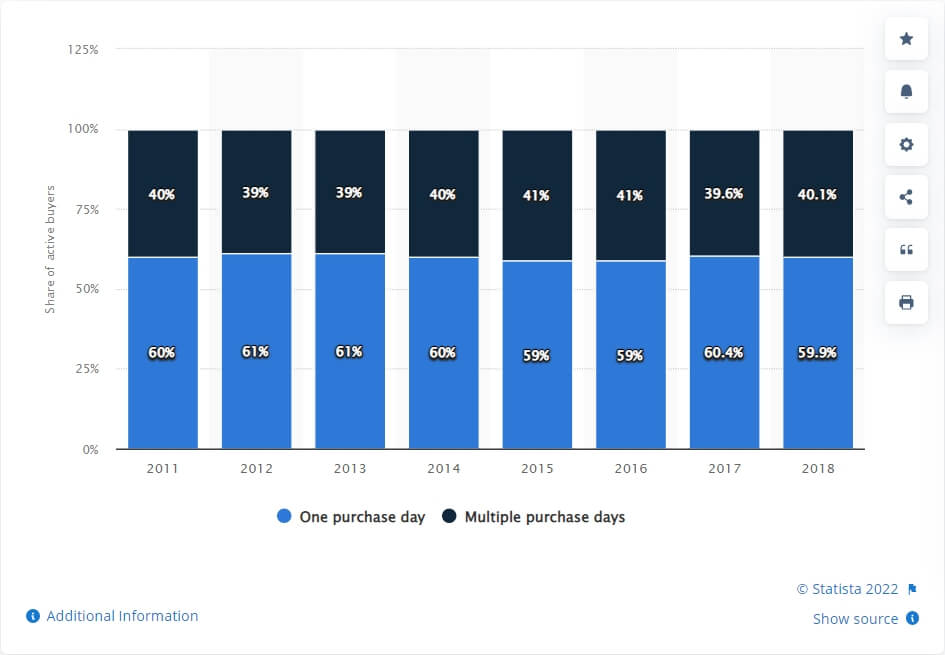 We'll give you 10 tips tailored for getting repeat customers on Etsy during the Holiday Season, but remember that you don't have to incorporate every single one of them except a few which are detrimental to your business.
How To Encourage Repeat Customers On Etsy
Let's take a look at all the ways you can attract repeat clients to your Etsy Shop. Just remember that the key to this whole process is to build lasting relationships with your customers by making them feel valued and appreciated.
Create A Festive Newsletter For Your Email Subscribers
This should be a no-brainer if you already have an existing email list. Create a Festive newsletter series for your subscribers outlining which sales you'll be running, when you'll be running them, and what products (both new and existing) will be on sale.
Note: Don't add your Etsy customers to your mailing list without first asking for their consent. It is against Etsy's policies.
Emails are one of the highest organic ROI-producing channels and should be the first stage in your strategy for getting repeat customers on Etsy. According to a report by SaleCycle, 50% of all users who receive marketing emails end up making a purchase at least once a month.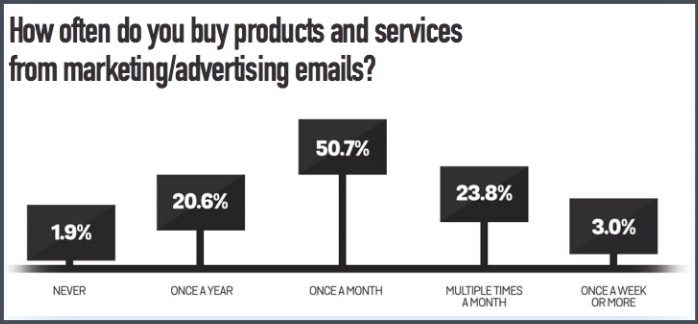 So, if you already have an email list, start leveraging it by creating festive campaigns. If not, then you should think about incorporating email marketing in your long-term business and marketing plans.
Check Out our podcast where we talk about what products sell the most on Etsy.
Be quick to reply to any customer queries
Getting customers to buy from you, again and again, is about more than just having awesome products. It is also about giving them an awesome experience. Replying to your customers quickly (usually within an hour) makes them feel like you care about their queries.
And this is the kind of experience that helps you build positive relationships with your customers and makes them want to buy from you again. It is a simple yet powerful strategy to attract people to your business.

Offer little surprise freebies to build customer relationships
If you've ever received a surprise gift, even a small one, then you know exactly what we're talking about. Getting freebies is just one of the things that make us happy to our core.
Receiving little freebies with their products fuels your customers' desire to wanna buy from you again because it makes them feel special.
Something as little as chocolate or cookies or candy or festive-themed stickers fit the bill nicely. Remember that reciprocating is part of human behavior. The next time they'll have to buy something similar, your shop will be the first one they'll think of.
Delight them with your packaging
We think you might be starting to see the theme by now. It is all about making your customer feel wowed when it comes to getting repeat customers on Etsy.
Product packaging is one area of your business where you can be really creative, and it's not even about making it feel expensive. Instead, it's about making it feel well thought out. For example, if it's Halloween, you can have Halloween-themed product packaging.
You can even show your unique packaging in your product images to pique the interest of your potential customers. Go to Pinterest and search for something along the lines of "Festive gift wrapping ideas" to get inspiration.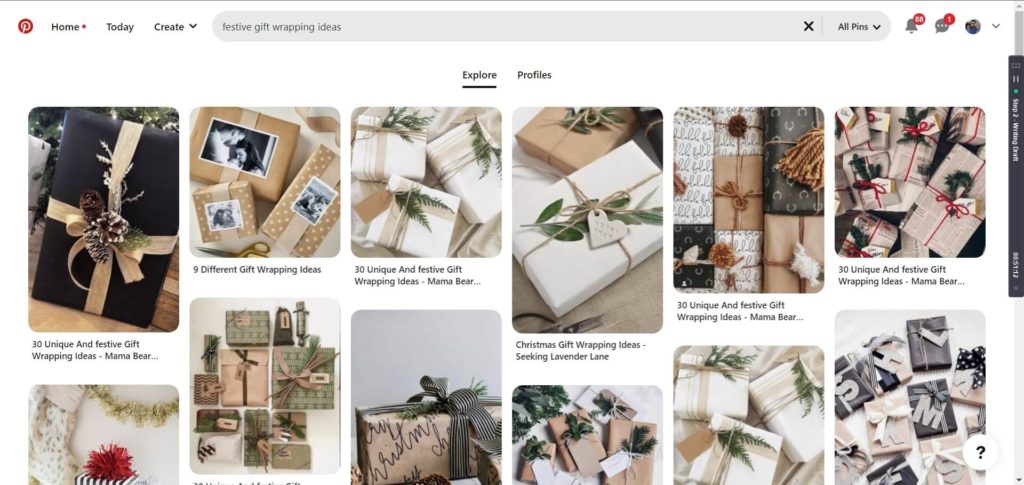 Attach a special Thank You note with the orders
Do you know what's the best way to show appreciation to your customers? It's to tell them exactly that. This helps you in building a long-lasting relationship because everyone likes being appreciated every once in a while.
Just think of how many times you've received a heartfelt appreciation for doing business with a business. We're quite sure that it happens very often. But it is a great way to build loyalty for your brand.
Check out this amazing webinar to master the Etsy Festive season sale
Just slip in a simple card with the product that essentially says "Thanks for supporting my business, I appreciate it and look forward to serving you again". You'll be surprised to see just how many people will reciprocate the appreciation by giving you positive reviews and/or shopping with you again.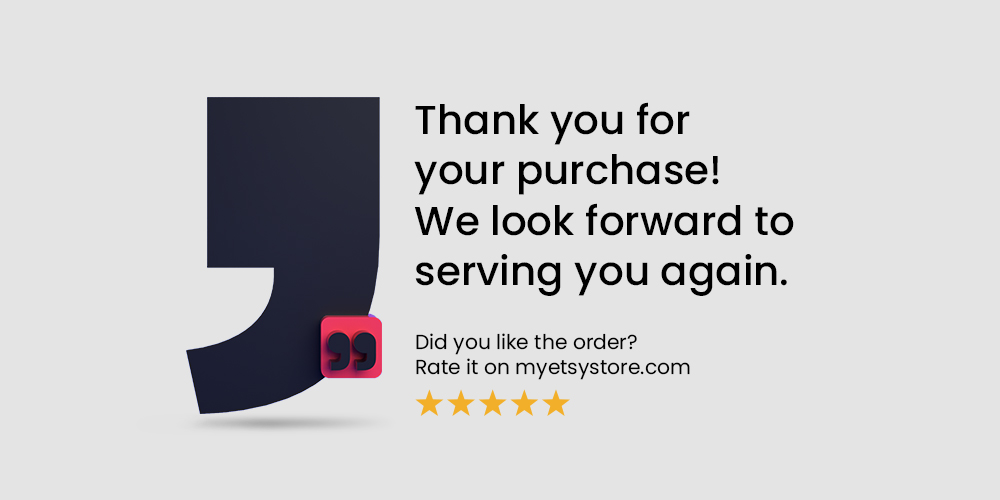 Show care by offering advice and insights about your product
Sometimes it may be possible that your customers might not know how to make the best use of your products. For example, they might not know the best ways to use your decoration item, or maybe they don't know how to take care of the crochet doll they got for their kids.
This is an opportunity for you to go the extra mile and include instructions for your customers to use your products correctly and effectively and for taking care of the product. This will also let them come back and read stuff again if they ever need it.
Use Etsy's Thank You Discount Coupons
Etsy's Thank You Coupons are a great way to encourage your customers to come back shopping by offering them a discount code on their second purchase.
You can create these coupons using the built-in Sales and Coupons tool and by enabling the "Send as thank you" option. Etsy will automatically send these Thank You Coupons to your customers 24 hours after you mark their order as complete.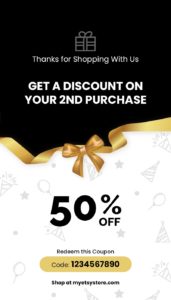 Be extra supportive during any shipping mishaps
This is a non-negotiable thing if you want to get repeat customers on Etsy this festive season and perhaps even after that. Since there are a lot of orders being placed during the holiday season, sometimes things get messed up during the shipping process.
Maybe there's a delay in the order, maybe the product gets damaged, maybe the shipment is lost, etc. There could be a lot of reasons for shipping mishaps. Your job is to be extra supportive to your customers who face any kind of shipping issue.
Remember that they chose to buy from you out of all the other shops, so it's your responsibility to make sure they feel heard when things go wrong. You have to acknowledge that these situations are inevitable and every time you handle them poorly, you lose a potential life-long customer.
Handling these situations poorly also means that you'd get a bad review which ultimately decreases your customer and market experience score, which is something you wanna avoid at all costs.
Share some behind-the-scenes action with your customers
There are many benefits of sharing behind the scene videos with your customers and audience, not the least of which is building long-lasting customer relationships.
Here are some of the things you can achieve by sharing behind the scene videos with your customers –
You can show what actually goes into making the products your customers love. This helps your customers to gain an appreciation of the work that you put into making stuff for them.
You can build real human connections. For the majority of things we use in life, we only ever see the final product. But when people get to see more things about a product and the brand and the people who're involved, it helps in building a human connection that lasts longer.
You can build trust and authenticity. People are more likely to trust in something that they have known and seen and felt. Sharing behind the scene videos is a great way to share your passion with your customers.
Leverage Etsy Updates to bring buyers back
'Etsy Updates' is basically an Update feed on customers' Etsy app that is designed to share notifications about your shop with those buyers who have interacted with your shop by either following it or favoriting your items.
The best part is that it is some of your actions that trigger the update feed. So for example, if you run a sale, send a coupon, etc. the customers will get notified about it and it increases the likelihood that they will visit your shop again.
Here are some examples of what you can do to trigger update notifications for buyers.
Run a Sale
Whenever you run a sale, there are three possible notifications that can be sent to Etsy buyers –
Item in cart on sale
Favorite shop is running a sale
Favorite item is on sale
Send a coupon
Whenever you send a thank you coupon to your customers, they will receive the following notifications –
Shop sent you a thank you coupon
Reminder about a thank you coupon
Add new items
Whenever you add new items to your shop, the buyers will receive the following notification –
New items from your favorite shop
Restock items
Whenever you restock an item in your shop, the buyers will receive the following notification –
Back in stock of favorite item
Conclusion
Repeat customers are an integral part of any business whether it's online or a brick & mortar store. The first and foremost thing to turn your Etsy customers into repeat customers is to delight them and make them feel special. Also, you need to remember that some things are more important than others like how you handle shipping mishaps. We hope that this guide gave you some insights that will help you grow your business.