What Are Backlinks And Why Are They Important?
Running short of time? Get PDF of the blog in your mail.

Play Now
Thousands of websites, influenced by tons of factors, battle for top positions in the Search Engine Result Page(SERP). While there are many facets of a successful marketing strategy, which includes content, keywords, images, and tags, backlinks stand as a 'vote of confidence' from one website to another.
Many small-scale and large-scale businesses with a basic comprehension of Search Engine Optimization discern the importance of link building and its compelling indication of value to Google.
In this article, we will explore the true importance of backlinks and how to go about it.
What are Backlinks?
Also known as the 'inbound' or 'incoming' links, are simply links that are created when one website links to another website. Now, why would a website link to another website?
There might be multiple reasons why website A decided to link website B or numerous websites in its blog. The primary reasons include sourcing a particular news, guest posting on the website, or a product or service linking.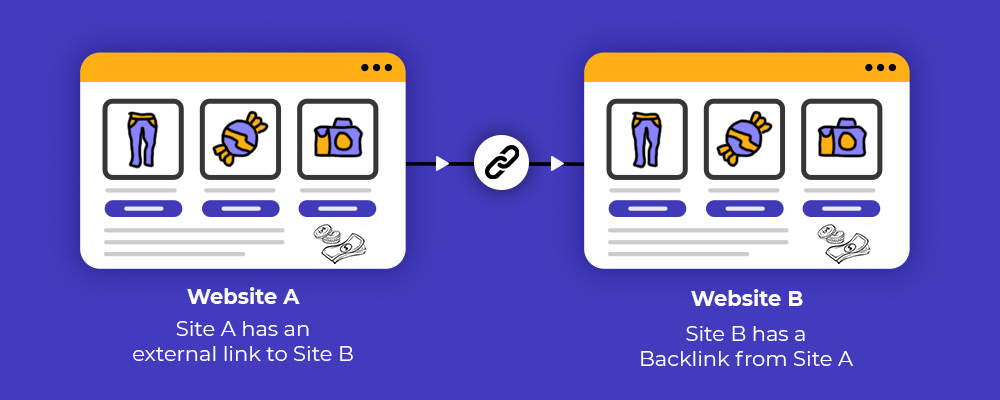 Suppose if you are a news website, and you recently broke a story. Now the other channels that would be writing about the same story, would be quoting your website as a source of information. Or, if you have created a survey regarding something, you'll probably be quoted by several websites that would be writing around the same.
Backlinks work as a voting system that informs the search engines about the value and credibility of a website. Websites that have a large number of backlinks tend to have higher organic search engine rankings.
Importance of Backlinks
Search engines use algorithms to gather information and rank respective pages. Spiders crawl over your site for content and backlinks. It aggregates the volume and relevance of the pages linking your website and helps your page rank better. Infact, Google has itself confirmed that backlinks make up for one of the three best SEO practices to rank on search engines.
Here are a few advantages of backlinks: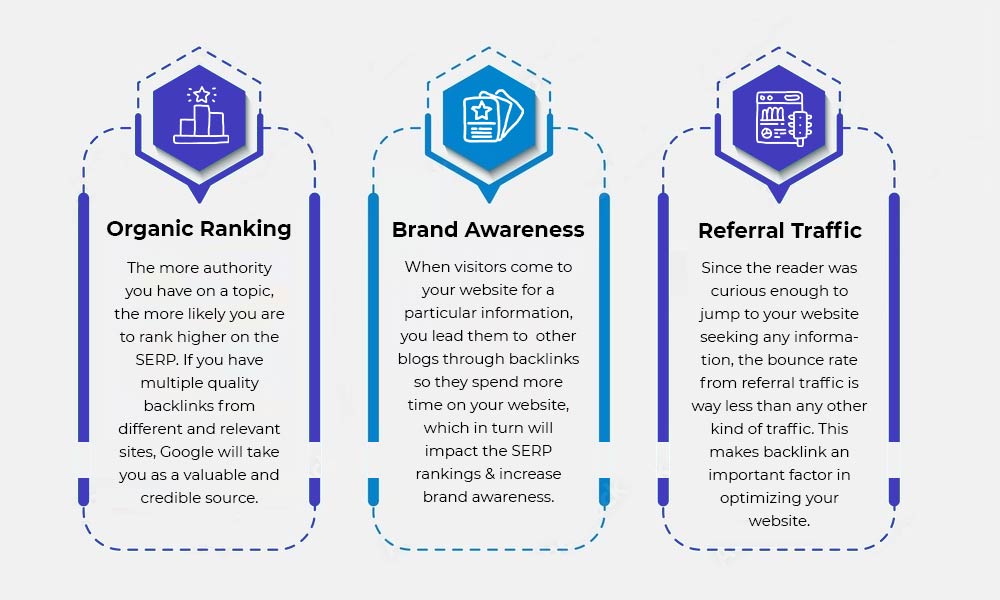 Organic Ranking
Google prioritizes websites that users often visit when they are in search of a particular information. That means, the more authority you have on a topic, the more likely you are to rank higher on the SERP. If you have multiple quality backlinks from different and relevant sites, Google will take you as a valuable and credible source and your organic searches will increase drastically.
Brand Awareness
When a website links back to you, it is mostly because of the service or information that you have to offer, and which will be relevant and useful for their readers as well. This leads to fascinated visitors crowding your website.
When visitors come to your website for a particular information, you should lead them to other blogs using 'Relevant Content' widget at the end so they spend more time on your website, which in turn will impact the SERP rankings and build authority on your website.
Backlinks therefore, help in increasing brand awareness.
Referral Traffic
If a visitor gets to your website through a link on another website, it is considered as referral traffic. Since the reader was curious enough to jump to your website seeking any information, the bounce rate from referral traffic is way less than any other kind of traffic. This makes backlink an important factor in optimizing your website.
Are All Backlinks Equally Valuable?
Backlinks are important for SEO and are generally desirable. But some backlinks don't get the work done and are often harmful. One should avoid blackhat SEO strategies for gaining more links since it affects the health of your site.
Here are a few things to keep in mind:
Follow and No-Follow Links
A no-follow link does not pass on the 'link-juice' or link equity, while a follow link does. A site owner can specify what kind of links he is providing. Follow-backlinks are undoubtedly much more effective and desirable, no-follow links from high-quality websites can still be beneficial for our website.
Authority
Backlinks that are obtained from high authority domains offer more equity than ones which are not. One should avoid getting backlinks from spammy sites.
Relevancy
The search engine giant, Google knows what links are relevant. If you have a bakery shop and link your site to an IT firm, the backlink will not remain relevant and is likely to pass little or no link juice as the backlink from a bakery-related website.
Link Location
The positioning of the link also makes a difference in your SEO. A link which is mentioned at the footer might not be as effective as the one mentioned in the body of a blog post.
The number of backlinks mentioned in the website is also an important factor in deciding the health of the SEO. A link which is listed among the hundreds of other links will be less effective than a link referenced among fewer. It will also be difficult for readers to locate your link.
Anchor Text
Anchor text is the visible character or word on which the link is placed. Some anchor texts are deemed SEO-friendly than others. For example, linking to anchor text, 'Best SEO strategies' would be more effective than linking on 'click here'.
How To Earn Backlinks?
Backlinks are an essential part of off-site SEO strategy. You should know how to earn one of the most significant ranking factors efficiently. Here is how: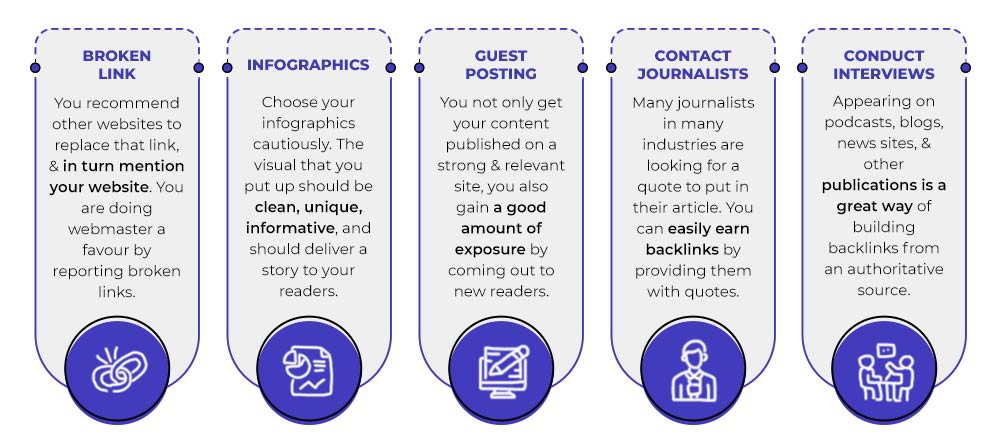 Broken Link-Building Method
This is a technique which involves contacting a webmaster to report broken links on their website. You recommend other websites to replace that link, and in turn mention your website. Since you are doing the webmaster a favour by reporting the broken links so the chances of getting your site linked becomes high.
First find relevant websites in your niche that have resource pages. To go on about it, use these search queries:
Your keyword + links
Your keyword + resources
Keywords inurl:links
You can also download and install the Google Chrome plugin called Check my Links and easily discover 404 links on the websites.
When reaching out to the webmaster about the broken links, make sure to introduce yourself and be friendly. Inform the individual that the link of his resource is no longer available. Provide the exact location of that link and give some alternatives including your own website.
Try to be helpful and not greedy.
Infographics
Infographics are one of the most popular and informative ways of gaining traffic on your website. Everyone loves visual data and infographics are easy to understand and share; hence, stretching its availability.
Choose your infographics cautiously. The visual that you put up should be clean, unique, informative, and should deliver a story to your readers.
You can collect data for your content and then hire someone to turn it into a visual treat, of course if you have no knowledge of designing. Fiverr and Dribble are few online spaces where candidates with good portfolios are willing to create inexpensive infographics.
Once your infographic is ready, you can start distributing it to different channels. Also, do an email outreach to people who have previously shared or linked to similar infographics and ask them to review it or if possible, link directly to your website.
Guest Posting
Publishing your articles on popular websites is known as guest posting. You not only get your content published on a strong and relevant site, you also gain a good amount of exposure by coming out to new readers. Not only it increases your chances of backlinks, but also increases your online reputation and social media followers.
Even Google accepts guest contributors on its Google Analytics blogs. Here is the tweet showing the same.
Guest post on our blog from @johnpkoenig – Storytelling with data using @Measureful and Google Analytics: https://t.co/Wb8oZP5WQu

— Google Analytics (@googleanalytics) March 10, 2014
Find influencers working in your domain of work, and publish guest posts on a regular basis and try to contribute your article too. When writing a guest article, make sure to link your social media profiles.
Journalists
Many journalists across many industries are looking for a quote to put in their article. You can easily earn backlinks by providing journalists with quotes that will help them with their stories.
Make sure that you are comprehensive with the details and rely on topics that you are expert in. You might not be successful in building that relationship in the start, but if you keep your pitch perfect, you will get your way through it.
Interviews
Interviews give clients an opportunity to increase their brand authority, professional credibility, as well as domain authority. Appearing on podcasts, blogs, news sites, and other publications is a great way of building backlinks from an authoritative source.
Here are a few ways to leverage the interviews and build backlinks:
Searching for Unlinked Interviews
You can look for the past interviews of maybe the CEO or the spokesperson of the company, or some executive who has been involved in sales and marketing.
Looking for unlinkied interviews is a long process since you have to run through a number of google searches and personally acknowledge each interview for broken or unlinked sources.
Maximize Further Opportunities
If you find websites that link to your company's old interview, you could potentially pitch them about contributing a blog post or an interview. Before pitching to authors, reporters, or webmasters, make sure that you compile all the relevant interviews and prepare your pitch.
Create a Buzz
The more people get to read or listen to the interview, the more likely they will link to your mentioned resources.
In addition to social media and website promotion, build anticipation around your client's email list. Drop an email that you'd be sharing something special soon. This will pique their interest and increase your reach.
Testimonial
You can earn backlinks by writing about how great someone's tool, services, or product is. Write a testimonial or case study which can be published on your client's website while they link you back alongside the credits.
Conclusion
Building a link isn't as hard as what most people think. With the right approach, businesses can build some great links without having to invest much.
My advice would be to try what is mentioned above in the article and gradually witness the results. Building an authority for your business or website is a long process and every small input that you offer towards the growth will manifest itself into the desirable results.
By putting together a solid SEO strategy, you can identify the best tactics that suit your business type well, and plan out accordingly how you can earn your competitive advantage.
Happy business!