Start a Dropshipping Business this 2023 | Magento Edition
Running short of time? Get PDF of the blog in your mail.

Play Now
Are you interested in starting your eCommerce business? Or do you have an already established business but want to try a new product niche? Then, start a dropshipping business with Magento to make the whole process painless. Many newcomers and established businesses are pursuing this method to establish their brand names in the market. And given its reputation and the benefits it carries, dropshipping has become considerably competitive in recent years.
But if you own a Magento store and looking to start drop shipping using the same, you can have some additional advantages over your competitors. It is because Magento is the most reliable and trusted name out there for ones who are looking to establish their online store. And the reason for this reputation is its seamless support for all kinds of businesses (including multichannel selling business) and extensions. So, you can keep experimenting with new ideas and grow your online business without much hassle.
Also Read: Steps to Take Offline Business Online
In this blog, we have covered everything from what is dropshipping business, how to start dropshipping and become a dropshipper, and why Magento is the best platform for drop shipping. Read the blog till the end to learn more and get all your doubts cleared about dropshipping business.
Table of Content
Understanding the Dropshipping Business
Dropshipping is a well-known business model that can help you start your online business without storing inventories. Instead, you can just import products (that you want to sell) directly from third-party vendors (like wholesalers or manufacturers) and then sell them on your eCommerce (Magento) store.
This simple concept can help you in many ways like it cuts down the extra cost of storing, marketing, or shipping products directly to the customer. It is because the third-party vendors do the main work by staying invisible in the background. And the customer who receives orders only knows that they are purchasing the product directly from you.
Now, the dropshipping business model works with three key players, including:
Supplier
Retailer (You)
Customer
Here the role of the supplier or manufacturer is to create inventory, pack orders, and ship products on the retailer's behalf. Also, they manage all customer inquiries regarding order returns. They also sell the products at wholesale cost, i.e., at reduced price understanding the risk of unsold inventory.
Now the retailer or your job is to sell manufacturer's products on your Magento store under your own brand name. And your major responsibility includes choosing the right products and marketing them. Also, you are responsible for setting the products' price and their shipping costs, by putting aside the profit margin.
Lastly, the customer purchases the product from you at retail price. They will also contact you in case they have questions or queries regarding the product. But the manufacturer is responsible to handle product returns.
Let's take an example to understand the dropshipping model
Suppose you have a Magento store with the name Moonlit and you have listed Shoes and Clothes on your store from the supplier name Shimmers. Now when customers arrive at your Magento store, they will see all products listed under the name, Moonlit and not Shimmers.
Now suppose you have listed a shoe with an original price of $60 (fixed by the supplier) and you are selling it on your website at the retail price of $100. When a customer places an order of that shoe, he will pay you $100.
Once you receive the order from a customer on your store for $100 shoes, you can forward the request to the supplier's site. Here, you will pay only $60 to the supplier (original price) who will then ship the product directly to the customer.
You can also take a smart approach here, as many dropshippers do and it is a rebranding strategy. In this, the product will be packed using your brand name, design, or logo. It helps you establish a market position as your customers start recognizing your brand.
In the end, you earn a profit of $40 on selling that shoes. (Here you also have to keep the shipping cost in mind.)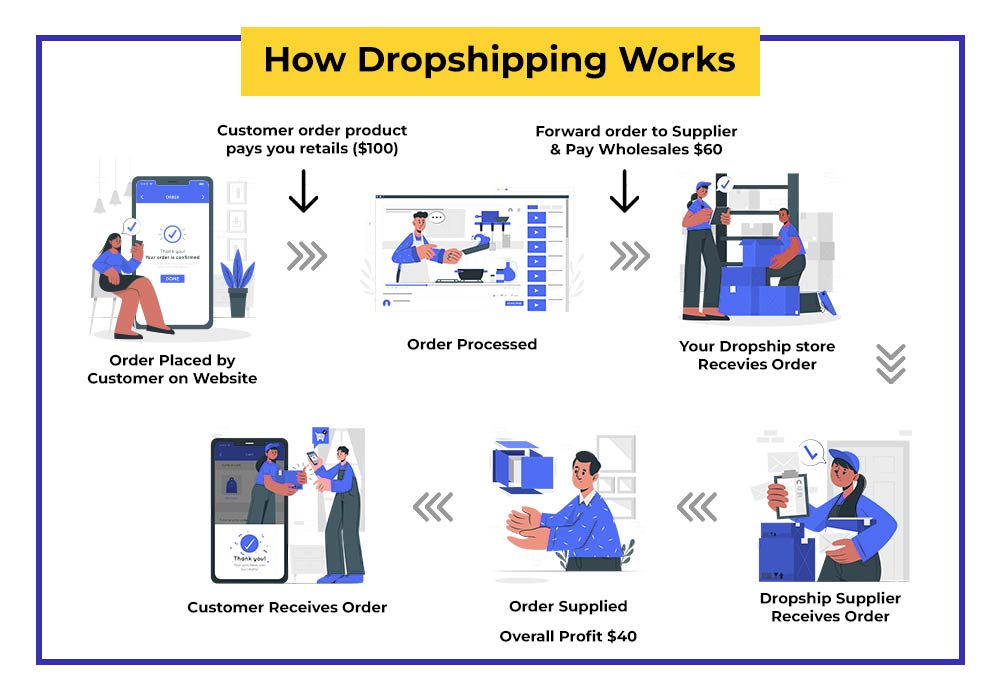 Why is Magento best for Dropshipping?
Magento is one of the preferred and most famous eCommerce frameworks out there. And, it is considered best especially for dropshipping businesses because it can support multiple kinds of extensions and online stores. Other reasons why your Magento store is perfect for dropshipping business includes:
You don't have to pay any commission fees to Magento for any order
You get a transparent billing option
Magento is the self-hosted platform
No limitation on the number of orders
Offers many options for personalized
Dropshipping business can be a little tricky to manage and operate but when you use a framework like Magento, you get many opportunities to explore your business and also earn higher profits.
Also Read: Magento Enterprise (Commerce) vs. Magento Community: Which is the Best Option for you?
Which Marketplaces can you Target for Dropshipping on Magento?
After learning what is dropshipping business and why you should choose Magento for the same, here we have listed down the best marketplaces to start a dropshipping business.
vidaXL
vidaXL marketplace is one of the biggest dropshipping platforms which is based in the USA. Moreover, it offers over 50,000 products and a flexibility to ship orders across the USA, Europe, and Australia. In addition to this, the marketplace offers easy reach to 1 million engaging customers across 27 European countries.
Aliexpress
Aliexpress is another well-known dropshipping marketplace that allows sellers to ship products anywhere in the world. It further offers about 100 million ready-to-sell products to customers. In addition to this, there is no upfront cost or fees charged from the sellers who want to become dropshipper and start a business with Aliexpress.
DropshipZone
DropshipZone is one of the leading dropship suppliers in Australia. Established back in 2012, this marketplace takes out the stress of sellers by offering them expertise and the latest technology. Also, they offer over a thousand products across different categories along with logistic and warehousing solutions. In addition to this, they have impressive 24/7 support to assist you in selling.
Also Read: Best Marketplaces for Multichannel Selling Business
How to Start a Dropshipping Business with Magento in 4 Simple Steps?
Many sellers start their eCommerce journey with dropshipping. But the business model is also helpful for the large-scale sellers who want to try new product niches without taking much risk and investment. So, whether you are a new or an established retailer, you can start a dropshipping business on Magento store by following these simple steps:
Step 1: Choose a Dropshipping Business Idea
Firstly, like starting any new business, you must have a proper plan and idea of what you want to sell and where. For that, you will need to conduct market research that will help you identify the hottest selling product categories that you can sell and earn easy profits.
Most people will tell you to follow your passion while selecting the product you want to sell. But it doesn't work every time because you need sales to be successful in business. So, it's always advised to do complete research before you select products to start your dropshipping business. If you need help, contact our experts who can guide you which products to choose.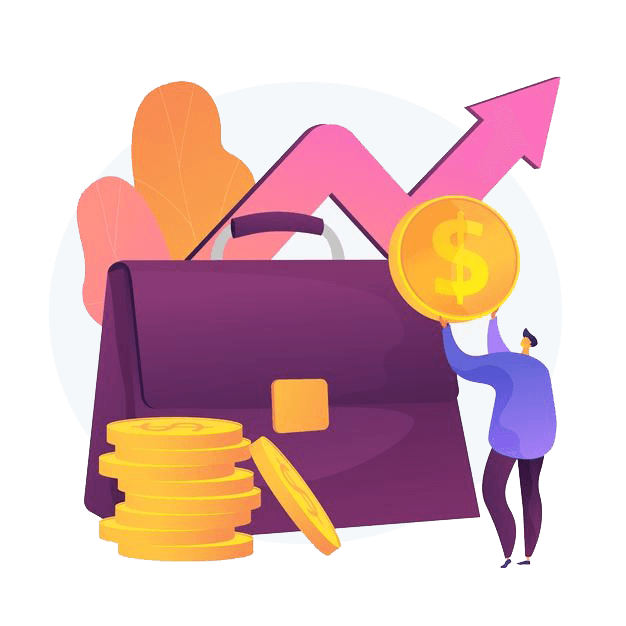 Looking to Start your Dropshipping Business?
If you have a Magento store, our experts can help you in everything from planning to execution
Step 2: Choose a Supplier
Once you have decided which products you want to sell, it's time to select the dropship supplier. Start with a list. Select a group of potential suppliers who are shipping orders in the region you want to sell. After that, contact each one to ask some questions like minimum shipping time, order quantity, and more.
You will find your list getting shorter with each answer you will get. Once you have shortlisted the suppliers, now you will want to place a sample order with each of them. This way, you will know the order quality, customer service, shipping time, packaging quality, and more. In short, it will help you determine what kind of services your customers will receive from you.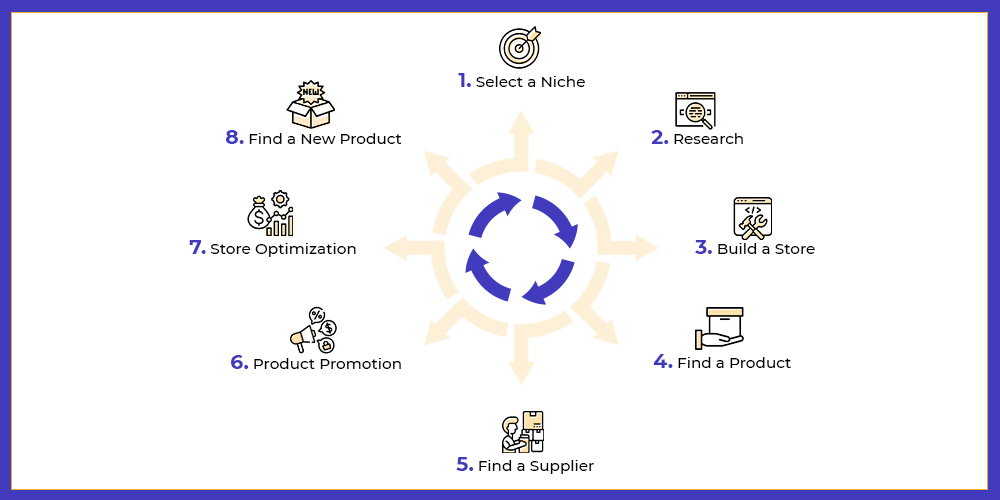 Step 3: Import Product on your Magento Store
At this point, you will have the list of products you want to sell and the supplier who will ship your products. So, the next step involves listing products on your Magento store. There are simply two ways you can do this – either manually one by one or use bulk action using an API connector.
The first way will consume a considerable amount of time and the other one will save the same. The API connector or Integrator can benefit you in many ways that we will discuss later in the blog.
Step 4: Start Selling
After completing the above steps, you are almost all done to start selling. But your work is not complete here. To receive orders on your eCommerce store, promote your business and products to reach more customers. You can take the help of advertisements but you mustn't ignore the SEO performance of your website as well. In addition to this, updating your website with high-quality content will also help.
Challenges you may face on your way to Dropshipping
Dropshipping is the best way to start an eCommerce business without taking a big risk. But you may face some challenges while handling your dropshipping products on your Magento store. Here are a few major ones.
Handling Large Inventory
As the products listed on your eStore aren't owned by you, it can become a little tricky to stay updated with the inventory figures. It becomes even more challenging when you have to handle a large number of inventories. To keep the numbers even on your store, you have to keep checking the marketplace for low stock alerts.
Overselling
As mentioned in the above point, keeping stock information updated is a huge task. And, this can further lead to overselling, i.e., selling product when it is out of stock. And, overselling of products can leave a negative impression of your brand on your potential customers, which isn't a good thing.
Multiple Order Management
Managing bulk orders on the platform can also become challenging if you are handling them manually. Sometimes you may miss a few of them which can result in order cancellation. Again, it doesn't leave a good impression on your customers.
Also Read: Common eCommerce Challenges Faced by Magento Sellers
Overcome them with Dropshipping extension/Integration
We have listed down some of the common challenges that you may face if you have decided to start your dropshipping business manually. One common solution can help you overcome all of them at once. And the solution is eCommerce Magento Integration. It is an automated solution that helps sellers reduce work overload by converting complex repetitive tasks into automated ones.
The solution works by simply connecting the marketplace and Magento store. It further comes packed with features like Cron Jobs, Product Feed Management, etc. that helps establish a perfect synchronization so all details remain uniform on both channels. Here are some major features that come packed with the Magento extensions:
Bulk Product Import: Using this extension, you can import bulk products from the marketplace to your Magento store and that also with just a single click. It further helps you save time and effort spent doing the same manually.
Centralized Order Management: The extension also helps you smartly manage your orders on your Magento store. It automatically imports new orders from the marketplace and transfers them to your store so you can manage everything from a centralized platform.
Price Markup: The extension further helps sellers to change the product price either by a fixed percentage or a fixed amount. So, the sellers can earn higher commissions on the products they are selling.
Also Read: Learn the Difference Between Manual vs. Automated Selling
Common FAQs for Dropshipping business
Q. Is Dropshipping profitable?
Yeah, dropshipping business is quite profitable as it cut down the major costs of manufacturing and shipping products. And, the sellers can earn profits just by listing products and advertising them through their stores.
Q. Do I need to purchase products from suppliers to list them on my Magento store?
You don't necessarily have to purchase the products from the supplier to list them in your store. Instead, you just have to place the order once the customer has placed the same on your store. But it is still a good idea to purchase an item from your supplier before listing them on your store. It will help you know the quality of product your customer will be receiving and their customer service.
Q. Do I need to register the business as Dropshipping?
Yes, you need to register your business once you start making sales. It is especially important once you start making sales and earning consistently. This is because the majority of payment providers will ask if your business is registered once you hit a certain income level.
To Sum Up
Dropshipping is a simple eCommerce concept where you don't have to put much investment and still you can earn higher profits. And if you want to start a dropshipping business with Magento, you can easily beat up your competitors. It is because the framework supports many extensions and business models so you don't have to worry about your store's performance whether you have a small or large scale business.
Moreover, if you use the dropshipping extension to dropship products from a marketplace, you don't have to devote all your time to manually doing the tricky jobs. For example, you can handle all your products and orders from a single centralized platform using an extension.
In the end, if you have any more doubts about starting the dropshipping business or about our Magento extensions, feel free to drop your comment below!